Welcome to the latest edition of reviews here at Shenanigans HQ.
This month I've really covered some ground.
From the intense, political and confronting through to the freakish, funny and fascinating, I've covered all the bases this month.
I've also seen a couple of kids' flicks with the kids on school holidays, and I'd love to hear what you'd recommend on that front too.
So if you're looking for something new to read, watch or listen to this month, I'm sure you'll find something interesting below.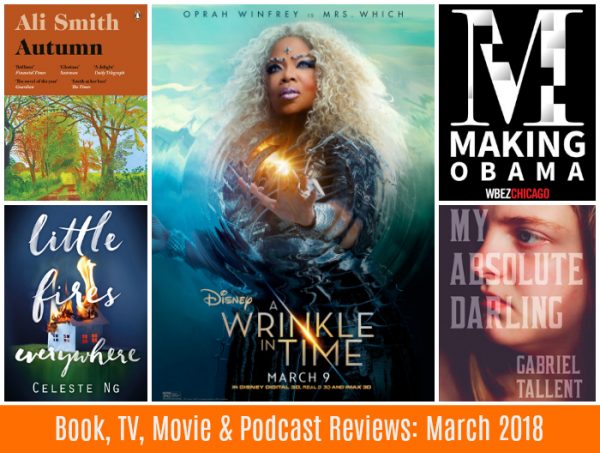 BOOKS
1. My Absolute Darling by Gabriel Tenant
Well.
As many of you know I was halfway through My Absolute Darling in last month's review post and you might be happy – as I was – to hear that I finally finished this book.
I'm just still not sure how to review it.
I can't say I enjoyed it at all but that's not to say it wasn't well written, because it definitely was.
I think it falls into that category of books that will completely polarize readers. I know many who struggled to make it through the first few chapters – there's some very confronting material early on which continues through the book – while others persisted and felt happy they did.
A friend of mine described this book as brutal but beautiful and I think she nailed it. If you don't want to know details of the plot look away now but if you need a debrief or want the heads up, here goes.
The teenage protagonist, Turtle, lives in isolated, primitive conditions alone with her obsessive, abusive and apocalypse expectant father. While she's clearly deprived, physically and sexually abused and neglected, she's also incredibly capable, resilient, independent and smart in many others. Turtle loves her father but knows she's in unusual circumstances – she finds consolation in methodically and painstakingly cleaning her many guns and in spending time doing extreme things in nature. Her emotional response to her circumstances are complex and not always easy to understand and you know things won't end well for everyone in this intense, confronting and eerie tale.
Overall, I found the abuse of Turtle and the ever present gun culture in this book so repellant, I couldn't get past it and enjoy the redeeming aspects.
VERDICT: **
2. Little Fires Everywhere by Celeste Ng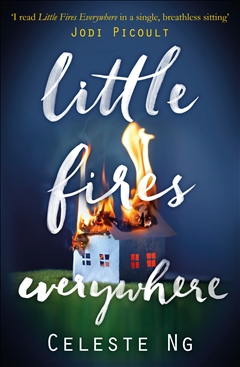 I really enjoyed Celeste Ng's debut novel, Everything I Never Told You and I liked this, her second book, even more.
Little Fires Everywhere is a contemporary fiction novel based around two very different families who live in the proper, ordered and conservative community of Shaker Heights. I won't say too much more in terms of the plot, but if you're looking for well written, contemporary fiction that's easy to read and engage with, I'd definitely recommend it. I think it would particularly appeal to fans of Jodi Picoult and Lianne Moriarty in so far as it tackles a complex issue head on, using various characters to explore different points of view.
VERDICT: ****
I've never read anything written by Ali Smith before so I didn't know quite what to expect.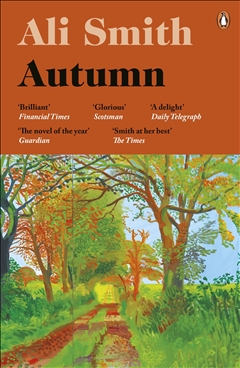 This short book – only 250 pages or so – is quite unlike any other. It covers so much ground – from Brexit, family, art, history and politics through to the mundane – people sleeping and detailed – and rather amusingly frustrating – visits to the post office.
Then there are whole chapters of dream sequences and almost poetry punctuated by the moving story of the two people at the centre of the book – the younger Elisabeth and her elderly neighbour Daniel Gluck. I really enjoyed the chapters detailing their friendship.
I did enjoy this book – it was certainly interesting and varied – but I don't know how I would have gone if it was much longer. There was a short and sharp quality about it that made it easier to commit to and if I didn't get one bit, another easier chapter was next.
If you're looking to read something a bit different to the usual fiction offerings, you might enjoy this. I think it would be an interesting book to discuss for bookclubs too.
VERDICT: ***
TV SERIES
I'm up to date and LOVING Homeland Season 7. This show is so excellent that I insist that if you haven't started it, get onto it stat. It's so smart, freakily relevant, fast paced and unpredictable – you never know where you're headed. Clare Danes just keeps getting better and better too.
In contrast, like many of us, I got unwittingly sucked into the vortex of Married At First Sight – help me Rhonda – via the awesome Gogglebox.
I watched the last two weeks of this super trashy series and spent too much time pondering Dean's deeds; the many and varied fashion options of those who don't need to factor in wearing a bra; as well as Davina's completely baffling approach to pretty much everything.
After too much MAFS – NO WORDS – I decided some docos were required to get those brain cells rebooted again.
First up Mr SnS and I sat down and watched the sobering Netflix original doco, One of Us which follows the journeys of three people trying to leave the Hasidic Jewish community in Brooklyn, New York. I've always been drawn to Jewish writers and docos and I found this to be confronting, sad but fascinating viewing – so perhaps not something to watch if you're on the edge. The story of Etty in particular, a young mother in her early thirties, had me bawling my eyes out.
We also watched the excellent The Final Year which I've reviewed below in The Obama Section, but here's a preview …
PODCASTS
With a couple of long drives in the mix this month, I've had a chance to knock off a few podcasts.
I've really enjoyed the first 6 episodes Making Obama and, not getting enough Obama in my life, also watched the Netflix doco, The Final Year. Gosh it was fascinating, I loved it. It focuses primarily on Obama's foreign policy objectives and the four key staff who represent the U.S. in different ways. I especially loved the US's UN Ambassador, Sam Power. She is all sorts of awesome.
Just a warning though, it might make you – as it made me – feel even more depressed about the current state of world/US politics though and ponder how rare a person like Barak Obama is.
I'm now gearing up for Making Oprah.
In between episodes I've also listened to some great eps of Conversations on ABC. I particularly enjoyed the interview with South African comedienne Urzila Carlson: a life without regrets. She is absolutely gold, hilarious and a joy to listen to. The episode featuring Kitty Flanagan was interesting too.
MOVIES
I adored Ladybird, a contemporary coming of age film which really resonated in the kids/angst/parenting stakes, even though I have boys who are much younger. It was fab and I'd definitely recommend it.
In terms of the kids' flicks, I took Mr 9 to see the latest Aardman animation Early Man. I'm sad to say I was disappointed and didn't enjoy this nearly as much as other Aardman productions. It was harmless enough and Mr 9 enjoyed it but I didn't think it was particularly funny and the plot was completely ridiculous but not in the usual clever way I've come to expect from Aardman.
I also took the kids to see A Wrinkle in Time yesterday. The kids really enjoyed it but while it was great to see Oprah and Reese together, I can't say I LOVE loved it, maybe because it reminded me of similar "quest" films like The Never-ending Story or Labyrinth. I always found them strange, scary and ultimately predictable. A young person goes on a quest, encounters the darkness, there are a few bizarre characters along the way and then goodness prevails. I'll take Back to the Future over a quest movie any day of the week although now I think about it, I did love The Goonies. Anyhoo, I'm hoping I'll enjoy Peter Rabbit next week.
This post contains affiliate links. You don't pay any extra and I earn a small commission. Read more in my Disclosure Policy here. 
So over to you, what have you been reading, watching and listening to lately?