With less than three weeks until Christmas, you might be organised, sorted, done and dusted in the gifting department. Well done if that's you. In a year like 2021, you deserve more props than usual!
Or perhaps you're like me.
You've made a start, but have been waylaid lately by all those post lockdown social commitments and the usual end of year functions. You've still got a few bits and bobs to pick up – a bit more than you realise in fact – once you get a quiet night at home to conduct the usual mid to late December present audit.
Or, you may be just beginning this year's Christmas shopping and you might be looking for some ideas to get you started.
Wherever you're at, and whatever your budget, I hope you find some great gift ideas in this year's Kris Kringle post.
While I love to support local and small businesses at much as possible, I've also included some high street/department store options here if you need some local/easy to pick up options given post and delivery delays.
Christmas Gift Ideas Under $30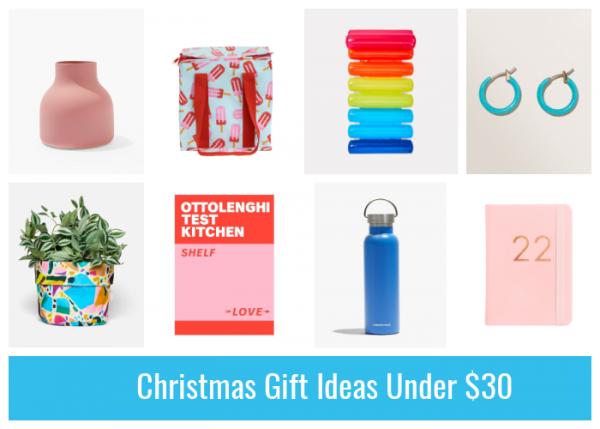 CLOCKWISE FROM TOP LEFT:
Small vase, $29.95 from Country Road; 
Insulated tote, $24.95 from Project Ten;
Inflatable Bed (for the pool), $19 from Kmart;
Enamel Mini Hoops, $16.95 from Seed Heritage;
2022 diary, $29.95 from Kikki K;
Drink Bottle, $29.95 from Country Road;
Shelf love by Ottolenghi, $29 from Kmart;
Backsplash planter (plant not included), $29 from Gorman.
Christmas Gift Ideas Under $50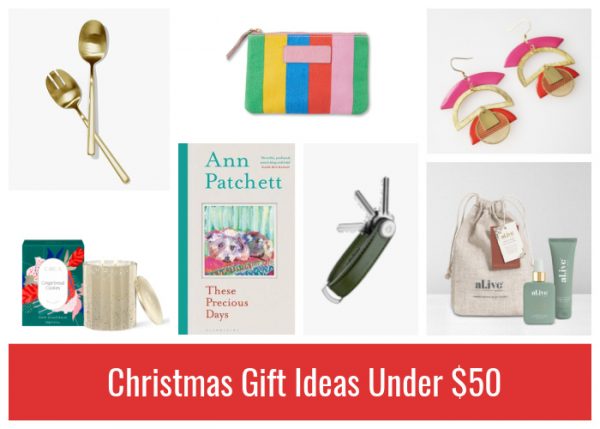 CLOCKWISE, FROM TOP LEFT:
Salad servers, $49.95 from Country Road;
Kip & Co. Cosmetics Purse, $39 from Crate Expectations;
Hall Pass earrings, $49 from Middle Child;
Healthy Hands gift set, $44.95 from AURA Home;
Orbitkey key organiser, $49.95 from AURA Home;
Ann Patchett – These Precious Days, $34.99 from The Book Depository;
Candle, $44.95 from CIRCA.
Christmas Gift Ideas Under $100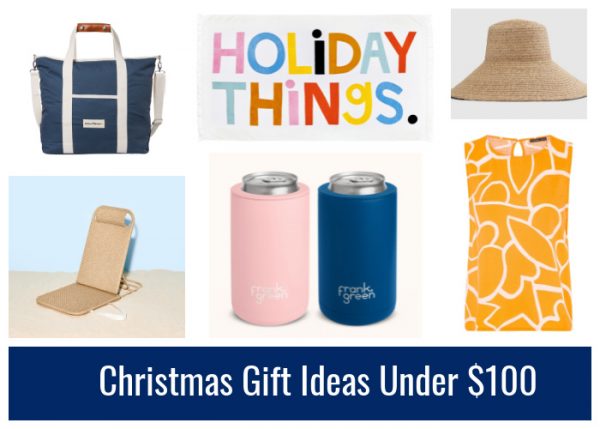 CLOCKWISE, FROM TOP LEFT:
Cooler Tote Bag, $99.99 from Business & Pleasure;
Holiday Things beach towel, $89 from Castle & Things;
Sunhat, $99.95 from Witchery;
Top, $89 from Mister Zimi;
Insulated drink holder (duo pack), $89.95 from frank green;
Rattan look lounger, $69.95 from Kmart.
Looking for more inspo?
We love playing board games over the holidays and if you do too, you might like to check out my bumper post 25 Board, Card and Dice Games for Kids.
While some of the products aren't current, my previous years' gift guides are still choc full of great gifting ideas. Check them all out here.
I love to give and receive a new pair of earrings, a bangle or other type of jewellery. You'll find some great places to shop for earrings in this post, Where to Shop for Earrings.
Finally, you'll find all my book reviews for the year here and my favourite books of 2020 here.
This post contains some affiliate links. You don't pay any extra and I earn a small commission. Read more in my Disclosure Policy here.
What's your budget for Kris Kringle this year?  What would you like to receive for your KK?