To read the 2020 version of this post, with links to all gifts, click here
Whether you're involved in a work Secret Santa, or a Kris Kringle for friends or family, chances are you'll be at the shops or sitting in front of your device in the very near future wondering what to buy.
For me, with two extended family Kris Kringle gifts and our work KK this week, I'm currently up to my eyeballs wondering what to give this year.
While it's great when someone gives you a general heads up, or, even better, an actual list of suggestions #PRAISEBE, I often still find myself buying gifts for people without the benefit of serious direction. If you find yourself in the same position, and with a budget to consider as well, I hope you find the ideas in this post are a great place to start.
Gift Ideas Under $15
Fifteen bucks doesn't go as far as it used to, but there are still loads of great – and useful – present ideas at this price point. Discount departments stores are a great place to start, but plenty of high street retailers, including fashion stores, also have small but useful gifts, such as Gorman's great range of printed socks.
Here are a few more ideas ….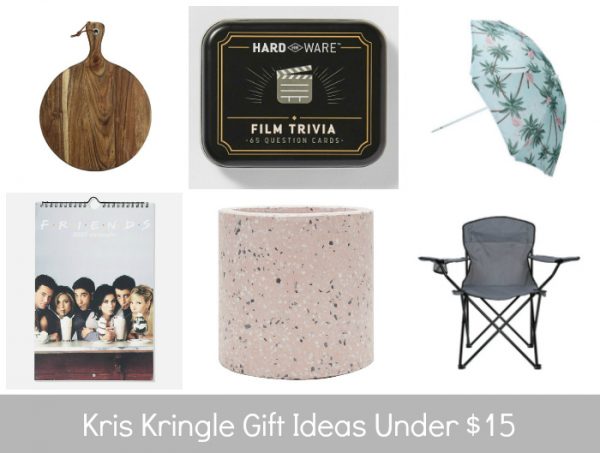 ABOVE, CLOCKWISE FROM TOP LEFT:
Paddle Board, $10 from Kmart;
Film Trivia, $10 from Target;
Beach Umbrella, $13 from Kmart;
Camp Chair, $10 from Kmart;
Terrazzo pot, $7.50 from Kmart;
Friends Calendar, $5 from Typo.
Other budget friendly ideas include a succulent or a pot plant, stationery at Kikki K, TYPO or Officeworks, or their favourite beverage (tea from T2, ground coffee beans, craft beer or a bottle of vino).
If you're after a laugh or buying for a jokester, you'll also find a great range of novelty gifts at places like Kmart and Target. How classic is this Trump dish sponge?
Gift Ideas Under $30
There are plenty of fab gift ideas in this mid price range, and if you have more cash to splash, you can take the themed approach and combine a couple of these together. For example the metallic straws and Aperol, or the pool ring and the insulated tote or beach tennis set.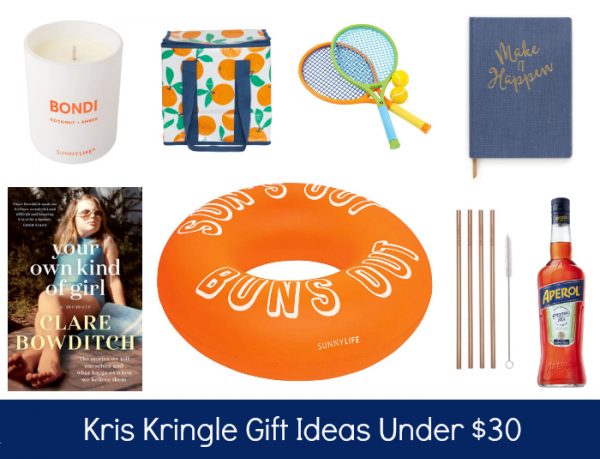 ABOVE, CLOCKWISE FROM TOP LEFT:
Small Scented Candle, $16.95 from Sunny Life;
Insulated Tote, $24.95 from Project Ten;
Beach Tennis Set,$19.99 from Rebel Sport;
Make it Happen Notebook, $29 from Add to Cart;
Aperol (700ml), $22 from Dan Murphy;
Metal Straws, $19.95 from Sunny Life;
Inflatable Pool Ring, $29.99 from Rebel Sport;
Your Own Kind of Girl, $24.99 from Dymocks.
Other gift ideas in this price range are books – I've included Your Own Kind of Girl above as it's on my Christmas and book club lists – but non fiction books such as cookbooks and travel books are other great options. You'll find 21 Awesome Biographies and Memoirs here and more book ideas in my regular book review posts here.
Project Ten's new range just landed too (which you can check out here), and there are loads of great bags and shoppers to choose from, all of which are under $25 or buy in bulk and share the love.
Gift Ideas Under $50
Our family Kris Kringles have a budget of $50, so this is a price point I am very familiar with right now. I find I can often buy two substantial items – a book and a voucher for example – or one bigger item – such as the earrings below – for a pineapple.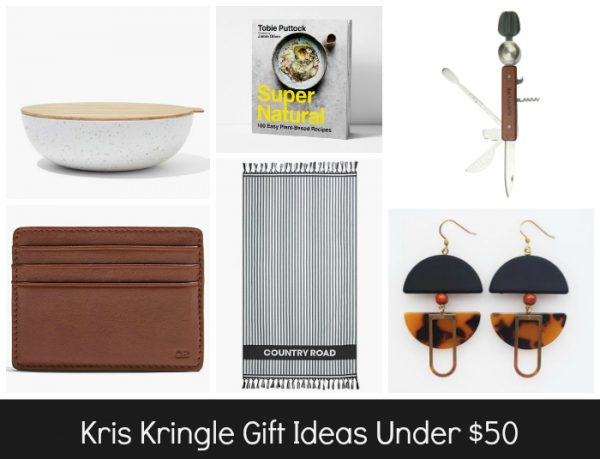 CLOCKWISE FROM TOP LEFT:
Cape Salad Bowl, $49 from Country Road;
Super Natural by Toby Puttock, $39.95 from AURA;
Cocktail Multi Tool, $49.95 from Sunny Life;
Helm Earrings, $39 from Add to Cart;
Beach towel, $49.95 from Country Road;
Super Natural by Toby Puttock, $39.95 from AURA;
Leather Card Holder, $39.95 from Country Road;
Other beautiful gifts under $50 that I came across during my research for this post include this gorgeous recipe book Family Food & Feelings, $39.99 from Dymocks.
For style lovers, this Leather Jey Organiser by Orbit Key, $39.90 and Body Lotion, $34.95, both from AURA, are luxurious but practical options.
If you like to BYO beats, this Travel Speaker $34.95 from Sunny Life is a fun option.
For homewares lovers, it's very hard to go past the fabulously colourful range of bedlinen, apron and placemats from Gorman. All their planters are under fifty bucks too. Check out the full range here.
More Ideas
If you don't know who you're buying for well, or also thinking about gifts for teachers, coaches and other people who help throughout the year, here are some more general ideas.
If your gift recipient is renovating and obsessed with The Block, head to Kmart, Target, Freedom or Typo.  Timber photo frames, vases, a candle or even handmade soap can be well received too. An indoor pot plant is a great, on trend option too.
For people who spend their summer at the beach or by the pool, a beach chair, sun lounge, an inflatable or pool toys are fun options. Who doesn't love a new pool noodle? Beach cricket sets, balls, beach towels, eskys or a beach umbrella are good options too.
Fashionistas might like a new pair of earrings, a bangle, bracelet or a shopping tote. (I've included some great options above). Sportsgirl has a great range of small gifts and accessories too which will give you change from a fifty. There are loads of well priced beauty products at Sephora too.
Sporty types might appreciate some new golf or tennis balls, a frisbee, a beach soccer ball, yoga mat, or some sweat bands Again, discount department stores are the way to go here if you're on a budget or check out Rebel or Speedo.
Geeky types might like a tech accessory or an iTunes voucher.
Foodies might appreciate some fresh inspo with the Christmas editions of their favourite foodies mag (for example, Delicious, Gourmet Traveller, Women's Weekly or Taste) magazine paired with some gourmet chocolate, nougat or other sweet treat. I always love a new cook book for summer or something fun for entertaining with summer BBQS, NYE and Australia Day gatherings on the horizon.
I'd never say no to a block of Fromager D'affinois brie either. Add a beautiful cheese knife and crackers for DIY Cheese Heaven.
If you don't know who you are buying for and want something useful but middle of the road, stationery (diaries, calendars, weekly planners, To Do Lists, journals, a nice pen or desk accessory etc) can be a safe option. Kikki K, Typo or speciality stationary shops have great options.
Some other ideas for the difficult to buy for could include a movie voucher, iTunes voucher or voucher to their favourite cafe, restaurant or coffee spot. Some recipients may also prefer a recycled, upcycled or hand/home made gift so suss this out when you do your crafty reconnaissance.
And of course, there are gifts that keep giving. There are loads of great organisations and charities doing awesome work supporting people in communities locally and overseas.  Even by just spending $5 less on your main Kris Kringle gift, you can add a donation or a really useful gift to meet the budget and do something for someone else this Christmas.
This post contains some affiliate links. You don't pay any extra and I earn a small commission. Read more in my Disclosure Policy here.
What's your budget for Kris Kringle this year? Who are you buying for and what's your go-to gift?