To read the 2020 version of this post, with links to all gifts, click here
If November is the new December, it's time some of us got our Santa skates on stat.
And with December fast approaching – next week! – I'm trying to get organised in the present department, even if I'm just sending out a few emails asking for gift ideas for nieces and nephews, clarifying KK budgets and taking advantage of some recent promotions to buy a few bits and pieces.
One thing I do need to get sorted ASAP though is my work Kris Kringle. I'm also working on my bigger budget KKs in our extended family.
Whoever you're buying for, it can be a challenge to find an awesome gift at the right price, especially if you don't have the time, inclination or headspace for some major reconnaissance.
If that's where you find yourself, fear not dear readers for I have done the Garry Groundwork and come up with a great range of present ideas for men and women – many are also be suitable for kids and teens – at a range of price points.
In researching this post, I'm reminded again that you don't have to splash a lot of cash to give a thoughtful, practical or fun gift that your recipient will really enjoy and appreciate.
So whether you're thinking about the work KK or perhaps family, friends or even some budget friendly stocking stuffers, here are some ideas to get your KK situation sorted …
Gift Ideas Under $15

Above: 1. A6 2019 Diary, $12.99 from Typo;
2. Unicorn Mug, $14.95 from Sportsgirl;
3. Macrame Hanging Pot, $15 from Target;
4. DIY Letter Board, $12 from Kmart;
5. 8kg Kettle bell, $10 from Kmart;
6. Feline Fine Ankle Socks, $14 from Gorman;
7. Pocket Trivia Game, $9.99 from Typo;
8. Folding Chair, $15 from Target;
To top up a gift or for a super budget friendly options, also check out this Christmas Toilet Paper, $3 from Kmart and Harry Potter 2019 Calendar, $5 from Typo.
Gift Ideas Under $25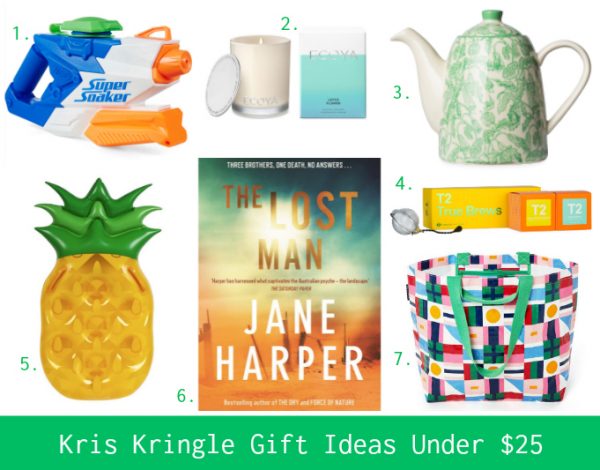 Above: 1. Nerf Super Soaker, $20 from BigW;
2. Mini Ecoya Candle, $19.95 from Bed Bath n Table;
3. Small Teapot, $25 from T2; 
4. True Brews, $25 from T2; 
5. Pineapple Pool Float, $24.95 from Sunny Life;
6. The Lost Man, $16 from Big W;
7. Flags Medium Tote, $18.95 from Project Ten.
There's so much you can work with in the under $25 bracket with books from discount department stores, pool/beach toys, sport and exercise equipment and toys (as well as board games) all falling under this price bracket.
Smaller homewares (like small candles, serving ware and picnic ware) are also great options for this budget as are gourmet food items and cook books (from discount department stores) for foodie friends and family.
Gift Ideas Under $50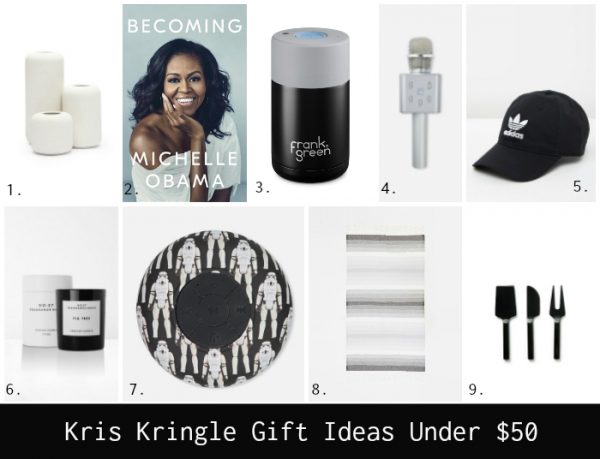 Above: 1. Tilla Vase Set, $49.95 from Country Road;
2. Becoming by Michelle Obama, $39.99 from Dymocks;
3. Reusable Coffee Cup, $39.95 from Frank Green; 
4. Microphone speaker, $39.99 from Typo;
5. Adidas Cap, $25 from The Iconic; 
6. Fig Tree Candle, $37.95 from AURA Home; 
7. Waterproof Shower Speaker, $29.99 from Typo;
8. Turkish Towel, $39.99 from The Iconic;
9. Cheese Knife Set, $39.95 from Country Road.
There's plenty of options in the under $50 bracket too. You might like to choose one bigger, more expensive item or choose a combination of smaller, less expensive gifts using the ideas above.
I'm also loving this simple but tasteful Judd Platter, $49.95 from Country Road and these reusable Beeswax Wraps, $29.95 from Birdsnest.
More Ideas
There are a surprising number of great gift options under $15. To the above list I'd add succulents, pot plants, herbs, garden pots and vases and other homewares from places like Bunnings, IKEA and Kmart and stationery from TYPO, Kikki K and Kmart.
Project Ten's range of pouches are unreal for the beach or pool too, as you can stash your phone, book and keys in them while you swim. They come in two sizes and you can shop them here.
If your gift recipient is renovating, obsessed with The Block or likes home wares, head to Kmart, Target, Freedom or Typo.  Timber photo frames, vases, plants (herbs, succulents, indoor varieties), a candle or even handmade soap can be well received too.
If you are buying for a book lover, there are loads of great books to choose from. (You can catch up with all my book reviews here if you're after some inspo). Penguin classics are always a great budget option too. Mags like The Big Issue, The Lunch Lady or Frankie or even a subscription if your budget allows could be winners too.
For those who don't mind the occasional cold alcoholic beverage or spend a lot of time outdoors, a bottle of bubbles or a six pack of craft beer might be a good option or, for a gift that lasts, perhaps consider a champagne or wine stopper, wine markers, a beer making kit, wine/beer cooler sleeve or stubby holder or an insulated cooler or tote.
For people who love to spend their summer at the beach or by the pool, a beach chair, sun lounge, or an inflatable pool toy are fun. Who doesn't love a new pool noodle or a new pair of goggles?
Beach cricket sets, balls, eskys or a beach umbrella are good options too.
Fashion fans might like a new pair of earrings, a bangle, bracelet or a shopping tote. (I've included some great options above). Even Gorman has fun socks and accessories which will give you change from a fifty. There are loads of well priced beauty products at Sephora too.
Sporty types might appreciate some new golf balls, a frisbee, beach soccer ball or even a new pair of goggles. Again, discount department stores are the way to go here if you're on a budget or check out Rebel or Speedo.
Geeky types might like a tech accessory.
Foodies might appreciate some fresh inspo with the Christmas edition of Delicious, Gourmet Traveller, Women's Weekly or Taste magazine paired with some gourmet chocolate, nougat or other sweet treat. I always love a new cook book for summer or something fun for entertaining with summer BBQS, NYE and Australia Day gatherings on the horizon.
I'd never say no to a block of Fromager D'affinois brie either. Add a beautiful cheese knife and crackers for DIY Cheese Heaven.
If you don't know who you are buying for and want something useful but middle of the road, stationery (diaries, calendars, weekly planners, To Do Lists, journals, a nice pen or desk accessory etc) can be a safe option. Kikki K, Typo or speciality stationary shops have great options.
Some other ideas for the difficult to buy for could include a movie voucher, iTunes voucher or voucher to their favourite cafe, restaurant or coffee spot. Some recipients may also prefer a recycled, upcycled or hand/home made gift so suss this out when you do your crafty reconnaissance.
And of course, don't forget the less fortunate this Christmas. There are loads of great organisations and charities doing awesome work supporting people in communities locally and overseas.  Even by just spending $5 less on your main Kris Kringle gift, you can add a donation or a really useful gift to meet the budget and do something for someone else this Christmas.
If this is important to you too, make sure you give your KK gift giver the heads up.
I like to give a really useful gift from TEAR, such as preschool classes for $5 to the kids' teachers and other gifts to our family and friends. I request these as part of my Christmas gift too. I love that there are gifts for all budgets across education, health and community support.
This post contains some affiliate links. You don't pay any extra and I earn a small commission. Read more in my Disclosure Policy here.
What's your budget for Kris Kringle this year? Who are you buying for and what's your go-to gift?