(To read my 2020 Kris Kringle gift ideas post, with links to all gifts, click here)
I never shy away from a gift giving challenge.
Give me a budget and I'll make it my business to buy something interesting, fun and fabulous.
Something that suits the occasion, the context or the specific gift recipient.
And in the Gift Giving Olympics, the Kris Kringle is the ultimate challenge – the marathon of Christmas gift giving, if you will.
Sometimes you know the recipient – a teacher, work colleague, friend or family member – but sometimes, you may not. This might be because you're only work acquaintances doing the obligatory work Secret Santa or the work KK operates on the basis that anyone can end up with anyone's gift.
Well, whomever you're buying for and whatever your budget this Christmas, I'm all over it. I've done the hard yards for you and come up with 25 fab KK gift ideas, all under $25.
Kris Kringle Gift Ideas Under $15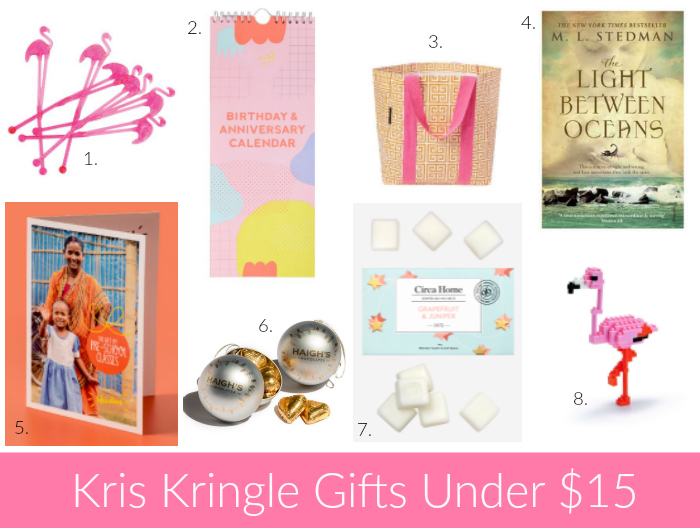 ABOVE: 1. SunnyLife Flamingo Cocktail Stirrers, $10.95 from House; 2. Birthdays and Anniversaries Calendar, $14.95 from Kikki K; 3. Orange Greek Key Shopper $14.95 from Project Ten; 4. The Light Between Oceans, $14.94 from Big W; 5. Pre School Classes, $5 from TEAR's Useful Gift Catalogue; 6. Milk Chocolate Hearts, $14.95 from Haighs; 7. Grapefruit & Juniper Wax Melts, $9.95 from Circa Home; Flamingo by Nanoblock, $12.95 from Notemaker.
Kris Kringle Gift Ideas Under $20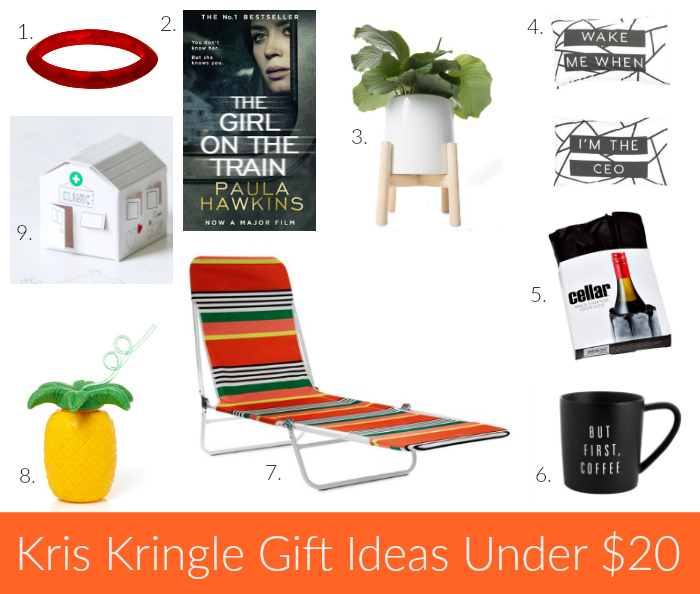 ABOVE: 1. Luna Resin Bangle, $18 from Polka Luka;  2. The Girl on the Train by Paula Hawkins, $17.99 from Dymocks; 3. Planter with Stand, $15 from Kmart; 4. Novelty Pillow Case Set (2), $19.99 from Typo; 5. Wine/Beer Cooler Sleeve, $14.99 from House; 6. But First Coffee Mug, $14.95 from Kikki Ki; 7. Sunlounger, $19 from Kmart; 8. Pineapple Sipper, $19.95 from Dotti; 9. Build a Village: Local Health, $15 from TEAR's Useful Gifts catalogue.
Kris Kringle Gift Ideas Under $25

ABOVE: 1. Toucan Inflatable Drink Holder, $24.95 from House; 2. Bo Jug, $24.95 from Cotton On Home; 3. Bobbin Bracelet, $25 from Elk Accessories; 4. Green Wave Zip Pouch, $9.95 from Project Ten; 5. Earrings, $22 per pair from Ruby Olive; 6. Navy Stripe Insulated Tote, $24.95 from Project Ten; 7. Inflatable Limbo Game, $15 from Kmart; 8. The Good People by Hannah Kent, $24.99 from Dymocks.
Not sure where to start?
If your gift recipient is renovating or likes home wares, head to Kmart or Typo. There are loads of fun things to choose from such as the matching pillowcase set or the pot/stand combo from Kmart above. Simple timber photo frames, vases, plants (herbs, succulents, indoor varieties) or gift vouchers can be well received too.
If you are buying for a book worm, there are loads of great books to choose from including the film tie in of The Girl on the Train and Hannah Kent's latest release. Penguin classics are always a great option under $10 too. Mags like The Big Issue, The Lunch Lady or Frankie could be winners too.
For those who don't mind the occasional cold alcoholic beverage or spend a lot of time outdoors, perhaps the wine/beer cooler sleeve from House or the Project Ten insulated cooler or tote, both above, might be just the ticket. You might like to add said beverage to fill it if your budget allows.
For people spending summer at the beach or by the pool, perhaps a sun lounge, zip up pouch, pineapple sipper or inflatable drinks holder (how cool is this Toucan version above) would work. Beach chairs, pool toys, beach cricket sets, eskys or a beach umbrella are good options too.
If your budget allows, there are loads of bigger inflatables at Kmart, Cotton On and Dotti too. Check out the giant unicorn and donut inflatables at Dotti here.
Fashionistas might like a new pair of earrings, a bangle, bracelet or a shopping tote. I've included some great options under $25 above. There are loads of well priced beauty products at Sephora too.
Sporty types might appreciate some new golf balls, a frisbee, beach soccer ball or the amusing inflatable limbo set above. Again, discount department stores are the way to go here.
Geeky types might like a Nanoblock set or a tech accessory.
Foodies might appreciate some fresh inspo with the Christmas edition of Donna Hay, Gourmet Traveller, Women's Weekly or Taste magazine paired with some gourmet chocolate or other sweet treat.
I'd never say no to a block of Fromager D'affinois brie either. Add a beautiful cheese knife and crackers for DIY Cheese Heaven.
If you don't know who you are buying for and want something useful but middle of the road, stationery (the Birthday/Anniversary calendar above, weekly planners, To Do Lists, journals, a nice pen or desk accessory) can be a safe option. Kikki K, Typo and The Notemaker have great options.
Some other ideas for the difficult to buy for could include a movie voucher, iTunes voucher or voucher to their favourite cafe or coffee spot. Some recipients may also prefer a recycled, upcycled or hand/home made gift so suss this out when you do your crafty reconnaissance.
And of course, don't forget the less fortunate this Christmas. There are loads of great organisations and charities doing awesome work supporting people in communities locally and overseas.  Even by just spending $5 less on your main Kris Kringle gift, you can add a donation or a really useful gift to meet the budget and do something for someone else this Christmas.
If this is important to you too, make sure you give your KK gift giver the heads up.
I like to give a really useful gift from TEAR, such as preschool classes for $5 to the kids' teachers and other gifts to our family and friends. I request these as part of my Christmas gift too. I love that there are gifts for all budgets across education, health and community support.
This post contains some affiliate links. You don't pay any extra and I earn a small commission. Read more in my Disclosure Policy here.
What's the best or worst KK you've received?