To read the 2020 Kris Kringle gift ideas post, with links to all gifts, click here
November is totally the new December.
Don't you think?
I reckon November has overtaken December in the crazy Christmas shenanigans stakes with end of year break ups, Christmas parties and festive get togethers in full swing even before Advent has kicked over.
I know our weekends for the next month are full of such festive fabulousness, which I love, but it also means that the present buying needs to happen a little earlier too.
The Kris Kringle is a fun part of many Christmas do's, especially in work places and in friendship groups.
It's also the time to start thinking about gift ideas for teachers, carers, coaches and for me, the small village of people who've helped me out big time during the year.
I love a gift buying challenge (particularly with a budget), so to make your gift buying easy, I've done the research to bring you 35 fab Kris Kringle ideas under $15.
Let's start with Kris Kringle gift ideas under $10. You'll find gifts for all types and interests covered here.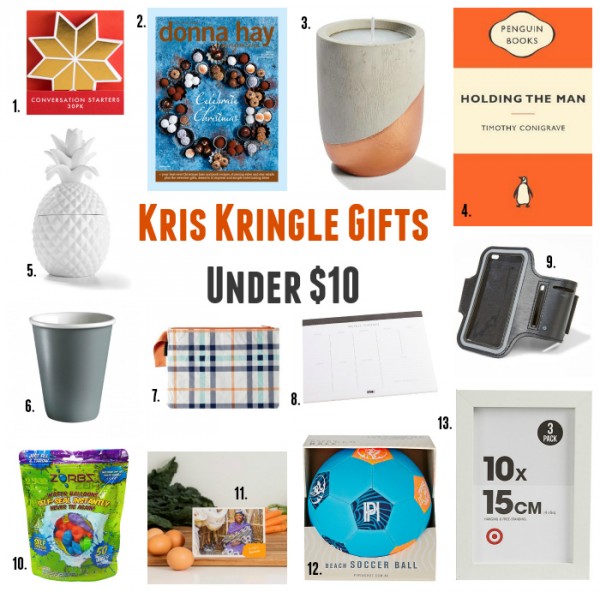 1. Christmas Conversation Starters, $9.99 from Kikki K; 2. Donna Hay Magazine's Celebrate 2015 Edition, $7.99 from Donna Hay or from newsagents; 3. Copper dipped cement candle, $6 from Kmart; 4. Holding the Man, $8.99 from Angus & Robertson Book World; 5. Ceramic Pineapple Jar, $9 from Kmart; 6. Latte Cup in Slate, $6.95 from Robert Gordon; 7. Pastel Plaid Zip Pouch, $9.95 from Project Ten; 8. A4 Weekly Planner, $9.95 from Kikki K; 9. iPhone 6 Armband, $9 from Kmart; 10. Bag of 50 Self Sealing Water Balloons, $4 from Target; 11. Chickens, $5 from TEAR's Really Useful Gift Catalogue; 12. Piping Hot Beach Soccer Ball, $10 from Target; 13. 3 Pack of Photo Frames, $6 from Target.
Not sure where to start?
If your gift recipient is renovating or likes home wares, try the copper tipped cement candle (3) or pineapple ceramic jar (5), above, both of which are under $10.
If you love a metallic accent, other options might include this gold tipped Hold it Pot, $10 from Target and this Small Christmas Candle, $12.95 from Kikki K. This Hello Goodbye Doormat, $15 from Kmart is a practical option too.
Another inexpensive and fun idea is this Christmas Christmas Pillowcase, $4 from Kmart.
If you are buying for a book worm, there are loads of great books to choose from under $15. Penguin classics are always a great option under $10 and Holding the Man (4), above, from which the recent movie of the same name was adapted, is a great read.
Depending on your budget this Mini Classic Book Light, $12.95 from Lark Store would make a nice companion gift.
I can also highly recommend Big Little Lies (1), below and Me Before You by JoJo Moyes, which is $13 from Target.
For those who love the occasional cold alcoholic beverage, perhaps this 9 can cooler with built in ice walls (10), below, or the Gorman stubby holder (8) below might be just the ticket. You might like to add said cold beverage fill if your budget allows.
A well priced bottle of sparkling (such as Yarra Burn) or Sauvy B (like Stoneleigh) are great options too as are these practical Wax Dot Wine Markers, $14.95 from Howard's Storage World.
For people spending their Summer at the beach or by the pool, perhaps a beach chair (9), water balloons (10) or a zip up pouch like (7) above, (which is perfect for keeping keys, phones and wallets protected from sand and water), would work.
For gadget lovers, an iPhone armband (9) above, or a macro lens for their smart phone (6) or selfie stick (11) might be the way to go.
Fashionistas might like a new pair of earrings (2) or this super fab metallic spot shopping tote (5).
Sporty types might appreciate some new golf balls (7) below, or a beach soccer ball (12) below.
Foodies might appreciate some fresh inspo with this Donna Hay mag (2), above, paired with some gourmet chocolate or other sweet treat such as this delish Milk Chocolate Honeycomb Block, $10.95 from Haighs.
If you don't know who you are buying for and want something great but middle of the road, these fun Kikki K Christmas conversation starters (1), weekly planner (8), ceramic latte cup (6), or set of frames (13) all above, or a diary (3), mug (4), below, could be a great option.
For those with a social conscience or who are impossible to buy for, a really useful gift from TEAR, such as chickens for $5 or a vegetable garden for $10, is a great gift that keeps on giving.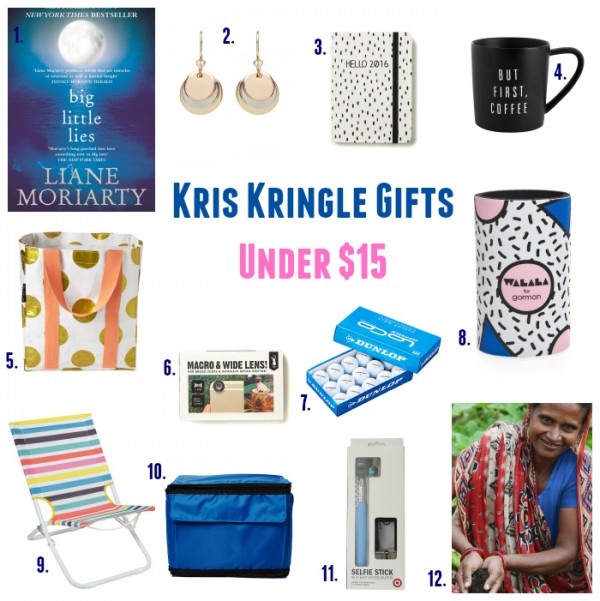 1. Big Little Lies, $10.99 from Book World; 2. Gold Droplet Earrings, $14.95 from Sussan; 3. 2016 A6 Buffalo Diary, $12.99 from Typo; 4. But First Coffee Mug, $14.95 from Kikki K; 5. Gold Polka Dot Shopper, $14.95 from Project Ten; 6. Macro and Wide Angle Lens, $12.99 from Typo; 7. Pack of 15 Dunlop Golf Balls, $12 from Target; 8. Walala Stubby Holder, $15 from Gorman; 9. Striped Beach Chair, $12 from Kmart; 10. 9 Can Soft Cooler with Built in Ice Walls, $10 from Target; 11. Selfie Stick, $15 from Target; 12. Vegetable Garden, $10 from TEAR's Really Useful Gift Catalogue.
This post contains affiliate links. For more info, please check out my Disclosure policy here. 
Are you buying a Kris Kringle gift this year? What's your budget? What, of the above Kris Kringle ideas, would YOU like to receive?