Welcome to this year's bumper Kris Kringle post.
A budget friendly Christmas is especially relevant this year, and I'm confident that if you presently don't think a tenner or a pineapple can get you far in the gift giving stakes, you'll be convinced otherwise by the end of this post.
Below, you'll find stacks of gift ideas for your work Secret Santa and for all your favourite peeps – partners, parents, siblings, kids and friends.
I've included the usual fun and novelty gifts as well as some new practical and luxe options.
Foodies, home bodies, beach and pool lovers, travellers and sporty spices are covered, all at a range of price points.
So happy shopping and I hope you and yours have a very happy Christmas!
Gifts Under $15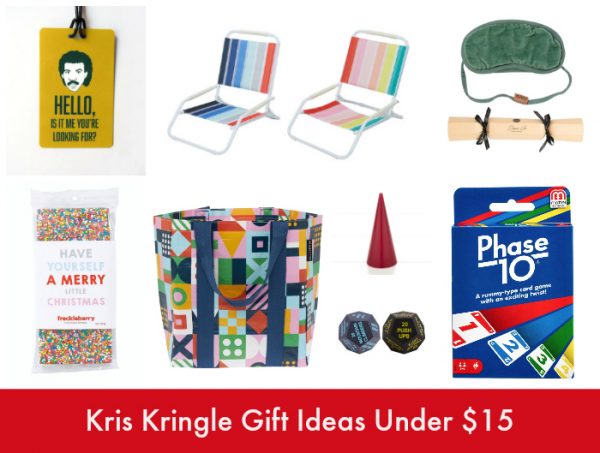 ABOVE, CLOCKWISE FROM TOP LEFT:
Lionel Luggage tag, $12 from Add to Cart;
Beach Chairs, $15 each from Kmart;
Eyemask, $15 from Kip & Co.;
Phase 10 card game, $10 from Big W;
Work Out Dice, $4 from Kmart;
Christmas candle, $4.95 from Provincial Home Living;
Flag Shopper, $14.95 from Project Ten;
Freckleberry chocolate, $6.95 from Birdsnest.
Other gift ideas in the under $15 price range include:
for fun novelty gifts, you'll find a stack of options under $15 here.
succulents, small pot plants or herbs;
stationery from Kikki K or Kmart or;
weights and other fitness equipment from Kmart;
homewares from Target or Kmart;
small serving bowls from Country Road.
Gifts Under $30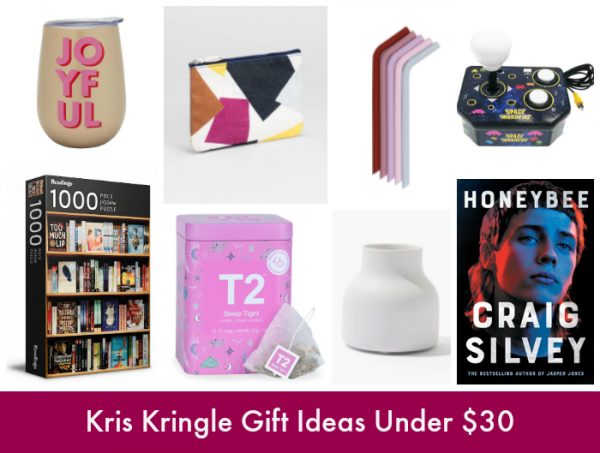 ABOVE, CLOCKWISE FROM TOP LEFT:
Wine tumbler, $24.99 from Adrift;
Coin Pouch, $23 from ELK;
Silicone straw set, $16 from Project Ten;
Space Invaders TV Plug and Play, $29.99 from Kmart;
Honeybee by Craig Silvey, $24.99 from Dymocks;
Extra Small Vase, $19.95 from Country Road;
Sleep Tight Tea, $22 from T2 Tea;
Readings Jigsaw Puzzle, $29.99 from Readings.
Other gift ideas under $30 include:
new release fiction and non fiction books. You can check out my latest book reviews here.
socks, toiletries and small planters from Gorman;
T2 have put together a gift guide for gifts under $25 which you can check out here;
Gifts Under $50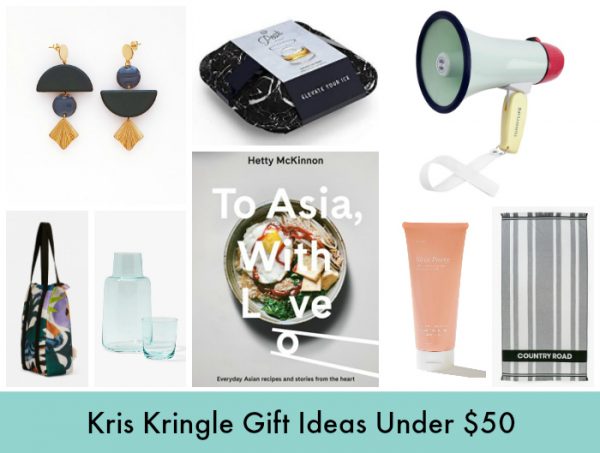 ABOVE, CLOCKWISE FROM TOP LEFT:
Earrings, $39.95 from Middle Child;
Sphere Ice Mould, $19.99 from Heide Shop;
Megaphone, $34.95 from SunnyLife;
Beach towel, $49.95 from Country Road;       
Skin Party, $34 from Go To Skincare;
To Asia With Love, $39.99 from Dymocks;
Carafe set, $49.95 from Country Road;
Cooler bag, $49 from Gorman.
Other gift ideas under $50 include:
More Ideas
If you don't know who you're buying for well, or also thinking about gifts for teachers, coaches and other people who help throughout the year, here are some more general ideas.
If your gift recipient is renovating or into homewares, head to Kmart, Target, Freedom or Typo.  Timber photo frames, a planter, vase or a candle can be well received too. An indoor pot plant is a great, on trend option too.
Adairs have curated a gift guide for gifts under $50 which you can check out here.
If you are buying for someone with higher end taste in this department and are not sure where to start, check out this guide to gifts under $50 at AURA Home here.
For people who spend their summer at the beach or poolside, a new inflatable or pool toys are fun options. Who doesn't love a new pool noodle? Beach cricket sets, balls, beach towels, eskys, insulated totes, portable speakers or a beach umbrella or shelter are good options too.
Fashion lovers might like a new pair of earrings, a bangle, bracelet or a shopping tote. You can find some great places to shop for earrings in this post, Where to Shop for Earrings. There are loads of well priced beauty products at Sephora too.
Sporty types might appreciate some new golf or tennis balls, a frisbee, a beach soccer ball, yoga mat, or some sweat bands. Again, discount department stores are the way to go here if you're on a budget or check out Rebel or Speedo.
An accessory from or voucher for Lululemon is always likely to be received well too.
Tech types might like a tech accessory, EB Games or an iTunes voucher.
Foodies might appreciate some fresh inspo with the Christmas editions of their favourite foodie mag (for example, Delicious, Gourmet Traveller, Women's Weekly or Taste) magazine paired with some gourmet chocolate, nougat or other sweet treat. I always love a new cook book for summer or something fun for entertaining with summer BBQS, NYE and Australia Day gatherings on the horizon.
I've included Hetty McKinnon's new cookbook above and Bill Granger also has a new offering which you can check out here.
Others might appreciate a bottle of their favourite wine or spirits, barware, cocktail glasses or outdoor drinkware.
If you don't know who you are buying for and want something useful but middle of the road, stationery (diaries, calendars, weekly planners, To Do Lists, journals, a nice pen or desk accessory etc) can be a safe option.
Puzzles have had a renaissance since lockdown too and there are some great options at a range of options – check out the selection here as a starting point. I think we all know someone who would love this 500 piece Friends puzzle.
Some other ideas for the difficult to buy for could include a movie voucher, Bunnings voucher or voucher to their favourite online or bricks and mortar shop, cafe, restaurant or coffee spot. Some recipients may also prefer a recycled, upcycled or hand/home made gift so suss this out when you do your crafty reconnaissance.
And of course, there are gifts that keep giving. There are loads of great organisations and charities doing awesome work supporting people in communities locally and overseas.  Even by just spending $5 less on your main Kris Kringle gift, you can add a donation or a really useful gift to meet the budget and do something for someone else this Christmas.
This post contains some affiliate links. You don't pay any extra and I earn a small commission. Read more in my Disclosure Policy here.
What's your budget for Kris Kringle this year? Who are you buying for and what's your go-to gift?