It's true that changing up or adding earrings to an outfit, can totally transform a look.
Take, for example, a little black dress.
For a sophisticated look, I might add a jewelled drop earring in my metallic du jour (it changes daily but is gold today) or an elegant, sculptural statement earring.
Zoom call for work? Perhaps an understated but cool pair of studs or hoops will do the job.
Heading out for a lunch/picnic/drinks with a girlfriend? Hit me up with those orange pom poms or a colourful bedazzlement yesterday.
Breezy drinks by the pool either at home or somewhere more exotic? Just hang on a sec while I channel my inner boho goddess with some fine bejewelled earrings and layered necklaces to complement my floaty maxi dress and top knot.
It's not breaking news to tell you then that I'm ALWAYS on the look out for fab earrings. Over time, I've collected a fair few faves which I've listed in this post, many of which are made by small independent businesses which I love to support.
So whatever your style personality when it comes to earrings – and it's totally fine if you have several, like me – you'll be sure to find a new fave in this lot. You might also find a Christmas gift for your bestie, Mum or sister.
Happy shopping!
If your style personality is bright, fun and colourful
There are so many fab places to shop if your style personality embraces the bold and the beautiful. From textured, beaded styles through to metallic leather, pops of colour and fun details like fringing and stripes, you're bound to find something to love in this lot.
My go to places to shop these style include:
And here's a selection of current styles from some of these jewellery makers below …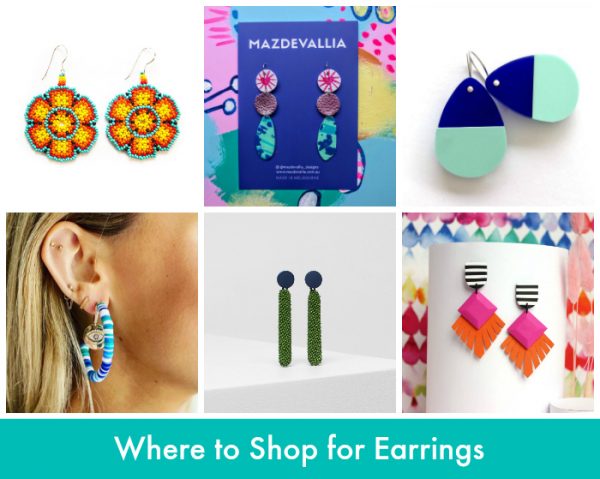 ABOVE, CLOCKWISE FROM TOP LEFT:
Flora Earrings, $55 from Seda Collective;
Bleeding Heart Raindrop Earrings, $39 from Mazdevallia;
Split Drops, $42 from Each to Own;
Luxe Deco Earrings, $45 from Hello Joy;
Rakel Earrings, $59.95 from ELK;
Hula Earrings, $29.95 from Mosk Melbourne.
If your style personality is towards fine, layered jewellery
Like most things in life, I find the key to variety is to embrace the light and the shade. If I go 100 out of 10 all the time in anything, it gets a bit wearing for everyone.
I apply the same principles to my accessories. Sometimes, an understated or a layered look is the perfect complement to my printed dress/busy outfit, or a polished, professional approach for work.
My go to labels for fine, layered jewellery, hoops and semi precious stones are:
I've included a selection from some of these and more contemporary styles below …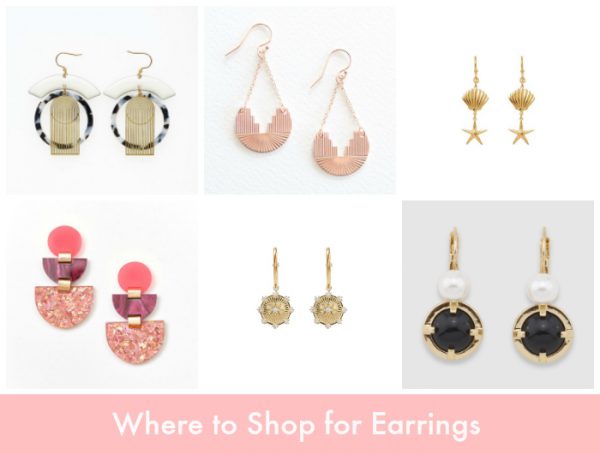 ABOVE, CLOCKWISE FROM TOP LEFT:
Circuit Earrings, $45 from Middle Child;
Etched Earrings, $125 from Love Hate;
Ocean Earrings, $129 from Spell;
Amore French Hook Earrings, $79.95 from Peter Lang;
Saint Coin Huggie, $109 from Nicole Fendel;
Boat Earrings, $50 in Neon Pink.
If your style is contemporary and modern
I find these labels create interesting shapes and use a variety of mediums (including beads, wood, metal) to create beautiful contemporary jewellery. Accordingly, they often work beautifully with contemporary shapes and styles in clothing – such as structured tees, linen shift dresses, wide legged pants, silky viscose tops, luxe knits and so on.
My go to labels for this style include:
I would also include Studio Elke which is currently on sabbatical.
Gorman often do interesting collabs with local jewellery makers too. You can shop their current collab with Seda Collective here.
For higher end costume jewellery for special occasions
When I'm looking for tasteful bling for a special occasion, I always head to:
Depending on the style and colour of my outfit, I might also do some reconnaissance by checking out the sites listed above.
Finally
Small boutiques and art and design markets are great places to find a fab new local label and also support local craftspeople. If you can't physically get to a market anytime soon, check out the Finders Keepers online directory here.
Lastly, don't forget most high street retailers have their own, budget friendly jewellery ranges too. My faves include Sportsgirl, Sussan and Seed Heritage.
This post contains some affiliate links. You don't pay any extra and I earn a small commission. Read more in my Disclosure Policy here.
So over to you – where do you shop for earrings? Or jewellery generally?