A great pair of earrings is a fabulous way to add the finishing touch to a great dress for a special occasion, update older clothes, or  lift a basic outfit. Earrings tend to last forever, not really dating or going "out of fashion".
Great earrings can be found at all price points.  I bought a great inexpensive pair of earrings from chain store Sportsgirl fifteen years ago and I still receive compliments when I wear them. Even my more expensive earrings, however, have proven to be relatively economical over the course of time.
I have collected some fantastic earrings over the years and here is a selection of some of my favourite brands and new discoveries.
1. Emily Green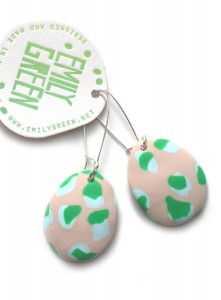 Emily Green's bright jewellery is gorgeous. I am a fan of her necklaces but it was her earrings that really caught my eye and made it to the top of my birthday wish list. They are made from polymer clay with a colourful painterley pattern. I think these earrings are versatile and can be dressed up or down and would work with lots of different colours and looks. They are $45 and postage is free within Australia.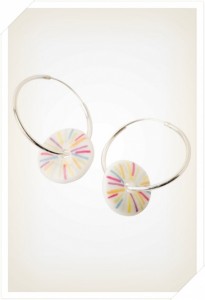 The talented designers at Angus & Celeste make beautiful products and their designs are heavily influenced by the Australian landscape. I am particularly enamoured with their earrings. I have acquired several pairs over the years and they have worn well and stood the test of time. They are not inexpensive ($60 – $70) but they make a lovely birthday, Christmas or Mother's Day gift. My black and white pair go with all my black outfits and the florals and geometrics always pull together a layered look. Angus & Celeste also make beautiful home wares and necklaces. Angus & Celeste offer free postage within Australia.
3. Accessorize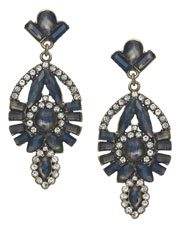 This UK brand is a treasure trove of great accessories at some unbelievably low prices (compared with equivalent products in the Australian market). The earrings above are 12 Pounds Stirling (approximately Aus $21). I recently bought some dressy earrings on sale for 4 pounds (approximately $6.50). They will be the perfect statement earrings for a monochromatic evening dress and will look a million dollars despite their modest price.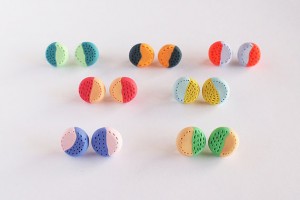 Made in New South Wales, these gorgeous little textured earrings are part of the Ena & Albert Patchwork Collection. Small colourful earrings like these work well with prints as they don't compete, rather they compliment what else is going on. They are a very compact 13mm wide x 6mm thick, and are backed with surgical steel. There are 11 colours to choose from: Teal & Mint, Navy & Peach, Tangerine & Lavender, Watermelon & Salmon, Sky Blue & Mustard, Pale Pink & Iris and Almond & Spring (Green). They are $12 and available through their Etsy store.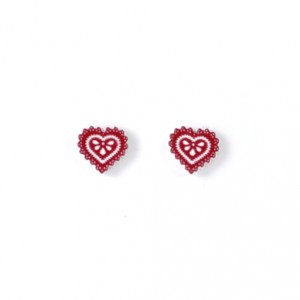 I love my pair of red and white acrylic hearts from A Skulk of Foxes, a Victorian designer. They are interesting without being obtrusive, and give an instant lift to a casual outfit, say a white top, denim skirt/jeans and a pair of red shoes. The acrylic earrings are $22. Made in Victoria, Australia.
These are five of my favourite brands but I have many more which will feature in future posts. What about you? Where are your favourite earrings from?