Who loves a great necklace? I do. They are an easy way to introduce a bit of interest into an otherwise understated outfit. Necklaces or pendants with different colours in them can also tie together pieces in your wardrobe that you would not otherwise wear together.
A bright modern necklace or a vintage pendant can help create different looks with the same clothes depending on how you feel on a given day. A necklace or pendant makes a lovely gift for a sister, sister in law or dear friend.
Here are a few of my favourites: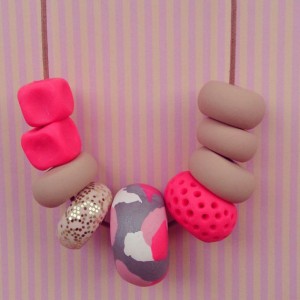 I discovered the lovely Elm Tree Studio at a local market recently. I fell in love with their fabulous colours and reasonable prices ($15 to $45).  It was hard to choose as there are so many great colours and combinations but after endless deliberation I bought two of their necklaces on the spot with a promise to return. There are a few versions of this style of necklace around at the moment but these are some of the best I have seen. I particularly love their glittery discs. Just gorgeous.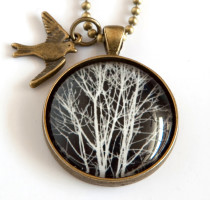 I chanced upon the lovely Nest of Pambula at a country market on a recent family holiday to Merrimbula. They are made by three sisters from Pambula. Their pendants come in a range of designs and colours, and I love the little charms – there are birds, birdcages, cultured pearls and dragonflies. They are $49.95. They also sell earrings, rings, and cuff bangles.
3. Emeldo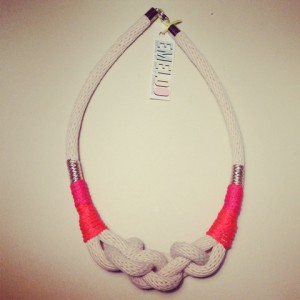 I love Emeldo's rope necklaces, made on Victoria's Mornington Peninsula. I bought one (the pink tassle necklace) at the Red Hill Market in January. I love the contrast of the neon colours against black, denim or white. In the cooler weather I have been wearing mine with a black and white dress from Gorman and in summer I'll be wearing it with a white singlet and a denim skirt. I think they are versatile and look great day or night. They range in price from $39.95 to $49.95.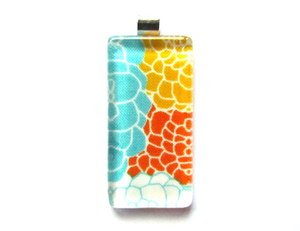 I discovered the lovely pendants made by What Katie Did Next in Hobart last November. They have a great range of round and rectangular pendants in a range of bright colours and prints. I find the rectangular pendants sit better on me for some reason. The round pendant turns around on me where the rectangular pendant stays flat. The pendants are $35 with a chain or $60 with a matching set of earrings.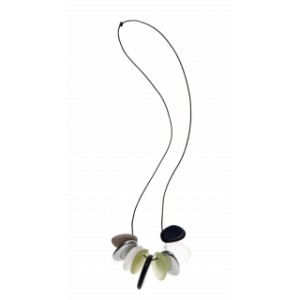 I am a huge fan of Elk Accessories. Another great Melbourne designer, Elk Accessories have a great range of necklaces and pendants made from wood and resin. I love their earthy tones and organic shapes. I think their pieces look great day or night over dresses, light knits and denim. They range in price from around $40 – $70. Elk Accessories also have a great range of co-ordinating earrings and rings as well as apparel, shoes and accessories.
Do you have a favourite necklace or pendant? Where did you get it from?