A few years ago, my wardrobe was dominated by red.
I wore it all year long.
Red suited my predominantly black based work wardrobe perfectly and transitioned nicely to my weekend when I went to the footy (go Bombers!).
The first coloured shoes I ever bought, on a UK holiday circa 2004, were a pair of red Mary Janes from Office. I wore them to death and had them re-soled multiple times. May they rest in peace.
I even invested in Chanel and Christian Dior red lipsticks. (On that note, has anyone had any luck finding a great red lippy with a less expensive brand?).
I still love wearing red and I am a devout fan of a red frock. For me, red is a colour that works on so many levels and breathes life and vibrancy, even in small doses, into any outfit. And sometimes, all an outfit needs is a pair of lovely red lips.
Below is a selection of my favourite red frocks from this past summer.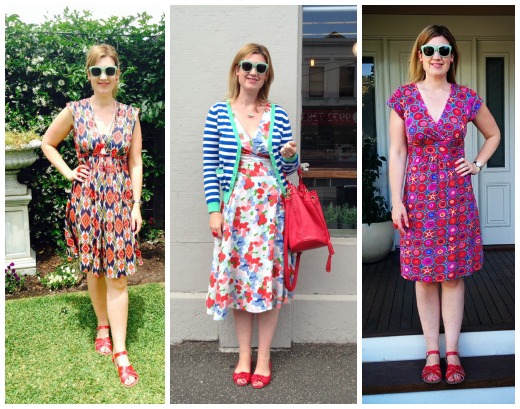 As I was researching this post, it struck me that there has not been a lot of red around the usual suspects (aka the shops in your local shopping centre) of late.
I was happy, then, to discover that red is a strong colour in several Autumn/Winter 2014 ranges, including Country Road and Sussan. This is good news people. Red is a winter warmer and if you have a wardrobe full of neutrals (black, grey, denim and cream), a couple of red accessories, such as a pair of shoes, scarf or a necklace, can take your outfits to new places.
By the way, if you are ever looking for red and can't find it at your local shops, head to an online store like Birdsnest where you can search their entire range by colour.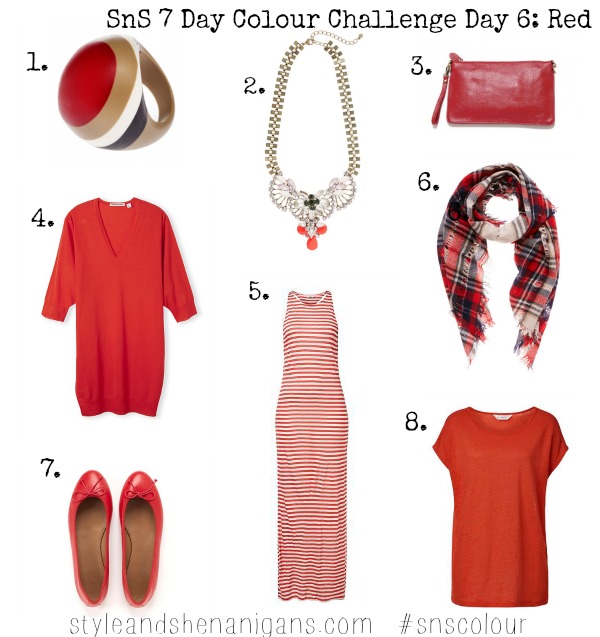 1. Resin Ring, $28 from Elk Accessories; 2. Deco Statement Necklace, $39.95 from Sussan; 3. Lottie's Big Sister Mod Flat Leather Minibag, $99.95 from Rare Rabbit; 4. Wedge Tunic, $149 from Country Road; 5. Fine Stripe Maxi, $59.95 from Seed Heritage; 6. Textured Check Scarf, $39.95 from Sussan; 7. Claudia Ballet Flats, $99.95 from Country Road; 8. Slouch Tee, $49.95 from Seed Heritage;
Are you a fan of red? Any styling tips and traps? What's your go to shade of red lipstick?