Sorry to go against the grain, but it is easy being green.
In fact, it is fabulous being green and with shades from khaki through to mint and emerald, there really is a green to suit everyone.
I wear lots of different shades of green – minty, apple and grassy greens in spring/summer; khaki and sage greens in autumn/winter and my go to colour for a special occasion is emerald or jade green. It is a total winner, particularly if you have blue eyes.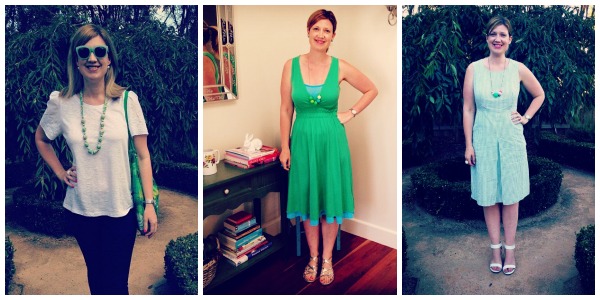 In terms of how to wear green, I like to wear it with black, particularly for work. For a more casual look, I love green with denim, pink, white/cream and all shades of blue. Needless to say I am enjoying the current blue/green colour block trend!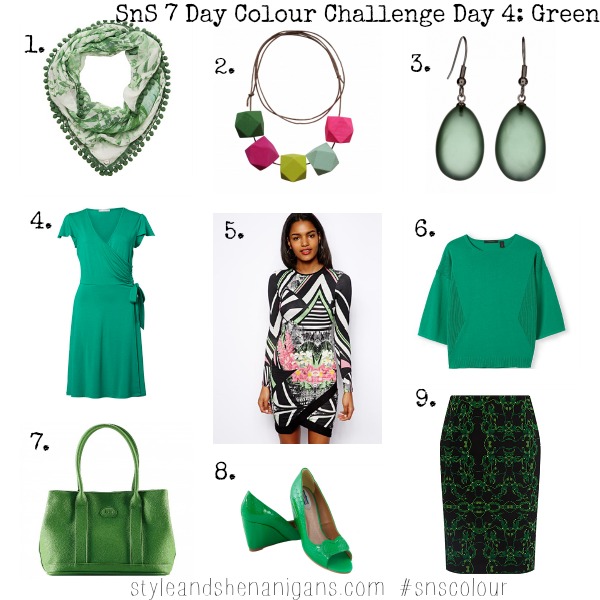 1. One Tribe Scarf, $39 (on sale) from Mimco; 2. Garden Party Wood Necklace from i wish i had a little shop, $45 from Hard to Find;   3. Resin (Sage Green Frost) Earrings, $29 from Elk Accessories; 4. Wrap Front Side Ruched + Tie Dress in Pepper Green, $39 from Target; 5. River Island Print Jersey Dress, $79.22 from ASOS; 6. Mesh Kimono Sleeve Knit, $99.95 from Country Road; 7. Beatrix Leaf Green, $49.95 on sale from Louen Hide; 8. Victoria in Green by My Carnivale, $75 from Down That Little Lane; 9. Chloris Print Skirt, $149 from David Lawrence.
One tip for buying green is, if you are lucky enough to see something you like, snap it up. Ditto green shoes – nice ones are as rare as hen's teeth. I say this from experience as I spent the summer looking for a great green wedge and finally found the My Carnivale ones above.
Most of my green shoes I picked up either on holidays overseas years ago (thank you Zara in Singas) or from international online shops. I think this might be because, for some reason, green is not available every season in Australia. The exceptions to this, however, are David Lawrence and Metalicus where I can generally find lovely greens year round.

1. By The Sea Geometric Necklace by Amrol Design, $35 from Hard to Find; 2. Greenport tote bag, $29.95 from Hard to Find; 3. Nairobi Necklace in Green by Charli Bird, $24.95 (on sale) from Hard to Find; 4. Latt Ballet Flat in Mint, $169 from Elk Accessories.
What's "your" shade of green? What's your pick of the above and do you have any styling tips to share?
Also, if you're game, don't forget to upload your photo of your green outfit (or outfit with a pop of green) in the comments below, on the SnS Facebook page or head over to Instagram and use the hashtag #snscolour. Thank you!