Yellow is my happy colour.
I wear it when I want a little pep up. Or just because.
And its a funny thing, because whenever I wear it, it seems to make other people happy too.
In fact, people tend to comment on it with a sense of admiration. Almost as if they wish they were wearing it!
With yellow, I find a little goes a long way. I have mostly invested in shoes, a few pieces of jewellery and scarves. I tend to play it safe on the clothes front and go for prints with yellow in it (amongst other colours that suit me for versatility) and I cannot go past anything with yellow stripes or polka dots.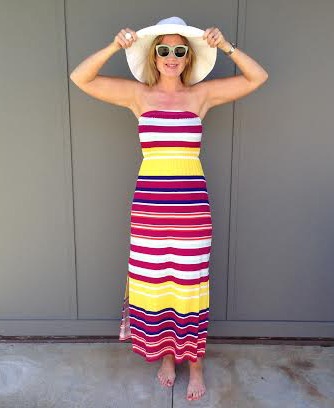 So how do I wear yellow? Here are my 5 tips for incorporating yellow into your wardrobe:
1. Head to toe yellow is not easy to pull off and besides, you don't want to be mistaken for a banana minus pyjamas. Keep it punchy with a little pop such as shoes, earrings, a scarf or a bag;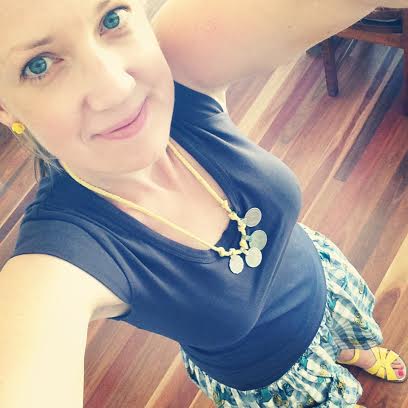 (In the photo above, I am wearing the gorgeous Knotted Yarn Necklace in Daisy from Bohemian Traders which is still available and yellow Salt Water Sandals which you can find here).
2. Keep it simple. Pop on a white tee, jeans and some yellow flats and you are in business;
3. Yellow looks fab against white, grey, blue and black. If you have these wardrobe staples, you can do yellow;
4. If you want to dabble in yellow but not overcommit price wise, head to your local craft market or Diva for some inexpensive costume jewellery or try a pair of yellow Havianas – that's how I started. For clothes, head to your local discount department store. The striped maxi dress in the photo above was $23 from Target this summer;
5. Work out what shade suits you. As the selection below demonstrates, there are all sorts of yellows out there from mustard and banana through to the on trend citron yellow. Lemon suits me best although if I work other shades of yellow with colours that suit me (such as blue) or away from my face,  I can get away with it.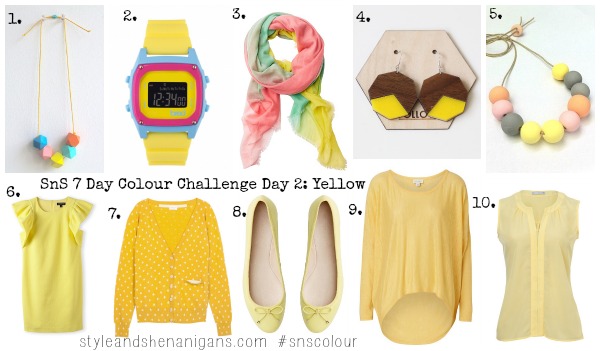 1. Nancy Faceted Wood Bead Necklace, $40 from Brown Paper Packages; 2. Brio Binary Watch in Yellow, $40 (on sale) from Hard to Find; 3. Neapolitan Scarf, $49.95 from Witchery; 4. Octagon Splice Dangles in Yellow Earrings, $35 from Follow Store; 5. Sorbet Rush Necklace, by One Sunday $38 from Down That Little Lane; 6. Ruffle Sleeve Dress in Citron Yellow, $199 from Country Road; 7. New Bandwagon Cardigan, $129 from Gorman; 8. Deena Ballet flats in Citron, $99.95 from Witchery; 9. Drop Batwing Slub Tee in Yellow, $49.95 from Witchery; 10. City Dressing Sleeveless Blouse, $20 from Target;
Do you wear yellow? Why or why not? What styling tips can you share? What's your pick of the above?
Also, if you're game, don't forget to upload your photo of your yellow outfit (or outfit with a pop of yellow) in the comments below, on the SnS Facebook page or head over to Instagram and use the hashtag #snscolour. Thank you!