What's not to love about blue?
Most people have at least some blue in their wardrobe – denim jeans, a denim jacket, or perhaps a pair of trackies or trainers. But there is so much more to blue than denim and "leisure" wear.
I've got plenty of blue in my wardrobe and I wear it often and in lots of different ways. Below are three different looks I put together from existing items in my wardrobe, some of which are still available in store.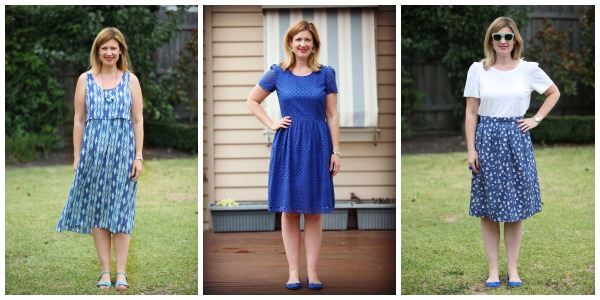 FROM LEFT TO RIGHT: OUTFIT #1: Aztec Split Waist Dress, (on sale) from Sussan; Mim Turquoise Leather Sandals, (on sale and in limited sizes) from Sambag; Danidot Pendant, from Down That Little Lane; OUTFIT #2: Broiderie Dress from Boden (part of Summer 2014 range, purchased in preview offer but not currently available online); ballet flats from Zara; Porcelain Earrings from market but similar to the Angus & Celeste earrings below; OUTFIT #3: Embroidered Sleeve T-Shirt, from Country Road; David Loves Flowers Skirt,  from Kindling; Ballet flats from Zara;
What about you? How do you do blue?
There are no hard and fast rules when it comes to wearing blue, but for those looking for some direction, here are my 5 tips (not rules!) to wearing blue. I'd love you to add yours in the comments below.
1. Brighter shades of blue such as cobalt and turquoise look great against white, silver, yellow, green, pink and denim in summer and black in winter;
2. Lighter shades of blue such as cornflower blue and sky blue look striking against black or denim;
3. Navy is a wardrobe winner and is versatile all year round. I like to wear it with white, yellow, red and green in summer and with pink and grey in the winter months. Navy and white stripes are a classic and add an instant injection of francais to any outfit;
4. With a block coloured blue dress, go to town with statement earrings; jewelled sandals or an arm party;
5. When wearing blue, you can't go wrong with shoes that are silver, tan or the same shade of blue.
Below are some accessories and pieces available in store now to help freshen up your existing wardrobe or to give you some styling inspiration. Sometimes, all you need is that one item to breathe new life into existing wardrobe items or to create new outfitting possibilities.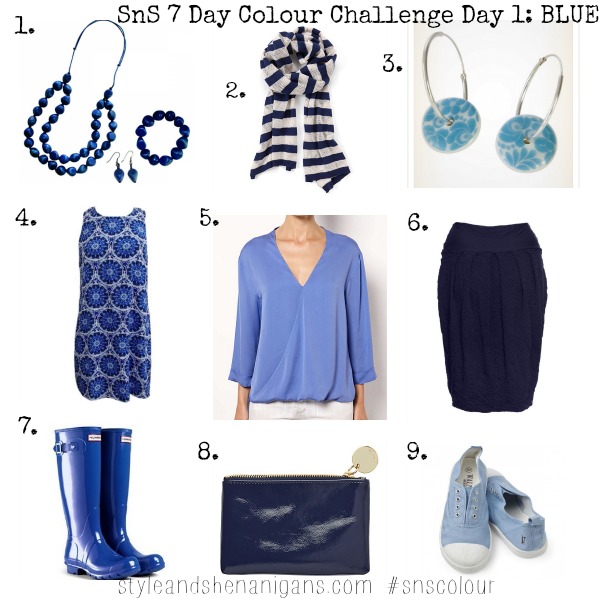 1. Amazonia Gift Pack in Indigo by Ruby Olive, $49.95 from Hard to Find; 2. Anya Stripe Scarf, $39.95 from Country Road; 3. Mini Hoop Earrings in Blue Retro, $65 from Angus & Celeste; 4. Kaleidoscope Shift Dress by Sunny Girl, $59.95 from Whistle Clothing; 5. Sheer Twist Shirt, $99.95 from Witchery; 6. Pompidou Skirt in Ink, $119.95 from Metalicus; 7. Hunter Original Tall Gloss Boots in Cobalt Blue, $169.00 from Down That Little Lane; 8. Jessie Coin Purse, $39.95 from Witchery; 9. Euro Elastic Plimsoles in Ocean, $49.95 from Walnut, Melbourne.
And just a few more lovelies for further inspiration: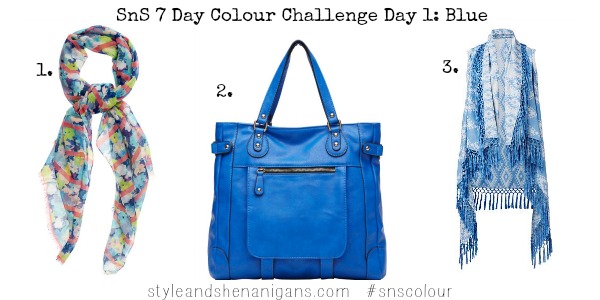 1. Striped Floral Scarf, $15 from Target; Alexis Cobalt Tote, $69.95 from Sussan; 3. Diamond Poncho Wrap, $59.95 from Seed Heritage;
For further styling inspiration, check out my recent post: 3 Autumn Basics 3 Ways (which feature jeans and blue ballet flats).
How do you do blue and what is your favourite shade? Can you share your styling tips of how you wear it? What's your pick from the above?
Also, if you're game, don't forget to upload your photo of your blue outfit (or outfit with a pop of blue) in the comments below, on the SnS Facebook page or head over to Instagram and use the hashtag #snscolour. Thank you!