So, how you feel about orange? Is it a colour you love but don't wear? Love and wear confidently? Or, are you not really sure about it?
Orange isn't just plain old fruit bowl orange. It comes in a range of shades – neon orange, peach, tangerine through to the pinky orange shades of coral. I am a big fan of the pinkier shades in summer but I do love a bold tangerine to break up blacks and greys in the colder months.
Despite this, I confess I don't have a lot of orange in my wardrobe as other colours suit me more.
However, this summer I decided to find some ways to wear orange that worked for me. I found that pairing it with pink (love that colour block combo) or blue looked fab and introduced some new colour into my wardrobe which is currently dominated with blue, green and pink.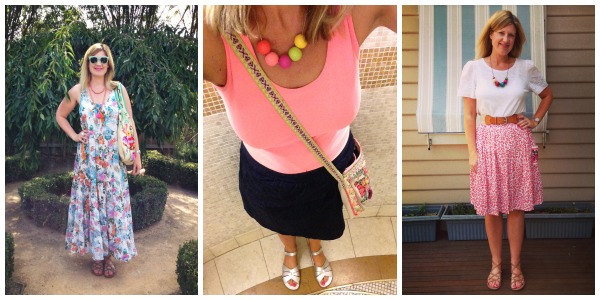 Again, similar to yellow, I don't think you need a lot of orange to make a great statement. I particularly love orange with denim and white and a pop of orange seriously looks the business with a classic black and white combo. This outfit by my friend and blogging buddy Kimba Likes is a case in point. How fab does she look?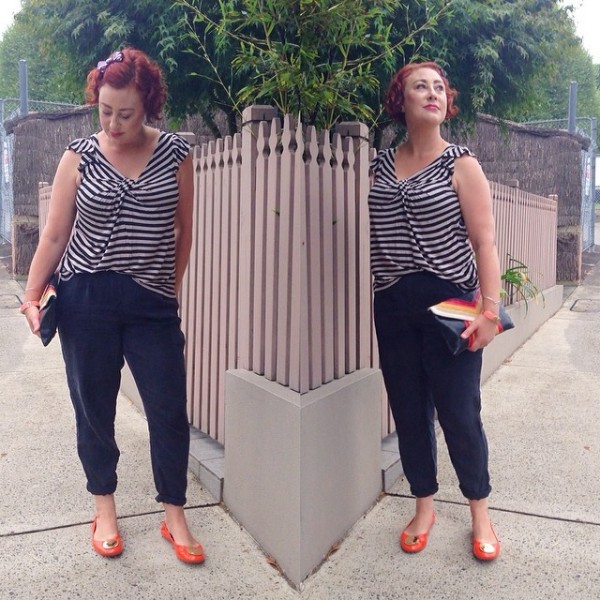 If you would like to add some orange to your wardrobe, I've put together some new season orange-ness together below: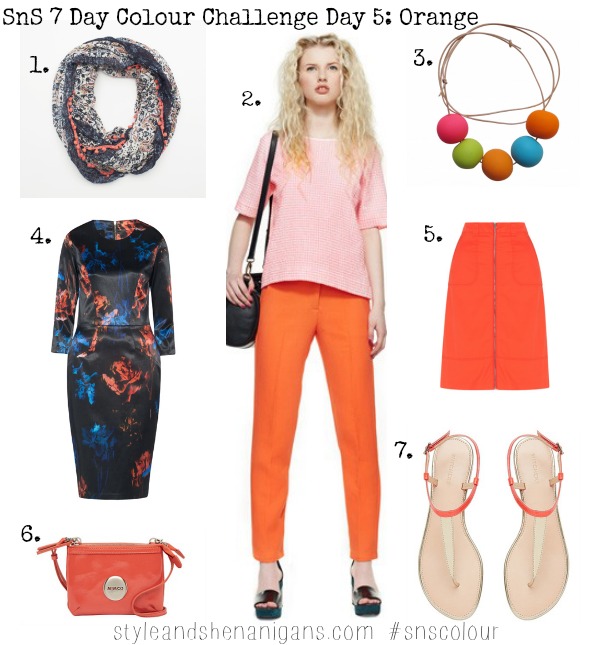 1. Contrast Trim Snood, $24.95 from Glassons; 2. Outfit all new season Gorman including Heirloom pant, $189; 3. Summer Carnival Necklace by i wish i had a little shop, $48 from Down That Little Lane; 4. Electric Floral Satin Dress, $349 from Cue; 5. Calvary Twill A-Line Skirt, $149 from Veronika Maine; 6. Secret Couch, $119 (on sale) from Mimco; 7. Sandy Sandal, $79.95 from Witchery;
Are you a fan of orange? How do you wear it and where have you found lovely orange bits n bobs?
Also, if you're game, don't forget to upload your photo of your orange outfit (or outfit with a pop of orange) in the comments below, on the SnS Facebook page or head over to Instagram and use the hashtag #snscolour. Thank you!