What colour was your school uniform? I wore bottle green ankle to neck (comprising a bottle green skivvy and tracksuit) during the winter months of primary school, and frankly, I am scarred.
By the time the early 90s arrived with bottle green and burgundy, it was burgundy all the way for me. There was no going back!
From a few conversations I have had this week, a colour associated with a prior school uniform can be a major deal breaker. If you have ever had to wear a colour for a uniform, chances are it has been intentionally exorcised from your adult wardrobe. Fair enough.
Nikki over at Styling You says she struggles with purple for this reason. Ditto, my friend Ing said she couldn't go any where near yellow because of the school uniform factor. I get it.
I am not the biggest purple fan (a hangover from my Ishka loving teenage years perhaps) even though I feel good in it and it seems to suit me. I have a few key pieces – a royal purple knit dress and a couple of lilac tops. Generally, I like my purple with black patent in winter and lilacs with white, grey and denim in the warmer months.
I do, however, know plenty of people who love purple and wear it well. Like my friend and fellow style blogger Rachel over at Redcliffe Style: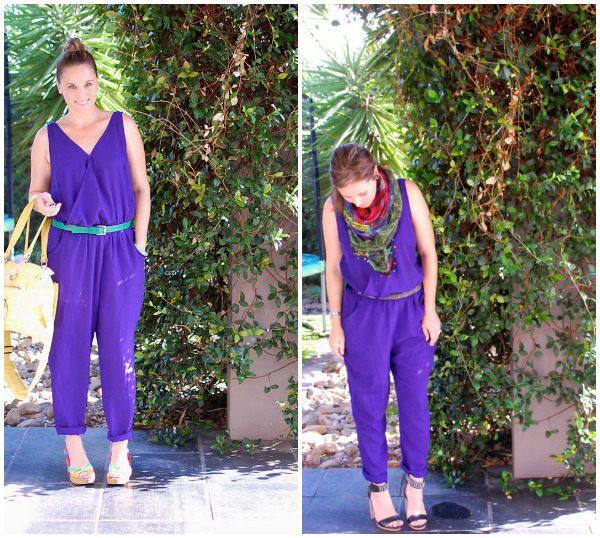 And the fabulous Kimba over at Kimba Likes: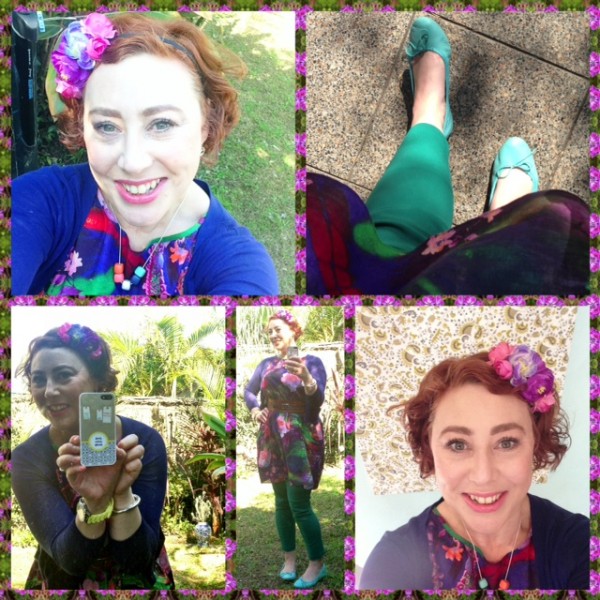 My approach to wearing purple in future, inspired by these stylish ladies, would be to incorporate it with other colours (how great does it look with a pop of green or red/pink in the outfits above) and to break it up with a belt to avoid looking like Grimace (props to Jo over at iCurvyworld for that line).
I will also look for pieces with blue and pink in them, like the gorgeous scarf and dress, skirt and top below: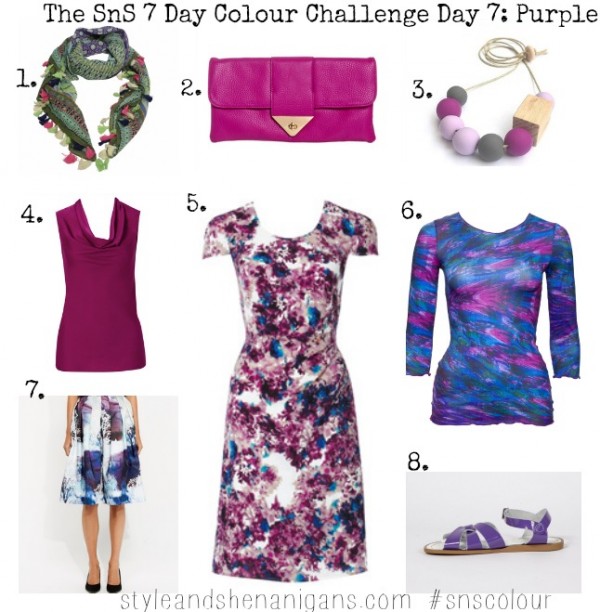 1. Zali Scarf in Purple & Green, $59.95 from Hard to Find; 2. The New India Clutch in Orchid, $24.95 from Portmans; 3. Neon Purple, Lilac and Grey Necklace, $38 from One Sunday at Down That Little Lane; 4. Audra top, $49.95 (on sale – sizes 6 – 18 still available) from Diana Ferrari; 5. Jsyelle Pencil Dress, $189.05 from Diana Ferrari; 6. Zulu Scoop Neck 3/4 Sleeve Top, $69.95 from Metalicus; 7. Full Party Skirt, $99.95 from Portmans; 8. Purple Salt Water Sandals, $85 from Someplace;
Are you a fan of purple? How do you wear it and where have you found lovely purple bits n bobs?
Also, if you're game, don't forget to upload your photo of your purple outfit (or outfit with a pop of purple) in the comments below, on the SnS Facebook page or head over to Instagram and use the hashtag #snscolour. Thank you!