Oh pink. How l love thee.
You were the colour my bridesmaids wore, the colour of the sapphire in my wedding/engagement rings and the colour of my watch face. I simply cannot get enough of you!
Are you, like me, having a long term love affair with that gorgeous colour that seems to suit everyone and always looks fabulous?
In fact, I think it is so fabulous, I don't have much in the way of tips to offer you in how to wear pink. Just wear it. Enjoy it.
The only advice I could offer is to get yourself hooked up with some pink shoes and a great pink lipstick ASAP as it will take your outfits to a whole new level. Trust me, you will never look back.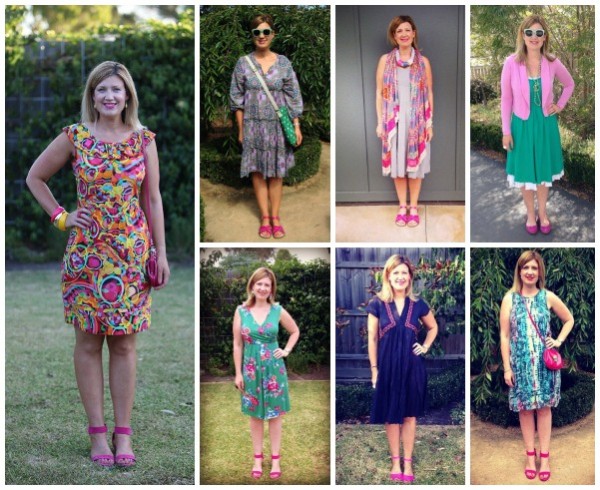 In terms of pink lippy, I am loving Pink Ladies (my new day time pink shade) and Mad About You (bright neon pink) from Sportsgirl. The gorgeous Absolutely Amy has also got me on to MAC's Candy Yum Yum and it looks fabulous as you can see here.
So how do you like your pink? Hot or sorbet? As luck would have it, you can find everything from hot pink and fuchsia through to pastel, blush and coral pinks in stores right now: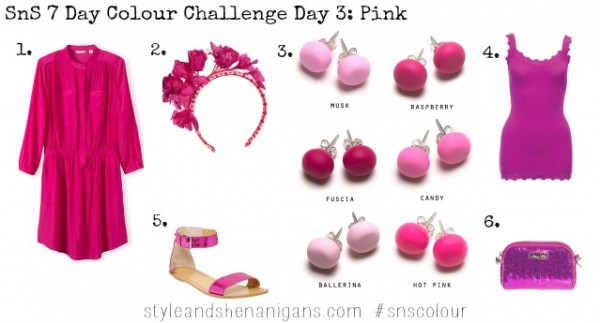 1. Fluid ShirtDress, $179.95 from Country Road; 2. My Tokyo PenPal Headband, $49 from Alannah Hill; 3. Pink Tone Studs; $22 each from Emily Green; 4. Lace Camisole in Fandango, $49.95 from Metalicus; 5. Solitude Sandals, $49.95 (on sale) from Nine West; 6. Some Kind of Glow Purse, $39 (on sale) from Alannah Hill.
And for lighter, more pastel tones, look no further: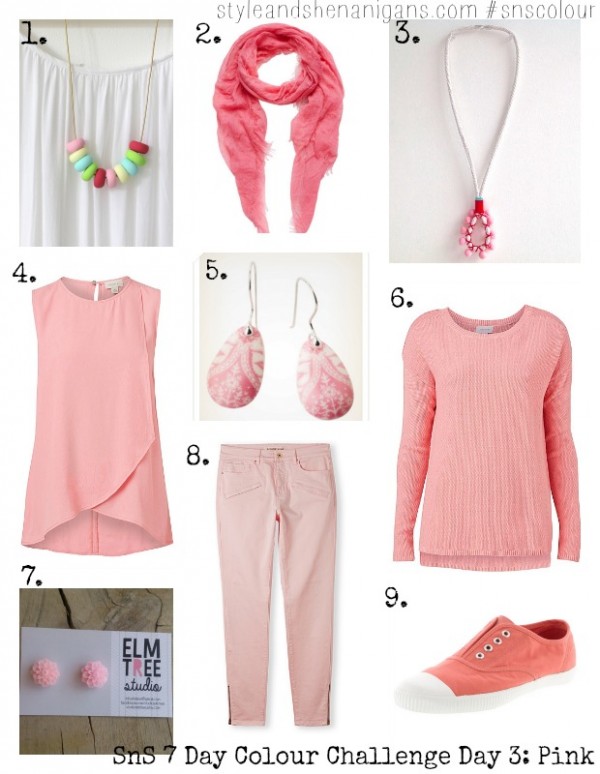 1. Newport Beach Necklace by French76, $38 from Down That Little Lane; 2. Pink Solid Scarf, $19.95 from Sussan; 3. Long Loop Necklace – Pink Pom Pom, $50 from Brown Paper Packages; 4. Petal Front Tank, $79.95 from Witchery; 5. Tear Drop Earrings in Candy Wallpaper, $60 from Angus & Celeste; 6. Moss Stitch Knit, $99.95 from Witchery; 7. Cabochon Dahlia Flower Earrings, $8 from Studio Elm Tree at Etsy; 8. Crop Zip Detail Sateen Jean, $99.95 from Country Road; 9. Mandy Eyelet Slip-On Canvas Shoe in Pink, $15 from Target.
How do you like your pink? What's your go to pink lipstick?
Also, if you're game, don't forget to upload your photo of your pink outfit (or outfit with a pop of pink) in the comments below, on the SnS Facebook page or head over to Instagram and use the hashtag #snscolour. Thank you!