You only have to scroll through Insta for a few minutes to see animal print is, as famously said in Zoolander of super stud Hansel, so hot right now.
From camis, tops and jackets through to frockery and accessories, there's an animal print to suit any taste whether you like a little or opt for more Donatella Versace like proportions.
And there's not just the traditional camel and black leopard variety around the traps too. This Autumn's offerings extend to include snake print, zebra and wild cat prints of all descriptions – has anyone ever seen an ocelot on their travels? – so there are plenty of interpretations and variations colour wise if you're looking for a new take on an old fave.
I should say straight up that I'm definitely an animal print fan – increasingly so too – although I did start out slowly, with a pair of shoes or statement hand bag added to my Melbourne corporate uniform of black or lighter neutrals and distressed denim combo for more casual days.
These days, I find my approach to animal print is bolder in all scenarios all year round, across both corporate and dressy situations through to weekend, casual and boho looks. I've covered casual and dressy frocks, skirts and tops now as well as a few pairs of shoes and a bag or two and I currently have my eye planted firmly on the Bohemian Traders blazer below.
In terms of what's on offer in stores right now, you'll find everything from silk neck ties and sophisticated sling backs for work through to more casual espadrilles, slides and OTS frocks and pretty much everything in between, at almost any price point.
If you're keen but not sure where to start, here's my round up of the latest offerings. This is but a small selection of what's currently available but it covers the dressy through to work and weekend scenarios and items currently available in most sizes. Other things I would have included have sold out already, so if something takes your fancy, get on to it!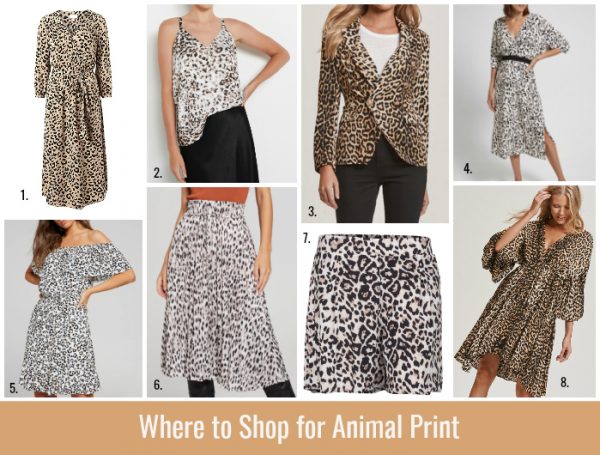 ABOVE: 1. Ocelot Wrap Dress, $169.95 from Witchery;
2. Animal print cami $69.95 from Sussan;
3. Animal Print blazer, $159.95 from Bohemian Traders;
4. Cadillac Midi Dress, $349 from SABA;
5. Off the Shoulder Dress, $99.95 from Portmans;
6. Perfectly Pleated Skirt, $99.95 from Portmans;
7. Shorts, $139 from Styling You The Label;
8. Billow Sleeve Dress, $189.95 from Bohemian Traders.
If statement accessories are more your thing, you're currently spoilt for choice too, with footwear ranging from slides and espadrilles through to statement mules, sling backs and boots. A budget friendly entry point is a printed scarf to wear back with block coloured faves.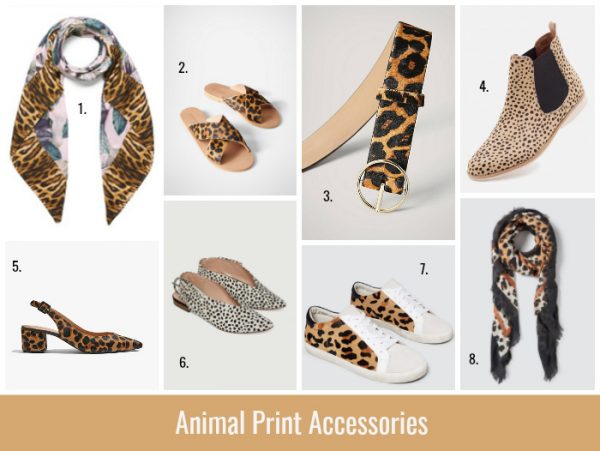 ABOVE: 1. Tropicana Scarf, $49.95 from Mimco;
2. Slides, $129.95 from Witchery;
3. Belt, $79.95 from Witchery; 
4. Cheetah boots, $209.95 from Rollie Nation;
5. Mid Heels, $159.95 from Country Road;
6. Lily Flats, $199 from Gorman;
7. Leather sneakers, $129.95 from Seed Heritage; 
8. Scarf, $49.95 from Seed Heritage.
Outfit Ideas
Add an animal print slide or trainer to simple jeans/shorts and tank combo on the weekends.
Bold jewel tones look fabulous contrasted with animal prints. Think bold fuchsia, cobalt blues and emerald greens. The current cobalt blue and snake print range at Country Road is an excellent example of this.
All shades of denim from lighter distressed styles and white through to black and indigo look fab with animal print. Mix and match to create some new looks.
If you're looking for a printed jacket for Autumn, add an animal print jacket to cart stat. It'll pair well with black basics for work and also complement a dressy jeans and top look come the weekend. If you're looking ahead to Winter, check out this coat at Sussan.
When opting for an animal print dress, keep your accessories simple and tonal (black or tan) and let the dress do all the talking.
For resort style that you can wear when you're back at home, consider an animal print cami to wear with black/denim/white shorts or a pair of animal print shorts to wear with black/white/tan tank and espadrille wedges.
If you see a style you love, snap it up stat. I've seen many of the most popular items sell out in a day or two at Sussan and Portmans in recent times.
But wait there's more …
A new range featuring loads of animal print has just dropped at French Connection which you can check out here.
My mate Nikki has just launched Styling You The Label which has a great range of options in sizes 8 – 18 which you can shop here too.
Bohemian Trader's latest drop, Havana Nights is fab too, with plenty of great options.
This post contains affiliate links. You don't pay any extra and I earn a small commission. Read more in my Disclosure Policy here. 
Is there a little or a lot of animal print in your wardrobe? Which styles are speaking to you this Autumn?