What does your casual wardrobe consist of come Spring?
You know, when jeans will do but it's just warm enough to wear something, well, different.
For me, a casual dress is always a good thing on days such as these, particularly if it's comfortable, low maintenance, looks good and can withstand the rigours of daily life with kids. By this, I mean it needs to flatter but not cling, not requiring ironing and be an easy base on which to throw on one accessory as I race out the door in the morning.
Just like this.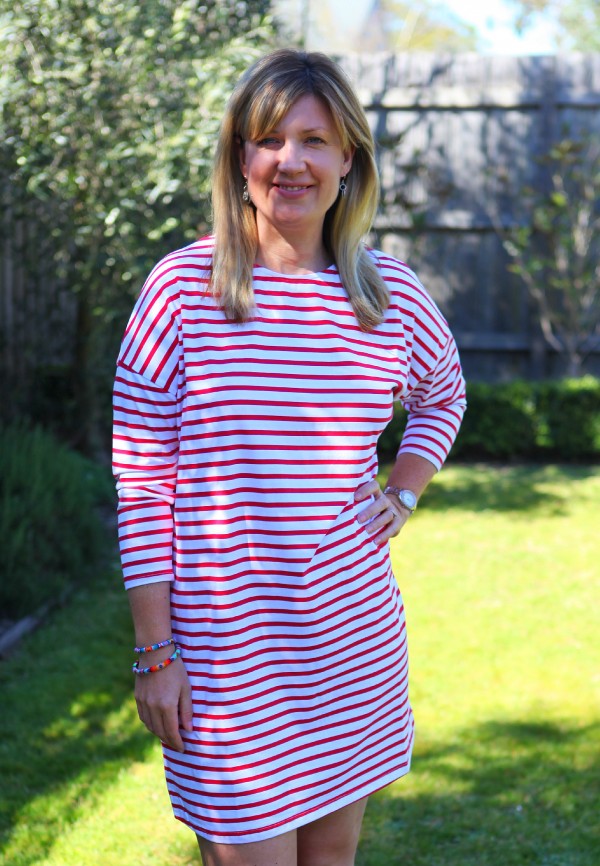 ABOVE: Wearing Oversized Stripe Dress* from Bohemian Traders, (6) below; coin bracelets from Bohemian Traders; coin earrings from Tingo.
Lucky for me (and you) then, that stores are full of great casual frocks at this time of year. It's like they know that we can't wait to bare our legs (once we've attended to some deforestation), pop on some sandals and wear something a bit different to the same old.
I don't shy away from wearing a print or three and funnily enough, this season's offerings are full of great prints. More specifically, the striped dress is back in a big way, across all stores and price points.
I especially like a relaxed or casual style of striped dress. While stripes can definitely be dressed up (add blazer and wedges to channel Duchess Kate), they are an every day champion, and I think, an essential item in any casual wardrobe due to their versatility and practicality.
So, no matter where you live and how warm it is right now, as the selection below shows, there is a casual striped dress for everyone – sleeveless, t-shirt or long sleeved.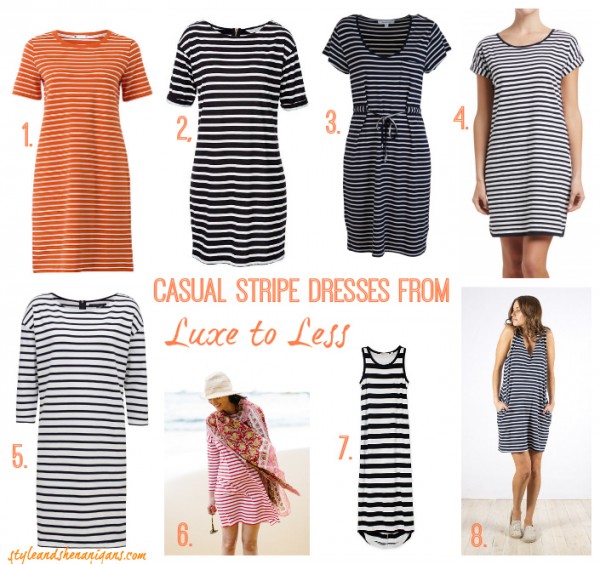 1. Rugby T-Shirt Dress, $20 from Target; 2. Stripe Print Tee Dress, $39.95 from Seed Heritage;  3. The Feel Good Dress, $69.95 from Birdsnest; 4. Striped Tee Dress, $79.95 from Sussan; 5. Longline Stripe Tee, $79.95 from French Connection; 6. Oversized Stripe Dress, $129 from Bohemian Traders; 7. Twisted Back Maxi Striped Dress, $129  from Country Road; 8. Ahoy V Neck Dress in Navy/White, $139 from Bohemian Traders.
So if you are wondering how to style your striped dress this Spring, here are a few ideas:
1. On mild days, throw on a cardy and sandals in a contrasting colour to keep things interesting – add navy to orange/white stripes; pink to black/white stripes and yellow to navy/white stripes;
2. Embrace a print clash. A striped dress is a great base on which to work a clashing print. Add a floral scarf, a spotty bag, pair of leopard print sandals and have fun (for some clashing print inspo, check out this post;
3. Stripes love denim. Throw on a denim jacket or vest, especially in so hot right now chambray, and you'll be channelling casual chic like nobody's business.
For more tips on how to wear stripes and I why love them so, check out this post on stripes.
* This dress was gifted to me for editorial consideration in accordance with my Disclosure Policy. It is currently on sale at Bohemian Traders.  Just enter the code CELEBRATESPRING for 15% off. Happy shopping!
Are you as happy as I am to see so many striped frocks around town? How do you like to wear yours? If you need an update, which of the above takes your fancy?