Welcome to day 1 of the #SnSPrint challenge!
We are kicking off the week with stripes.
Why?
Well, most people have stripes in their wardrobe.
Stripes are classic and are available almost year round, from season to season.
Personally, I love stripes because they are incredibly versatile, working across the full gamut from dressy to casual. They also never date.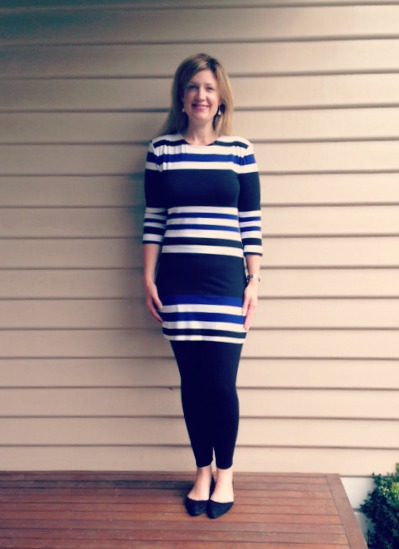 If you are uncertain about how to wear stripes or looking for some styling inspo, here are a few tips to get you started:
1. Stripes can be flattering as they emphasise curves. If you want to emphasise your top or bottom half and draw attention away from another region, stripes can do the trick as they create a focal point;
2. Anyone can wear stripes. If you don't want to draw attention to your tummy/waist area, look for swing, A-line and structured knits and tops that skim not cling;
3. Play around with different styles of stripes – the placement and pattern of the stripes can make a difference to the overall look. In the outfit I'm wearing above, the inbuilt shoulder pads and thick bands of stripes create shape and focal points;
4. With the exception of a striped dress (and what a great statement that can be), when wearing stripes, a little can go a long way. A striped top, shoes or scarf only needs to be paired with plain and simple block coloured basics to shine;
5. To channel Duchess Kate, work a striped navy and white Breton top back with skinny jeans, a navy blazer and ballet flats for a timeless, chic classic look;
6. Don't be afraid of striped skirts. If you find a flattering shape whether it be a pencil skirt or full skirt, a simple block coloured top and pair of kitten heels or heeled boots is supremely elegant. Don't forget to add some bright lipstick!
7. If you are not confident with wearing striped tops or bottoms, consider dipping your toe in by adding a striped scarf or pair of shoes in your wardrobe to lift to a basic outfit;
8. Colour wise, black and white stripes look fabulous with a pop of yellow, red or pink. Navy and white stripes are a more classic look to which a pop of red can be added for a touch of nautical style meets the French Riviera. Other combinations of striped colours can be more casual although I do love a grey/black stripe in winter and red/blue is always sublime;
9. If you have big boobs and are not sure how to wear stripes, check out this great post on "How to Wear Stripes with Big Boobs" by Kimba Likes over at Sonia Styling;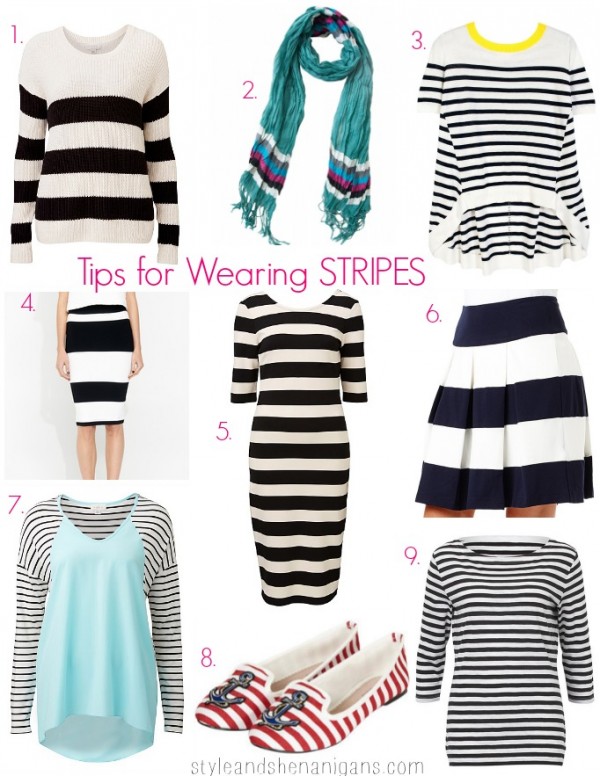 1. Block Stripe Knit, $99.95 from Witchery; 2. Stripe Crinkle Scarf in Green, $29 from Blue Bungalow; 3. Nautical Knit Tee, $74.95 (on sale) from Gorman;   4. Milano Pencil Skirt, $69.95 from Portmans;  5. Knit Sheath Dress, $129.95 from Witchery; 6. Contrast Ponte Skirt – Stripe, $59 from Target; 7. LS Woven Stripe Tee, $69.95 from Witchery; 8. Ships Ahoy Slippers $50 (approx) from TopShop; 9. Ladies 3/4 Sleeve Slub Top – Black Stripe, $25 from Target.
For more stripes, check out Sussan, Target, Witchery and Country Road. They each have plenty of great options on offer this Winter.
So how do you like your stripes?
Fashion Blogger?
For the fashion bloggers among you, feel free to add your post featuring stripes below using the InLinkz tool and your link will get embedded below.