This might be the day that surprises some of you.
Geo? Check? Really?
I can hear you thinking, "Do I have something in my wardrobe in such a print?"
You might be surprised to find you do. Even accidentally. Geometric and check prints are big news in winter.
For me, checks are a traditional print. They evoke cosy blankets, hot water bottles and picnic blankets – all good things. The new 2104 check print is not all red, black and white. It comes in a variety of colour ways and textures and translates well to cosy knits, tote bags, scarves and winter dresses.
Geometric prints on the other hand, you can safely peg as modern. In monochrome, geometric prints mean business and epitomise corporate chic, particularly the grid style which is popular this winter.
In pastels and bright colours, geometric prints are more playful but always modern.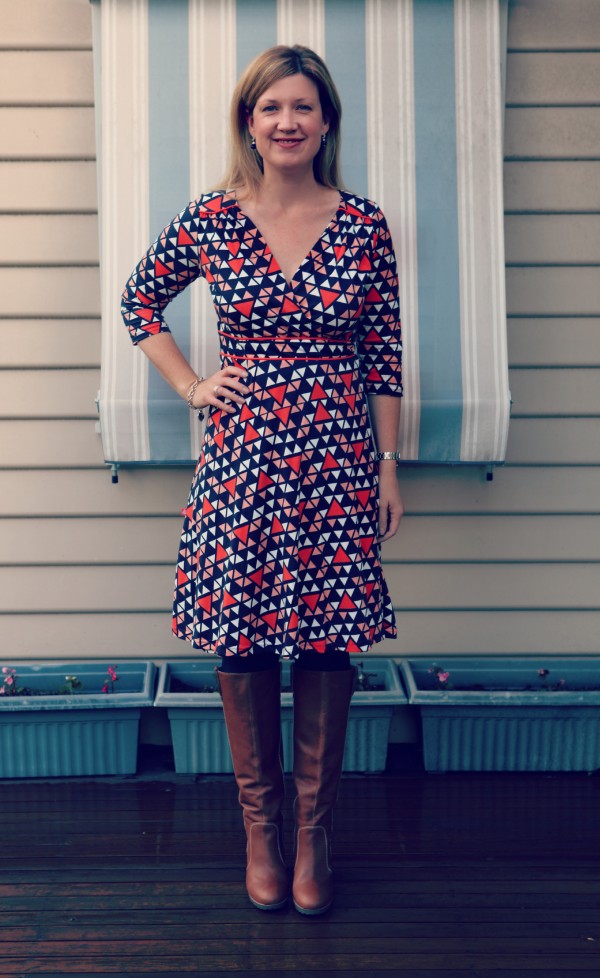 ABOVE: I am wearing a current season Boom Shankar dress. For all the details, head to this post.
 Below is a small curated selection of what you can expect to find in store and online at the moment.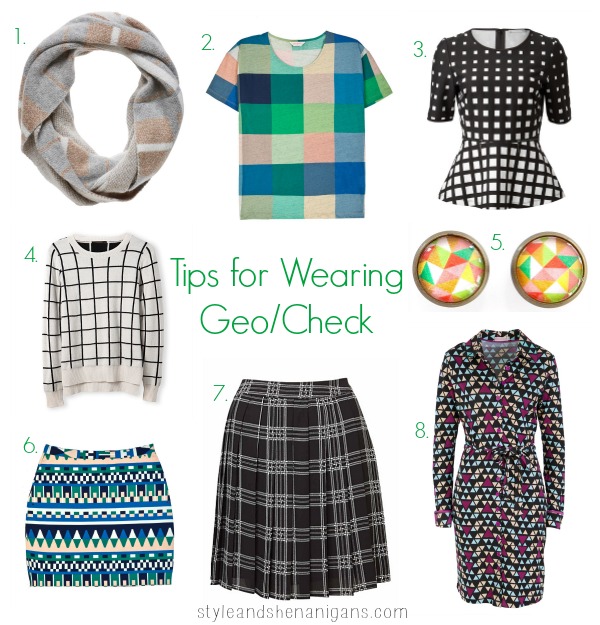 1. Check Loop Scarf, $49 from Sussan;  2. Strike a cord Tee, $89 from Gorman; 3. City Dress Zip Detail Top, $40 from Target; 4. Grid Jacquard Knit, $129.95 from Country Road; 5. Geo Coloured Studded Earrings, $29.95 from Birdsnest; 6. Off the Grid Mini, $169 from Gorman; 7. Pleat Check Skater Skirt, $99.95 from Witchery; 8. Billy Dress in Brown Triangle by Boom Shankar, $89 from Birdsnest.
Here are my tips for how and why to wear check and geo prints:
1. Like most prints, geo prints and checks work well with block colours. If you have a wardrobe of neutrals and block colours, by  adding a couple of statement pieces like those above, you can add some real oopmh and interest to your wardrobe;
2. Without being too matchy matchy, look for accessories with shapes that mirror the shapes in the print such as jewellery and bags (such as earrings or a clutch);
3. Easy ways to introduce a bit of geo print are with a scarf or a pair of earrings (as above);
4. When you think about it, stripes and spots are geometric prints, so if you like wearing them, you can wear other geometric prints too!
5. Have fun with geometric prints and to keep it casual, pair it with denim and if you have them, a pair of vintage/cowboy boots for a bit of old meets new.
Would I find any check or geometric prints in your wardrobe? Why or why not? Fashion Blogger?