What springs to mind when you think floral?
Great Auntie Elsie's floral sofa?
Your Mum's 80s cushions?
Your teenage doona cover?
Cheesy, chintzy prints which are dated and well, a bit twee?
Perhaps. Well, I've done some reconnaissance of late, and I can tell you that there are some seriously fabulous florals floating around. If you have't had a look in a while, you might be surprised by what you find.
I've always been a bit partial to floral prints but I've been loving the more modern florals of late.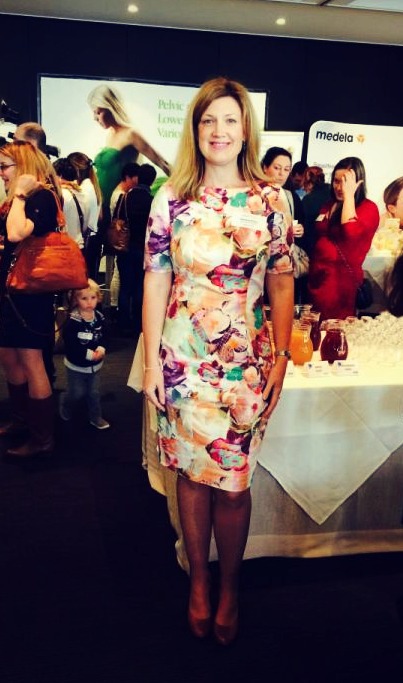 Above: I'm wearing a fab Portmans dress I picked up on sale a couple of months ago.
Why? Well I am loving that the "new" floral is (often) digital, modern and works back with dark neutrals for versatility.
The cuts of modern floral prints are anything but pedestrian as well – think sexy pencil skirts, structured dresses, flattering shapes and statement accessories.
1. Betty Sue Wrap Dress, $159.95 from Review; 2. Floral Garden Scarf, $39.95 from Sussan; 3. Floral Print Raglan Sleeve Top, $30 from Target; 4. Floral Montage Dress, $189.00 from Cue; 5. Purple Floral Party Skirt, $129.95 from Portmans; 6. Floral Pencil Skirt, $79.95 from Portmans; 7. Water Lillies Jacket by Ladakh, $94.95 from Birdsnest; 8. Electric Floral Print A-line skirt, $129.50 (on sale) at Cue.
If you are a bit wary when it comes to florals and not sure where to start, here are a few tips for introducing floral into your wardrobe:
1. Start small – a floral scarf is an easy way to start. Sussan, Portmans and Miss Shop are good places to look;
2. Start monochrome – modern black and white floral prints are a non-threatening and practical way to introduce floral into your work or evening wardrobe;
3. If you are game to wear a floral skirt, trousers or frock, keep the accessories complimentary, fabulous but understated. The print is the star here;
4. To avoid looking too "cute", work florals back with stripes for a modern look (more on this to come in the print clash post);
5. For an edgier look, work your floral back with something unexpected like leather or a pair of trainers.
Finally, if you find yourself looking for florals at a later date, great places to find floral year round are Alannah Hill, Review, Cue and Portmans.
Are you a floral fan? How do you like to wear it? 
Fashion Blogger? 
Thank you for joining in the #snsprint challenge!