Just because summer is over, it doesn't mean you have to kiss frocks goodbye while they hibernate over winter.
No, frocks are a great option during winter, and can break up the monotony of jeans, ponte pants and trackie dacks.
I'm always on the look for frocks, as you know. In today's post, I'm talking up one of my favourite styles – the wrap dress.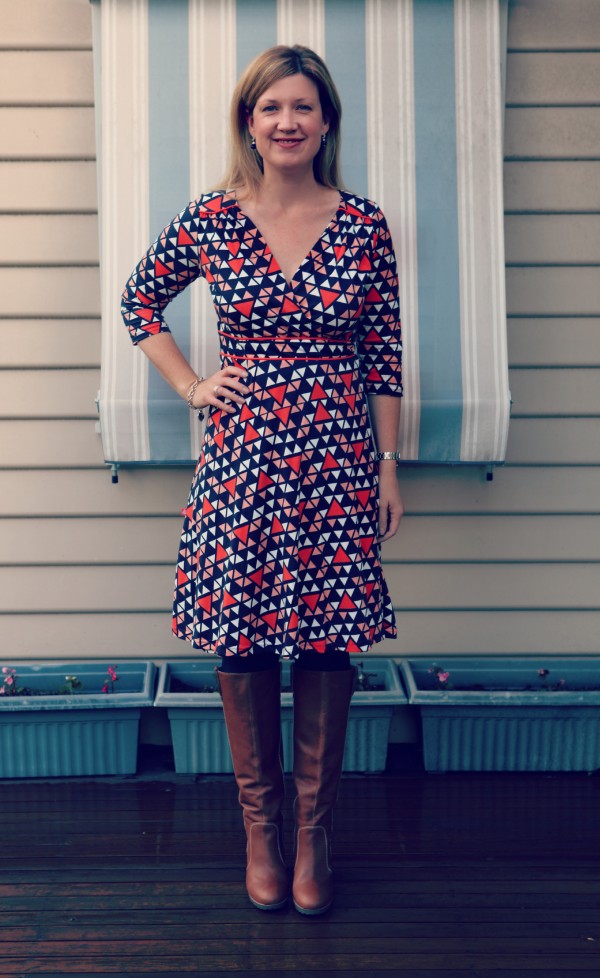 Wearing: Emily Wrap dress in Blue/Orange (Size 12) from Birdsnest; Ambra navy tights from Myer; Boden vintage heeled boots from 2 winters ago (for similar try these); earrings from Fudge Gifts; bracelet and ring from Tiffany & Co.
Why do I love a wrap dress? Let me count the ways:
1. A faux wrap gives you a flattering shape without the need to do anything;
2. A wrap dress with ties can be adjusted to your shape and for your comfort without inflexible zips;
3. A wrap dress flatters as it comes in at the waist and flares out, creating a flattering, hourglass shape;
4. A printed wrap dress skims and deflects attention away from any lumps and bumps;
5. The v-neck neckline is flattering and particularly suits those with bigger busts.
Above, I'm wearing Boom Shankar's Emily Wrap dress in Blue/Orange, which is new but currently sold out on Birdsnest (I know, don't you hate that?) and not listed at the Boom Shankar online shop. Given it was featured in the Birdsnest catalogue, I am fingers-crossed hoping it will be re-stocked there at some point.
In the meantime, the good news is that if you really like this print, you can find the maxi version of this dress at the Boom Shankar online shop here . Nikki over at Styling You wore this print in a maxi skirt last week too, which you can see here.
If you prefer the shorter length, a pink and brown colour way in this dress is also available at the Boom Shankar online shop, which you can find here.
Even though the dress I am wearing may be temporarily unavailable,  there are plenty of other great options around, at a range of price points. I've also included the another print in the style I am wearing in the selection below.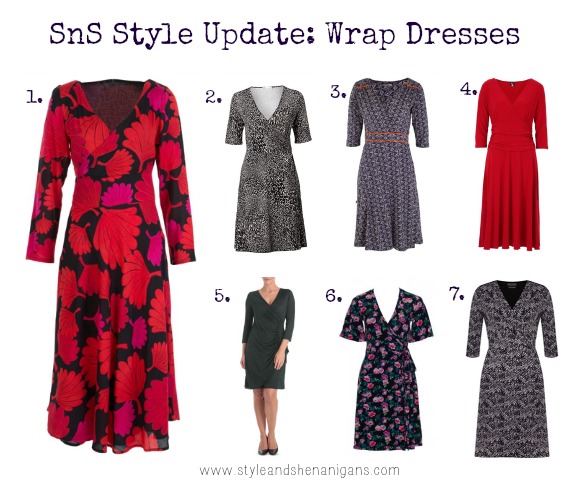 1. Maggie Wrap Dress (Floral Fan), $99.95 from Birdsnest (other prints available); 2. Animal Faux Wrap Dress, $40 from Target; 3. Boom Shankar Emily Wrap Dress in Blue Snow, $95 from Birdsnest; 4. Y V Neck Dress, $99 from Birdsnest (also available in black and emerald); 5. Leona by Leona Edmiston Olive Wrap Dress, $129 from Myer (other colours and prints available); 6. Veronica Wrap Dress, $159.99 from Review; 7. Ink Spot Jersey Wrap dress, $199 from David Lawrence.
Tips for Wearing Wrap Dresses in Winter
1. For dresses that finish below the knee, opt for tights/stockings and ankle boots, heels or wedges;
2. For dresses that finish above or at the knee, a heeled long boot looks great but try to ensure there is a gap between the end of the dress and the top of the boot;
3. Wear a co-ordinating coloured bra so if the opening falls away a little or the tie loosens slightly, it's not as obvious;
4. Keep it simple and let the dress to the talking. I tend to wear earrings instead of a necklace with a wrap dress, keeping the decolletage uncluttered;
5. For a smooth silhouette, invest in shape wear (if you need it) or quality hosiery to create a smooth silhouette.
Are you a fan of the wrap dress? What's your pick of the selection above?