Welcome to the latest instalment of Luxe to Less, a popular post around these parts. (You can catch up on previous posts here). 
The idea behind these posts is that I do the research for you, so you can find a style that suits your price point without wasting valuable time doing the legwork in your limited time at the shops or at home. Because let's face it, for many of us, gone are the days when you can put in a solid day at Westfield on a Saturday. Short, sharp and efficient is how most of us shop these days.
We also tend to shop at the same shops most of the time, so seeing what's available at a range of retailers can sometimes lead to a new retail love being born or even save you cash if it helps you find a less expensive but still cool interpretation of the item you're after.
This week, the focus is on Winter dresses, inspired by a girlfriend emailing me this week asking me to write a post on basic Winter dresses.
Despite Winter traditionally being a lean season when it comes to dresses – they tend to be a Spring special in readiness for racing/party season – there are, surprisingly, plenty of frocks around town at the moment.
After checking out what's on offer, I reckon there are about four styles of frockery featuring heavily this season: the print dress; the shirt dress; the knit dress and the dressier party/work dress. I'll focus on print dresses today and cover shirt, knit and party/work dresses in future posts.
So, on to print dresses.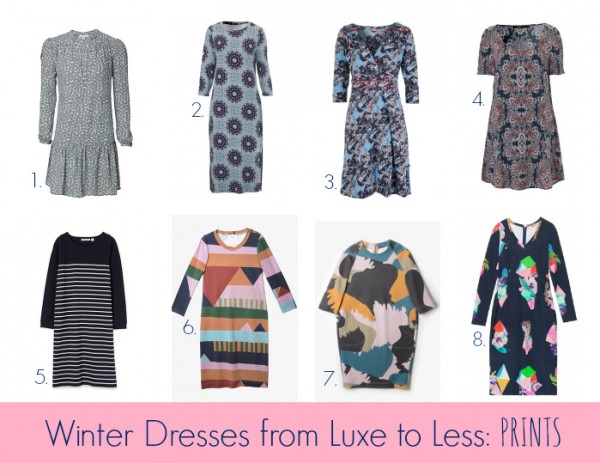 1. Peasant Dress, $49 from Target; 2. Bandana Midi Dress, $89.95 from Sportsgirl; 3. Emily Dress in Mountain by Boom Shankar, $95 from Birdsnest; 4. Milly Curve Hem Dress, $99.95 from Sportsgirl; 5. Cotton Striped Dress, $119 from Trenery; 6. Alpine Dress, $169 from Obus; 7. Snow Drift Dress, $199 from Obus; 8. Ritual Pencil Dress, $249 from Gorman.
Above, I've included styles that can be dressed up or down with a bold lip and perhaps a heel. I know that I don't go out as much at night during the Winter months so I tend to buy dresses that I can wear during the day which also have evening potential.
I've also tried to include a variety of lengths from above the knee to midi and cuts ranging from drop waists (1), straight (2, 5, 6 and 8), tulip (7) and A-line (3 and 4) styles.
Below, I'm wearing the Emily dress (3) above. I've been buying Boom Shankar frocks for the last few Autumns (you can read about last year's frock here) and they've been great dresses to dress up and down. I couldn't wait to buy this year's version too. In fact, I bought it while on holidays in the US and it was waiting for me when I got home. #Winning.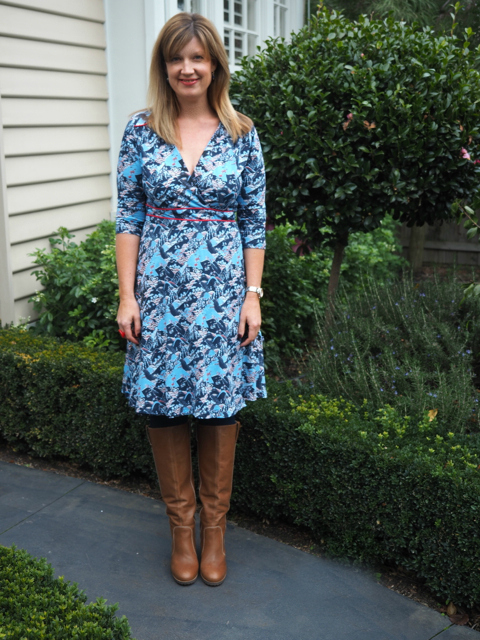 Wearing Urban Decay "Naked" Lipstick
In the two photos (above and below), I've changed up my lipstick – a lighter, pink lip for day and a bright red lip in one shot for more of an evening look. Everything else – my accessories (Dinosaur Design ring), hair, boots (Boden from a few Winters ago) and dress – is exactly the same but the overall look is quite different.
And for more of an evening look …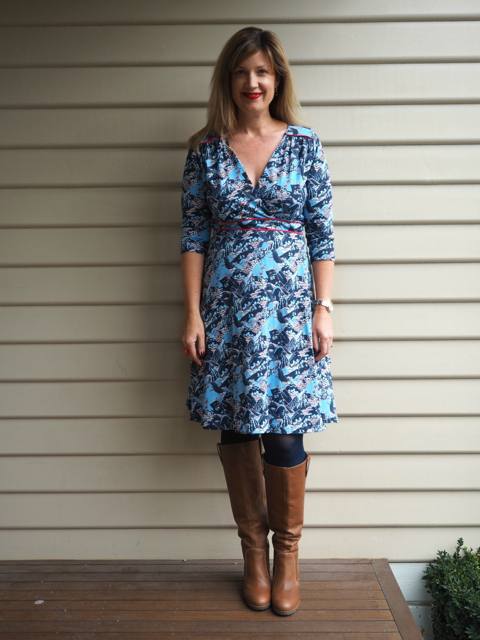 Wearing Dior Rouge 999 Lipstick
This is the sort of dress I will happily wear to a family birthday do, church, a kinder/school dinner or the flicks with the girls. As it cools down, I'll add a red knitted snood and my navy velvet jacket. It would also work well with a pair of wedges and a denim jacket in milder climates.
Are you a fan of the print dress? Which frock is your pick? Do you find yourself wearing dresses much in the cooler months? Any fans of Boom Shankar in the 'hood?