Welcome to the fifth and final instalment of our series on Winter dresses from Luxe to Less.
I know, already!
We've covered so much over the last few weeks: print dresses, shirt dresses, knit dresses, work dresses. In a worthy finale to the Festival of Frocks, today we turn our attention to party dresses.
Why?
Well, Winter might not be the traditional party season but it sure is a busy social time for some.
According to our fridge, it's definitely party season. As well as our kids' parties, we have invites to several 40ths coming up – an intimate dinner, a posh lunch and a classic '80s rollerskating party. I'm thinking that my three very different soirees require at least two outfits, or perhaps one outfit for the dinner slash lunch and maybe I can dust off my acid wash for the rollerskating!
I digress.
Nutting out what to wear to parties and special occasions can be a challenge. While the venue and time of day give you a great place to start, I know that when I'm thinking about what I should wear, I'm thinking about the following trifecta:
1. I want my outfit to be dressy enough but warm and comfortable;
2. I'd like my outfit to be versatile enough to work across a range of occasions and possibly seasons;
3. A dress is likely to be the easiest option as it is an almost complete outfit – I can just add shoes, hosiery and accessories.
Before buying anything new, it's worth raiding your work wardrobe. As I touched on in last week's post on work dresses (you can catch up here), at this time of year, most dresses that are appropriate for work in Winter can be blinged up for smart casual through to semi formal parties on the weekend – dinners, cocktails and the like.
Most of us have fewer options in the formal department. It can be hard to justify buying a formal dress sometimes too as more formal frockery (such as wedding or cocktail party dress) is generally less versatile on the work/social front unless you find a style that you'd be prepared to wear across the seasons i.e. a sleeveless or short sleeved dress you can wear now with a warm coat or shrug, and on it's own in warmer weather.
Or, if long sleeves are non negotiable, it's a good idea to look for a long sleeved option in a classic style that you'll be happy to wear in future Winters. For less formal occasions,a smart knit dress might be a good option.
With this in mind, I've curated a selection of Winter party dresses that hopefully covers all dress codes, beginning with the LBD, a classic staple which really comes into it's own in Winter. An LBD is the perfect base upon which to layer statement jewellery or a scarf, patterned hosiery, heeled boots or pumps and a gorgeous statement coat, cropped jacket or shrug.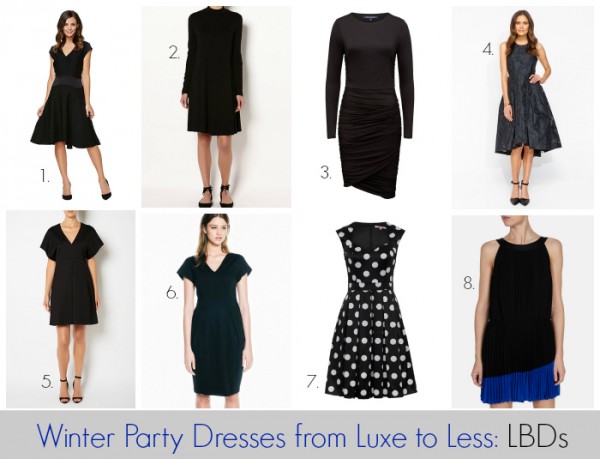 1. Yours Sincerely Black Panel dress, $99 from Target; 2. High Neck Swing dress, $99.95 from Witchery; 3. Cross Front Long Sleeve dress, $129.95 from French Connection; 4. The Gown, $169.95 from Portmans; 5. Pleat Front Kimono dress, $179.95 from Witchery; 6. Compact Double Knit Short Sleeve dress, $219 from Veronika Maine; 7. Lady Bug Spot dress, $289.99 from Review; 8. Colourful Pleated Dress, $395 from Karen Millen.
Above, 1, 2, 3, 5 and 6 would work happily across work and play scenarios and are versatile enough to style in several ways.
If long sleeves are essential for warmth, 2 or 3 would be great options.
Picks 4, 7 and 8 are much dressier and would be appropriate for dressier do's such as weddings or cocktail parties. While they'd need a warm coat or shrug in Winter, given they are sleeveless, any of these styles would work well in warmer weather too.
For more options, check out this stunning (though strapless) To Catch a Thief Dress, $259 (on sale) and this very fabulous At Midnight dress, $349, both from Alannah Hill. If you're heading to a Winter wedding, check out this fab post by Styling You.
If colour and print are more your thing, look no further …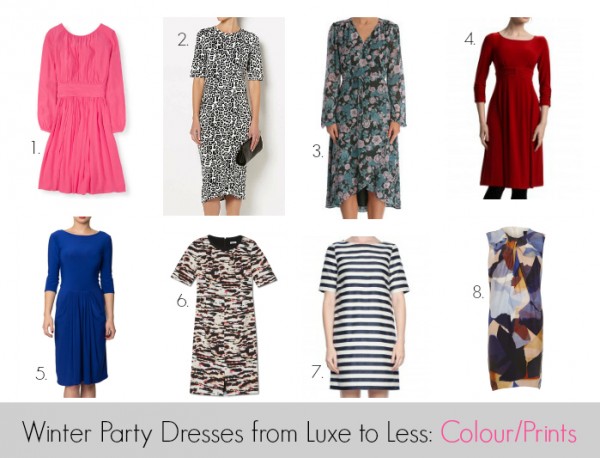 1. Long Sleeve Selena dress in tutti frutti $124.80 from Boden; 2. Seam detail ponte dress, $149.95 from Witchery; 3. Fleurette Persian Paisley Print Wrap dress by Fleur Wood, $189 from Myer; 4. Poppy dress, $185.50 (on sale) from Leona Edmiston; 5. Camille dress by Leina Broughton, $195 from Birdsnest; 6. Stretch Otto Ink Blot dress, $249 from Marcs; 7. Jailbird dress, $249 from Gorman; 8. Landscape Print dress, $250 from Saba.
For a lunch do, a pretty frock in a bright colour (1, 4 or 5) or a floral, like 3, is always a winner.
Printed shifts (6, 7 and 8) cover most occasions and can transition easily to the fancy end of your work wardrobe after a few outings. Pick up one of the colours in the print for your coat and add a bright lip for the final touch.
Leopard lovers are well covered this season too with this gorgeous body con shift (2) which can be also dressed down with chunky knit cardy and ankle boots for weekends.
For more beautiful cobalt blue dresses – one of my Winter faves – check out this flattering Stella dress by Leina Broughton, $265 from Birdsnest and this body con Signature Stretch Satin dress, $375 from Karen Millen.
You'll also find some gorgeous, colourful party worthy frocks in my posts print dresses.
Finally, if you are looking for some fab accessories to complete your outfit, check out this post on Winter Accessories. Pity I didn't think to include fluro leg warmers!
* this post contains affiliate links. You don't pay any extra and I earn a small commission.
Do you have a dressy occasion coming up? What style do you tend to gravitate to for dressy Winter do's? Have you been rollerskating lately?