It's hard to argue with the proposition that Winter really has it over Summer in the accessories department.
From gloves, hats, wraps, umbrellas and scarves, you can really go to town when it comes to accessorising in Winter. Not only do they look good, but they actually serve a purpose by keeping you toasty and warm.
I've been re-discovering my Winter scarves, fossicking through draws to locate my seemingly always AWOL umbrellas (is it only me?) and now I'm seriously contemplating purchasing a pair of fingerless gloves circa 1984 to combat the digit freezing morning temps we are having in Melbourne this week.
So, it was a pleasure to put together this edit of Winter accessories which should cover any mood, occasion or wardrobe this Winter.
Let's kick of with neutral toned accessories …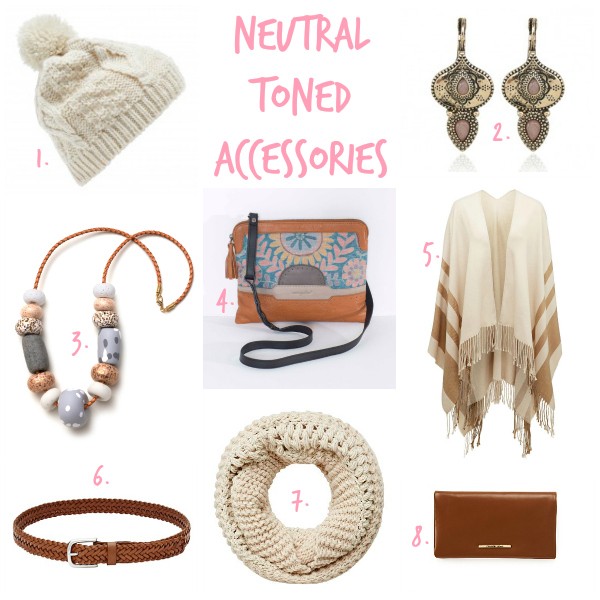 1. Hannah Pom Pom Beanie, $16.99 from Forever New; 2. Earrings, $99 from Samantha Wills; 3. Donatella Big Beaded Necklace, $82 from Emily Green; 4. Golf Clutch in Caramel, $195 from Nancy Bird; 5. Stripe Cape, $59.95 from French Connection; 6. Plaited Jeans Belt, $59.95 from Witchery; 7. Open Weave Snood, $59.95 from Seed Heritage; 8. Cynthia Wallet, $129 from Country Road.
I'm loving all things cream and cable knit this Winter. I might not ski but I certainly have no problem looking the part, especially if it involves a roaring fire and a glass of red. As you can see above, a splash of blush pink, muted blues or metallics with classic tan leather accessories are a gorgeous modern take on neutral classics.
If brights are more your thing, there is plenty to keep you interested this Winter. Personally, I'm loving bright pinks and mustards (especially contrasted with greys, blacks and navy) but then again, I've never said no to any shade of green or a pop of red …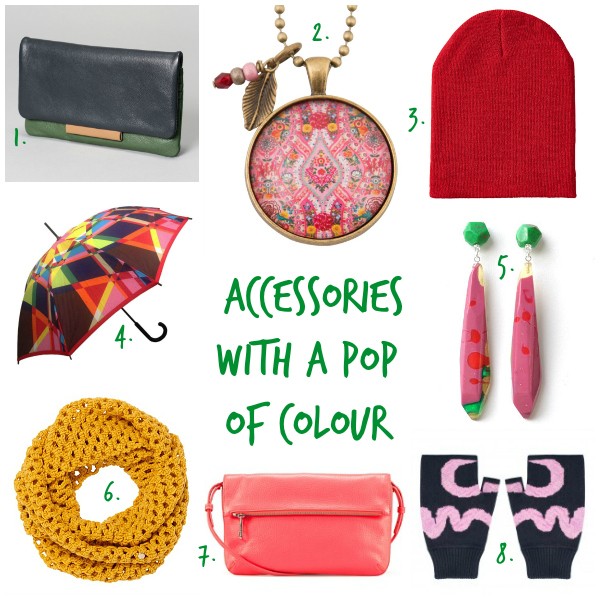 1. Farve Wallet, $135 from Elk Accessories; 2. Gypsy Rose Pendant, $49.95 from Birdsnest; 3. Beanie, $8 from Target; 4. Shelta Marcel Wanders Rainbow Tartan Umbrella, $14.95 (on sale) from Parasol Umbrellas; 5. Long Glam Drop Earrings, $45 from Flock Curiosity Assembly's Etsy Store; 6. Sprint Circle Scarf, $99 from Mimco; 7. Pebble Leather Sling Bag, $199 from Trenery; 8. Wigwam Gloves, $49 from Gorman.
If you're a fan of classic monochrome, you are most definitely spoilt for choice this Winter.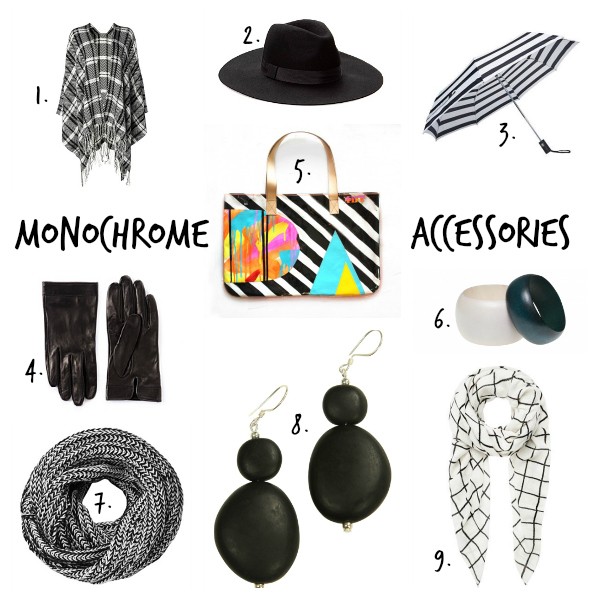 1. Woven Chevron Wrap, $35 from Target; 2. Mid Brim Fedora, $59.95 from Country Road; 3. Compact Umbrella, $29.95 from Seed Heritage; 4. Short Leather Gloves, $59.95 (on sale) from Trenery; 5. Pop Art Large Tote, $210 from Tiff Manuell; 6. Two Solid Wood Bangles, $45 from Elk Accessories; 7. Salt and Pepper Snood, $69.95 from Witchery; 8. Metropolis Earrings, $35 from Polka Luka at Birdsnest; 9. Grid Print Scarf, $59.95 from Seed Heritage.
I've waxed lyrical on monochrome on more than one occasion – it's timeless, works across seasons and is effortlessly chic. By adding a splash of colour or a metallic accent, you'll add a sophisticated touch to any outfit and avoid any possible "do you work at Myer" scenarios.
If you like your monochrome and love a splash of leopard, check out this gorgeous new print at Country Road. My fave is this Leopard Soft Sling Bag, $79.95 from Country Road.
* This post contains affiliate links. You don't pay any extra but I earn a small commission.
Are you going to town with accessories this Winter? What's your go to accessory? What's on your wish list?