I was a bit torn about this week's Style Update post.
On the one hand, I thought it would be timely and (hopefully) useful to put together a range of affordable, winter basics.
You know, the two or three pieces you wear several days a week and which form the basis of many an outfit. For me, it's once I have "settled" into the season, that I begin to see what basics are forming the basis of what I wear every day. From this I work out what may need updating or replacing, what alternative colour might provide further options or what the "missing link" is.
For me, with my predominantly casual wardrobe, I am finding that my skinny jeans, denim skirt and ankle boots are the basis of at least half my outfits each week. I also tend to wear the same coat and reach for the same bag day in day out.
But then another part of me thought its high time we talked show stopping Winter statement pieces which can lift the basics to another level. As you know, I'm a big fan of bright pops of colour, different textures and statement accessories and love how they can transform basics.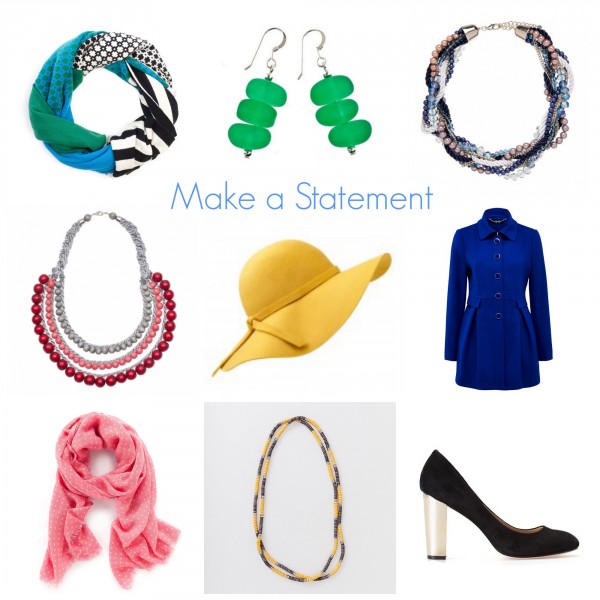 So I decided to do both.
And hopefully, there will be something for everyone. Whether you are shopping around for some key basics or you're looking for a statement coat, shoe, necklace, scarf or hat.
So, without further ado, here is a selection of great, affordable basics. They all come in under $100 and half are $30 or less. Some (2, 5 & 6) come in other colours if you want to stock up. With these (or similar) in your Winter wardrobe, your bases are covered. If you need some denim basics, I've covered those here.
By mixing and matching basics and then adding a point of difference, whether it be a great accessory or a pop of colour, your Winter wardrobe will go the distance, this Winter and beyond.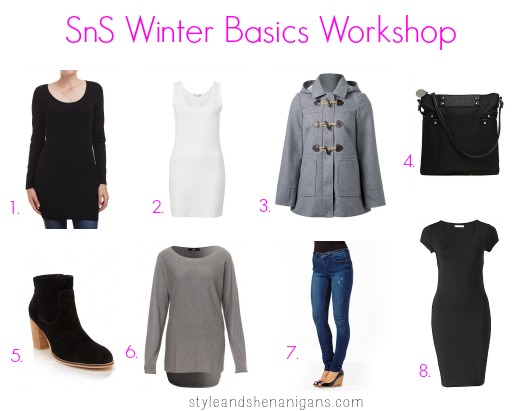 1. Long Sleeve Longline top, $29.95 from Sussan; 2.Ladies Longline tank in White, $12 from Target; 3. Duffle Coat in Dark Grey, $69 from Target; 4. Marlee Cross Body Bag, $79.95 from Witchery; 5. Charlotte Boot, $99.95 from Sportsgirl; 6. Essential Pullover in Dark Grey, $69.95 from Sportsgirl; 7. Modern Super Skinny Jeans, $30 from Target; 8. Super Stretch Dress in Black, $24 from Target.
So now the basics are covered, let's mix and match them and have a bit of fun by adding in an accessory or two or another great statement piece, and see how far the basics can carry you this Winter.
 Weekend Brunch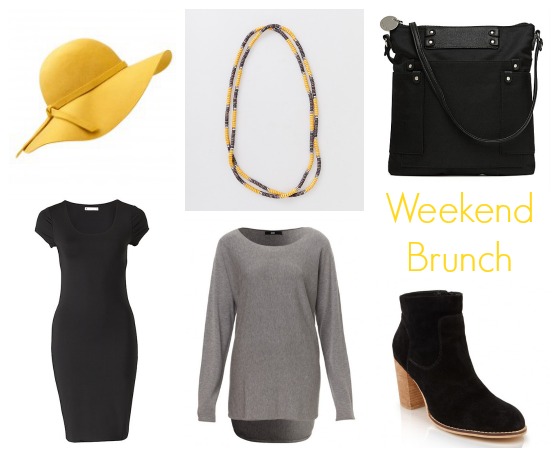 ABOVE: 4 + 5 + 6 + 8 + Hippie Chick Floppy Hat, $39.95 from Sportsgirl and Bean Necklace in Saffrom/Silver, $26 from Have You Met Miss Jones.
This weekend brunch look is layered and comfortable. I love a long knit over a dress with opaques and a pair of boots. The hat and necklace provide the interest and point of difference. By changing out the hat and necklace for a scarf and statement earrings, you have a whole new look. The possibilities are endless!
Night at the Flicks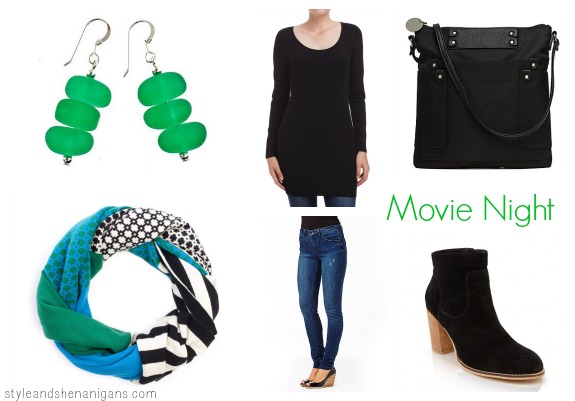 ABOVE: 1 + 4 + 5 + 7 + Think Positive Scarf, $119 from Gorman and Jacobs Resin Earrings, $28 from Polka Luka.
This "Movie Night" look is such a basic outfit but the knockout scarf and emerald earrings give this look the wow factor. This particular combination of basics is super versatile. Change the boots for ballet flats in milder weather or throw on a coloured pea or trench coat over the top for casual chic.
Saturday Sport/Errands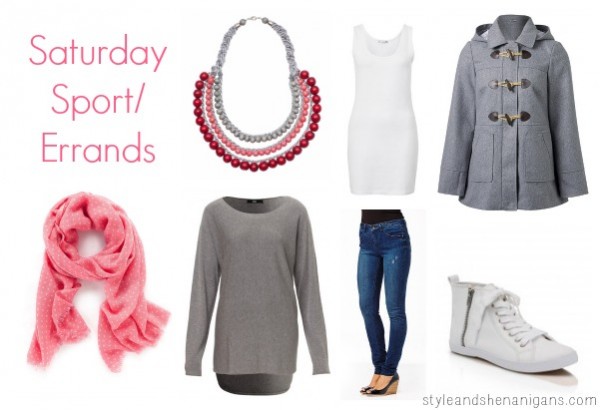 ABOVE: 2 + 3 + 6 + 7 + Spot Wool Scarf in Coral Pink, $69.95 from Country Road; Madame Necklace by The Beaded Warrior, $34.95 from Hard To Find; PU Slimline Hightop, $39.95 from Sportsgirl.
The "Saturday Sport/Errands" outfit (above) is another example of casual, layered style.
The hi tops, scarf and duffle coat are practical for those of us who stand outside or in breezy stadiums of a Saturday morning watching the kids play sport. (By the way, if you are heading to the local muddy oval, change out the white hi tops for a pair of gumboots). The bright pops of co-ordinating colour with the necklace and scarf lift this basic outfit and make it more interesting while still keeping things casual. (If you are wondering, I often wear a pendant and a scarf together as I often take my scarf off when I go inside).
Choose a colour that makes your eyes pop and no one will be asking you if you had a big Friday night!
Dinner Date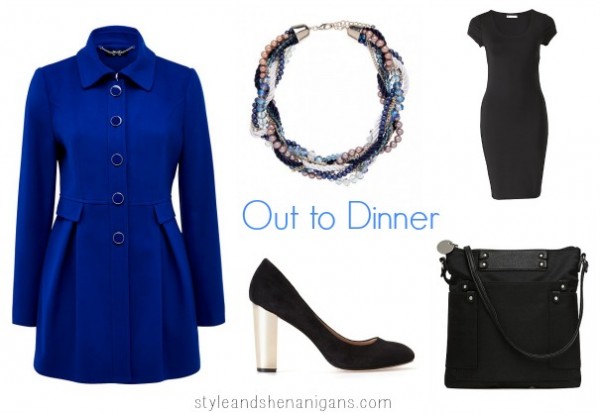 ABOVE: 4 + 8 + Coat from Forever New, $99.99; Lena Twisted Pearl & Rope Necklace, $29.99 from Forever New; Stevie Block Heel, $179.00 from Country Road.
I've featured a few different black dresses on the blog in recent times. This Target dress is quite casual and body con but is a steal at $24. Don't dismiss it just because of its fitted shape though. If you are not comfortable wearing something like this on its own, consider how it would look with a knit or fitted coat over the top, a killer heel and a statement necklace. With these pieces, the attention is all on the colour and accessories and frock will be in the background playing second fiddle.
It's also the sort of frock you can wear with a cardy and a pair of ballet flats come Spring.
This look could also be suitable for work or an evening soiree with a more structured fabric dress (like a ponte).
Are you on the look out for basics or statement pieces? Would any of the pieces above be the "missing link" for you? Which of the styled outfits most reflects your style?