Last week's unrelenting rain really got to me.
It was the little things.
Like walking to the letter box.
Or getting myself and three people in and out of the car several times a day.
Or entertaining three boys inside all day for days on end.
All first world problems of course.
Aside from being overjoyed for our neglected garden, by the end of the week I was O.V.E.R it. My hair was in a permanent frizz, we all had a big dose of cabin fever and the washing was backed up.
Seeing that the rain was really setting in (the forecast last week was for 7 days of continuous rain in Melbourne), I decided it was time to get sorted and buy this year's gumboots. Last winter, my two younger boys LIVED in their gumboots all winter long. In fact, they were still trying to put them on with their shorts in late Spring!
A quick look around the virtual shops revealed a great range of kids gumboots, at a range of price points and in various colours and styles. Here's my pick of what's on offer.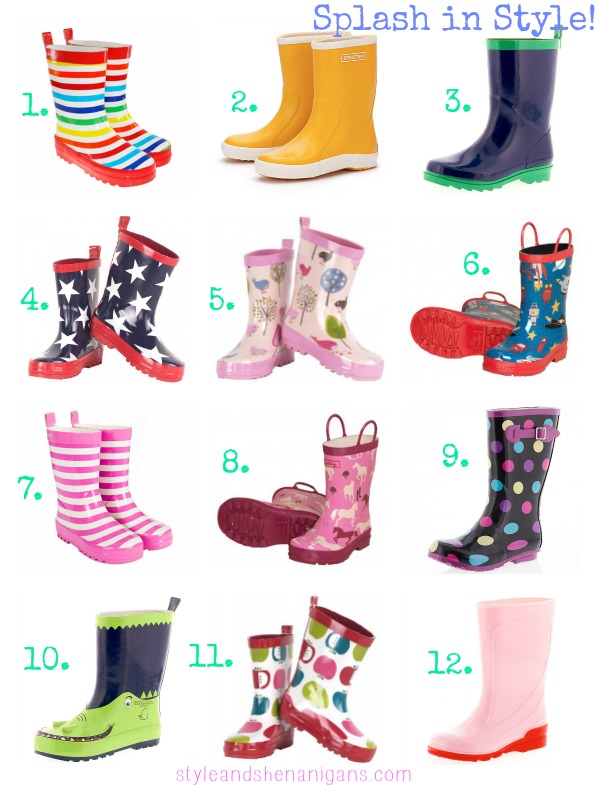 1. Gumboots in Tutti Frutti, $29.95 from Skeanie at Hard to Find; 2. Bergstein Gumboots in Yellow (and several other colours), $59.95 from Down That Little Lane; 3. Boys Gumboots in Navy, $25 from Target; 4. Penny Scallan Navy Star Gumboots, $29.95 from SillyMillyMoo; 5. Penny Scallan Chirpy Bird Gumboots, $29.95 from SillyMillyMoo; 6. Hatley Spaceships Kids Gumboots, $44.95 from Mothers Love; 7. Gumboots in Pink Stripe, $29.95 from Skeanie at Hard to Find; 8. Hatley Plaid Horses Kids Gumboots, $44.95 from Mothers Love; 9. Felicity Polka Dot in Rainbow – Black, $25 from Target; 10. Crocodile Gumboots, $20 from Target; 11. Penny Scallan Juicy Apple gumboots, $29.95 from SillyMillyMoo; 12. Jill Gumboots, $15 from Target.
There is so much I love about gumboots for kids, I'm not sure where to start, but I'll have a crack:
1. The bottoms of pants stay dry on wet days even with the odd jumping in muddy puddles (a la Peppa Pig);
2. The kids can put them on and take them off by themselves;
3. They manage to minimise/reduce the amount of sand coming into our house and for that, I am eternally grateful.
With lots of great designs, I also love their hit of colour and fun on grey, rainy days. They spruce up a plain trackie in no time too.
Last year, my gumboot love extended to me buying my first adult pair. Ostensibly, this was to provide a practical solution for wet, muddy Saturday mornings at Auskick (and to save my lovely leather boots and Converse from a certain demise). However,  I soon found myself reaching for them on rainy days for school pick up along with my $3 IKEA umbrella. On that note, does it rain everywhere at precisely two minutes to the bell or just at our school?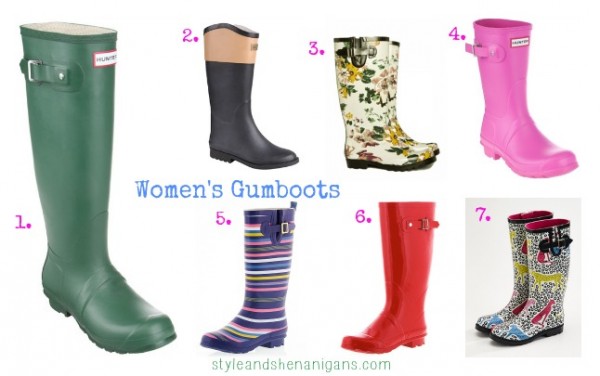 1. Hunter Original, Tall Gloss in Green, $154 from The Iconic; 2. Mambo Fashion Rainboot, $29 from Big W; 3. PipDuck Rubber Wellies (Princess Bird), $136.95 from Hard to Find; 4. Hunter Original, Short Gloss in Lipstick, $136 from The Iconic; 5. Stripey Rubber Rainboot, $25 from Target; 6. Downpour Rubber Rainboot in Red, $25 from Target; 7. Cheetah Gumboots, $59.95 from Mozi.
There are so many fun prints and colours in women's gumboots, there is sure to be something for everyone, from classic colours through to florals and stripes. You'll also find something fabulous at every price point – from the inexpensive but stylish options at Target and Big W through to the designer end of the spectrum where Hunters reign.
So, are you/your kids gumboots fans? What's your pick of the above?