Is it cooling down in your neck of the woods?
Here in Melbourne, we are having a very cool Easter long weekend and the nights are chilly too. Let's put it this way. I am contemplating pulling out the flannelette sheets and electric blankets stat! It might not be quite as cool where you are, but now we are almost into May, winter is really only a matter of weeks away.
There are also lots of storewide sales on this weekend (including 25% at Portmans and 20% at Witchery), so it's a good time to take advantage of them if you are looking to buy a coat this year.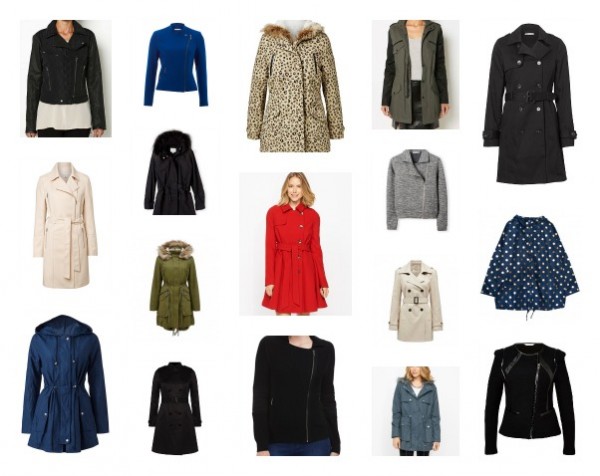 So, what's was on offer in the coat/jacket department for Autumn/Winter 2013?
When I began researching this post two things struck me.
Firstly, there are very clear trends in coats and jackets this autumn/winter. Style wise, you will find one of the following: anoraks/parkas, trench coats, biker jackets, coloured coats (mostly pink) and patterned coats. This post covers the first three styles. I'll cover the others and some neutral offerings in Wednesday's post.
Secondly, each style seems to have a dominant colour – blues and greens in the anoraks and black when it comes to biker jackets. Trench coats tend to play it safe in corporate colours – mostly black with the odd cream and red.
The good news is that each style is available at a range of price points and there is hopefully a style, colour and price to suit all tastes and budgets.
Before you shop, perhaps think about the following:
1. Do you have the basics covered? i.e. a coat that covers most occasions and works with most shoes. If not, aim to find a coat that will. If you have the basics covered, try a new style or colour to inject a bit of wow into your winter wardrobe;
2. Do you need a casual or more formal coat? For casual, think about what shoes you wear and what colour and style of coat would work best. If you opt for more formal, aim for a style that will go the distance i.e. cover work and evening soirees;
3. Are you looking for a coat that is on trend or a long term investment? Try to spend less on trends and more on styles/colours that you know will go the distance. For some, this may mean a classic style in a neutral colour. For others, this may mean a classic style in a colour or print. My longest serving coat is a bright pink, single breasted, mid thigh length, woollen David Lawrence coat, bought back in 2002. It brightened up many a black outfit in my corporate days and now works well with skirts and boots.
Anoraks/Parkas
For me, an anorak or parka is an essential for casual winter wear. They are perfect with trainers/boots, jeans and a knit for the school run, taking the kids to weekend sport and running errands.
The hood comes in handy for showers, wind and bad hair days and can be buttoned up to provide warmth and coverage. It also frees up your hands to hold toddlers, bags and push the stroller/pram.
Some are showerproof, fur lined and/or have detachable hoods. Think about what you need in an anorak/park and go from there.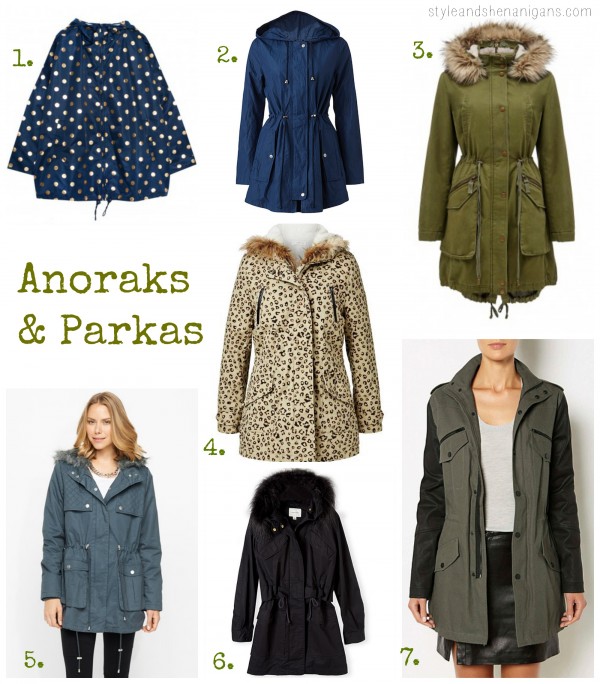 1. Foil Spot Raincoat, $99 from Gorman; 2. Ladies Parker in Medieval Blue, $40 from Target; 3. Arianna Long Line Parka, $139.99 from Forever New; 4. Utility Printed Parka, $169.95 from Seed Heritage; 5. Claudia Fur Trim Anorak, $169.95 from Portmans; 6. Faux Fur Trim Parka, $199 from Country Road; 7. Coated Sleeve Anorak, $169.95 from Witchery.
Biker jackets
Biker jackets create a more modern, tailored look. The styles below range from casual through to quite dressy. I like a biker jacket paired with boyfriend jeans or contrasted with a dress or full skirt. How do you wear yours?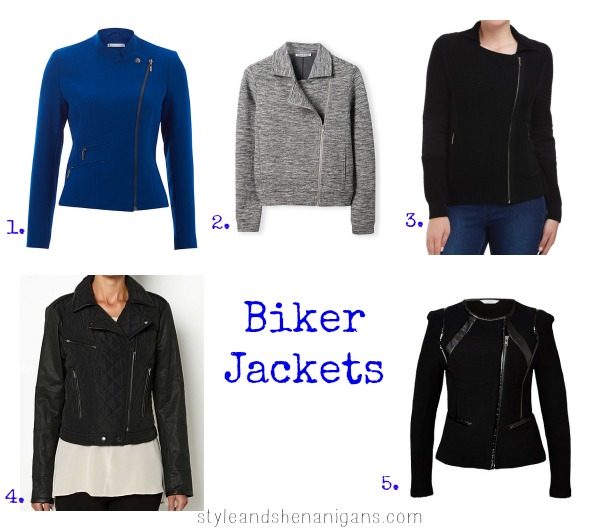 1. Ponte Biker Jacket in Blue, $59 from Target; 2. Zip Through Biker Jacket, $129 from Country Road; 3. Knitted Biker Jacket, $99.95 from Sussan; 4. Quilted Biker Puffer, $189.95 from Witchery; 5. Shimmer Trim Jacket, $229.95 from Seed Heritage;
Trench Coats
Trench coats are a great addition to any woman's winter wardrobe. For working women, they provide a great finishing touch over a simple shift or trousers and a knit.
Less structured styles like (3) and (4) below, are less corporate but still sophisticated for smart days or evenings out.
Colour wise, perhaps try an elegant cream or a warm red for something a little different which will work with a wardrobe full of neutrals.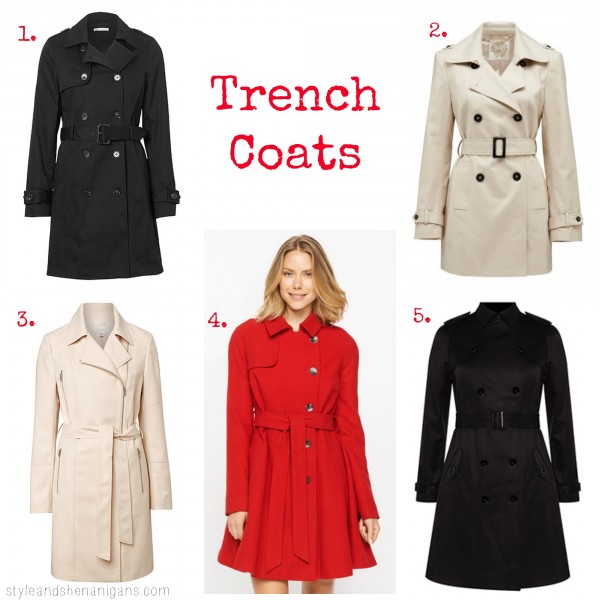 1. Ladies Classic Trench Coat in Black, $69 from Target; 2. Penelope Classic Trench, $139.99 from Forever New; 3. Self Tie Trench, $249.99 from Witchery; 4. Taylor Wool Trench Coat in Red, $169.95 from Portmans; 5. Classic Long Trench, $329 from David Lawrence.
If you are on the look out for a coloured, patterned or neutral coloured coat, don't miss my next post when I'll be bringing part #2 in this series.
Are you on the look out for a new winter coat? What style/colour are you looking for? What's your pick of the above?