Winter officially arrives later this week.
I can assure you that Operation Cosy Town is well underway here at Shenanigans HQ – we had a super chilly one here in Melbs yesterday – and I've been working on my Winter wardrobe too.
I don't think I'm the only one either.
I know many of us are on the look out for that extra layer to see us through the cold Winter months, especially those of us that live in the southern states where the Winter weather can continue well into Spring.
Each year I add a coat or two to my ever growing collection. I do so knowing that a Winter coat is always a good investment and will see me through not only many months to come but also years to come – we really get some serious mileage out of our Winter clothes around here – especially if I choose a coat or jacket that covers the trifecta: it's a style that suits me, keeps me warm and a colour makes me feel fabulous.
This year, I was lucky enough to be given this beautiful wool/cashmere blend coat from the kind folk at Creswick Wool. Isn't it fabulous? I do love a splash or red with black and leopard print not to mention how this coat buttons right up to the collar, providing extra warmth and coverage.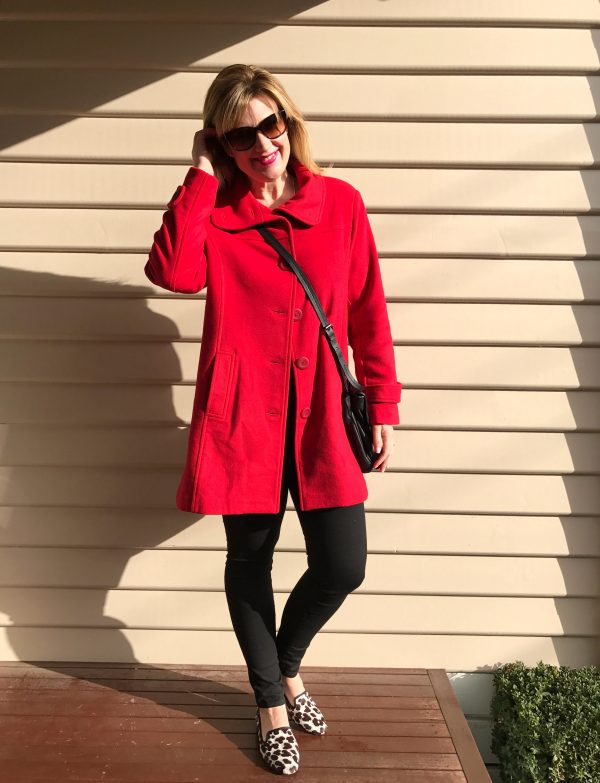 Above I'm wearing the Stellar Coat in Beauty Red from Creswick Wool – I'm wearing a 14 but could have sized down to a 12 – over a black Glassons scoop neck knit, Country Road jeans (a couple of seasons old) and my new Boden slipper shoes.
If you're on the look out for a coat or jacket, you're definitely in luck as there are loads of styles to choose from this Winter.
In fact, there are so many styles to choose from, I'll be covering my favourites in two posts this week. (Today I'll be covering coats and puffers today and printed coats and military inspired coats and jackets on Wednesday).
If you're after dressier or more classic styles for work and beyond, trench coats, wool and other blends of longline coats are the way to go. Down South, a trench coat is fine for mild days or trans-seasonal weather but in the middle of July, a Winter weight coat, like the one I'm wearing above, is definitely what's required.
So to begin with, below, I've included my edit of longline Winter coats.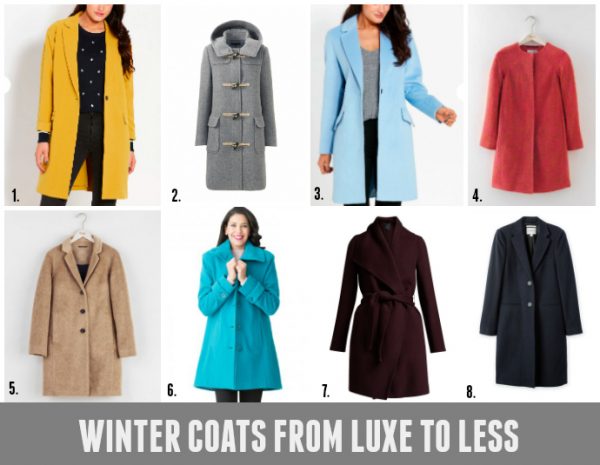 ABOVE: 1. Boyfriend Coat, $99.95 from Dotti; 2. Duffle Coat, $129.95 from UNIQLO; 3. Cambridge Coat, $129.95 from Dotti; 4. Sienna Herringbone Coat, $135.20 from Boden; 5. Jennie Coat, $169 from Boden; 6. Stella Coat in Teal, $199 from Creswick Wool; 7. Kayla Drape Coat, $399 from SABA; 8. Modern Car Coat, $399 from Trenery.
Above, you'll see I've stuck to block coloured options in a variety of styles and price points. I love a pop of colour, especially in Winter but if neutrals are more your thing, do click through, as most of these styles come in at least one if not several other colours, some of which are classic neutrals.
Bold colours, like yellow, red, pink and bright blue can actually be more practical and versatile than you may think too. They all work back beautifully with blacks, creams, charcoals and navy and can some depth and interest to a predominantly neutral or block coloured wardrobe.
In terms of styles, I've included a range here from wrap styles, through to classic one or two button styles and those with mandarin collars. If you haven't tried these, it's worth trying them on to see how a different style might look on you. I also find different scarves (snoods and traditional styles) work better with certain styles of coats too.
If you are after a classic black wool coat in a wrap style, this Signature Ruby Pocket Coat from Sportscraft is a super chic but practical option.
If you're looking for casual jackets or coats, anoraks, puffers and duffle coats are great everyday options that will keep you warm without sacrificing style. Here in Victoria, with Winter setting in, I find that puffers and duffle coats are generally the warmer options, especially if you spend time on the sporting sidelines watching the kids, but if you live further north, you'll probably find an anorak is all you need.
Below is my round up of puffers, from luxe to less.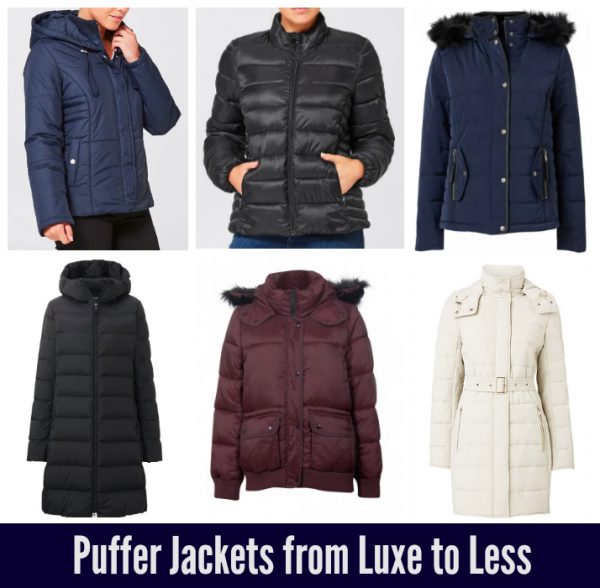 ABOVE, CLOCKWISE FROM TOP LEFT: Hooded Padded Jacket, $35 from Target;  Padded Jacket, $35 from Target; Millie PU Leather Padded Jacket, $89.95 (on sale) from Jeans West; Ultra Light Down Hooded Coat, $129.95 from UNIQLO; Steph Oversized Bomber, $139.95 from Decjuba; Longline Puffer, $199.95 from Witchery.
If you've already covered off a black style – always a practical option – perhaps consider a different colour or length to mix things up. Wine is a big trend this season but I'm also quite partial to Winter white. Navy is an excellent all rounder too.
I've included a range of different lengths above, but several of the retailers mentioned offer styles in a variety of lengths from the classic mid hip through to midi and full length options. Personally, I prefer the most coverage possible for that all round doona feeling without being horizontal.
I'm tall so I tend not to get lost in the longer styles, but if you do want more definition, try a belted style to create more shape.
If you're after a printed puffer, definitely check out the fab prints at Gorman here.
If you're looking for anoraks, you'll find a great selection at Seed Heritage.
Looking for more options? In Wednesday's post I'll be covering printed coats and this season's hottest trend, military style coats and jackets.
This post contains some affiliate links. You don't pay any extra and I earn a small commission. Read more in my Disclosure Policy here.