Following on from Monday's post (which covered new season anoraks, biker jackets and trench coats), today, I've done the legwork to bring you eighteen more winter coats from luxe to less.
There is no doubt that colourful and patterned coats are bang on trend this winter but I've also included a selection of neutrals for those looking for a wardrobe basic or an update.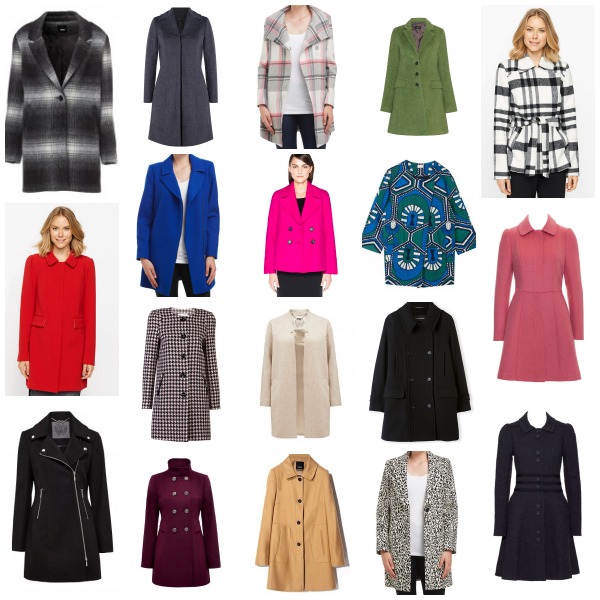 You'll find most of the options below at your local major shopping centre. I'm figuring that most of us would generally like to try a coat on in the flesh before buying. Hopefully by checking out what is on offer before you head in store, you can narrow down what you are looking for and save time by going directly to the shops that suit your taste and budget.
Also, if you can, I'd also suggest that you pop into your local Zara (if you happen to have one nearby). In recent weeks I have seen some fantastic and very reasonably priced winter coats there. Unfortunately, they do not have an online store in Australia so I can't link to specific products.
Colourful Coats
It may not surprise you to hear that I am a big fan of the coloured coat. I have several which work back very nicely with blacks, greys and creams. I get the most wear out of my emerald green and red coats both of which are several years old.
This winter though, it's all about the pink coat. I've only included a couple in the selection below, but many stores are stocking pink coats this year, (including Sussan and Alannah Hill) so look around if you have decided pink is the way to go for you.
With a couple of co-ordinating accessories (such as a bag, a scarf or earrings), a coloured coat can be as practical as a neutral coloured coat with the added bonus of giving you and everyone who sees you a lift. Don't be surprised if everyone from the barista who makes your morning coffee through to your colleagues/friends/clients tell you how fab you look and what a refreshing sight you are in a sea of black!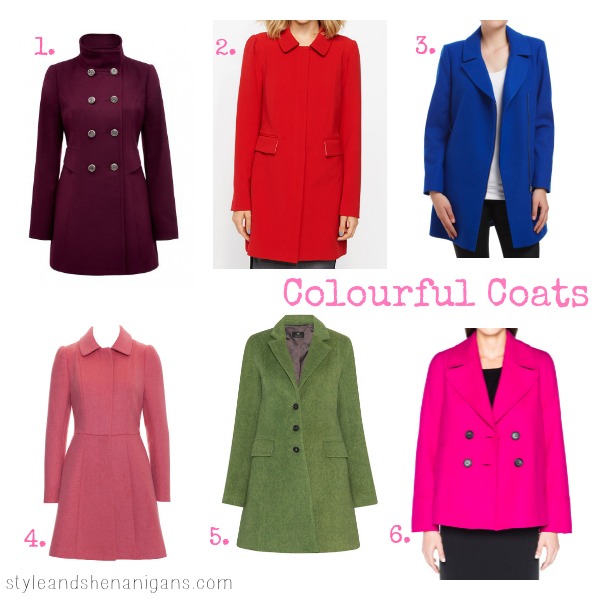 1. Viola Fit and Flare Funnel Coat, $99.99 from Forever New; 2. Lady Like Zip Up Coat, $129.95 from Portmans; 3. Longline Biker Jacket, $149.95 from Sussan; 4. The Theodore Coat in Coral, $224.99 from Review; 5. Brushed A Line Coat, $449 from Cue; 6. Wool Flannel Pea Coat, $449 from Veronika Maine;
Patterned Coats
Patterned coats are similar to coloured coats, in that they can really lift your basics and neutrals to another level.
This season, there really is something for everyone from classic checks and houndstooth through to a modern ombre and a statement Gorman print.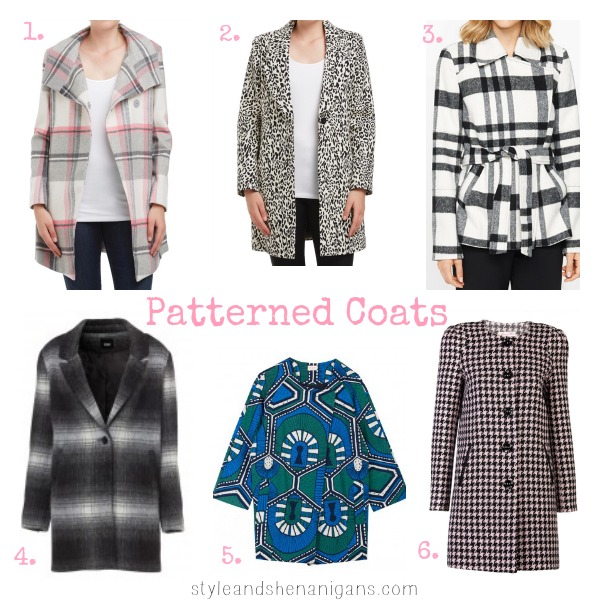 1. Winter Check Coat, $169.95 from Sussan; 2. Animal Coat, $169.95 from Sussan; 3. Vivienne Check Coat, $189.95 from Portmans; 4. Winter Check Coat, $189.95 from Sportsgirl: 5. Under Lock and Key Jacket, $299 from Gorman; 6. A Wonderful Thought Coat, $429 from Alannah Hill.
Neutral Coats
A neutral coat is a great investment, provided you buy a colour and shape that suits you and your lifestyle. I like a waisted coat for evenings (when I tend to wear my coat for longer periods) but a classic pea coat style is always in fashion and can cope with winter layers.
In addition to black, I've also found cream and grey coats to be versatile and practical options as they go with everything that black works with as well as navy.
If you would like to experiment with a different style, a neutral coat is a good place to start too.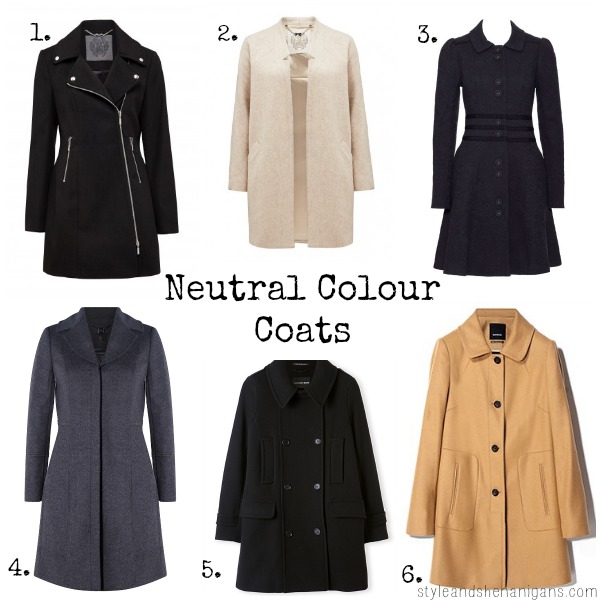 1. Amber Biker Coat, $139.99  from Forever New; 2. Tilda Cocoon Coat, $149.99 from Forever New; 3. The Mallorie Coat in Charcoal, $224.99 from Review; 4. Long Sleeve Collar Coat, $399 from David Lawrence; 5. Wool Twill Pea Coat, $399 from Country Road; 6. Italian Melton SB Retro Coat, $399 from Marcs.
If you are looking for a new season anorak, biker jacket or trench coat, head over to Monday's post, here.
What's on your shopping list this winter? What's your pick of the above?