I really couldn't have picked a better week to focus on Winter coats and jackets.
It has been COLD.
Down here in Melbs, we've felt the full force of those icy Antarctic winds this week and overnight temps will continue to plummet over the next few days.
Let me put it another way: while my electric blanket has been on my bed since Operation Flannelette Sheets, the other night I not only turned it on, I kept it on.
My fave throw rug on the sofa has been put to good use every night, the aroma of scented candles is filling the house and I even cracked open a bottle of red on Sunday arvo.
I'm certainly taking this Winter Business very seriously.
And that extends to my outer layers as well. I took advantage of a storewide sale at Gorman recently and added this ripper to cart … I should also say it is reversible – the reverse side is a quilted denim.
Bingo.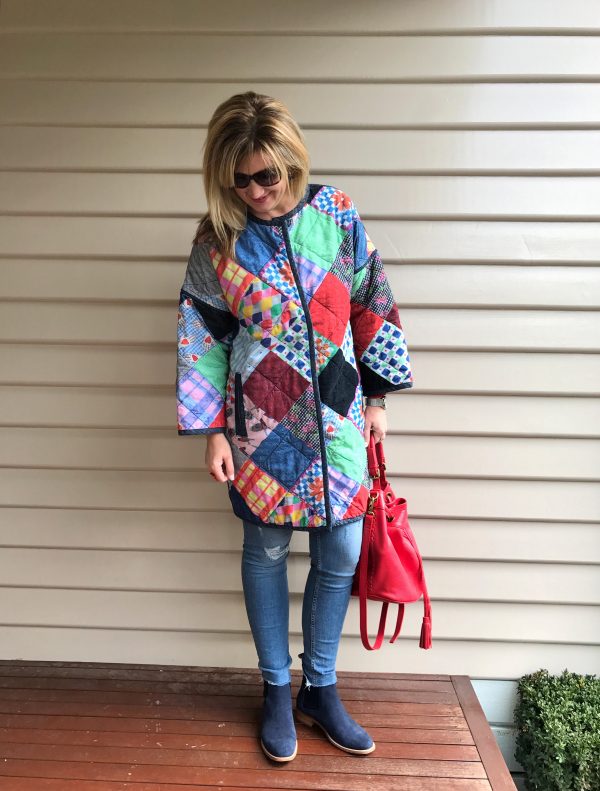 Above, I'm wearing the Patchwork Coat from Gorman (size 12, on sale), French Connection jeans (I'm wearing 14), Augusta Suede boots from Trenery, red knit from Portmans, tote from Boden and earrings from Ruby Olive, all from seasons past.
So what do I love about a printed coat slash jacket?
Well, like their warm weather equivalent – the printed dress – they really do all the work when it comes to creating an outfit with 'wow' factor. This coat gives me so much colour to work with, all I have to do is simply add some block coloured basics – jeans, knit and shoes – and I'm done. The kimono sleeve and shape of this coat is interesting in and of itself too.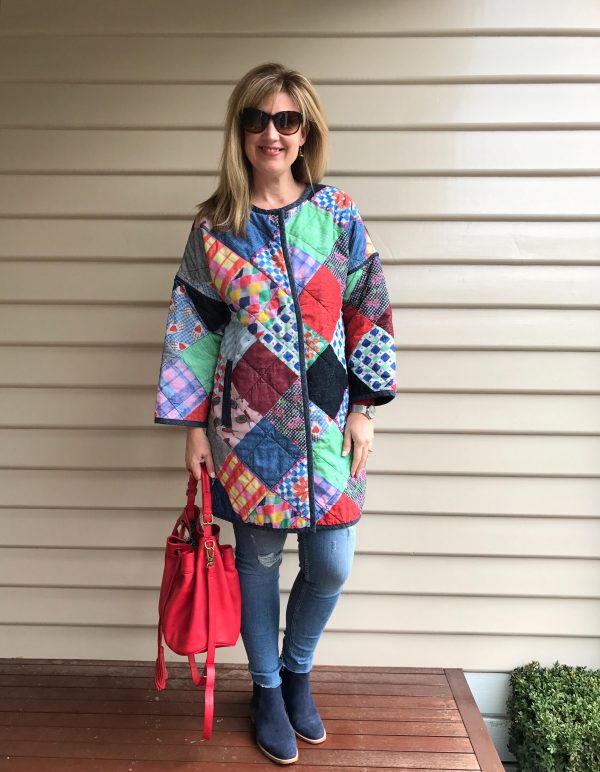 If you want to dial things up another notch, add an accessory or bold lip in one of the boldest colours of the print, as I've done above.
Here are some more new season options, beginning at $99.95 …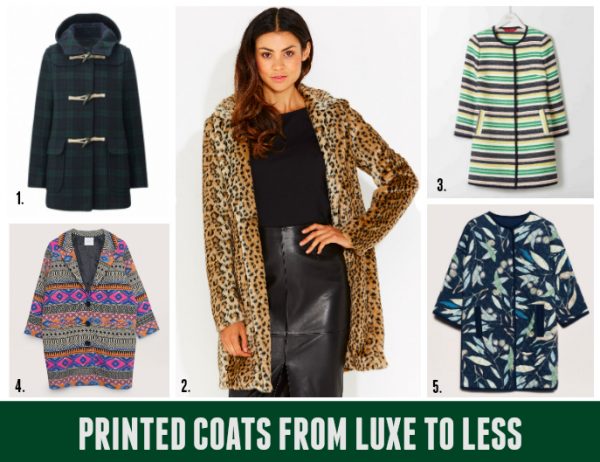 ABOVE: 1. Wool Blended Duffle Coat in Check, $99.95 from UNIQLO; 2. Coco Faux Fur Coat, $169.95 from Portmans; 3. Eve Striped Coat, $180 from Boden; 4. Technicolour Coat, $239.40 from Gorman; 5. Buff Tailed Thornbill Quilted Coat, $329 from Gorman.
If you're not sure where to start, perhaps try a tonal check (1) or chic stripe (3) before building up to some serious statement pieces, like the Gorman coats above. Choose coats with colour ways that incorporate colours you already have in your wardrobe so you can instantly create outfits and maximise your wear.
I'm also very partial to a leopard print number like (2) as this such a timeless yet fabulous addition to any wardrobe. It pairs beautifully with blacks, creams and caramels too of course.
Another option is to look for reversible styles like the one I'm wearing – that way, when you're not feeling the print love, you've got a functional, block coloured jacket you can still wear. Gorman do a few of these styles every Winter – (5) above is another example – and it's the same shape as mine and reversible too.
If prints and colour are not so much your thing but you're looking for an on trend addition to your coat options, it's worth considering adding some military detailing. Characterised by brass buttons, epaulettes and often khaki, by incorporating the military trend, you'll elevate wardrobe basics to the next level.
Here are some of my favourite new season styles below …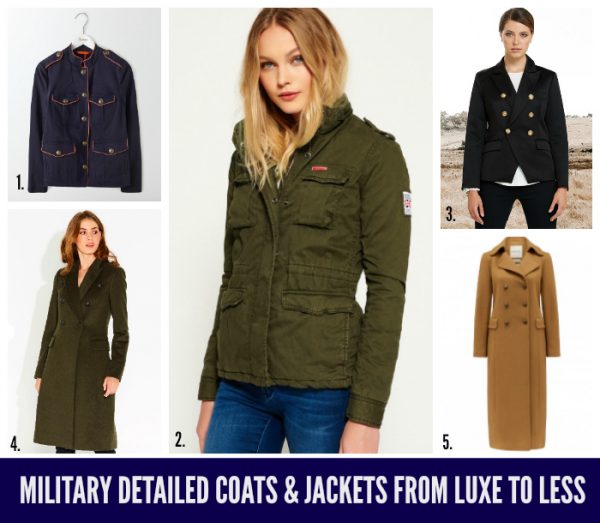 ABOVE: 1. Florence Jacket, $170 from Boden; 2. Winter Rookie Military Jacket, $179.95 from The Iconic; 3. Black Blazer, $189 from Bohemian Traders; 4. Maison Military Longline Coat, $229.95 from Portmans; 5. Celeste Military Maxi Coat, $269.99 from The Iconic.
For me, the jackets are a more smart casual style, especially when paired with jeans.
Longer length styles, like (4) and (5) above, add a fashion forward spin to more formal or corporate outfits. The double breasted styles not only provide warmth too, they make for a flattering silhouette.
If you're after block coloured options or a puffer jacket/coat, check out this post on Winter Coats and Puffers from Luxe to Less.
So what's your go to coat? Is there a printed or military style coat or jacket in your wardrobe?
This post contains some affiliate links. You don't pay any extra and I earn a small commission. Read more in my Disclosure Policy here.