As the warm weather continues – with no signs of abating around here – I've been exploring the depths of my summer wardrobe and introducing a few trans-seasonal pieces.
As well as wearing my usual everyday frockery that's so easy to throw on in the morning, on the slightly cooler days, I've tried to mix things up with another favourite combo:
The Printed Skirt + Block Colour Top
And I'm LOVING it.
This simple outfit combo introduces plenty of colour and interest, and is easy to throw together provided you've got a few block colour tops stashed somewhere. I find white, black and navy options are the most versatile on that front but I do have some bolder options as well, as you can see below.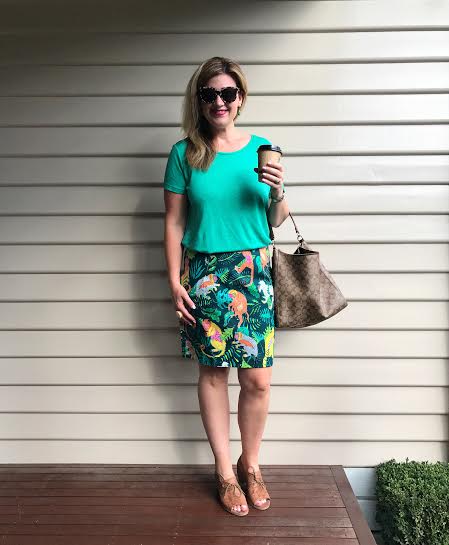 Wearing Monkey Magic skirt from Gorman (from SS16, now sold out) with Trenery linen tee (other colours available here) and Styletread heels, both from previous seasons.
The easiest combo by far is to find a skirt with a black background or element, and simply add a black top and shoes, as I've done below …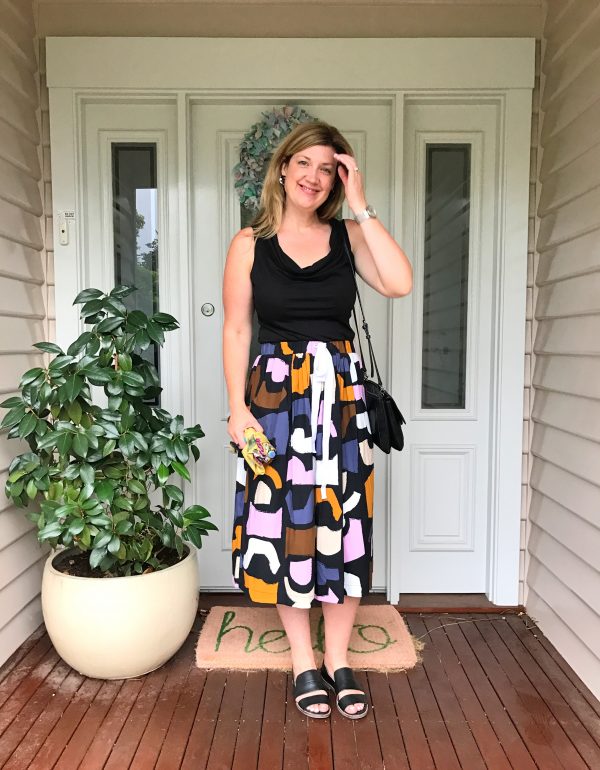 Above, I'm wearing Raku Skirt from Obus with Rosa Top from MahaShe*, Mini Tort Hoops  from Gorman and Reim Flats from Elk Accessories.
So, if you're looking for outfit options other than the usual dresses or pants + top combo, a printed skirt can really add some interest and depth to your wardrobe, whether you're looking for casual or dressier outfits.
Below, I've put together some of my favourite new season printed skirts, beginning at $29. I've included not only a range of price points, but styles, shapes and colours too, so hopefully, there's something for everyone.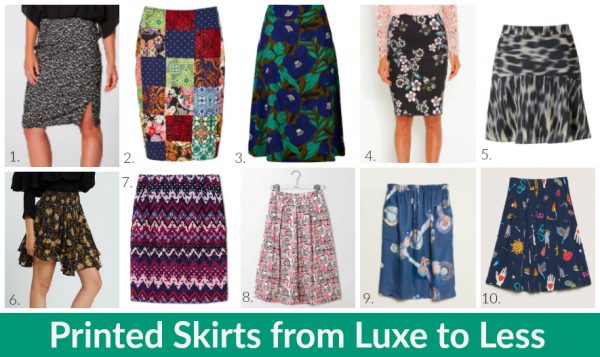 ABOVE: 1. Textured Jacquard Skirt, $29 from Target; 2. Rasaleela Patch Cotton Skirt, $84.95 from Birdsnest; 3. Kate Skirt by Boom Shankar, $99 from Birdsnest; 4. Wandering Vine Pencil Skirt, $89.95 from Portmans; 5. Ombre Animal Print Skirt, $109.95 from Witchery; 6. Primrose Flip Skirt, $149 from Bohemian Traders; 7. Zig Zag Textured Pencil Skirt, $159.95 from Marcs; 8. Tanami Skirt, $165 from Nancybird; 9. Lola Skirt, $160 from Boden; 10. Fable Skirt, $189 from Gorman.
How to Style a Printed Skirt
1. For work, a printed pencil skirt (like the Wandering Vine Pencil Skirt from Portmans and the Zig Zag Textured Pencil Skirt from Marcs above) can be worn with a sleeveless blouse or shirt now and a long sleeved shirt or fine knit as it cools down. Add your favourite heels and sunglasses to finish off this chic corporate look.
2. Mores casual styles, such as Rasaleela Patch Cotton Skirt and Kate Skirt, both from Birdsnest, just need a simple singlet or tee tucked in and sandals. If you're game, pick up one of the colours in the print in your jewellery, sandals or accessories to dial things up another notch.
3. Dressier styles with black in the print, such as 1, 4, 5, 6 and 8 above, are especially versatile and can be easily dressed up or down. A strappy heel, silk cami or OTS top will take these skirts to cocktails, parties and beyond.
4. These pretty blue based skirts (the Tanami Skirt and Fable Skirt) with their silk, drapy fabrications are great smart casual options or ideal for more casual workplaces. Add a simple neutral or contrasting coloured cami or top and a tan block heel with a bold lip for day time fabulousness.
5. As it cools down, you could add opaque tights and ankle boots to most of these skirts. Add a fine knit or long sleeved top and a scarf that picks up one of the colours in the print.
6. For block coloured tops, I love the range at Boden, the basics at Witchery and the lovely cowl neck Rosa Top I'm wearing above comes in three other colours too. If you're looking forward to Winter, Glassons have just released their their AW17 fine merino knits – check them out here.
This post contains some affiliate links. You don't pay any extra and I earn a small commission. Read more in my Disclosure Policy here.
* Denotes kindly gifted.
So over to you – is there a printed skirt in your wardrobe? Have you worn it lately?