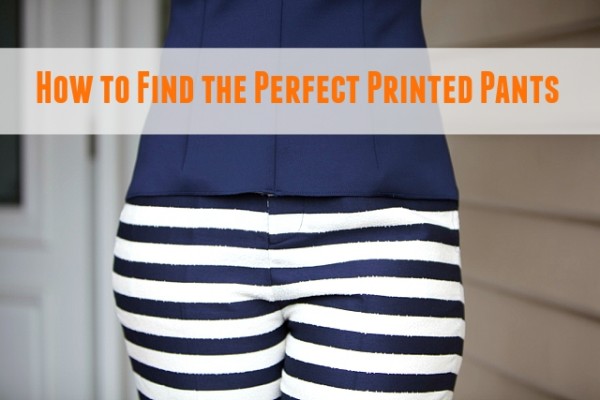 Does anyone else find it tricky to find a flattering pair of printed pants?
I'm a huge fan of this trend but, like shopping for jeans, it takes me a long time and many attempts to find a pair that flatters and fits properly.
Been there?
I've persisted because I love the look of them so much and I know that a great pair of printed pants is perfect for trans-seasonal weather too – dressed up with a pair of heels or wedges for smart casual slash work or dressed down with sandals, ballet flats or even thongs come lazy weekends and holidays.
I also can't go past a great print that I can wear with a variety of colours and accessories.
There are also plenty of printed pants that come under the soft pant category too. I'm a sucker for a soft pant – what's not to love about faux trackie dacks after all – so the soft printed pant is up there for me, as far as fashion holy grails go.
So, in today's post, the last in our series on Spring Pants (we've covered joggers and harem pants, jeans and wide leg pants/culottes in the last few weeks), I'm sharing a few tips for how to find the perfect pair of printed pants for you.
Oh and to help you, I've done a little reconnaissance. Below are ten pairs of printed pants across a range of price points (or from luxe to less as we like to say around here), beginning at $20.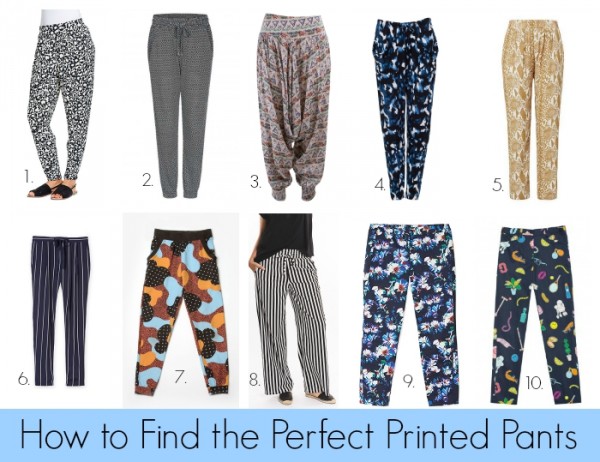 Animal Print Jogger Pants, $20 from Target; 2. Molly Contrast Jersey Printed Pants, $59.99 from Jeanswest; 3. Found My Groove Pants by Boho Bird, $89.95 from Birdsnest; 4. Nile Printed Draped Pants, $99.95 (on sale) from Metalicus; 5. Harem Pants, $99.95 from Seed Heritage; 6. Pinstripe Pant, $129 from Country Road; 7. Kalahari Pant, $139 from Obus; 8. Striped Carnival Pant, $139 from Bohemian Traders; 9. Irridescent Bloom 7/8ths pants, $159 from Marcs; 10. Stuck on You Crop Pant, $199 from Gorman.
So how to find the perfect printed pants for you?
1. Printed pants come in a variety of styles – from harem pants (3 and 5) and joggers (1, 2, 4, 6 and 7) through to wide legged styles (8) or fitted, crop styles (9 and 10).
Look in your wardrobe and think about what style of pants suits you the best and try to find a printed pant in the same style.
For me, this generally means a fitted jogger or a high waisted fitted/crop style.
2. Think about how and where you want to wear them – If you're after a pair that can move seamlessly between your work and smart casual wardrobe, a monochrome print that can be worn with a tailored black jacket or dressed down with a simple tank might be the way to go.
Or, a cropped, high waisted tailored style, like the pair I'm wearing below, might be another versatile option.
Harem Pants and jogger styles are great comfortable soft pant options for every day and this season, there are plenty of great options around. They also have a bit of give or stretch so they are a great basic for Mums running around after young children.
3. If you're looking for a statement print, look in your wardrobe at the tops you like or wear regularly – what colour are they? Try and find a pair of pants that you can wear with at least three tops you already own.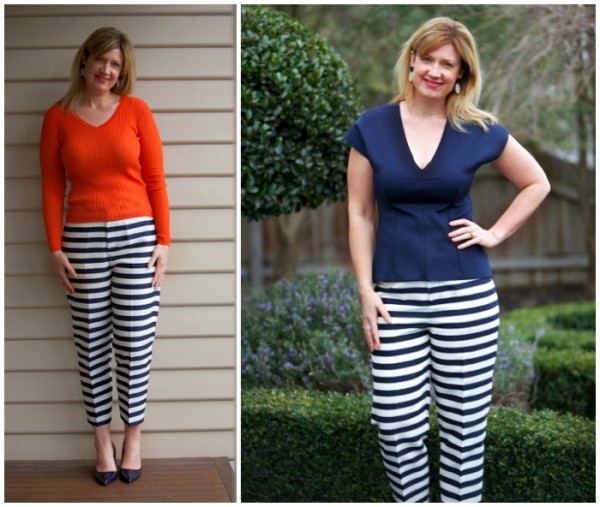 Above, I'm wearing the Jailbird Pants from Gorman, (now on sale for $99), in size 12 and a pair of navy pointed pumps from Boden, from a couple of seasons ago, and perspex earrings by Mint Cloud. On the left I'm pairing them with this fun Skinny Mini V Neck knit from Gorman (now on sale for $79) – I'm wearing a Large. On the right, I'm wearing the Moulded Ponte Top from Country Road (I'm wearing a Small).
As a rule of thumb, you're looking for block colours that will work with your print in a variety of styles – tees and tanks, shirts, fine knits – but don't be afraid to work a print clash too.
For example, a navy and white striped breton with a pair of cropped floral pants (9), pointed flats and a statement colour bag is a gorgeous and chic look for Spring.
4. The same goes for shoes – do you have at least one pair of shoes that will work with    your pants? Take them with you when you are trying on or try them at home during the refund/exchange period.
5. If you're not sure whether printed pants are for you but the idea of a soft pant is too hard to resist, hit up your local Target. They have lots of styles and prints around the $20 mark which means you can dabble without blowing your budget.
6. If you are a die hard printed pants fan you must pop in to your local Gorman stat. There are loads of gorgeous statement prints and styles in the new Spring range from a wave print to the 80s inspired Stuck on You print above (10).
If you're after some styling ideas, check out this post Printed Pants Three Ways in which I'm wearing a pair of pants very similar to these Sunday pants, $89.95 from Portmans.
What's your idea of the perfect printed pant? Have you found it? Please tell us where!