After several years of skinny jeans, there's a new silhouette in town.
Well, it's actually a modern take on a retro style – the wide legged pant and it's shorter, ankle revealing sister, the culotte.
Generally sitting high on the waist, wide legged styles can be surprisingly flattering, particularly if you have a smaller waist/wider hips as this style accentuates the waist and then gently flares out.
While I'd normally prefer a wide leg pant to a culotte, when it comes to working out what suits, it's all about where the waist sits and the length of the pant.
I find ankle length pants more flattering on me, so a longer style culotte or a shorter wide legged pant usually works best.
If you're happy to show off your calves and ankles, try a culotte.
Like most pants and jeans, it's a matter of trying a few styles on to see what works for you.
In today's post, I've hopefully taken some of the leg work (see what I did there) out of your search for the perfect culotte or wide leg pants. Below, I've curated eighteen new season versions of this classic style, beginning at $20.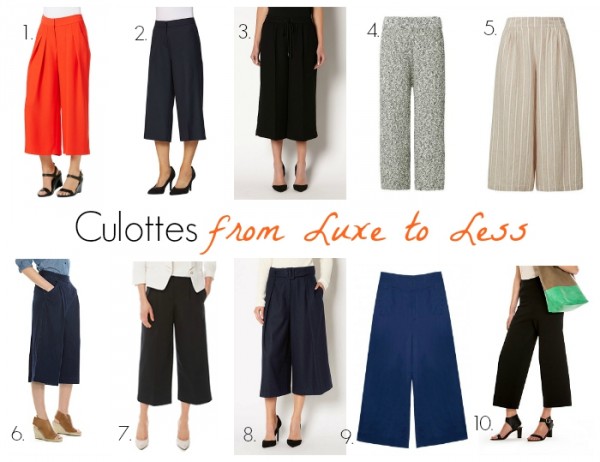 1. Runway to Rack Crop Wide Culottes, $20 from Target; 2. Yours Sincerely Wool Blend Culottes – Navy, $20 from Target; 3. Tie Waist Culotte, $99.95 from Witchery (limited sizez available); 4. Knitted Culotte Pant, $129.95 from Seed Heritage; 5. Fine Stripe Culotte Pant, $139.95 from Seed Heritage; 6. Indigo Culotte, $149.95 from Country Road; 7. Tech Stretch Wide Leg Pant, $169.99 from Marcs; 8. Harlow Wool Culotte, $169.99 from Witchery; 9. Sashay Away Pant, $189 from Gorman; 10. Knit Culotte, $199 from Country Road.
As you can see above, some styles are quite dressy with pleats (1), belts (8) and luxe fabrications from linen (5) through to knit (10).
Tailored black styles like this one (7) can easily work in with a corporate wardrobe.
Other styles are more casual and relaxed (2, 3, 4, 5 and 9) but can be easily dressed up or down, including this jean version (6).
So how to style culottes this season?
I think the key is to approach culottes as you would a midi skirt.
Both culottes and midi skirts fall mid calf and, given the volume of fabric, provide the focal point of an outfit.
Accordingly, keep the rest of the outfit simple but sharp. Think fitted knits and tees, a tailored shirt or a cropped, neat fitting jacket. Minimise any bulk by tucking in your top (where you can) to highlight your waist and to provide a contrast to the width of the pants.
For culottes with a pleat, I'd keep things even simpler and more streamlined again so the pants do all the talking.
Wear flats if you feel comfortable, but a heel or decent wedge will elongate legs and emphasise the ankle.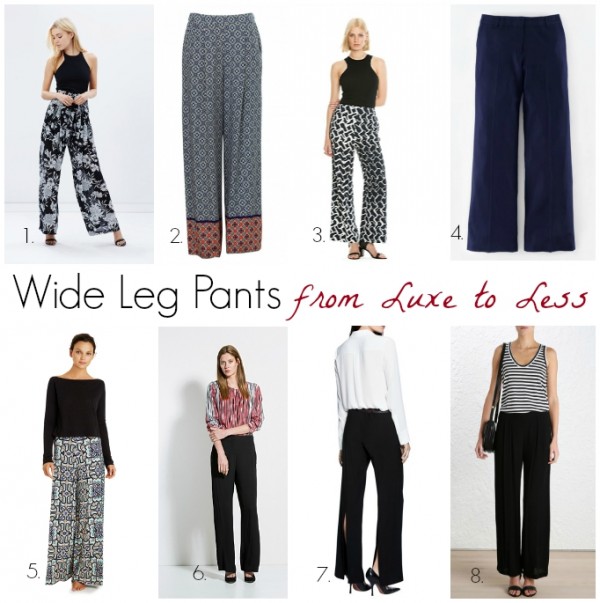 1. Preseley Printed Palazzo Pants, $69.95 from The Iconic; 2. Wide Legged Printed Pant, $99.95 from Sportsgirl; 3. Printed Wide Leg Pant, $149.00 from Country Road; 4. Westwick Trouser, $158 from Boden; 5. Kingdom Pant, $189.99 from Tigerlily; 6. Soft Wide Leg Pant, $199 from Trenery; 7. Wide Leg Cutaway Pant, $249 from Cue Clothing; 8. Rayon Wide Leg Pant, $295 from Zimmerman.
Full length, wide legged pants, or palazzo pants as they are sometimes known, are timeless and super chic and a great statement piece to have in a trans-seasonal wardrobe.
As well as the classic black offerings (6, 7 and 8 above), look out for more casual printed styles like (2 and 5) which are great for holidays and relaxed summer style.
Monochrome prints like (1) and (3) above are a versatile smart casual option too, which can be dressed up for work with a heel and dressed down with a sandal or wedge for the weekend.
So how to style wide legged pants this Spring?
Wear with a simple striped tee, tailored top or tucked in blouse or shirt, for effortless style.
Fitted, cutaway tops, like those above (1) and (3), balance out the fabric of the pants and create a striking and sexy look.
Add a pair of block heels or a wedge for extra height and flattering leg elongation.
Cropped jackets – from denim through to a tailored style – work well too.
Not a fan of culottes or wide legged pants?
If you prefer a narrower cut in the pants department, check out these recent posts on jeans, joggers and harem pants.
In next week's instalment in our Spring Pants series, we'll cover printed pants.
* This post contains affiliate links. You don't pay any extra but I earn a small commission. You can read my Disclosure Policy here.
Are you a fan of the culotte or wide leg pants? How do you like to style yours?