Last week we began our new series on all things Spring Pants.
As I touched on then, with all the new Spring drops in store, now is a great time to edit your pant-robe and work out if there are any gaps.
Last week I covered new season harem pants and jogger/utility pants with some ideas of how to style them.
This week, we're looking at what's on offer in the jeans department.
While the number of layers and the type of footwear will hopefully change over the coming months, it's a pretty safe bet that jeans will still be on high rotation for many of us in the southern states for some time yet.
So what's happening in Spring jeans?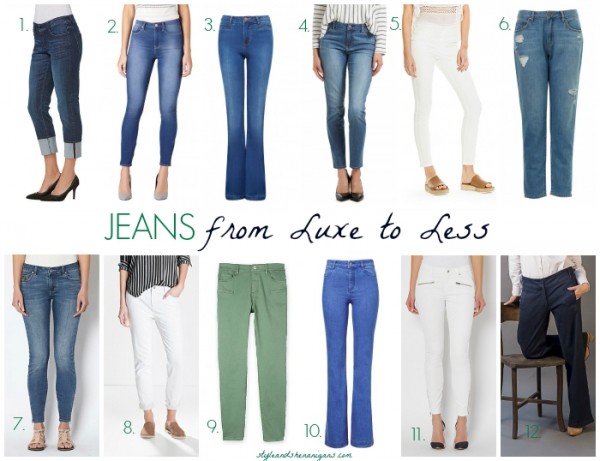 1. Cuffed Boyfriend Jeans, $49 from Target; 2. Letti High Waisted 7/8 jeans, $89.95 from Jeanswest; 3. Mia Flare Leg Mid Rise jeans, $89.95 from Forever New; 4. Slim Mid Wash Jean, $99.95 from Sussan; 5. Mid Rise Crop Jeggings, $99.95 from Country Road; 6. Soft Girlfriend Jeans, $99.95 from Sportsgirl; 7. 7/8 Zip Coin Pocket Jeans, $109.95 from Witchery; 8. Flax boyfriend jeans, $129.95 from Trenery; 9. Side Pocket Sateen Jean, $119.95 from Country Road; 10. Flares, $129.95 from Seed Heritage; 11. Coated Biker Jeans, $139.95 from Witchery; 12. Wide Leg Jean, $149 from Bohemian Traders.
As you can see from the above, the key looks for jeans this Spring include:
1. Lighter chambray styles, such as (2), (3), (6) and (10) above.
The lighter jean is in contrast to the black and dark indigo of Winter and looks great paired with pastels, white, black and on trend tan accessories.
2. White jeans are back again in either a skinny cropped style like (5) and (11) or a more relaxed boyfriend cut such as (8).
This is such a simple yet striking look and can paired back with almost anything – navy for coastal/nautical chic; black for a modern monochrome look or a chambray shirt or a relaxed knit for casual weekends.
3. Flares and wide leg styles are back as part of the 70's trend (3 and 10). High waisted flares like 3 and 10 above suit a platform sandal, tan block heels or a clog to elongate the leg.
4. Crop jeans, like (2) and (4) are a perennial Spring favourite as we rediscover our ankles and ballet flats after a long cold Winter. I've already picked up this fab pair from Country Road, also below, which are making regular appearances already here at Shenanigans Central.
You'll also find that crop styles vary in length. Mine finish right on my ankles, whereas other styles finish higher. Try on a few pairs to see which length suits you.
I'm also loving cropped boyfriend styles like my Trenery pair, which look all sorts of fabulous with trainers or, dressed up with a statement wedge.
You can also make your full length/longer jeans shorter by adding a nice cuff, as in (1) above.
5. Coloured jeans were totally the thing a couple of years ago remember? In neon brights? In contrast, the palette of this Spring's coloured jeans is much more muted. For example, this Country Road pair (9) also come in navy, honey (tan) and light grey.
In the coming weeks we'll cover culottes and other wide legged styles, printed pants, and the wardrobe and work staple, the black pant.
* This post contains affiliate links. You don't pay any extra but I earn a small commission. You can read my Disclosure Policy here.
Are you on the look out for a great pair of jeans? Or have you found some already? We'd love to hear what you wear and love?