Last Friday, I had a ripper of a time at our School Race Day.
It's an annual fundraiser whereby sixty ladies buy a $40 ticket and spend from 11am to 3pm sipping champagne, enjoying canapes and having a punt in plenty of raffles. The highlight is always a hilarious taped commentary of the Melbourne Cup in which Working Bee, Free Dress and Building Works always seem to finish top three.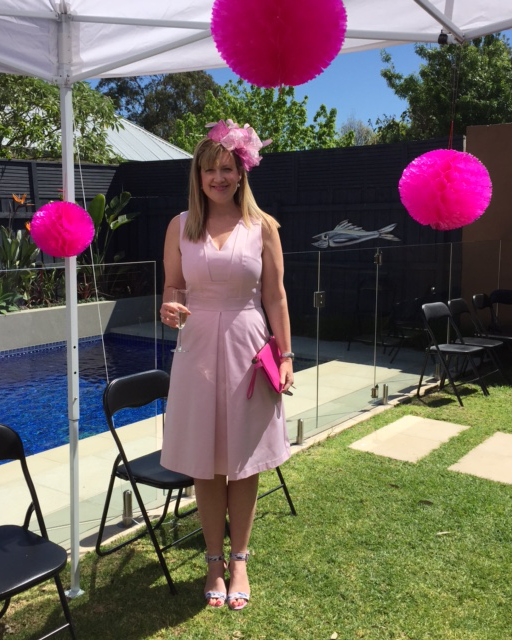 Our school race day is as close as I get to Flemington but it's a great opportunity to frock up, dust off a fascinator and glam up on a school day. This year, I found a pale pink dress on the sale rack (50% off!) at Veronica Maine and paired it with this fascinator from Myer, an old clutch from Boden and a pair of new season Mimco wedges that I have been style stalking for weeks.
Of course, anything goes at the races, and it's a time to have fun with your outfit and if Princess Beatrice unicorn hats are your thing, go with that too.
If you are a race day newbie or looking for some ideas or inspo in the outfit department, generally speaking, I think there are a couple of ways to go:  the block colour dress + statement accessory (shoe/clutch or fascinator) option; or the print dress with complimentary block coloured accessories. On Derby Day, the same applies to the traditional monochrome dress code.
Above, I've gone for the statement shoe + block colour dress approach and picked up another colour in my fascinator and clutch to complement my dress.
Below, I've found a selection of block and printed dresses from luxe to less which could form the basis for a fabulous Spring Racing or other upcoming do. I love how there really is something at every price point and how all the stores are getting in on the Spring Racing action.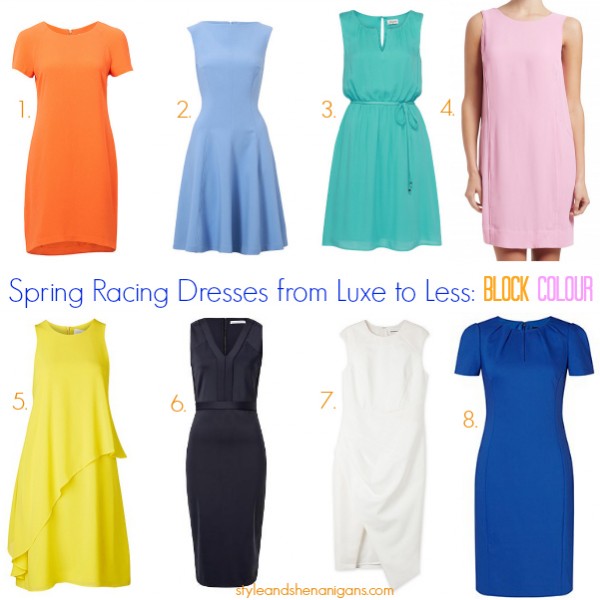 1. Crepe Shift Dress in Orange; $30 from Target; 2. Seam Detail Skater Dress in Blue, $47 from Target; 3. Nile Tile Dress, $69.95 from Jeans West; 4. Panel Detail Dress, $119.95 from Sussan; 5. High Neck Overlay Dress, $149.95 from Witchery; 6. Collection V Neck Dress, $199.95 from Seed Femme; 7. Raffia Trim Wrap Dress, $249.00 from Country Road; 8. Paradiso Dress, $350 from David Lawrence.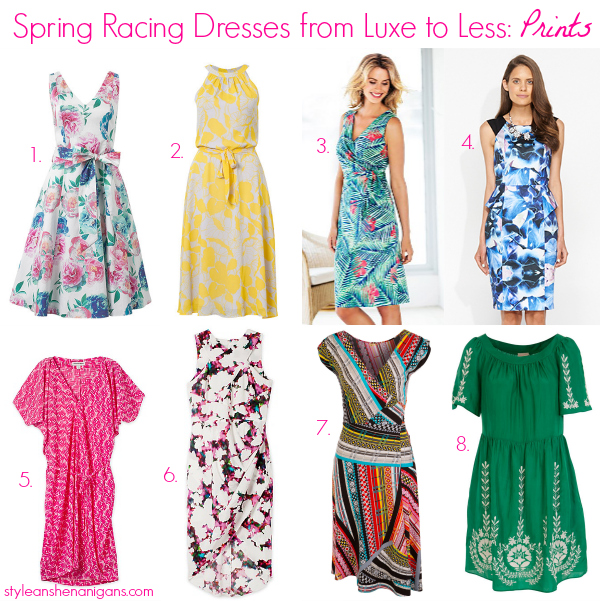 1. Floral Full Skirt Dress, $48 from Target; 2. Fit and Flare Midi Dress in Yellow, $44 from Target; 3. Capture Tie Dress, $79.99 from Big W; 4. Blue Bloom Dress, $119.95 from Portmans; 5. Cross Hatch Print Dress, $179.o0 from Country Road; 6. Silhouette Floral dress, $249.00 from Country Road; 7. Sacha Drake Fatima Wrap Dress, $249 from Birdsnest; 8. Summer Garland Dress by Collette by Collette Dinnigan, $329 from Birdsnest.
If you love a print dress, check out last week's edition of Friday's Frock too.
For fascinators, check out Target, Forever New and Myer.
Mimco, Collette Hayman and department stores are good spots to pick up a great clutch.
Finally, here are my tips for having a great day at the races:
1. If you wear support wear, make sure it is comfortable support wear –  you want to look and feel your best and be comfortable too. Check out the great range at Bella Bodies Shapewear;
2. Think about your shoes carefully – opt for a mid heel or a wedge, especially if you will be standing up a lot or walking to and from your mode of transport. If time allows, break in new shoes before the day;
3. Take a clutch or bag that fits all your essentials – lipstick, cash, credit cards, tickets, MYKI card, mints and bandaids;
4. Pace yourself, drink plenty of water and make sure you eat – a lined stomach and regular hydration are important if you want to end the day well;
5. Don't forget the sunscreen. Last week I got sunburnt on my shoulders and chest on a twenty degree day, when I spent most of my time under cover. The sun is harsh, even when it is overcast.
For some great tips on how to ensure your make up goes the distance on race day and race day worthy shoes, head over to Sonia Styling's posts here and here. For styled outfits and Mebourne Cup day tips, check out Styling You's post here.
Are you going to the races? Have you been before? Do you have any dressy frock worthy occasions coming up?