Wow.
What a weekend.
I've just returned from #pbevent – a blogging conference attended by over 700 bloggers organised by Mr SnS a.k.a. Problogger and his team – and my head is spinning.
So much great teaching from inspiring speakers within the Australian blogosphere and abroad; so many interesting, generous and creative people to talk to and dream with; and of course, so many great moves on the dance floor on Saturday night.
From Living on a Prayer through to Bust a Move, bloggers seriously know how to cut up the dance floor and get a conga line going.
It will be a few days before I can process all that (particularly those dance moves), so in the meantime, in today's post, I'm recapping what I wore over the conference.
After the coldest Winter in Melbourne in, well, pretty much ever, it was LOVELY to head north, feel the sun on my skin and wear a few frocks, including several from local Victorian labels.
So here's the wrap of my everyday style at #pbevent.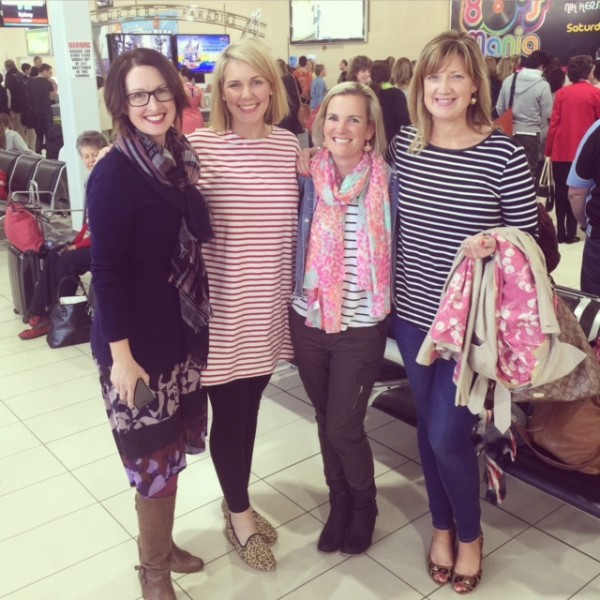 Above: Kirralee/Escape from Kids, Anna/ColourMeAnna, Wendy/BeachStyleMum 
For my flight to the Gold Coast on Thursday I wore this fab Witchery Contrast Neck Tee (which is still available in limited sizes) with my new mid rise cropped jeggings from Country Road, my Coach wedges and bag picked up on our recent holiday to the US. I threw over an old Boden trench coat for the Melbourne leg of the journey too, which came in handy over the weekend for cool GC evenings.
I usually opt for a pair of flats for travel days but this low wedge was a winner in the comfort and style stakes. Looks like stripes were a popular choice too – they were definitely the print of #pbevent 2015!
Once I arrived at the RACV Royal Pines, I changed tops and went sleeveless with this Moulded Ponte Top in navy from Country Road before heading to an Olympus photography workshop. This peplum style top looks great with a simple pair of jeans through to statement pants. I'm tempted to buy it in white and black as well.
On Thursday night, for dinner with my agency, The Remarkables, I wore the Mollie Jacquard dress, part of the new season range from Boden UK, with earrings from Flock Curiosity Assembly and co-ordinating rose gold espadrilles from Anthropologie and a clutch from Michael Kors.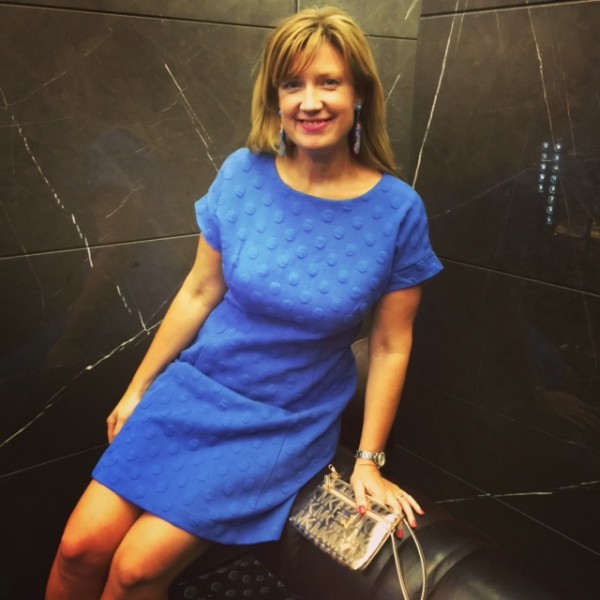 I just adore this textured spot fabric and, together with the flattering kimono cut, this is a great statement dress which I'll be wearing regularly this Spring. This dress also comes in black and white. I'm wearing a 14R – my standard size in Boden – and generally opt for the regular length (R) instead of the long (L) which, at 5'9″, hits me just above the knee.
I'm sitting down in the lift in this photo too as I really hurt my ankle on Thursday morning as I was getting the boys ready before I left. By Thursday night I could barely walk but after resting it overnight, it was fine, albeit a bit swollen, the following morning. Great relief.
Needless to say, the following day involved flats …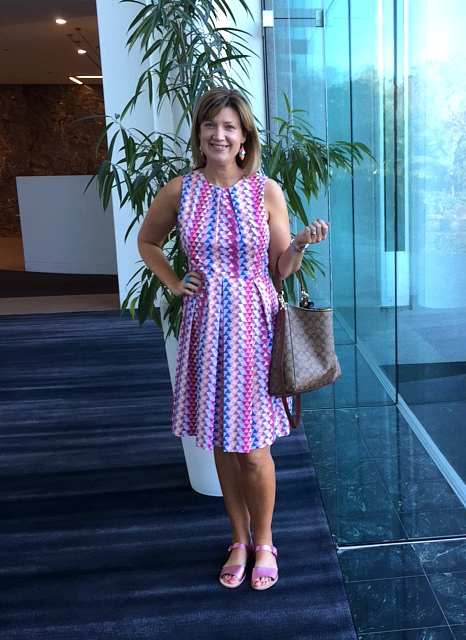 On Friday, the first full day of the conference, I wore this pretty Date Night dress (in size 12) from local Victorian designers Pretty Parcel, which I picked up at the last Finders Keepers market. It's now sold out but check out the other pretty vintage style frocks and skirts by this local Victorian label.
I paired it with new season Gorman sandals (not online yet) in this super fab metallic pink. I will get loads of wear from these this summer. A statement pair of earrings from Hello Sailor Accessories finished off the outfit.
The theme for Friday night's cocktail slash networking party was 'SHINE'. A  few weeks ago, as I was researching a post, I came across this ripper of a dress at Kinki Gerlinki – the Aurora Dress, now sold out.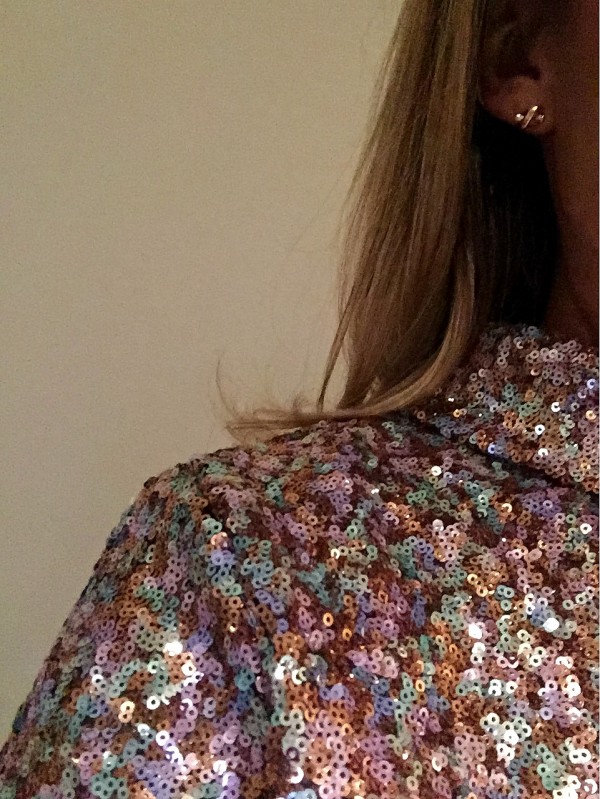 It was reduced from $229 to $45 and, a couple of phone calls later, I managed to track it down at their Brunswick store in my size (size 3), which was rather good luck.
The fact that I managed to land a $152 parking fine for parking in a loading zone, however, was very unfortunate.
And expensive.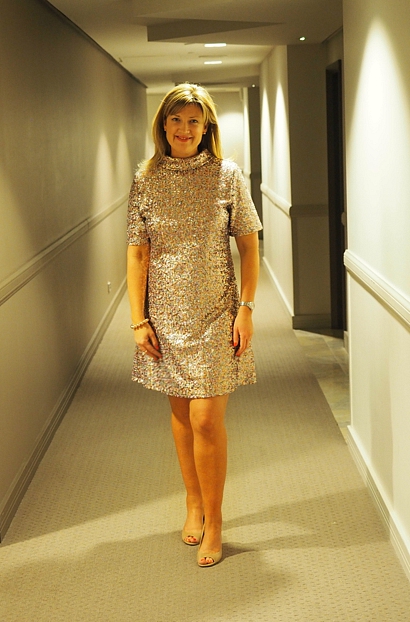 Given the dress did the talking (and then some), I kept the rest of the outfit simple with a pair of rose gold studs by Kate Spade, my Michael Kors Clutch and a pair of nude Nine West wedges.
On Saturday, after my high viz outfits of the day before, I took things down a notch with this fun deer print frock (the Precipitation dress, in size 10) from Melbourne designer Leonard St. I love the simple but flattering cut of this dress with it's elbow length sleeve and elasticised waist. It was super comfortable to wear too.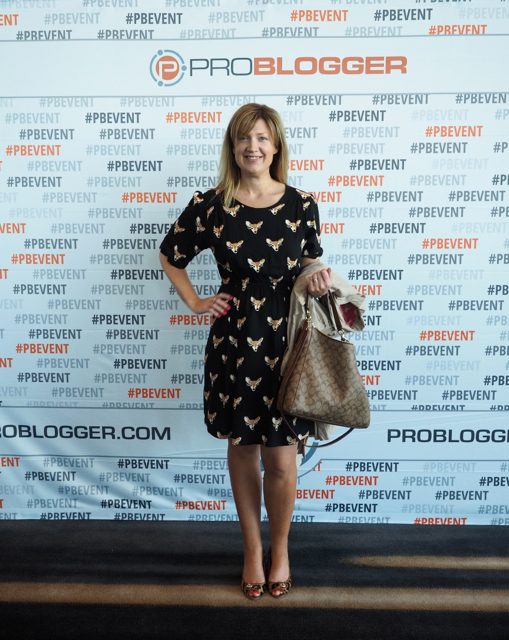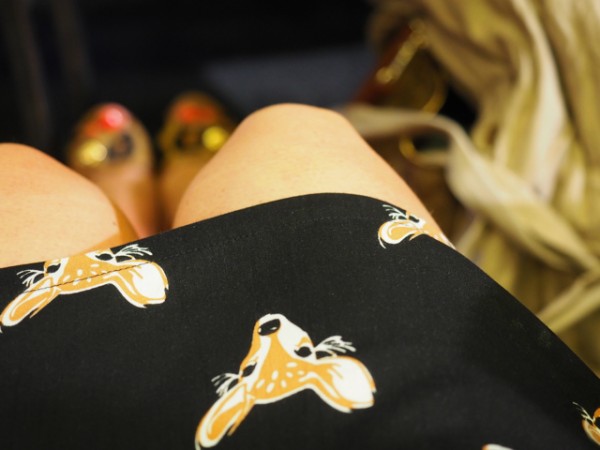 To keep the animal theme going, I paired it with my leopard print wedges from Coach. Simple black filagree earrings from a market and my Coach handbag finished this outfit off nicely.
I've worn this dress before with black tights and tan ankle boots and plan to wear it with black clogs in Spring.
On Saturday evening, after the final session and the conference officially wrapped, I went along to the Speakers/Team drinks. After one too many milk dumpling puddings at lunchtime, I opted for a loose, flowy frock.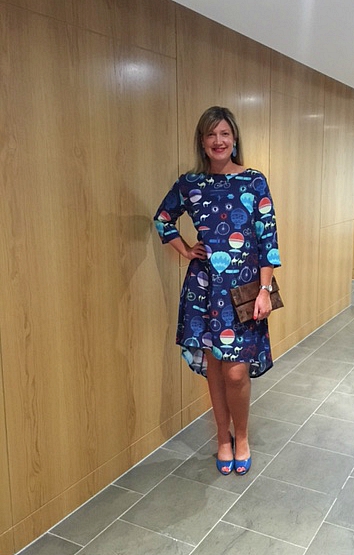 I'm wearing the Zeusophobia 3/4 sleeve dress from Leonard St (in size 10), a seriously fab frock with it's quirky print, deep V at the back and a long line tail hemline. Paired with a pair of statement earrings from Emily Green and a pair of Merchant peep toe pumps, this was a seriously fun outfit that felt great to wear.
And then it was Sunday and time to return to life at Shenanigans Central. I knew I'd have to hit the ground running, so I was back in flats for the airport – kids pick up – laundry – dinner – school lunches routine.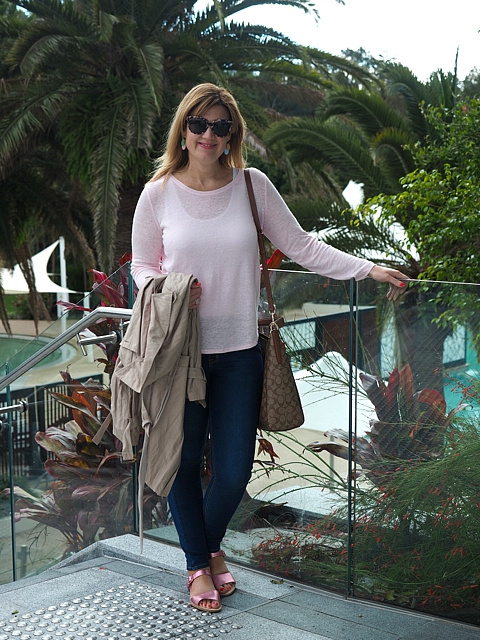 I'm wearing the same Country Road mid rise cropped jeggings and Gorman sandals again, long sleeve linen tee from Trenery, (currently available in five other colours), Stampel making shapes earrings and Gorman sunnies. A pop of light pink with denim with a couple of tan accessories is always a simple but chic outfit for Spring.
Are you likely to be wearing a summer frock anytime soon? Have you checked out Pretty Parcel or Leonard St before? What's your pick of the outfits above?