I have been having a love affair with white frockery of late.
Along with chambray and black (but that's another post), white dresses have been my Summer loves with their simplicity and classic style.
Add some lace, broderie or some other pretty textural element and I am there with a spray tan on.
Sure, I tend to wear chambray or my usual prints during the day with the kids (there's only so much Napi San can do), but when a night out is on the cards or I get some downtime sans kids, you can be sure I'll reach for the nearest white frock.
I'm now the proud owner of (cough) several including these two pretties below.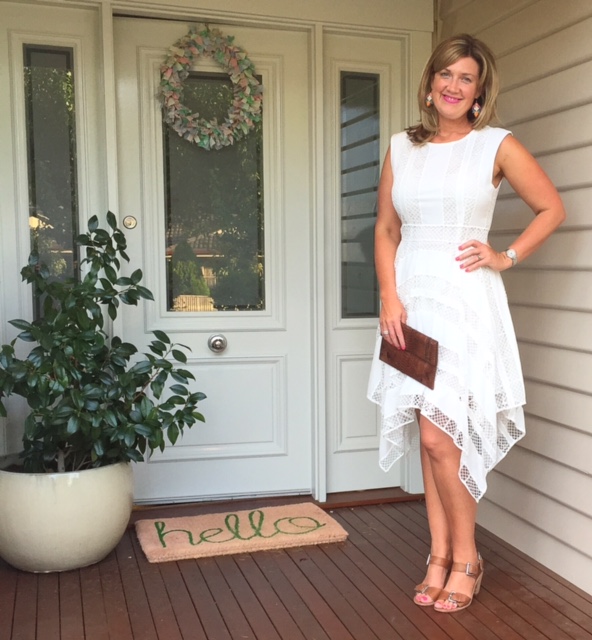 Above, I'm wearing the Palm Springs Dress from Thurley (now sold out – soz peeps!), which I picked up at a special in store fashion promotion at David Jones before Christmas. Thurley dresses are beautiful but expensive so I was very chuffed to pick up this new season number with a discount.
Speaking of which, I am loving Melbourne designer Thurley lately – her prints and details are amazing but importantly, her clothes fit and flatter women of all shapes and sizes, including those of us with curves.
The hankerchief hem is all sorts of flattering as it shows some leg while hiding some leg at the same time. Confusing but flattering. Loving that.
The beautiful embroidered lace voile is all sorts of pretty and adds some interest and texture to this block colour dress.
I wore the outfit above to a girlfriend's 40th on Saturday night with a much loved and worn pair of tan block heels from Anthropologie, some boho-esque earrings from Hello Sailor Accessories and a tan clutch from Bali.
Below, I'm wearing a much more casual style, which I also wore last weekend.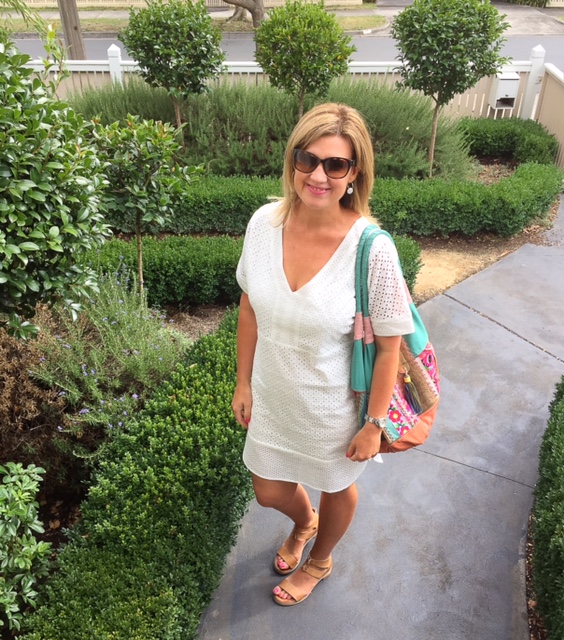 This dress, above, is from French Connection, also this season but sadly sold out. (Apologies in the highest but do try your local FC and check out the sales rack. You never know).
I love the curved hem, elbow length sleeves and flattering V neck. The broderie element is lovely too.
I've paired it with some Angus & Celeste earrings (a gift for my birthday recently), my tan knot sandals from Leonard St, Coach sunnies and bag from Toko Emporium in Bali.
If you're still on the look out for a white dress this Summer, it's not too late – check out these beauties below …

FROM LEFT TO RIGHT: Sunlace Dress, $89 from Bohemian Traders; Ivory Broderie Flower Dress by Hi There by Karen Walker, $149 from Myer; Lace Spliced Dress, $199.95 from Witchery, Half Sleeve White Dress, $199 from Country Road; Broderie Cotton Dress, $199 from Trenery.
This post contains an affiliate link. You don't pay any extra and I earn a small commission. Read more in my Disclosure Policy here. 
Is there a white frock of some description in your Summer wardrobe?