Welcome to this week's edition of Everyday Style at Shenanigans Central.
This week I am wearing two fab frocks that I picked up this week at Target, or, if you prefer, Tarjay.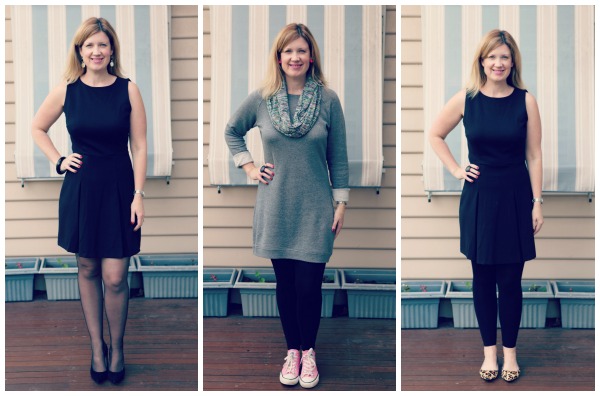 I had a couple of hours respite on Saturday when my Mum kindly offered to have the boys for a couple of hours (Mr SnS had been away all week). I popped into Target to look for some props for a school dress up day but got sidetracked in women's wear. The rest, as they say, is history!
I tried on several fabulous frocks, including this one, but the two that made the cut were the Ladies Quilt Sleeve Tunic in Grey and the Ladies Pleated Dress. Both hit the mark on several fronts: great value, comfortable and on trend.
The first is the Ladies Quilt Sleeve Tunic in Grey.
Before I introduce you, I need to fill you in on the back story.
I happened to be workshopping winter fashion recently with a girlfriend, as you do, who was lamenting how uninspired and uncomfortable her everyday winter wardrobe was. Have you been there?
I mentioned how one of most favourite and comfortable everyday outfits was an easy frock and leggings. Both of us find that many of our pants and jeans slip/fall/creep down regardless of how well they fit and we are continually hiking them up. I told her I'd keep an eye out for some options and let her know asap.
Lo and behold, I found this number the following day. It's basically an oversized tracksuit top which is long enough to be worn with leggings. It also features a quilted patch on the elbows for those that appreciate the details.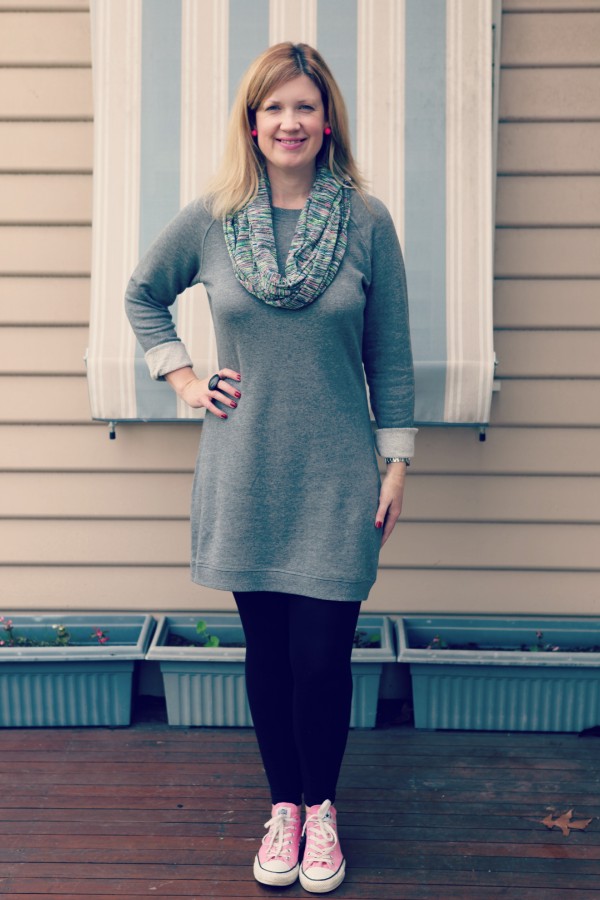 I've rolled up the sleeves to add a bit more interest and dress it up a little. To add a pop of colour, I'm wearing a cotton Space Dye Snood, which is currently on sale at Sportsgirl for $19.95. I picked up the sprinkling of neon pink in the snood by adding pink Elm Tree Studio stud earrings (sadly no longer available) and Converse trainers.
This outfit is really one pair of ugg boots away from total comfort but looks the goods and is an easy everyday option. When I wore it yesterday, it took me from class room help, the grocery/errands run, writing and researching this post and doing household admin and back to school again.
In terms of the size, I opted for the Large as I wanted a loose fit and given it is a pretty straight cut. (It's available in sizes XS through to XXL). If grey is not your thing, you'll be happy to know this dress is also available in black.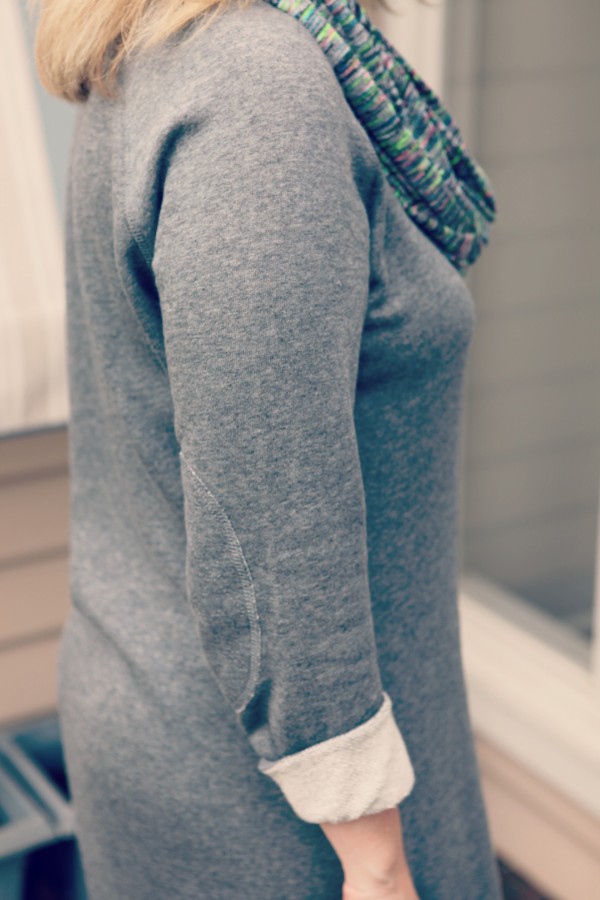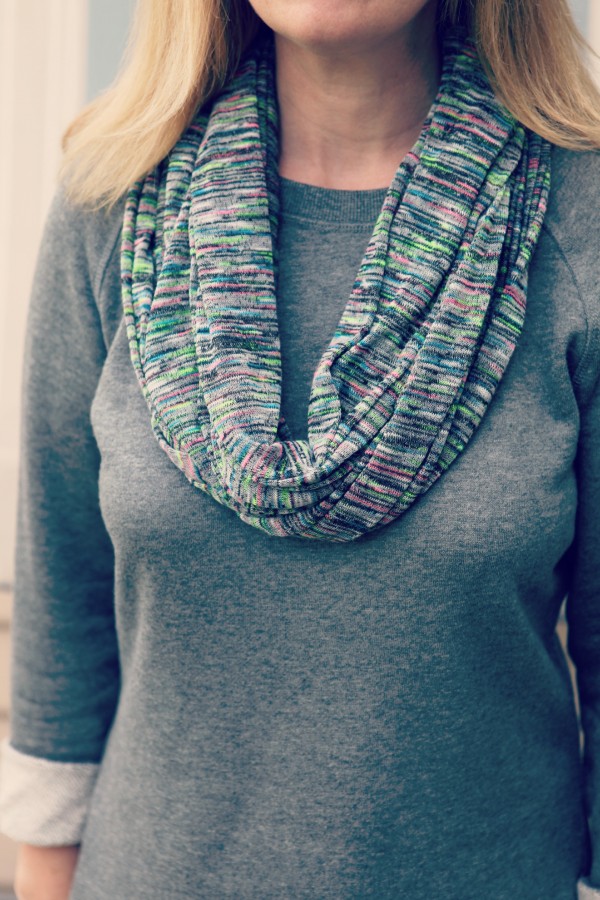 The second frock, the Ladies Pleated Dress, is another easy, comfy option which was hiding away amongst the very extensive range of LBDs. On that note, if you are looking for some inexpensive basics for work or a night out, head to Target pronto.
Whilst not dissimilar to the Glassons ponte skater dress I have worn here and featured in this post, this dress is sleeveless and has two pleats in the front, zips up from the side as well has having a short feature silver zip at the back.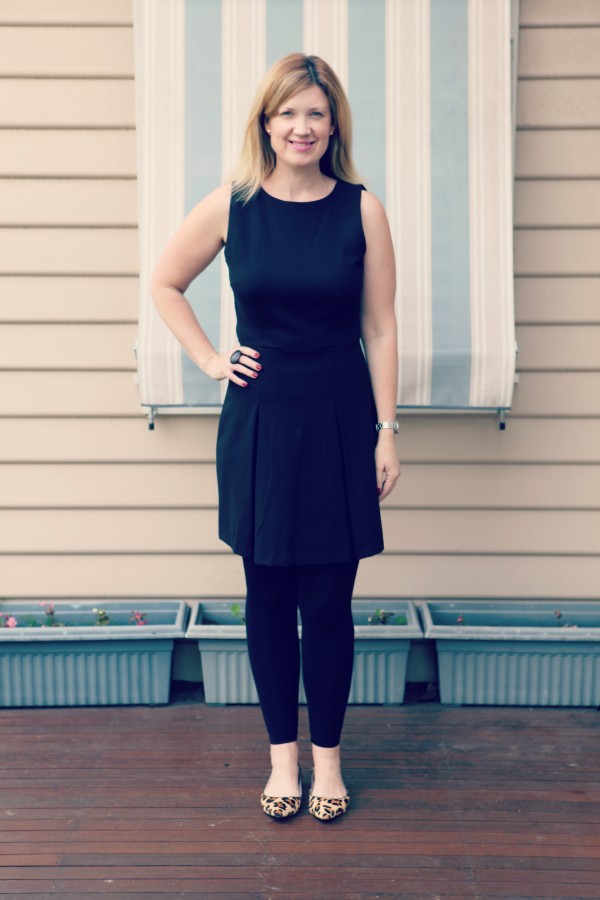 In the photo above, I've paired it with a simple pair of black leggings and a pair of Witchery ballet flats that are unfortunately now sold out. On a cooler day, I'd add a cream knit cardigan like this one and perhaps a lightweight neutral scarf.
This dress also transitions easily from day to night with a simple swap of hosiery and footwear and is excellent value at $49. There are not many sizes left online in this style, however my local store had a range of sizes so it would be well worth a trip to your local Target if you are keen.
In terms of the material, this dress made from a thick ponte like fabric which I always love because it feels soft and comfortable to wear but it is thick and structured enough to keep its (flattering) shape and keep me warm. One thing I did notice, however, was that on some of these dresses, the stitching at the pleat was unravelling. Check this carefully if you go in store.
In terms of measurements, I am wearing a size 12 and its a good, snug but comfortable fit. At 5'9″, this dress sits a good three inches above my knee.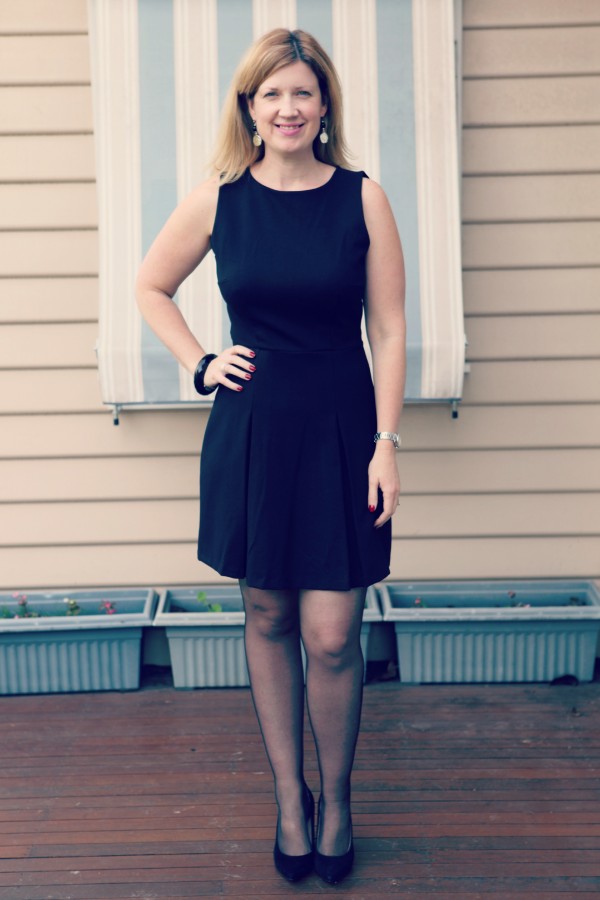 For a dressier work or evening look, I've added sheer hosiery and a fabulous pair of pointed black wedges from Seed, picked up in a recent 20% storewide promotion and some very old but faithful Witchery earrings and bangle. I would also wear this with ankle boots, opaques and a knit.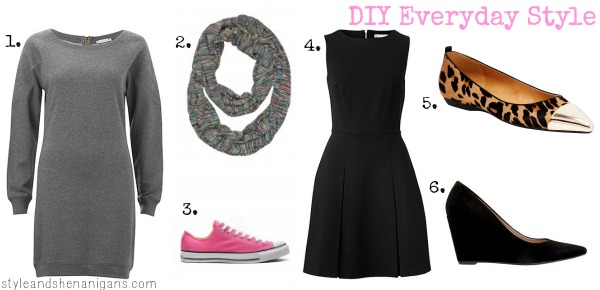 1. Ladies Quilt Sleeve Tunic in Grey, $35 from Target; 2. Space Dye Snood, $19.95 (on sale) from Sportsgirl; 3. Converse Lo Tops, $70 (on sale) from Authentics; 4. Ladies Pleated Dress, $49 from Target; 5. Hatie Flats, $139.95 from Nine West; 6. Samantha Wedge Heel, $149.95 from Seed Femme.
Have you been into Target lately? What are you loving there this season? What's your pick of the above?