Welcome to another week and the second edition of Everyday Style @ Shenanigans Central.
Today I am featuring an outfit I wore last week on a busy, rainy October week day. This one of my favourite outfits at the moment as it is perfect for Melbourne's very unpredictable Spring weather.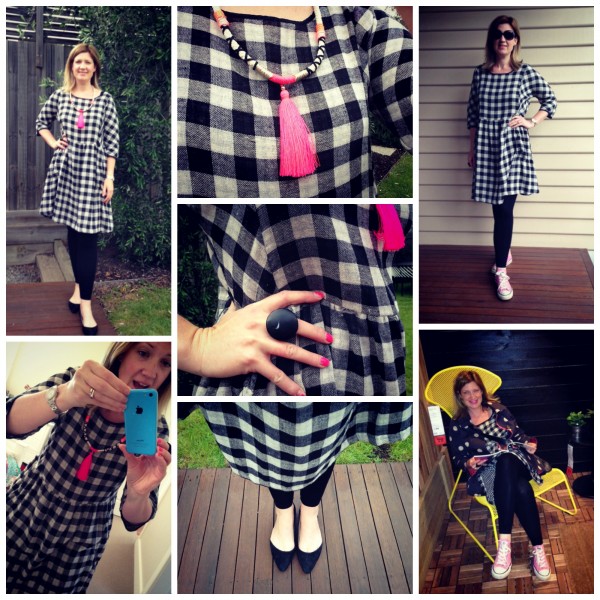 What am I wearing?
I bought this dress on sale from Gorman a few months ago. I really like Gorman clothing but it is pretty expensive, so I waited until this dress was reduced at the end of Winter and I had a voucher to use. Although I spent a lot more than I would normally spend on a casual dress, I felt confident that the look and style of this dress wouldn't date, so I took the plunge.
Normally, I steer clear of loose, shift dresses like this as I find they make me look wider than I actually am. Having said that, when I tried it on, I knew it would be the perfect dress for those days when you don't want to wear pants or anything clingy.  You know the days I mean? Also, the seam around the waist creates a kind of waist which breaks it up.
Given it sits above the knee length-wise and has 3/4 sleeves, I prefer to wear a basic pair of black leggings with this dress and voila, I am good to go.
I am wearing suede pointed cut away ballet flats which I bought from Witchery a couple of years ago which are comfortable and style wise, still going strong. I find suede ballet flats the most comfortable of all my ballets thank to their capacity to give and their relative softness.
I have a mixed relationship with black and white combinations. On the one hand I love it for it's modern classic look. On the other, I am always mindful of not heading towards Myer staff member/waiter territory! My solution to this is always to add a big pop of colour to any black and white combo and my favourite accents are pink, yellow or green. Anything neon is even better.
During the day, my hit of colour was this necklace/pendant from local designer Emeldo, which I love and have previously featured here. My black ring is from Elk Accessories. I love wearing resin and at $22, this ring is a good alternative to the more expensive Dinosaur Designs. It is durable and lightweight and perfect for someone who uses their hands a lot during the day (to which my chipped nail polish testifies!).
During the day I was busy at home so I took off my necklace and shoes. Come school pick up, it was raining, so I popped on my pink Converse, grabbed my pink umbrella and did the school run. By changing shoes, I added another pop of pink and kept the comfort coming. I didn't need to change before I went to IKEA and I felt relaxed but dressed up enough to leave the house.
What was I up to that day?
It was a pretty average busy week day. It began with walking my eldest son to school, then walking my two little boys to my local MOPS (Mothers of Pre-Schoolers) group for the morning, a walk home again, then a walk back to school in the rain, a grocery run and then a trip to IKEA after dinner with some girlfriends which I wrote about here.
Why it worked for me
This dress is the perfect trans-seasonal dress for me. I can dress it up or down by changing shoes or accessories. I have also worn it with black ankle boots for dinner with girlfriends. It does not require ironing and is comfortable and versatile. Big tick!
Do you wear a lot of black and white? How do you wear it? Have you any tips to share?
P.S. A huge thank you to everyone for your encouragement last week upon the launch of this post. I was humbled by your kindness and support!