I'm a bit of a girls' girl.
I have a sister, went to a girls' school (and loved it) and adore my female friends.
I've been lucky enough to meet new girl friends wherever I've worked and whichever group I've joined. I even managed to make a couple of great friends when I was sleep deprived at sleep school. True story.
I often think this might be why I have three boys – to balance out my need for girl time.
So it goes without saying that I love heading out with the girls for dinner. I don't mind if we head to the local pizza joint, cheap and cheerful in Chinatown or Fish and Chips with a side serving of shenanigans with the kids.
Last Friday night, I went to a favourite local bistro with three gorgeous Mums from kinder/school. We catch up most days on the way to and fro school but never seem to manage an uninterrupted convo. Have you been there? It can be frustrating so for aaages we've been saying let's take the chats offline and make a date to catch up good and proper. So we finally did.
Our venue was a little posher than the usual cheap and cheerful (this dinner was a long time coming) and I knew we'd be up for a great meal and a wine or two. So, what to wear? I opted for comfortable pants, a pop of colour, some statement earrings and topped it all off with a little leopard.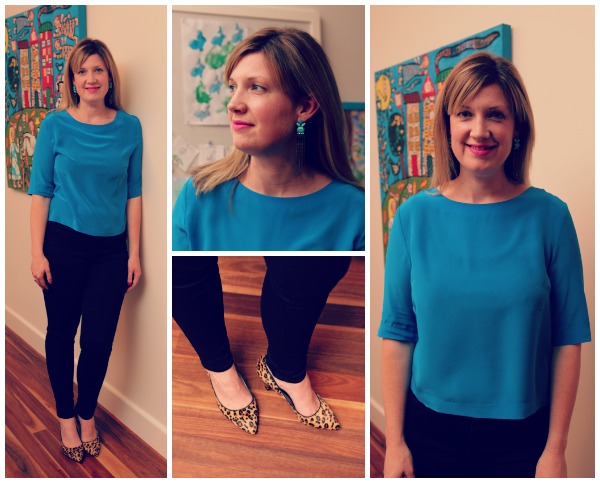 Can you tell that I am having a ball of late working my leopard print back with a bright pop of colour? Last week it was pink, and before that, it was red. This week, I am loving this beautiful sky blue (it was WOW at first sight) against the leopard print. Doesn't it make the leopard print even more fabulous?
My top is from Gorman (link below) which I originally bought to wear with my Clouding Over Trousers. Being 100% silk crepe, it lends a touch of luxe for day or night. It's a short-ish top (hip length) and has a lovely relaxed fit so its perfect for a slouch pant. It's not a cut I would normally wear with skinny jeans (not enough coverage!) but I figured I'd be sitting down at the table and wearing a coat so I threw caution to the wind!
I'm also a fan of this shoulder length sleeve. Its flattering and very 2014 but also perfect for a warm office or dinner in a cosy restaurant.
To ensure a smooth finish and to avoid any unplanned midriff flashing, I wore an ancient black seamless tank from Witchery underneath. They sell these year in and year out and you can find them here.
I won't bang on again about these fabulous Indigo Mid Rise Jeggings but if you'd like to hear more about sizes and from other raving fans, head over here. All I say here is that they are comfortable and stretchy enough to go a round of pork belly. And dessert.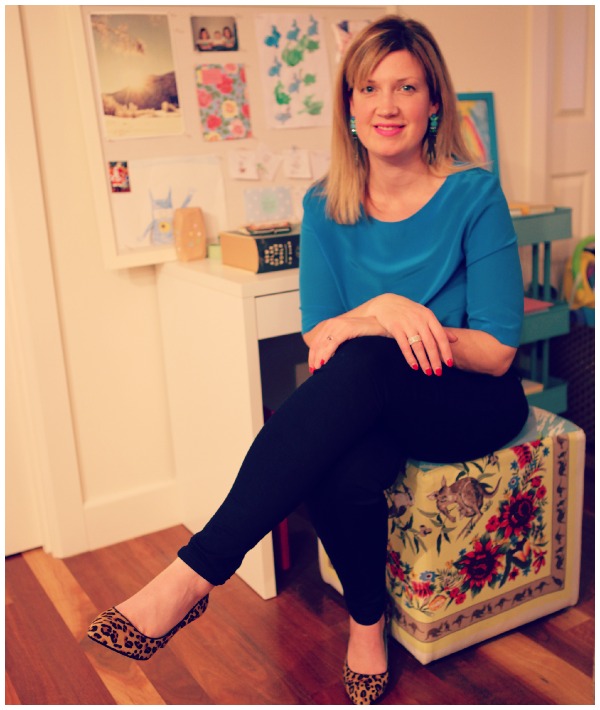 My shoes were a fabulous pick up at Mimco last week (I got an extra 20% off with my MimCollective membership). They are a great mid heel – high enough to be flattering and low enough to be comfortable. They are also an evening alternative to my fab Witchery Leopard flats.
My earrings were a sale bargain from Peter Lang a few months ago. His sales are unbelievable. They were only $14.70 but they are anything but cheap looking. If you have an occasion coming up or just love a bargain, pop in to the sale section every now and then. You might be surprised by what you find.
To re-create this look, you will find all the pieces below, with the exception of the Peter Lang earrings. Fear not however, as I have found a similar pair, which are the perfect foil for the leopard print: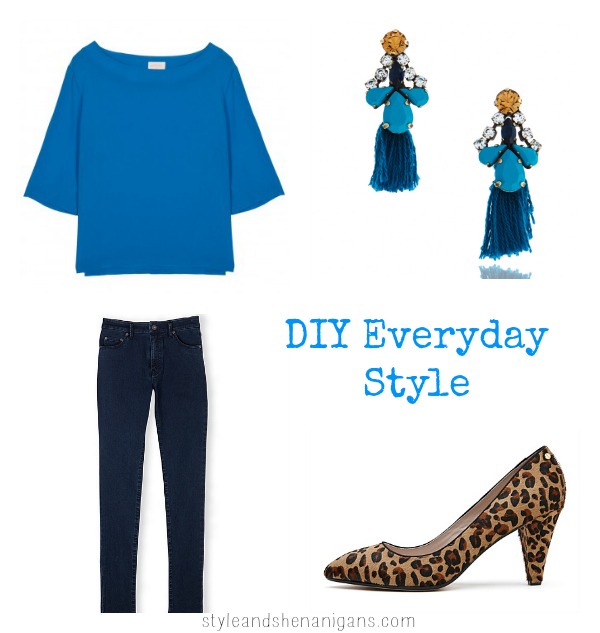 ABOVE: Take A Hike Top, $94.50 (on sale) from Gorman; Indigo Mid Rise Jeggings, $99.95 from Country Road;  Melrose 75 pump, $119.00 (on sale) from Mimco; Peter Lang Petsha Tassel earrings, $39.
What do you wear for a girls' night out? How have YOU been wearing leopard print lately?