What do you usually wear to a conference?
What would you wear if you were a fashion slash style blogger?
Well, I was in this very quandary on Saturday morning, having allowed myself approximately fifteen minutes to sort an outfit for the Kidspot Voices of 2015 Welcome Breakfast and Masterclass here in Melbourne.
I wanted to wear something that was warm, comfortable and a good representation of my personal style. I was meeting lots of Insta friends and fellow bloggers in person for the first time, so and I wanted to look and feel my best.
After a bit of a flurry (clothes strewn, shoes thrown off, hosiery pulled on and off), I settled on this ….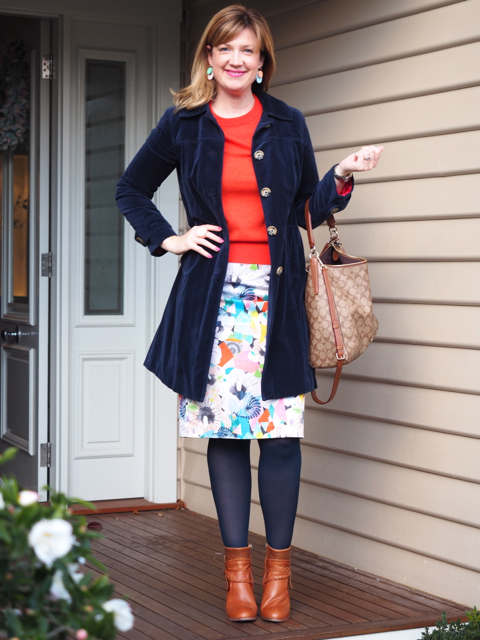 I'm wearing the Girl Friday jumper over the Garden of Eden Pencil skirt, both from Gorman and currently on sale, Ambra navy tights, and my new Django and Juliette ankle boots, featured in my recent post, How to do Boho in Winter.
Over the top I added an oldie but a goodie – a navy velvet tea coat from Boden bought several Winters ago.
Can you tell how much I love this gorgeous orange for Winter? It's a bright, fun pop of colour and looks great with navy and a bright pink lip (I'm wearing Mineralize Rich Strikingly Fabulous by Mac).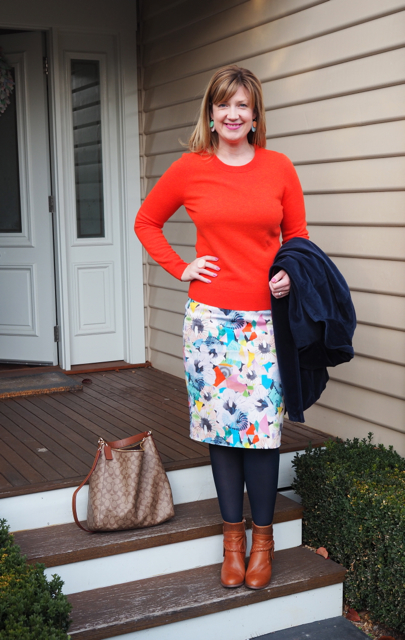 I'm a mad fan of Gorman at the best of times but man, they have totally nailed their prints this Autumn/Winter. I initially fell in love with this Miranda Skoczek designed Garden of Eden print when I was putting together this post (What to Wear to a School Reunion) and I've been thinking about it ever since. I subsequently managed to snap it up in Gorman's last 20% off storewide sale. I've Winter-fried it by adding tights and ankle boots though.
Some people aren't keen on prints as they are such statement, recognisable pieces. I love them though as they can be paired with a range of bright block colours and break up all the solid blocks of colour in my wardrobe, especially in Winter.
Size wise, I'm wearing size 12 in both the jumper and the skirt. I also have the Wing it Pencil skirt from Gorman's AW15 range (I'm wearing it here) in the same size but this 12 is a much more generous cut – a good half size, most of which I needed after a delicious breakfast and lunch!
On the subject of pencil skirts, I'm a huge fan of their flattering and chic qualities. They can be tricky to style though. In terms of footwear, for a below the knee length like this, I think an ankle boot or a heeled pump is the way to go.
Come Spring, I'll be wearing this skirt with a pair of coloured ballet flats or a nice block heel instead with either a striped tee or a pretty shell top.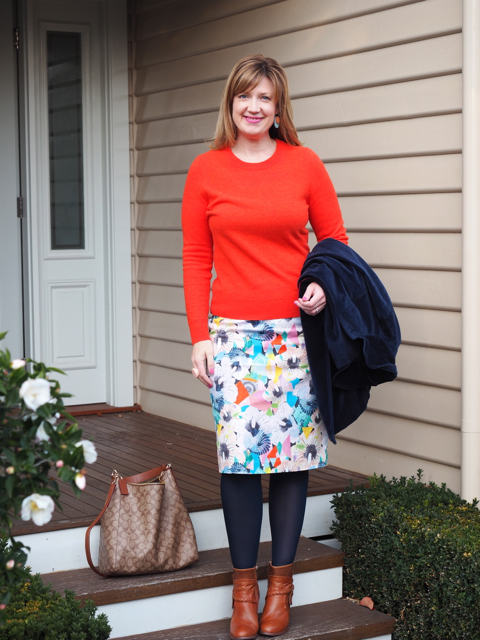 In the accessories department, I added some fun making shapes earrings from Stampel Studio, picked up at the Finders Keepers Market last year (I have two pairs of these and they go with everything) and a peach resin ring picked up from another market sometime ago.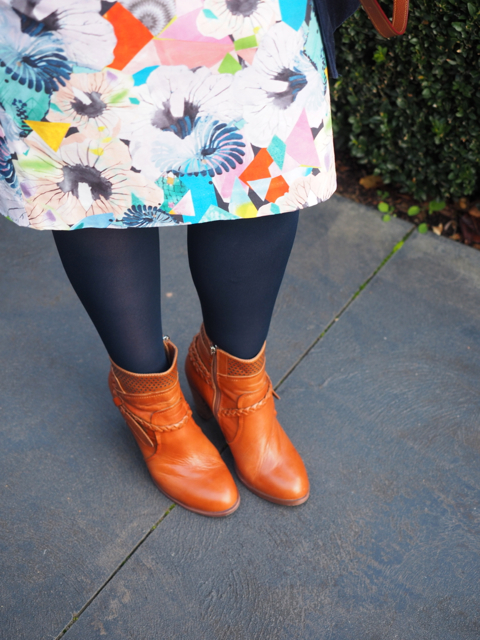 Now I have to tell you, as much as I love these ankle boots which I have been searching for pretty much my whole life, they are rather high and after a full day of wearing them, my feet were a bit sore.
In fact, I'm wondering whether I should possibly have bought them in the next size up as they are quite firm on the top of one of my feet (although fine in the length). I'm hoping the fit will relax in time as the leather softens. I've found that all the tan ankle boots I've tried on this Winter have been similarly firm. Not sure if that is a thing. Has anyone else found the same?
I do find I get pretty tired wearing heels of any description all day but this pair was too pretty to pass up. That said however, I think I'll be assigning them to those occasions that don't require much standing or walking. I'll definitely keep wearing them though as this boho style is the perfect ankle boot for some of my floaty boho frocks and skirts.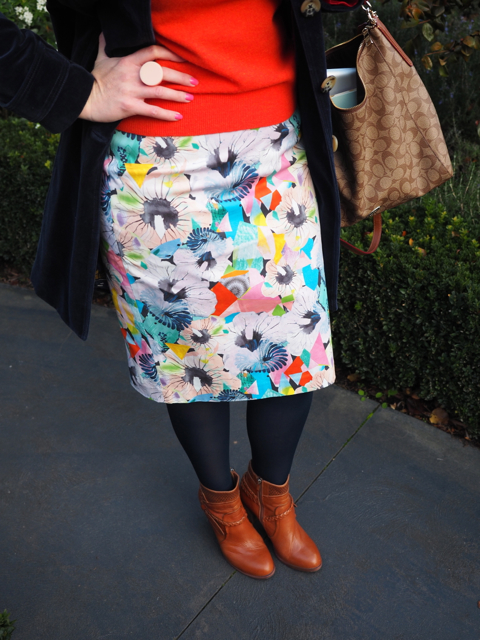 In the bag department, I took my new Coach handbag, picked up at Woodbury Common Outlets on our recent trip to New York.
Outfit aside, I had a great day at the Voices of 2015 Masterclass, the highlight of which (besides the teaching and food) was catching up with loads of great people, some of whom are in the pics below.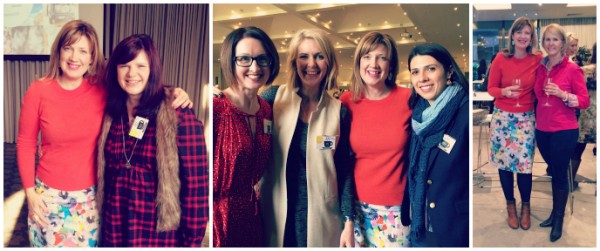 From left to right: Bec aka The Plumbette, Kirralee from Escape with Kids, Anna aka Colour Me Anna, Belinda of Gallerie B and Danielle aka Miss Chardy.
To shop this look or to pin it for later reference, here are the details …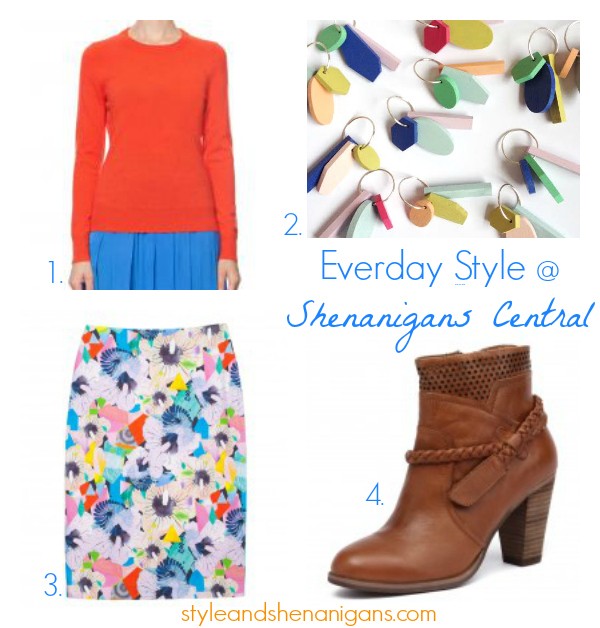 1. Garden of Eden Pencil skirt, $141.75 (on sale), from Gorman; 2. Girl Friday jumper in orange, $104.25 (on sale), from Gorman; 3. Making shapes earrings, $80 from Stampel Studio; 4. Gex Tan Ankle Boot by Django & Juliette,* $229.95 from Style Tread.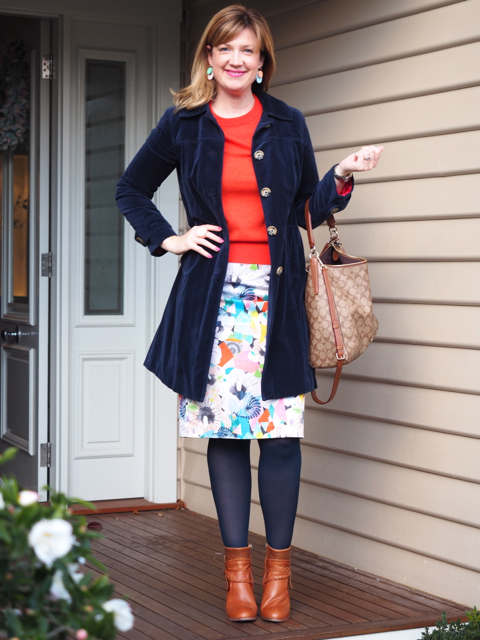 * denotes an affiliate link. You don't pay any extra but I earn a small commission.
Are you a fan of orange and/or Gorman? Been to a conference lately? Love a floral print?