New York City is a place like no other.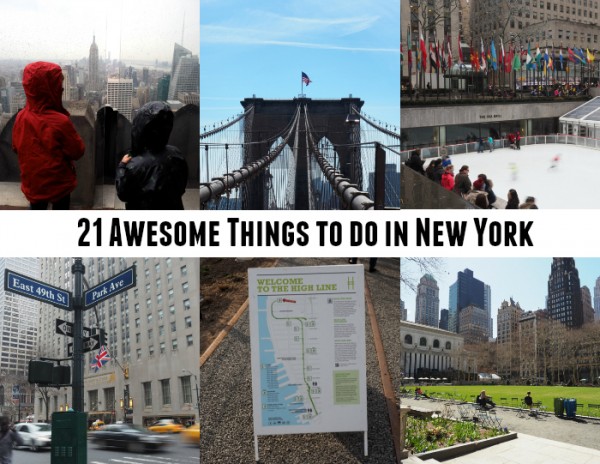 It's also a place I find difficult to describe in words.
For a start, it's hard to convey the scale of it and how it feels to walk the streets, feeling like an ant next to towering buildings.
Or how thrilling it is to explore a new place for the first time and yet feel a strong sense of deja vu, for so much feels and looks familiar.
We've just returned from our second visit to New York.  The first time, back in '07, we were New York newbies along with our 9 month old baby and managed to pack a lot in to our ten day stay. This time around, we took our three children (8, 6 and 3) and my Mum and while we re-tread some of our favourite steps, we mixed it up and did lots of new things.
One thing that remained the same though was the huge impression New York made on us. We absolutely loved our time in New York, despite a mixed bag of weather, and in today's post, I'm sharing 21 awesome things to do in New York.
Oh, and as we've only been to New York with children, what follows is family friendly. We did nearly all of these activities with our three children and my Mum who is nearly 70.
1.  Central Park – you could visit Central Park every day and do something different. Last time we visited Strawberry Fields, had a hot dog and walked from one side to another. This time, we played on the rocks, watched the ice skaters, ate a pretzel and wandered past (and looked into) the Central Park Zoo.
There are playgrounds, reservoirs and a carousel as well as plenty of open space. To check out what's happening (and there is always something happening), you can visit the official Central Park website here.
2. Get Some Perspective – Head to the Empire State Building or the Top of the Rock for ah-mazing views across Manhattan. It's also a great way to get your bearings, so we've generally done this at the beginning of our visits.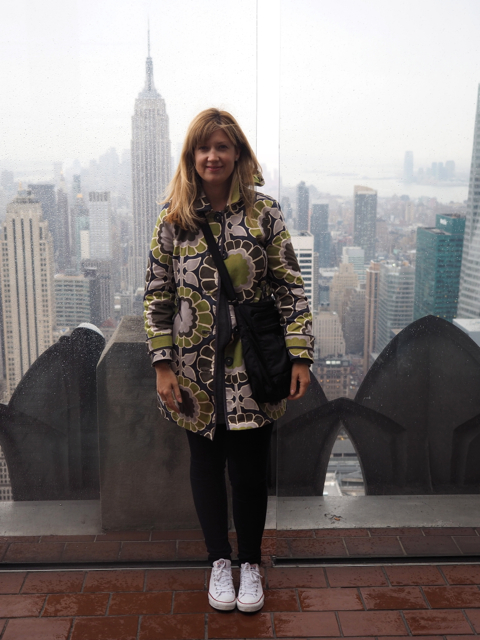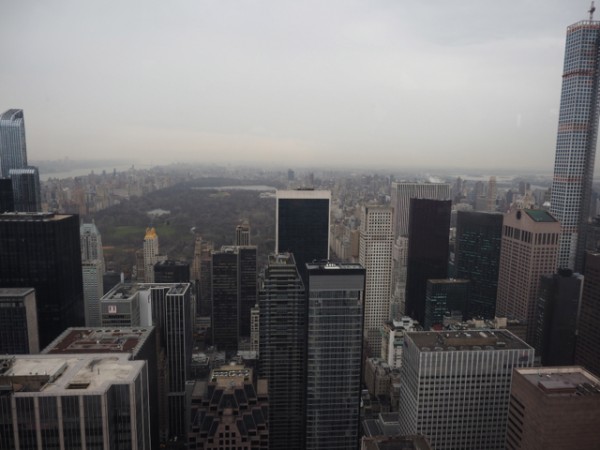 We prefer the Top of the Rock to the Empire State because the waiting times are much shorter and you also get a view of the Empire State Building on one side and Central Park on the other. We've done this twice during the day (first thing, when it's not as crowded) but next time I'd love to see the view by night.
3. Pay a visit to the American Museum of Natural History – the kids will know it as the location for the movie "Night at the Museum". It's wall to wall awesomeness. Head to the Discovery Room, below, for some quiet, interactive activities.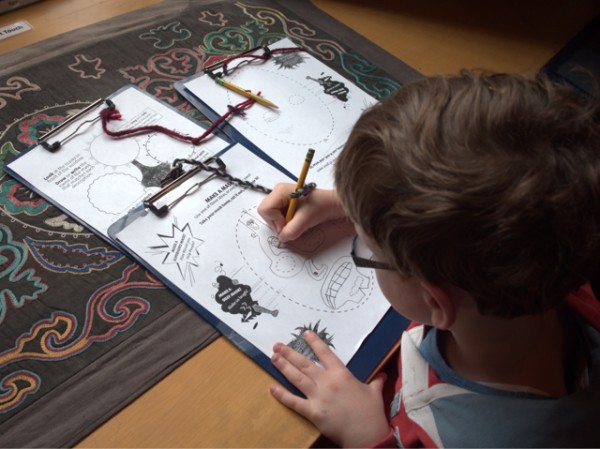 Our favourite room? Our 6 year old loved the Ocean Life room and the giant squid vs the sperm whale display. You could spend hours here. Entry is by donation.
4.  The 911 Memorial and Museum –  This was one of the highlights of our entire trip for me. It was incredibly moving, powerful and well worth queueing up for – we arrived at 10am and waited half an hour to buy a ticket and another half an hour to go through security.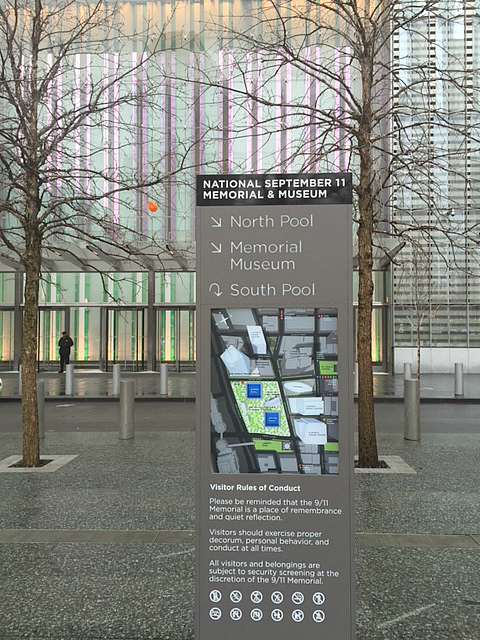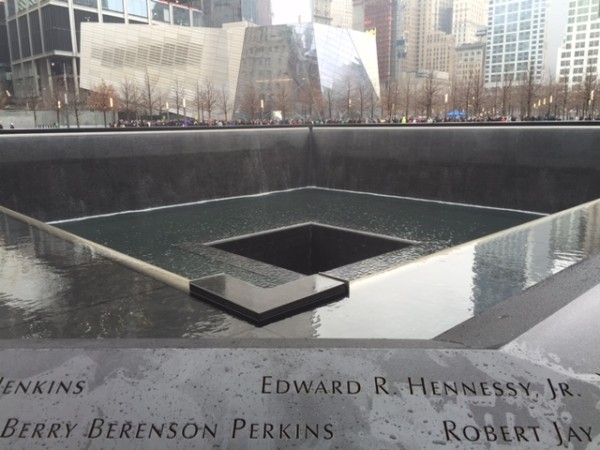 It may or may not be suitable for children, depending on their maturity and age. I took my 8 year old who, for the most part, was engaged with what we saw but found it very sad and confronting. I'd given him the facts in a simple way before we went to give him some context. I personally wouldn't have taken my 6 or 3 year olds as it is a serious, respectful place and I'm not sure they'd last the time needed to see the whole exhibition let alone be able to comprehend what happened.
We rushed through the last part but still spent an hour and a half there. You could easily spend 2 hours or more here. I would love to go back again next time and see it more thoroughly.
5. Walk the High Line – once an industrial railway, this elevated space has now been reclaimed and rejuvenated into a landscaped urban garden.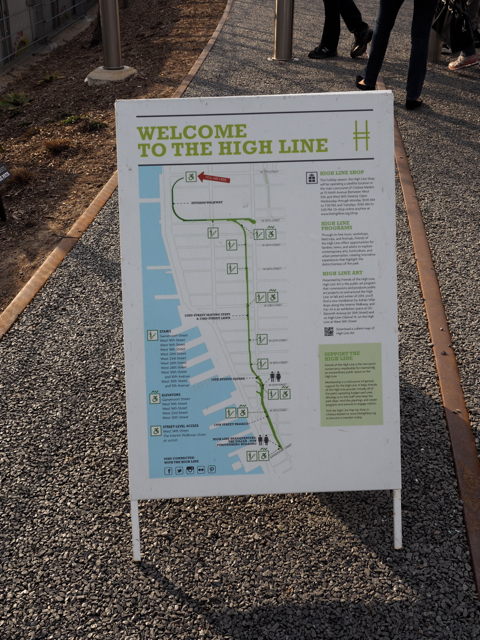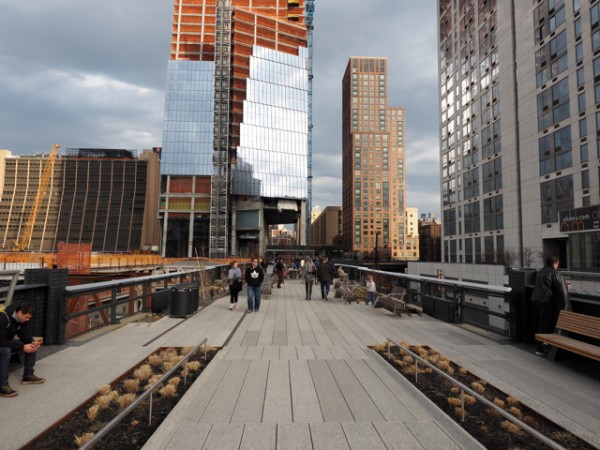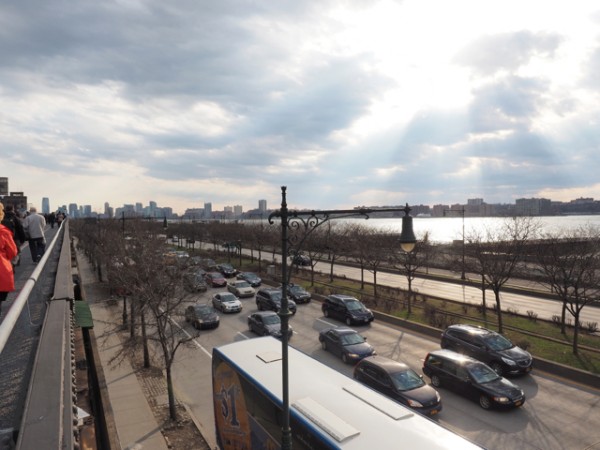 The views over the Hudson River and the streets below were amazing and we loved looking at the art work and different landscape design along the way.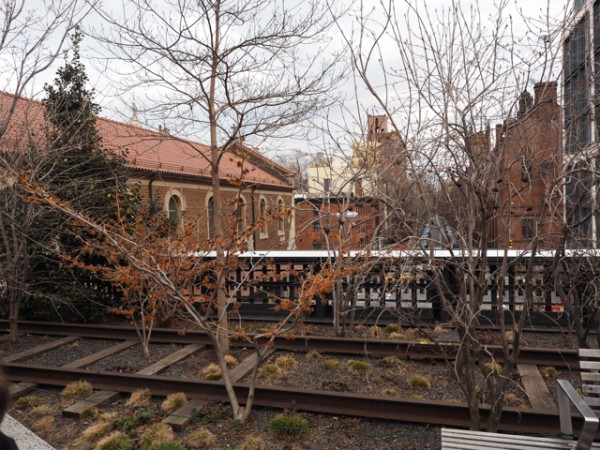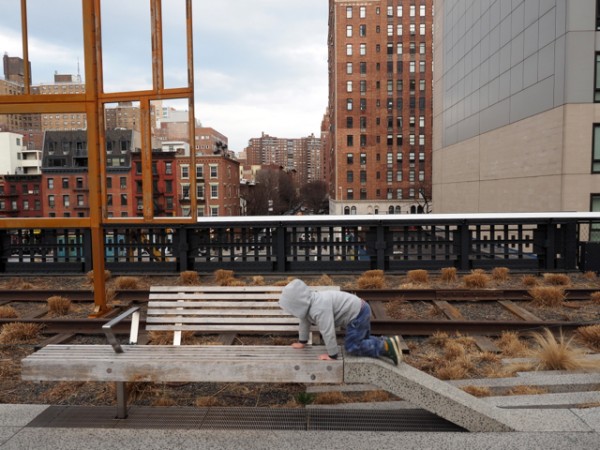 The walk took us close to an hour – we went at twilight to see the sun set, beginning at West 30th Street and walking south. The kids were a bit tired by the end, after a day of sight seeing. We finished in the Meat Packing District where we had dinner at the fabulous modern Mexican restaurant Dos Caminos. My friend Bel recommended the frozen margaritas – trust me, you won't be disappointed.
6. Dean and DeLuca – New York delis are all kinds of awesome and it's hard to go past Dean and DeLuca. We visited their SoHo store on Broadway which comprises a grocer, bakery, florist and patisserie in addition to gourmet salads, sandwiches, sushi and all sorts of food to go.
Mr 8 and I had lunch there (standing at tables only) of pizza and sushi with some people watching on the side. We finished our lunch with a sweet treat – some serious donuts.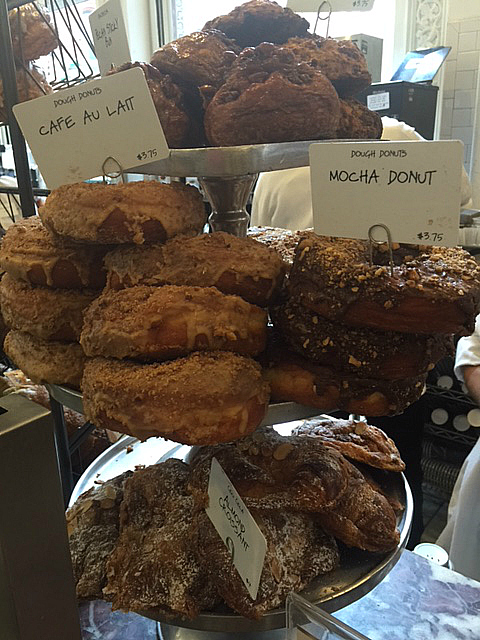 7. The Met – The Met is a world class museum, housing the most enormous collection of global artefacts, the highlights of which for us were the ancient Egyptian collection and the Armour Court.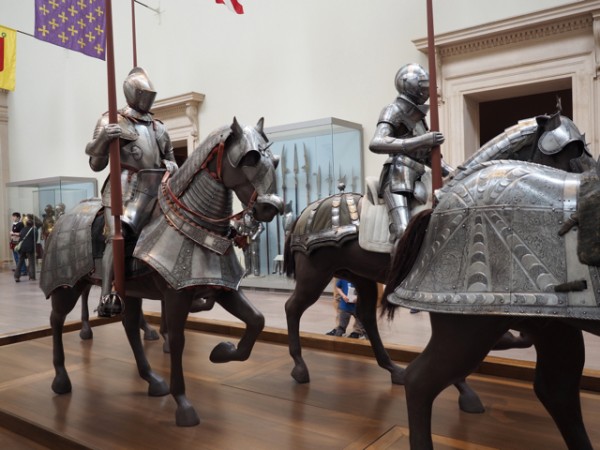 There is so much to see here so it's worth choosing a couple of areas to start and see how you go. I could spend hours here but the kids lasted an hour and a half. Entry by donation.
8. Visit Bryant Park – this beautiful public park, on 42nd Street between 5th (it includes the New York Public Library) and 6th Avenues, is centrally located and a short walk to Times Square.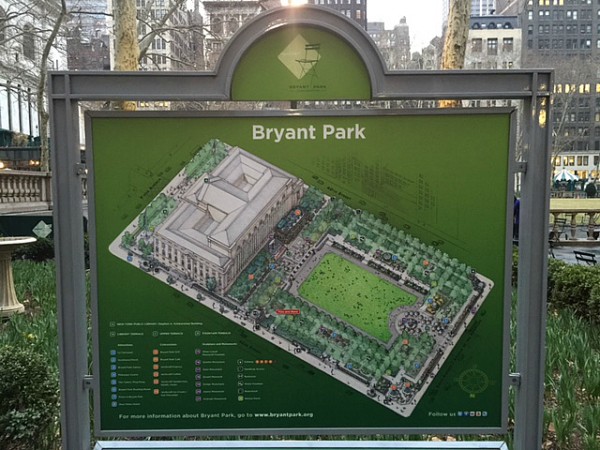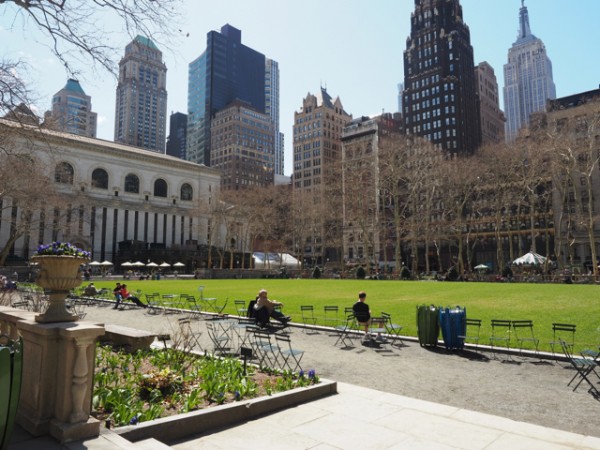 Like Central Park, Bryant Park is a peaceful oasis in the middle of the city that offers loads of activities – you can read a mag, book or the daily paper in the sunshine care of the free Reading Room; play on the grass; have a bite at one of the cafes; have a ride on the carousel or participate in the many free activities held here – we even saw nuns playing ping pong. In Winter the lawn becomes an ice skating rink. To find out what's happening, head here.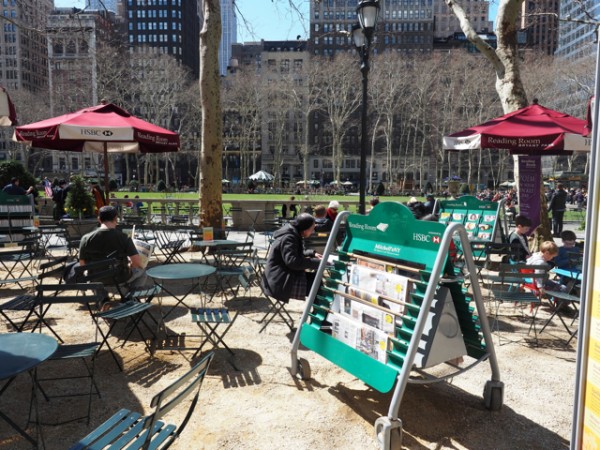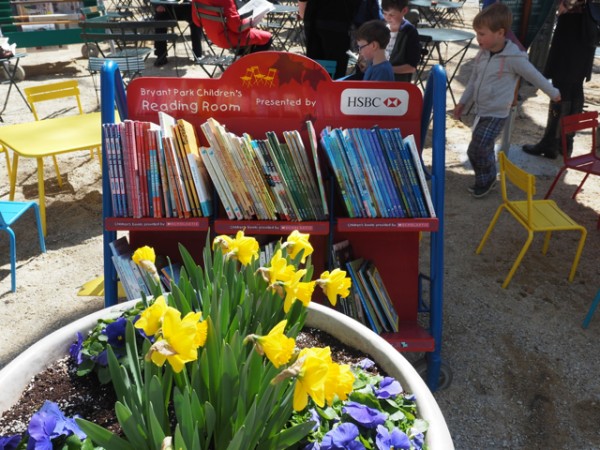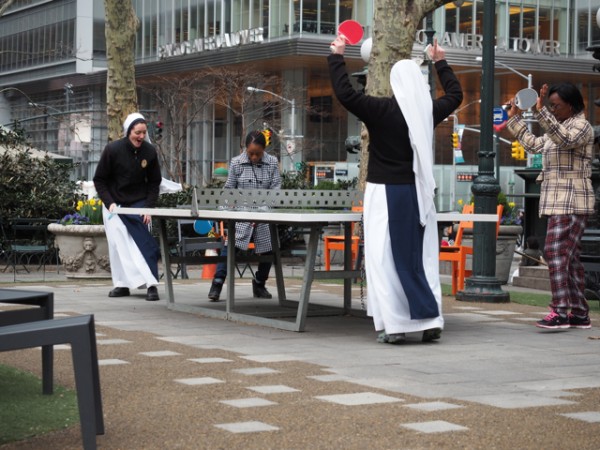 9. Walk across the Brooklyn Bridge – we walked from Manhattan to Brooklyn one sunny day and it was glorious. The views are incredible and we could see across to the Statue of Liberty.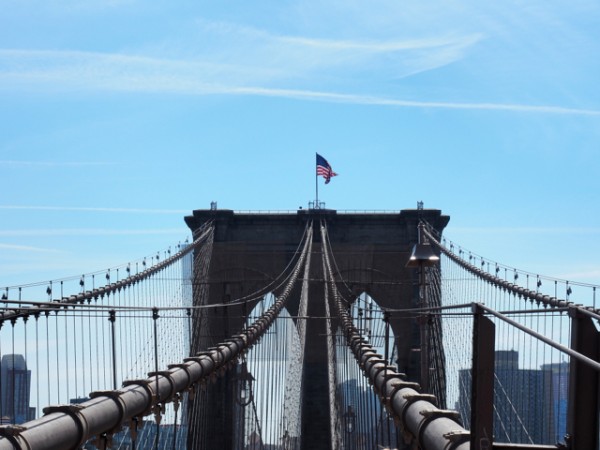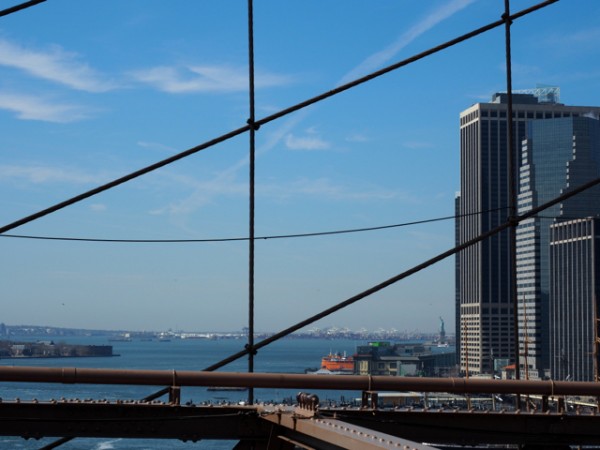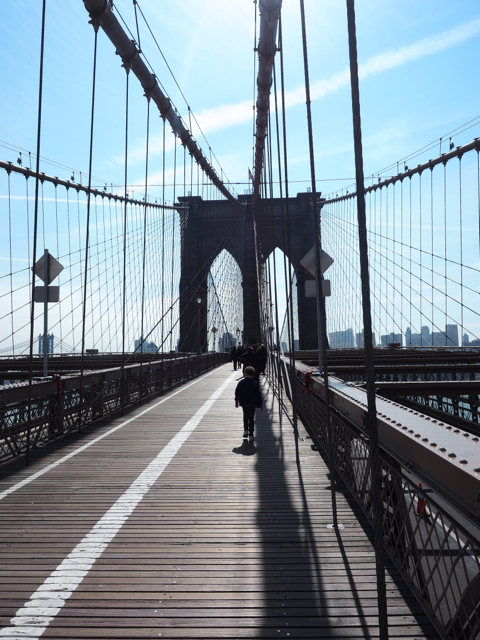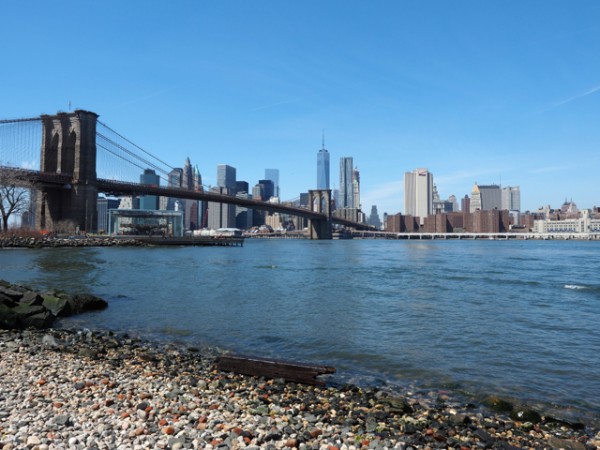 It took our family forty minutes to walk across, factoring in crowds, shenanigans and stopping to take plenty of snaps. Once in Brooklyn we got a little lost, but soon found our way to Dumbo (Down Under the Manhattan Bridge Overpass, below) where had had lunch and an ice cream with stunning views of Manhattan, as above.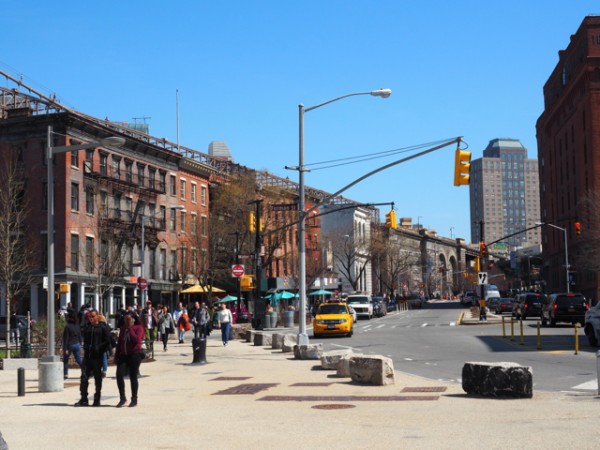 Next time, we'd walk across the Manhattan Bridge – we were told about this after walking the Brooklyn Bridge – for fab views of the Brooklyn Bridge and less people traffic. I'll be adding this to my itinerary for next time.
10. Burgers at Shake Shack – This popular burger chain which began as a hot dog stand in Madison Square Park in 2004 is not your usual fast food option – Shake Shack creates quality, fresh and simple versions of old classics.
I had the Smoke Shack burger which was the Business with a capital B and I loved their crinkle cut fries. I have it on good authority – my New York dwelling vegetarian friend Justine – that vegetarians will be in heaven with the 'Shroom Burger. Check out the full menu here.
Shake Shacks are very popular and we routinely saw long queues there. Our local on the corner of 3rd and 40th (Midtown East) was not as busy.
11. Visit MoMA – The Museum of Modern Art is my favourite New York museum. It is manageable in size and do-able in half a day. You can check out some world class modern art here, including works by Andy Warhol, Picasso, Jackson Pollock and Monet.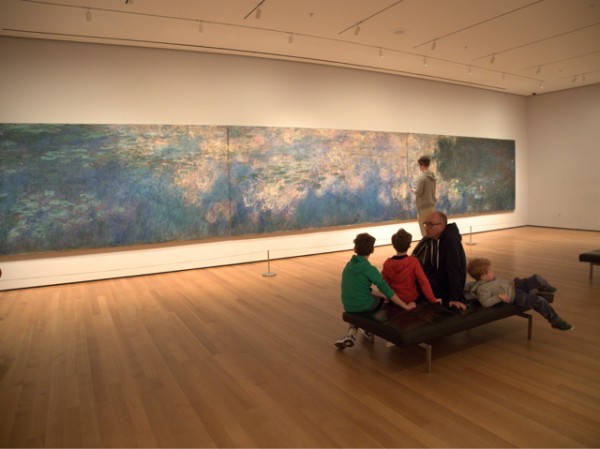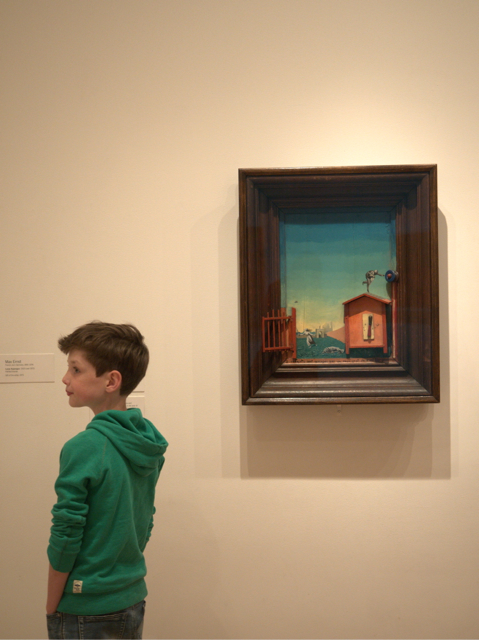 There are some awesome installations and excellent special exhibitions  too – we were thrilled to chance upon the Bjork special exhibition although we aren't sure what the kids made of it!
I'd also highly recommend their Italian cafe on level 2 (hello meatballs) and they have the world's most awesome gift shop (there is a second one across the road too). Make sure you factor in a wander in the Sculpture Garden, below, too.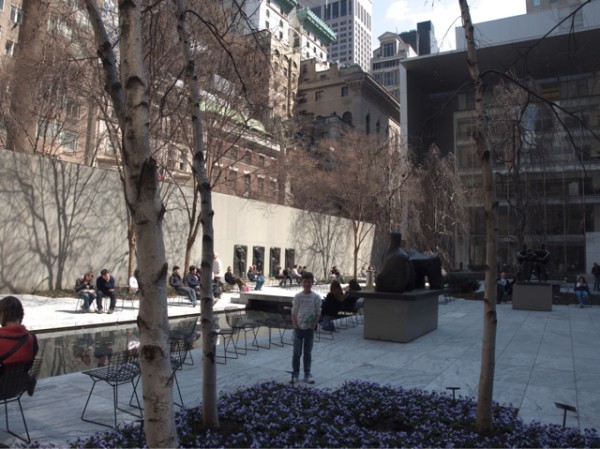 11. Head to the Rockefeller Plaza – you've seen it on the Today show, now it's time to see it In Real Life.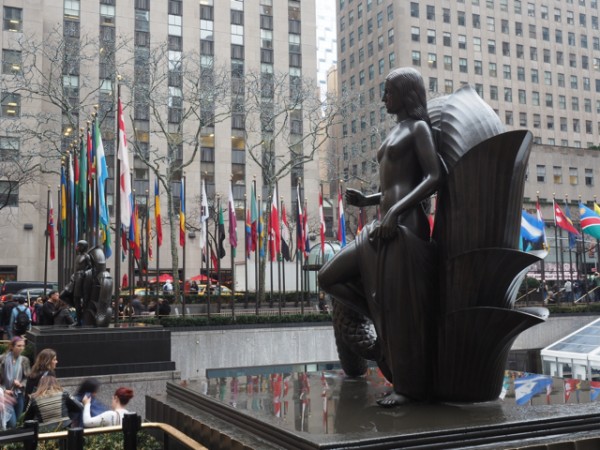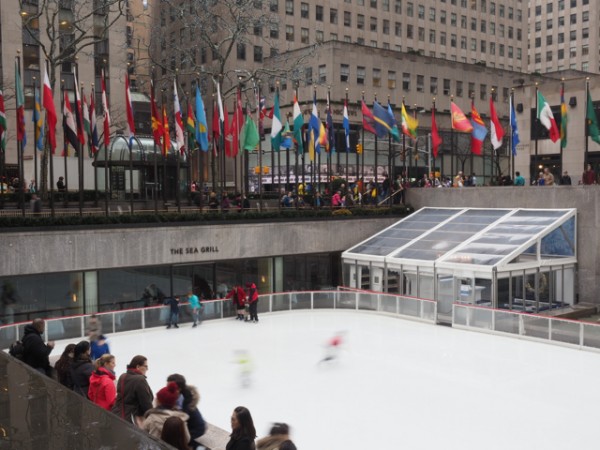 Check out the ice skaters, the fab Lego store nearby for the kids and do some serious people watching. If you need a retail fix, Anthropologie and J Crew are part of the retail complex. Radio City Hall is nearby too.
12. Head to Madison Square Park for a play –  There is a fenced playground here for the kids.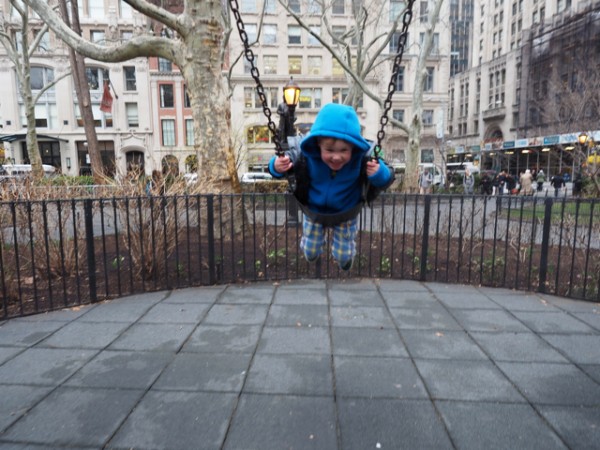 You might also see a squirrel or three like we did. Check out the iconic Flatiron Building nearby too.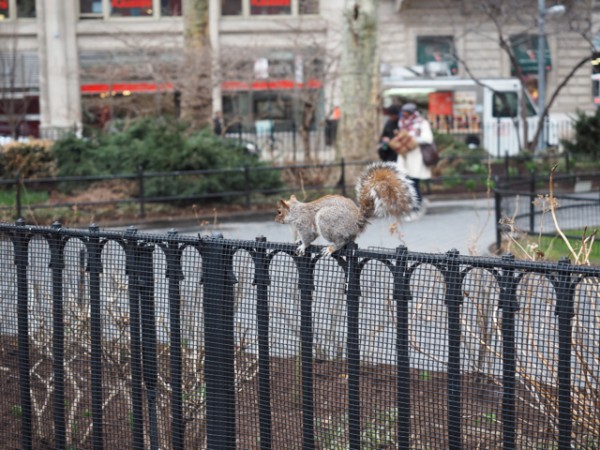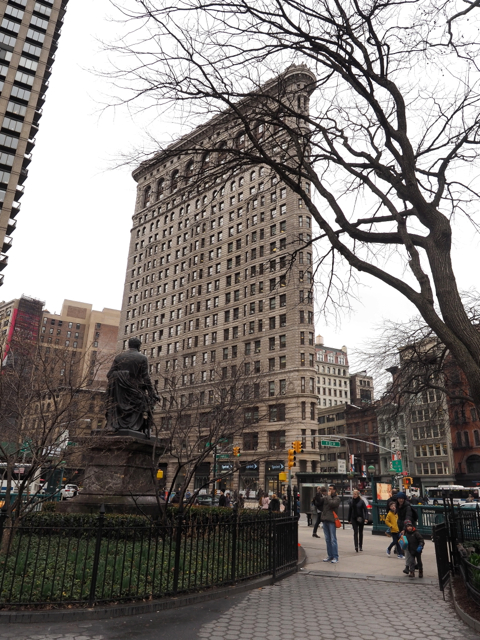 13.  Catch a show on Broadway – Back in '07 we saw Wicked. This time around we took our two eldest children to a matinee performance of Matilda, which was brilliant. On another night, I took my Mum to see Beautiful – The Carol King Musical, which we both enjoyed very much.
Any time you visit, there'll be loads of shows to choose from – Les Mis, The Lion King, The Curious Incident of the Dog in the Night Time and Aladdin are just some of the shows currently playing.
14. Pop in to Times Square – it's a spectacular spectacle and worth a visit. It's crowded, bright and noisy, all day every day and while I wouldn't want to hang around there all day, I did pop in to Sephora on our way to see Matilda.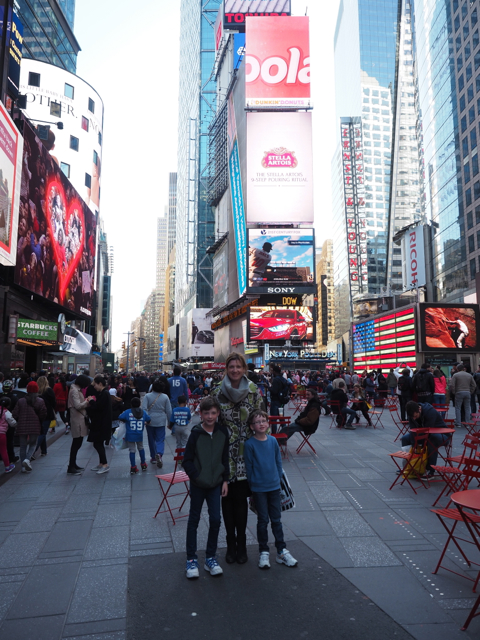 There are people in costumes wandering around for (paid) photo opportunities. We succumbed and took a photo with Woody. We also had a bit of fun seeing ourselves on the big screen in real time.
15. A visit to Eataly – A visit to Eataly was high on our list. This is an Italian one stop shop where you'll find a gelateria, pizzeria, fromagerie, bakery, fresh food and groceries and a wine bar.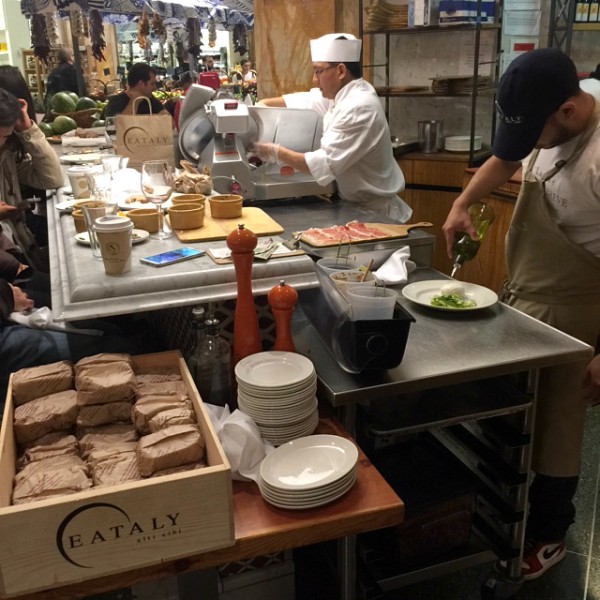 It is seriously fabulous and I would have liked to spend a lot more time here, sans children. It's opposite the iconic Flatiron Building, Madison Square Park (12, above) and close to an excellent shoe store (Shoegasm) too.
16. FAO Schwartz – this famous toy store diagonally opposite Central Park covers three levels and includes a sweet store (FAO Schweetz), Muppet workshop, cafe and gazillions of toys. Our boys easily spent two hours here and this is fun way to spend a morning or afternoon.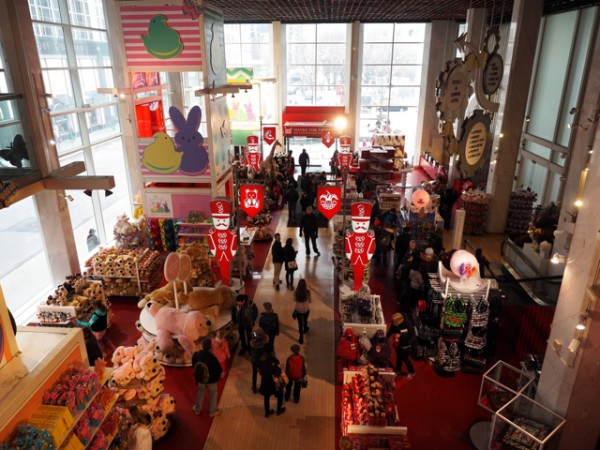 17. Visit Grand Central Station – last time, we simply wandered in and spent some time in the Main Concourse, admiring the impressive period architecture and marvelling at the artwork on the ceiling before moving on to the next thing.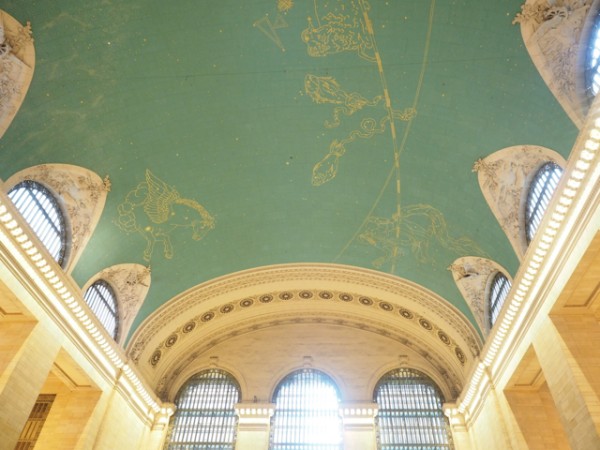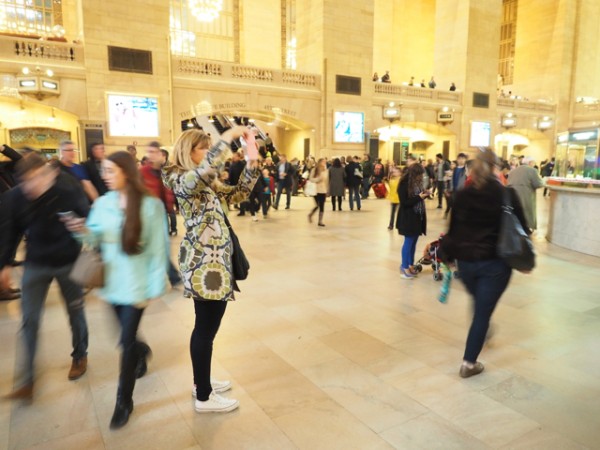 This time around, we explored more of Grand Central Terminal and found there was a fantastic food court on the lower level (with a Shake Shack and Hale and Hearty); some great shops (68 in total) including the fab gift shop attached to the tiny New York Transit Gallery Annex and Store and the gourmet market hall on the main concourse level. As we were staying a short walk from Grand Central, we visited often and loved stopping by on our way to and fro our NY digs.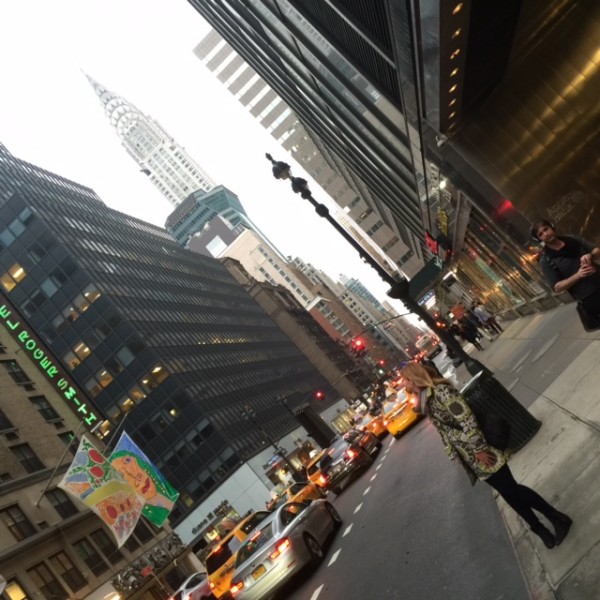 As you walk along Lexington Avenue towards Grand Central Station, you'll also have great views of the stunning Chrysler Building, above, also on 42nd Street.
18. Go to a concert or see the New York Knicks play at Madison Square Garden – we had the great luck of being in town when Billy Joel was playing – it was an incredible experience and serious bucket list material. Mr SnS wanted to take our boys to see the Knicks play at home. Unfortunately, there were no home games during our stay but we'd try to do this next time. Find out what's on at MSG here.
19. Go (window) shopping down Madison Avenue or 5th Avenue – Mum and I walked down Madison Avenue one afternoon stopping at the Kate Spade Flagship store (four levels of fabulous, below) and Ralph Lauren.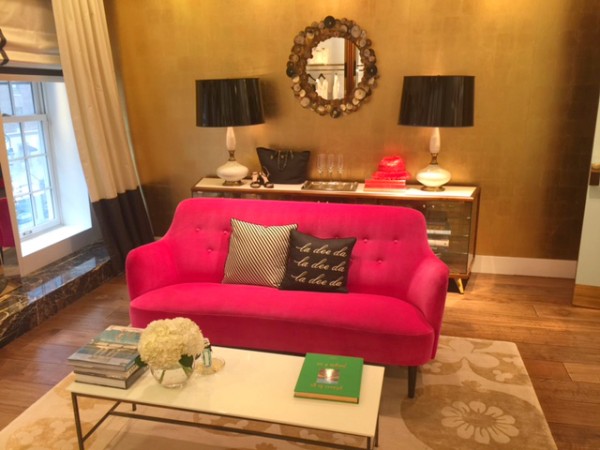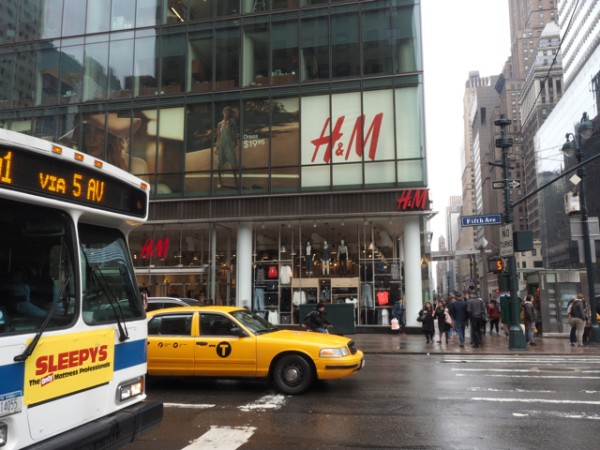 On 5th Avenue, the higher end shops are closer to Central Park (including Tiffany & Co.) and Saks 5th Avenue is opposite the Rockefeller Plaza. Further down towards 42nd Street you'll find more affordable options including Zara, H&M, Benetton, Sephora and the usual high street suspects.
20. Take a ferry ride – last time we did a ferry cruise from the west side of Manhattan down the Hudson River around to the East River which gave us another perspective. This time, we'd hoped to take the free ferry over to Staten Island for a close up view of the Statue of Liberty but the weather wasn't great.
21. Pick a neighbourhood, any neighbourhood – One of the things I enjoy the most about New York is wandering through it's distinctive neighbourhoods. From the residential Upper West Side to the hustle and bustle of Chinatown through to hip Soho and Greenwich Village, it's fun to explore a neighbourhood yourself without following a guide book.
On the way home from our visit to the 911 Memorial and Museum, my 8 year old and I caught a cab to the corner of Canal St and Broadway and mosied on up Broadway through SoHo, stopping at Pearl River (an awesome multi level store of all things Asian from fashion, stationery, home wares through to furniture and fabric), Dean and DeLuca for lunch and then on to Crate and Barrel. From there we wandered down W4th Street, past the NYU buildings and Washington Square Park to the subway station in Greenwich Village. The streets are signed clearly and with a map, it's easy to find your way around. Passersby and shop assistants were all friendly and helped us when we needed them.
Last time I walked the length of Bleecker Street from the West Village (around 8th Avenue) through to Broadway, taking in Magnolia Bakery and Bleecker Park, doing my own mini Carrie tour of Greenwich Village. I loved seeing a different side of New York and catching a glimpse of how the locals live too.
The Incidentals
In addition to what I've listed above, the incidental and random interactions we had really made our visit what it was.
For instance, the fascinating conversations we had with taxi drivers from the recently retired FBI agent who spoke 16 languages and worked Checkpoint Charlie in the '80s, the life long New Yorker who explained how the city was set out, through to the lovely young Iranian driver who'd been in New York for four days and asked me to direct him to the Natural History Museum (thankfully, I could manage this).
The wonder of walking past the Waldorf Astoria several times a day and feeling like it was part of my 'hood.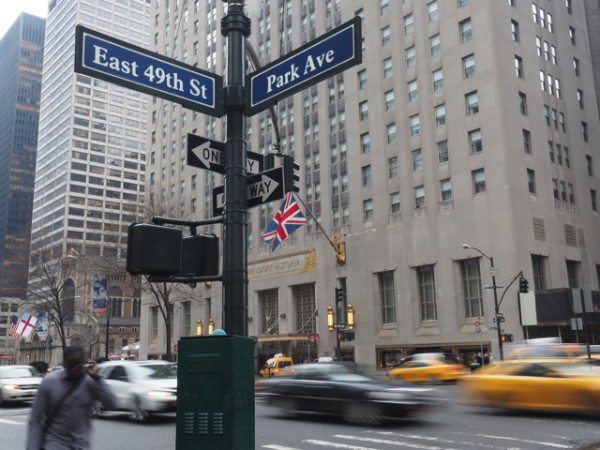 Trying to find a WiFi connection and one of the options that came up was FBI Surveillance Van 5.
Holding a warm pretzel on a cold morning, our reward for walking thirty blocks.
Hailing taxis like a pro, having worked out to only hail those with their lights on.
Sharing a booth at Shake Shack with a mum and her eleven year old son, chatting about life in New York and getting the Larry Lowdown on New York for kids.
Catching up with friends who've recently relocated to New York from Melbourne for pizza at their favourite local (Marta at Martha Washington).
So while the list above captures a lot of what we actually did during our visits to New York, I'd strongly suggest you don't spend all your time in New York running between attractions, madly ticking things off your list. New York is a city to experience, to savour. So while you'll no doubt enjoy all of these things listed above as we did, chances are the things you enjoy and remember most will be the little snippets in between.
Other Bits and Bobs
I spent a day visiting Woodbury Common Premium Outlet, an hour's drive from Manhattan. I'll cover this in detail in a future post but if you are a shopper and love designer brands, add this to your itinerary stat.
In terms of getting around, we usually walked as we found this the easiest and it helped offset the obscene amount of waffles, burgers, pretzels and fries we ate. We occasionally hailed a taxi which was very reasonable for short journeys.
If you are staying in Midtown or further uptown and planning to head down town to the financial district (911 Memorial Museum, Wall Street), it's easiest and cheapest to catch the Subway. Each trip is a very reasonable $2.75 per person.
Accommodation in New York is astronomically expensive. We stayed at the Best Western Hospitality House in Midtown (on West 49th Street between 3rd and Lexington Avenues) and it cost us US$636 per night (plus state and federal taxes on top of that) for our party of six (3 adults and 3 children).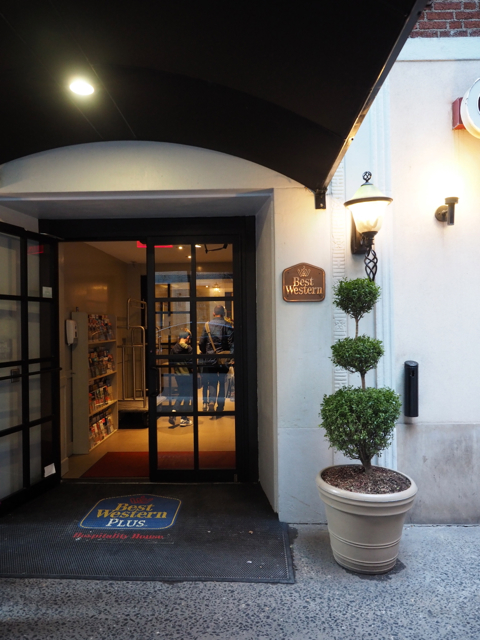 Our apartment style room was comfortable (but not 5 star) with two bedrooms, one bathroom, a separate living area and kitchen.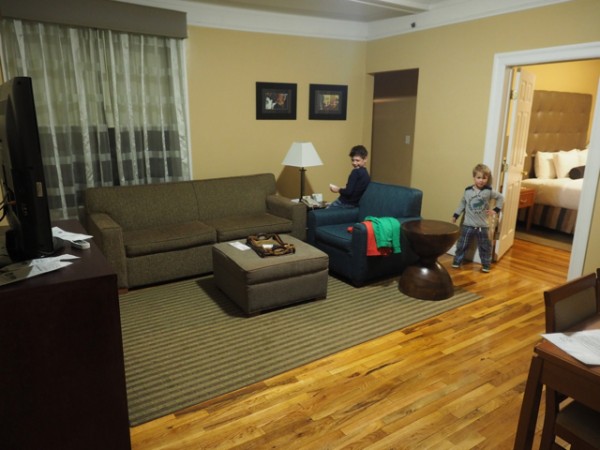 The sofa bed in the living area, above, folded down to sleep two of our kids. My Mum shared one twin bedroom with our third child while Mr SnS and I had the master bedroom, below, with a king size bed and desk. With taxes and the conversion to Australian dollars, it cost us over AUS$800 per night for the six of us. Our tariff also included a basic buffet style breakfast every day in their dining room.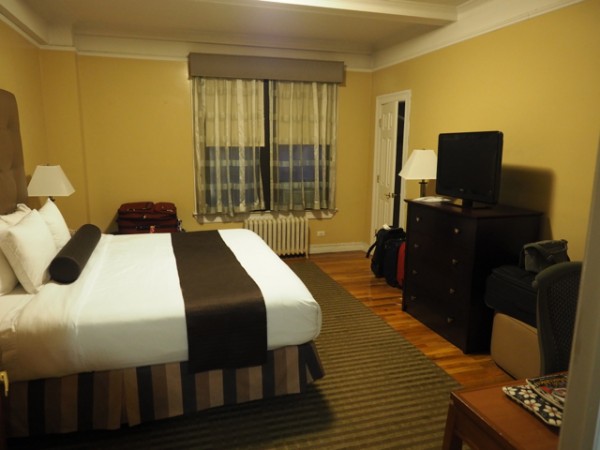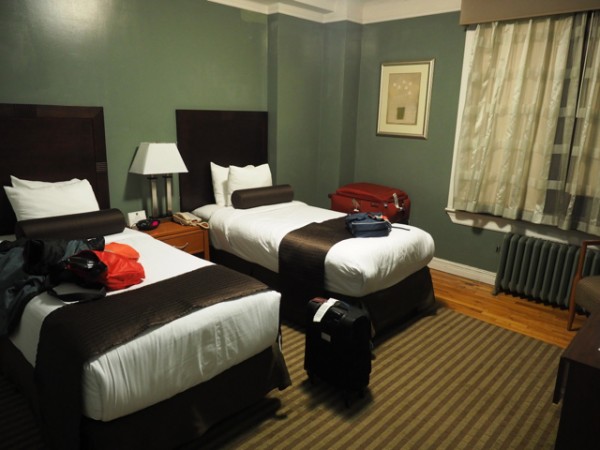 The location was terrific – half a block from the Waldorf Astoria and a short ten minute walk west to Rockefeller Plaza/5th Avenue on 49th Street or less than ten minutes walk down Lexington Avenue to Grand Central Station/42nd Street.
Last time we stayed in Manhattan (with our then baby), we stayed in a one bedroom suite (with a separate bedroom and a kitchen) at the Affinia over on 7th Avenue which was a great location too – opposite Penn Station (which was convenient as we'd arrived by train from Washington DC) and Madison Square Garden, a ten minute walk up 7th Avenue to Times Square or a short taxi ride downtown to Chelsea. The price per night for the 6 of us at the Affinia was way over our budget though, so we opted for the Best Western this time around instead. It was also good to explore a different part of the city. Next time I'd change it up and stay somewhere different again.
In terms of when to go, coming off a very cold Winter, it was cold to mild (7 – 18 maximum temperatures) during our stay in early April and it had been snowing just a couple of weeks before we arrived.
Several people told us to avoid visiting during summer at all costs (June – August), as temperatures are consistently close to 40 C with extremely high humidity and three showers a day are required! My pick would be the shoulder seasons of May or October, just to streamline packing.
Next time
I would have liked to visit The Guggenheim again and the Frick Collection. We didn't visit this time around as we were conscious of not exceeding the kids' museum/gallery thresholds.
We were disappointed that we didn't make it to the Children's Arts Museum too as several people recommended it to us, including locals. This would be a great option for extreme weather too.
We would have also liked to visit the New York City Fire Museum but ran out of time.
So over to you, have you been to New York? What did you love? Where did you stay? What would you love to do or visit? I'd love to hear your recommendations.