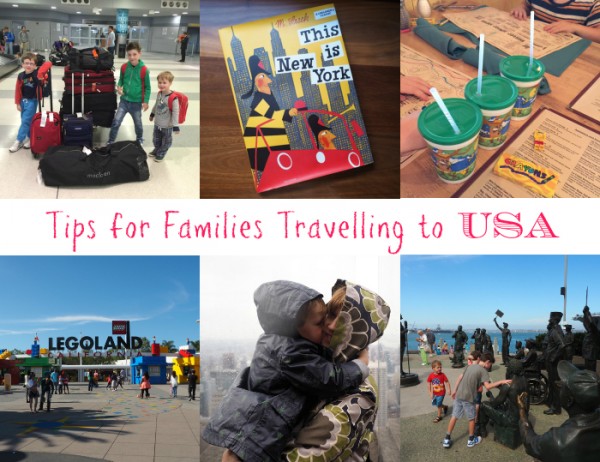 Travelling to the US with kids is a big call.
Firstly there is the distance to get your head around and that 14 hours or so direct flight between Australia and LA.
Then's there's the challenge of working out where to visit – with 52 states and everything from natural wonders (such as the Grand Canyon, Yosemite National Park) to political and cultural destinations (Washington DC and New York) through to shopping (everywhere), music (Graceland, New Orleans) and theme parks (Orlando, Florida and California), there really are loads of reasons to visit the US. Unless you have several months and buckets of cash, it can be a challenge to whittle down the options to a manageable itinerary.
Throw kids into the mix and you not only substantially increase the cost (airfares, accommodation and food for starters) but there's also the challenge of creating an itinerary which will interest you as well as them.
I was talking with a close girlfriend this week about our recent trip to the US, and she told me she thought we'd been a bit mad! Travelling such a distance with young kids was overwhelming and daunting to her. She asked me if I'd been worried about the jetlag and how we'd coped. I responded that I hadn't even given the jetlag a thought as I was more concerned with our luggage and how we'd manage all of that!
As I reflected on our conversation though, I realised we had been quite brave to go with our kids (aged 8, 6 and 3). In particular, travelling with a 3 year old was always going to be a big ask. But, all in all, it was so worth it and we had such a great time. I thought perhaps readers of this blog might be interested to hear more about how we approached our trip; what we found challenging; how we found travelling with my Mum; how we planned our itinerary and why this worked for us and tips and traps for others considering a family trip to the US. If you've done something similar, we'd love to hear your advice and intel in the comments below.
Expectations
A word about expectations before we begin.
Having the opportunity to travel with our kids is something I am incredibly grateful for and enjoy a lot on different levels – new experiences to share with each other, seeing them grow in independence and confidence as they meet new people in different environments, adapting to new food and accommodation, learning about the city's culture and history – all of it.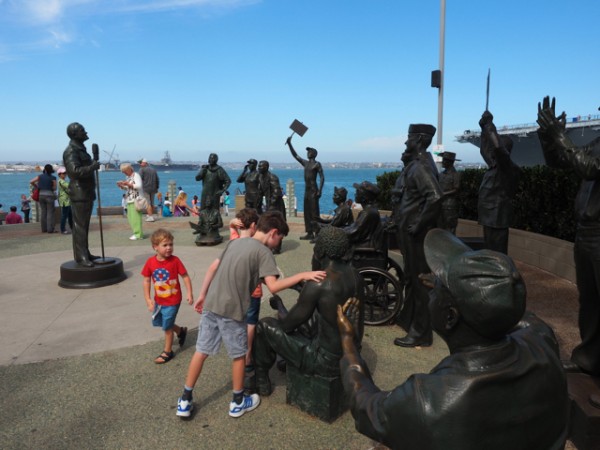 The kids checking out the Bob Hope Memorial in San Diego
However, it's not the same as travelling before kids. Gone are the days of late starts, hours of walking around the city and checking out the nightlife.
Do not, I repeat, do not approach a holiday to the US mainland with kids as a relaxing holiday. Unless you tack on a cruise/resort holiday to Hawaii/Cuba/Florida on the way to or fro, a trip to the US is more of an adventure or experience rather than a break. I knew this before we left but felt we were ready to tackle something a bit more active after a few years of resort style holidays.
A holiday to the US will be action packed, fun and fabulous, but unless you have the magic trifecta of a great hotel, great weather and a nice pool, it will be hard to create that resort vibe. I also felt a bit of self induced pressure to see as much as we could, within reason, as our accommodation was expensive and I didn't want to spend my limited time in a city sitting in the hotel room.
If we had more time and flexibility with our tickets (we were restricted in terms of flight routes because we were using our Frequent Flyers), I would have loved to stop in Hawaii on the way home.
How did the kids manage?
This most recent trip in particular, we've found that our kids (who are presently 8, 6 and 3) could manage 4 – 5 hours maximum of sightseeing (much of which they are walking for), each day, so their day often was generally finished by 3pm. What we tried to do then was for one of us to take/stay at home with them to give them the opportunity to kick back with a DVD/Lego/reading while the other would head out or stay out to explore for a couple of hours on their own.
We did a lot in those 4 – 5 hours as a family though, often starting our days at 9am so we could arrive at various attractions when they opened, to avoid the crowds as much as possible. The exception was our day in Sea World in San Diego where we spent 8 hours. I attribute this to the fact that we watched three shows and stopped for lunch during the day so we had some periods of sitting to break up all the walking around.
It also helped that Mr 3 was happy to sit in his stroller when he got tired. He was still having a 2 hour day sleep most days before we left but we didn't put him down for a sleep very often while we were away. He occasionally had a twenty minute cat nap in the stroller but we still made sure he had downtime every day back at our hotel. He also went to sleep without too much fuss each night by 7pm.
Our older boys (who are 6 and 8 years old) managed the walking and travelling in general much better than we'd hoped. They were also old enough to help with the luggage – they carried their own backpacks and also pushed a carry on case in the airports. We also made sure they had time to watch TV or play with their Lego every day for some downtime.
They both had a ball and our 8 year old has subsequently thanked us for such an "amazing trip." Their highlights were Legoland and Disneyland in California, and Central Park, the American Museum of Natural History and FAO Schwartz in New York.
Finally, when you holiday with kids, you don't leave the shenanigans at home. Over four weeks we broke a table in a hotel room; four of the six of us vomited and had a virus; Mr 3 had a cold and a couple of massive tantrums; we had to abort our first scheduled visit to FAO Schwartz when two of our kids had a punch on in a museum; and one of our kids missed a day of Disneyland because he was unwell. We just tried to take things in our stride as much as we could, knowing that things could have ended up a lot worse. We also made the most of the days when things went right.
Planning Your Itinerary
Working out where to visit and for how long can be a challenge.
For us, our itinerary has been partly determined by Mr SnS's work as our trips have been precipitated by invitations to speak at conferences – Washington DC (in '07) and San Diego ('14) so we spent several days in these cities to allow him some sight seeing time after he'd finished work. He has travelled to the US many times in between however, at those times we didn't feel the ages and stages of the kids were ideal. Once our youngest was toilet trained, on the tail end of his day sleep and in kinder, we felt like maybe we could manage, although we were still a bit apprehensive. I was planning to wait until he was closer to 5 but the opportunity presented itself a year earlier so we ran with that.
As we've only travelled to the US with children, I've generally approached our itinerary to the US as follows:
– book a direct flight between Melbourne and the US. I'd have loved to fly into San Francisco this time around but this would have necessitated a stop over via Sydney or LA and we didn't want to add another leg to our journey:
– at least a 2 night stay at the beginning of the trip in LA to get over jetlag and acclimatise. We've flown in and out of LA both times and stayed in different parts of town each time to mix things up;
– longer stays of 5 – 10 nights from then on. This takes into account that travel days are a write off and take preparing for and settling in, which eats into relaxation/sightseeing time. You can't see everything in the US, so my hot tip would be to choose a couple of places you really want to see and make the time to see them well. Having longer in the one place also allows for some downtime/quieter days too. Kids (and most adults) cannot sight see all day non stop city to city for weeks on end;
Travel days really eat into your holiday. Even our "easiest" day of travel with our shortest flight of 4 hours from LA to New York City turned into a huge day factoring in a 5am wake up for a 7.25am flight; the 4 hour flight time; collecting luggage and then waiting over an hour at the airport for our transfer in New York City, followed by an almost one hour drive through peak hour traffic from the airport to our accommodation. The kids coped really well and compared with our international flight, this domestic flight was a cake walk. We were all very tired after a big day though. Obviously, the more cities you visit, the more travel days you'll have.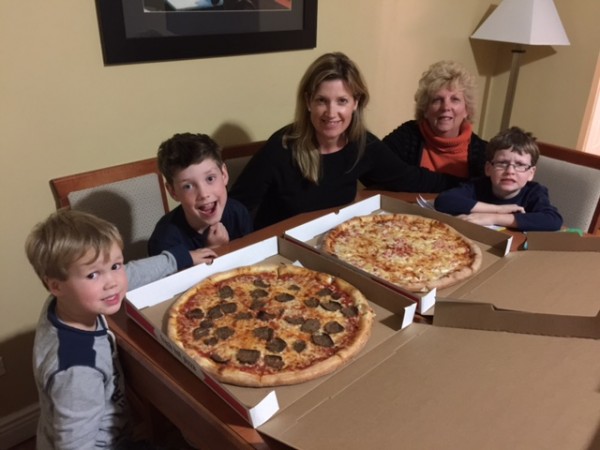 Our first dinner in New York, after a big day of travel
For this most recent trip, our itinerary was as follows:
– 2 nights in Santa Monica, LA (you can read about our stopover and where we stayed here);
– Train to San Diego (3 or so hours) for 9 nights. There was so much to see and do in San Diego with kids and we easily filled in our days here with visits to Legoland, below, the San Diego Zoo, Sea World and the USS Midway;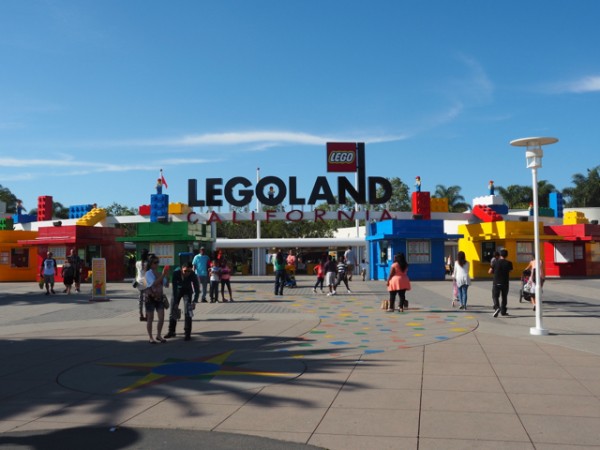 We divided this time between two hotels in different areas as the first hotel was booked out after 7 nights. The second hotel near the airport wasn't very exciting but was close to Old Town, an area we probably would have missed if we didn't change locations, so this actually worked out well for us and, given our first hotel let us check out at 1pm, it was relatively easy logistics wise;
– Fly from San Diego to New York City for 10 nights. This time we stayed in Midtown, five blocks east from Rockefeller Plaza, on East 49th Street. You can read about what we did and where we stayed in this post, 21 Awesome Things to do in New York.
– Fly from NYC to LA, with a transfer to Anaheim for 4 nights before flying home to Australia on a late flight. We bought 4 day park hopper passes for Disneyland and stayed opposite Disneyland parks. For more info, read my Tips for Disneyland post here.
The first time we went to the US our itinerary was as follows:
– 2 nights in Beverley Hills, LA;
– Fly to Washington DC where we spent 5 nights. We had an action packed 5 days but we could have easily stayed longer. We loved the Smithsonian museums (all nine or so of them), visiting the Jefferson Memorial, seeing the White House and Capitol Hill, visiting Arlington Cemetery, the awesome Spy Museum and Georgetown. There is so much to see and do in Washington DC and I would highly recommend visiting. We will definitely return;
– Train (3 hours or so) from Washington DC to Pennsylvania Station in New York. We then spent 10 nights in NYC staying in apartment style accommodation at The Affinia on 7th Avenue which is located directly opposite Penn Station;
– Fly to Toronto, Canada for 6 nights (more business for Mr SnS);
– Fly from Toronto to LA for 3 nights, this time in Santa Monica before flying home with our then 9 month old baby.
At each of our destinations, we've visited a variety of attractions, most of which are family friendly. We've tried to mix things up by including plenty of fun places like theme parks (Disneyland, Legoland and Sea World); cultural places like museums which are either pitched to kids (such as the American Museum of Natural History in New York and The New Children's Museum in San Diego) or cater for them well; places of historic significance (USS Midway and Old Town in San Diego and the 911 Memorial and Museum in New York); outside time where they can run, play and explore like parks, bridges and big outdoor spaces like Central Park; and great, family friendly places to eat.
If you have friends that you can meet up with to do any of the above with, make sure you factor this in as much as possible. Our kids love playing with other kids in new locations.
In general, we try to accommodate the kids as much as possible and it also helps that we enjoy doing a lot of what they love to do. However, we also expect them to do some things that we want to do. Having said that, we don't expect them to go shopping all day, so Mr SnS and I would give each other a couple of hours off every other day to head out and explore. I also made the most of the extended weekday shopping hours, occasionally ducking out after the kids were in bed.
A word about train travel. It rocks. If you can manage it, try to include train travel in your itinerary. It is an easy and pleasant way to travel with kids. The check in is easy, the feeling relaxed, the security screening minimal and the man handling non existent. The kids are freer to move around on board and we've found we've always had plenty of space.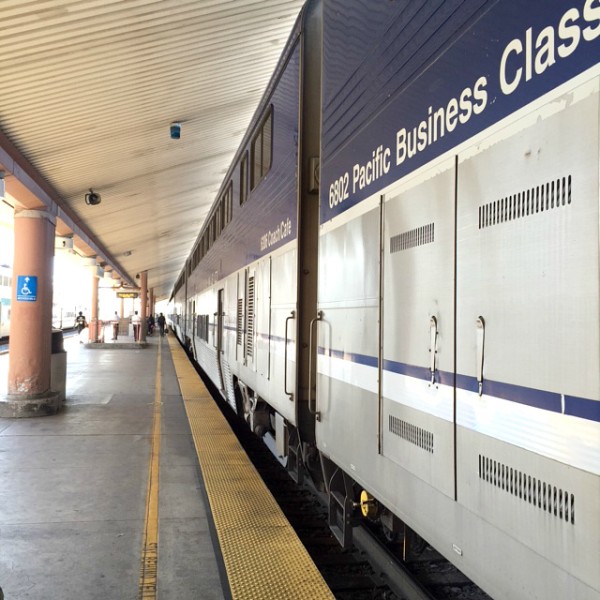 Our train to San Diego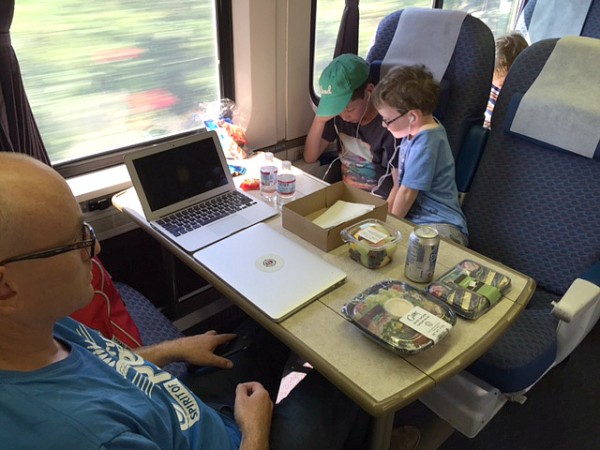 We've always upgraded as well which has made our journey even more comfortable for a reasonable price and given us lounge access, below, before we embark.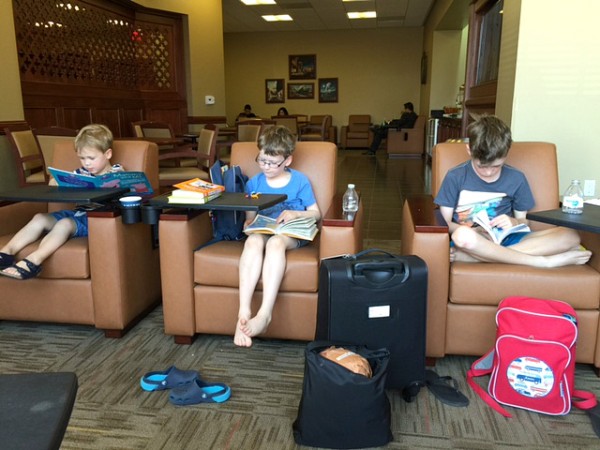 We've travelled from LA to San Diego and from Washington DC to NYC (on a previous trip) on the train. Both journeys took around 3 hours and were pleasant and relatively easy compared with flights. The train stations are also tourist destinations in their own right, featuring impressive architecture. Union Station in LA, below, and also in Washington DC are beautiful period buildings.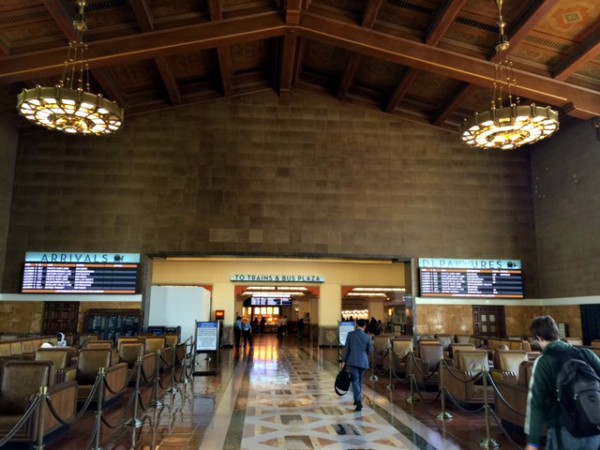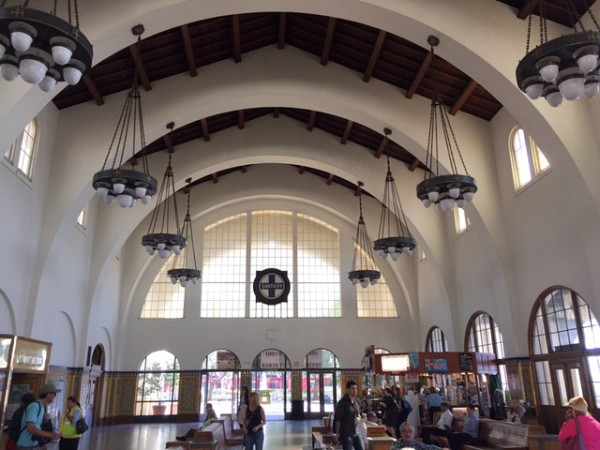 The train station in central San Diego
Even being able to break up a trip to the cafe car is fun and breaks up the journey with kids. On our recent train trip from LA to San Diego, we even had free WiFi too which meant the journey was not only pleasant but productive. I also like being able to look out the window and take in the change in environment. Disembarking is simple too – just walk to the door with your kids and luggage.
Train stations are also generally situated in town so the cost of a taxi or transfer to your accommodation is often less than if you are travelling from the airport.
Packing/Luggage
Packing can be a challenge, particularly on our most recent trip where the temperatures were at opposite ends of the spectrum. More on that in another post but in the meantime, check out my tips for packing in these posts.
The other challenge when travelling in the US is that different airlines/modes of travel have different weight restrictions per bag of luggage.
For example, our luggage allowance per bag on the way over was 23 kgs but our internal, domestic flights specified a maximum of 20 kgs per bag and they actually weighed them (they were talking pounds too, which made it confusing!). For our American Airlines flight from San Diego to NYC, this necessitated a curb side redistribution (as there is curb side check in) which was not ideal but saved us loads in excess baggage costs.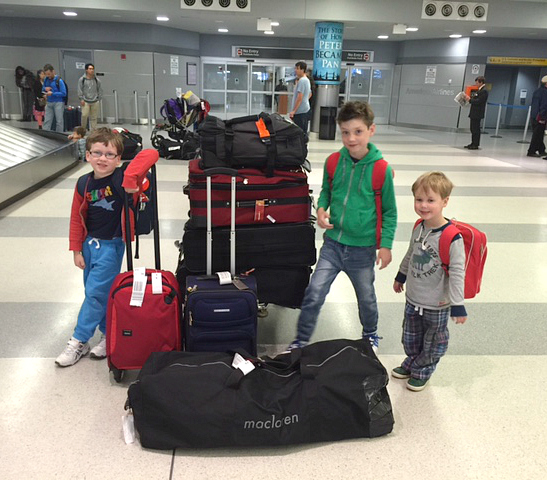 Some of the domestic American airlines also don't include checked baggage in their air fares. American Airlines' rates when we flew were $25 per bag for your first bag (per person); $35 for your second bag and so on. If you fly Qantas to and from Australia, you're allowed to have two suitcases per person and the maximum weight varies according to your ticket/class. We were aware of this and tried to plan accordingly – we planned to buy another suitcase in New York as one of our kids didn't have his own checked luggage so we knew we wouldn't be paying any extra for it on our return flight from LA.
Also, in terms of domestic airlines, we found that Delta was superior to American Airlines in all respects – the aircraft, service, in flight entertainment and food were all excellent.
Food
The biggest challenge I felt we faced during our trip was the food. Eating out as a family is expensive and it was a challenge at times to find a healthy option. In the two days we spent in Santa Monica, we spent close to US $80 ($100 AUS) for six of us per meal (thankfully we skipped lunch). My head (and purse) were spinning.
Once the total of your food is calculated, state and federal taxes are added and then a 15% gratuity expected (and the service was generally excellent). This means a meal (for a family) can easily be $15 – $20 more than you expected from mentally calculating your meal cost from the menu.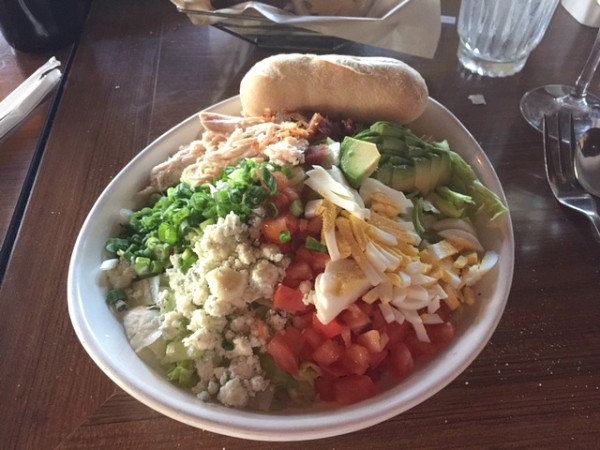 My salad at Mimi's, Anaheim
Things we quickly learned to do included:
– when ordering room service, order kids meals for the adults. We found children's meals were an adequate (entree) size for adults too.
– when eating out, because the meals are so big and I soon tired of wasting food and money, the kids shared a sandwich, instead of having one each. We saw a lot of sandwiches made from super sized bread, twice the size of our Baker's Delight bread at home, and it was generally served with a side of potato chips/crisps. That way I paid for two serves between three or four of us (I'd sometimes have half a massive sandwich for my lunch too).
– If you've got a small fridge in your accommodation, buy your own milk and cereal ASAP so you don't have to eat out for breakfast. Even a simple coffee and bagel at Starbucks will cost US$7 or AUS$9 with taxes.
– If you're staying somewhere longer than a couple of nights, it's worth making a trip to the local supermarket for basics like fruit, milk, cereal, veggies and snacks. In New York, our local supermarket also delivered to our accommodation and there were fruit carts dotted around the city.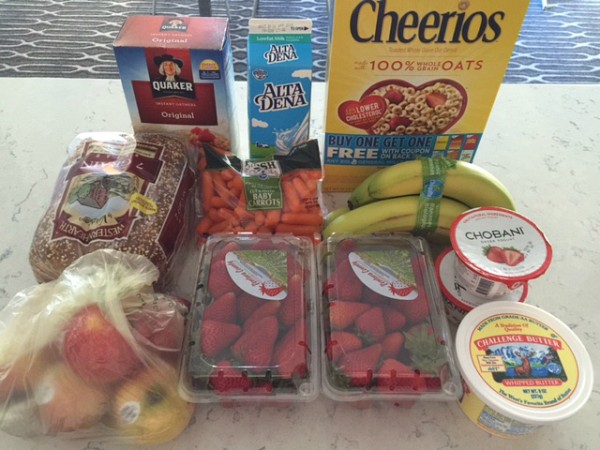 Our supplies in San Diego, bought from local supermarket Ralph's
– All the supermarkets we went to had extensive hot food and pre made food options. To counter the fast food everywhere, endless super-sized portions and sides of chips and fries, we opted for roast chicken pieces and raw veggies for the kids and pre made salads, soups, sushi and sashimi for us.
– In New York, there are delis everywhere. They usually have a selection of pre made sandwiches/paninis/melts, a soup bar, a hot food bain marie with all sorts of roasted meats, rice and other sides, drinks, snacks, nuts and cut up fruit as well as a cooked food (burgers/schnitzels and the like) made to order. They are great places to grab a quick, healthy (if you're discerning) bite.
– I got tired of eating out with the kids for dinner when we were staying in our hotel (with no kitchen). We broke this up by having a big/cooked lunch at a cafe/restaurant some days (a Greek feast or Mexican) when the kids were less tired. Then we'd have either sandwiches, leftovers, cereal or room service for dinner.
– Friends of ours bought a $15 toaster so they could have toast for breakfast and the occasional snack during their road trip in California.
Accommodation
Accommodation can be very expensive but varies greatly.
We found New York the most expensive by far and Anaheim was very reasonable by comparison. This was partly offset by the fact that there were several free things to do in New York where we had to pay for everything in Anaheim.
One thing we didn't realise (and would be worth clarifying when you book) is that the quoted tariff doesn't necessarily include state and federal taxes – I received an unpleasant surprise in New York when I went to pay for our already expensive accommodation.
Travelling with Grandparents
My Mum, who is nearly 70, accompanied us on our trip for the whole time. She came primarily to help me while Mr SnS was working at his conference for three days in San Diego. This help was fantastic for me and also meant I could attend the conference's evening functions.
It also allowed us to have a couple of date nights in New York – we saw Billy Joel and went out for dinner another night. I made sure that Mum and I also had "date nights".  I took her to see a show in New York and we also went to the Citadel outlets out of Anaheim another night.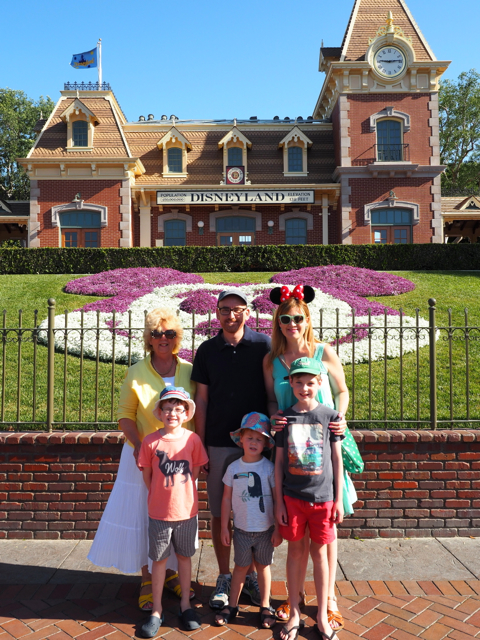 My Mum is reasonably fit and healthy and was able keep up with us. She loved seeing the kids experience new things and is also easygoing and happy to go with the flow. I loved that she came on lots of rides with us at Disneyland and that we have some very special memories of our trip together.
Having her along also meant we had more flexibility – she booked her own room everywhere except New York (where we all stayed in an apartment style room together) and was happy to have the kids stay over. It did mean we were a party of 6 though which made transfers and catching taxis a bit trickier – i.e. we needed vans or two taxis to fit all of us and our luggage.
We also made sure Mum felt she could have regular time out if she needed a break from the shenanigans. She was happy to go out on her own and do her own thing too, once she was familiar with our local 'hood.
If you are thinking about travelling with your parents or in-laws, perhaps try a smaller scale holiday or even a weekend before hand. We had travelled with my Mum before this trip (to Queensland, for a couple of weeks a few years ago) so we both knew what to expect.
Should I go?
My take is that travelling to the US with kids is awesome for both kids and adults.
We found kids were especially well catered for in California – almost every cafe and restaurant we visited had kids' menus, packets of crayons and colouring sheets, drinks with lids and straws. Public and cafe toilets had stools so kids could reach taps. Every need was catered for.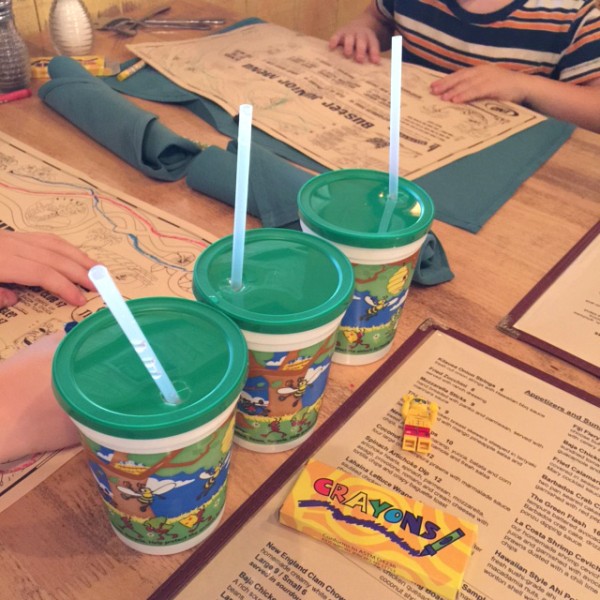 The theme parks and attractions are all either pitched to kids or catered for them in some way. We skipped queues with our stroller and received, on the whole, consistently excellent service.
The major drawbacks are the distance (that flight is loooong ) and the expense – particularly at the moment thanks to a combination of the poor exchange rate and all the additional state and federal taxes on every transaction. Thankfully, our flights were taken care of – thanks to Frequent Flyer points covering four airfares and Mr SnS's being covered by the conference he was speaking at- which saved us thousands.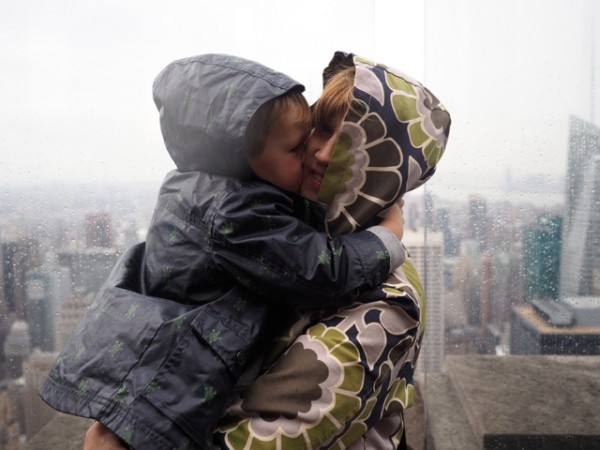 Is a family trip to the US on your bucket list? What concerns you the most? If you've been before, where did you go and what would you recommend? Any advice or intel welcomed too!