It was not my idea to go to Disneyland.
When we were planning our recent trip to the US, precipitated by Mr SnS's conference in San Diego, it was not part of my itinerary.
However, my Mum, who was travelling with us and is also a travel agent, said we couldn't take the kids to the US without going to Disneyland.
Hmmm. I wasn't convinced. With our boys approaching 9, 7 and 4 years of age, I thought there was plenty of time to visit Disneyland. Also, I wasn't convinced that our youngest son was old enough to fully enjoy let alone remember the visit.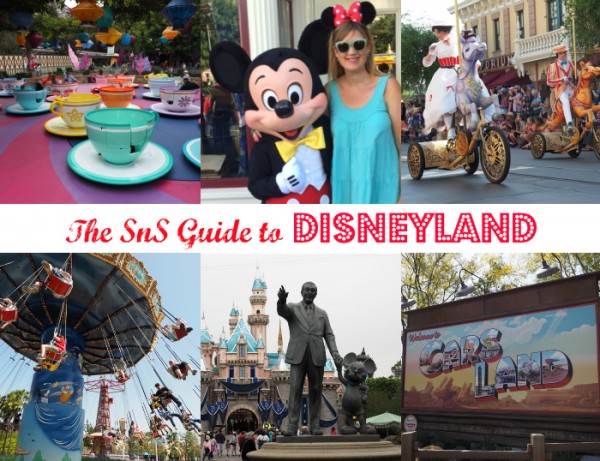 Well, the short story is that we went, we all loved it and I'm so glad we added it to the end of our trip. It was a great and fitting finale to a wonderful holiday. We ended up spending a fabulous four days in the Happiest Place on Earth and in this post, I'm sharing our experience, along with some tips and traps if you're also thinking about visiting. If you've been to a Disneyland, we'd all love to hear your intel too in the comments below.
What's it like in a nutshell?
Disneyland is a wonderful place, a place unlike anywhere I have ever been.
It is impeccably clean – at one point I looked around and counted eleven bins in our immediate vicinity.
It's beautifully maintained – everything looks perfect from the paintwork on the buildings to the visual merchandising through to cast members' (staff) and performers' costumes.
It's cleverly organised and managed, as the system for waiting for rides demonstrates.
It feels almost surreal, like being on a movie set. Almost Truman Show like.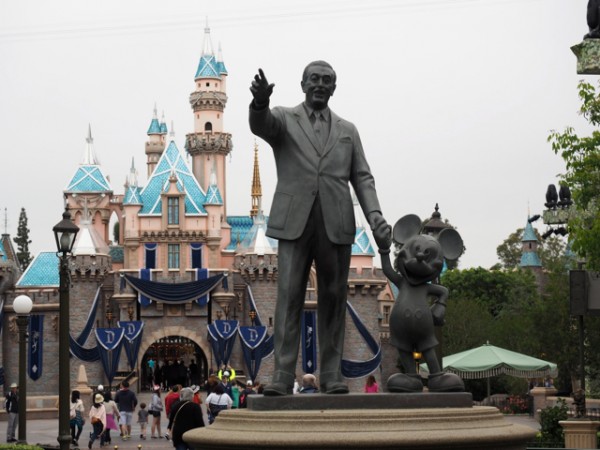 In terms of the layout, there are two parks facing one another – the original Disneyland Park and the newer Disney California Adventure Park on the other, separated by a plaza of sorts called Downtown Disney.
Each park is divided into different areas, kind of like suburbs in a town if you like, all of which are connected to each other.  In each area, there are a few rides, several places to eat and gift shops. All are themed and the staff, referred to as "cast members" are dressed in costumes.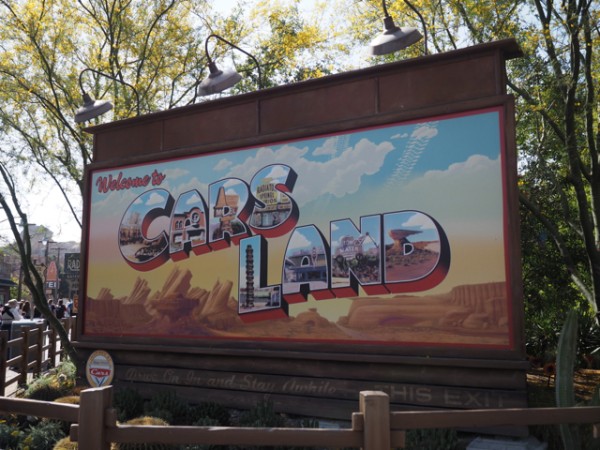 So for example, in Cars Land (part of California Adventure World), you'll find two rides (Radiator Springs Racers ride and Mater's Junkyard Jamboree, below). There are several places to eat – Flo's V8 Cafe, the Cozy Cone Cafe and Fillmore's Taste-In.  Nearby is a gift shop selling Cars products. The surrounding area is an unbelievably detailed replica of the Cars movie set.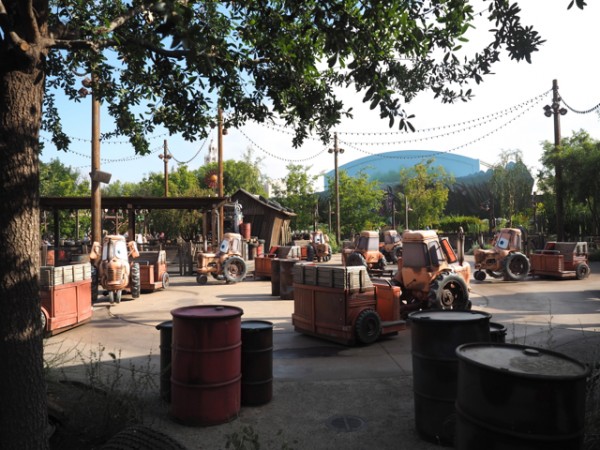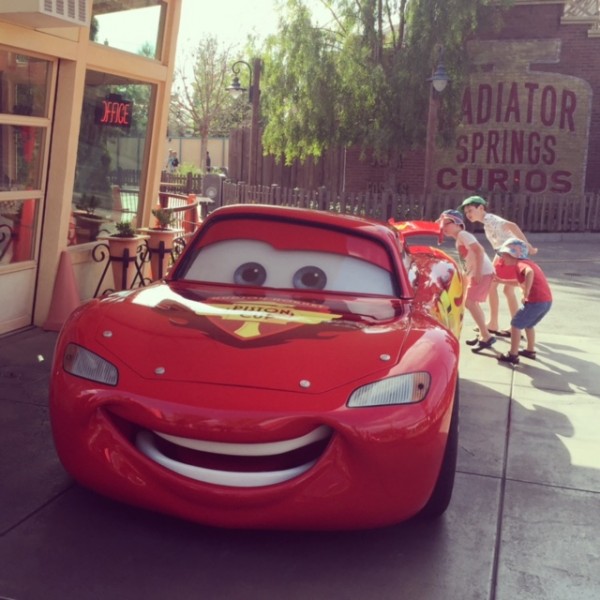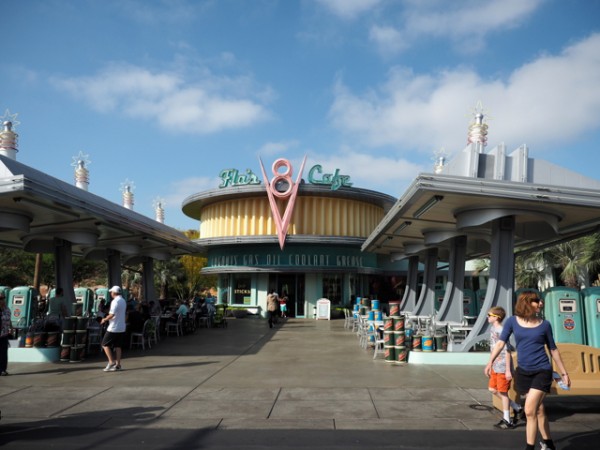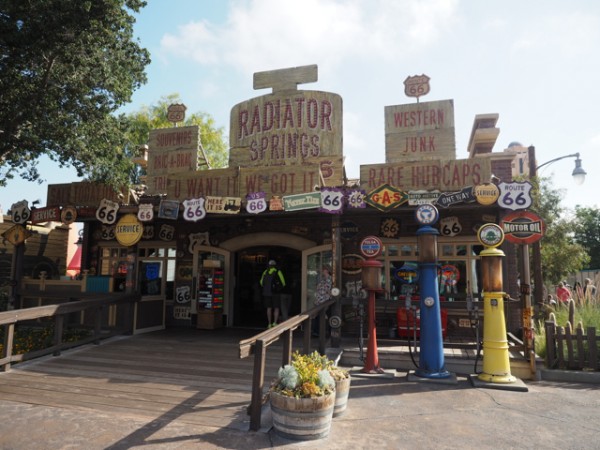 When to Go
Initially, we were planning to visit in the week before Easter. Research via Google revealed that the week leading up to Easter, which also coincides with several states' Spring Break, was one of the busiest periods in the entire year to visit Disneyland. Not good. We had already heard stories about the crowds and friends' fear of losing their kids there, so we re-jigged our itinerary to visit the week after Easter instead.
In the end we spent four days there – Monday 13th to Thursday 16th April – and while there were people around and queues, it wasn't nearly as crowded as I expected and we didn't have any major issues keeping track of the kids. Obviously it helped that one of our kids spent a fair bit of time in the stroller and we also had an additional adult (my Mum) to supervise.
I think it also helped that we visited on week days and managed to avoid the busier weekends.
The longest time we queued up for was 45 minutes for the Radiator Springs Racers ride in Cars land, one of the most popular rides in the entire Disneyland complex. Once we mastered the fast pass (which I'll explain below), we didn't queue for any ride longer than 30 minutes, and most were ten minutes or less. Later in the afternoon, we walked straight in to several rides, particularly those with single rider lines (more below). For example, in one hour one afternoon, our eldest son went on the Screamin' Rollercoaster seven times.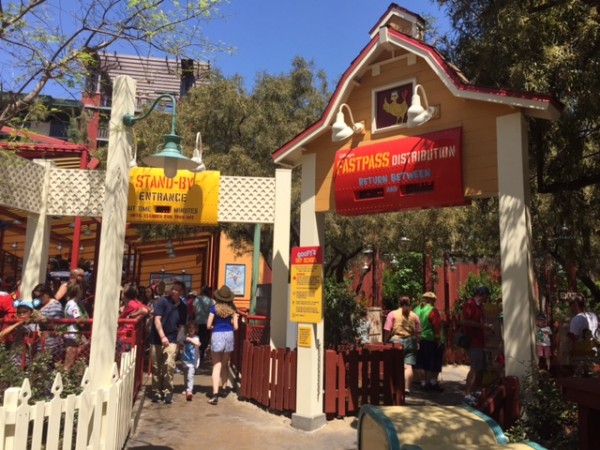 The expected wait time is advertised on each ride (called the "stand by" wait time for those who just walk in without a fast pass) in any event. You can also check in on this information board which gives the approximate wait times for the most popular rides in Disneyland.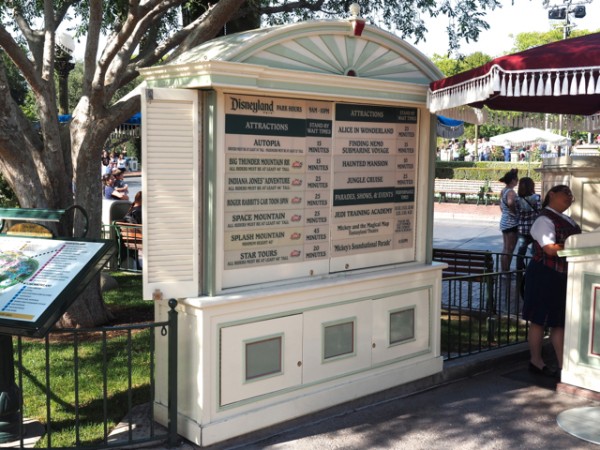 I've subsequently read here that mid April to mid May is one of the quietest times to visit along with mid September through to mid November and mid January through to mid March. However, this is also a time when some rides are closed for refurbishment. We noticed this with the Matterhorn Bobsleds and Soarin' Over California closed during our visit but for us, the trade off for smaller crowds was definitely worth it.
What sort of a pass should I get? How many days do I need?
Having done a bit of research, we decided that given the ages and stages of our kids, we'd need three days to cover everything comfortably i.e. both parks and a park hopper pass, that allowed us to go in between parks on any day, would give us some flexibility.
Once we looked into the price of tickets (they begin at $99 per adult per day but are cheaper per day the more days you have), we saw that it would not cost much more for a four day, park hopper ticket. Given our flight home was late at night with a transfer to the airport at dinner time on our fourth day in Anaheim, we opted for the four day pass, mostly so we could have a couple of shorter days and come and go as we felt. Given one of our kids was unwell one day (and stayed back at the hotel with Grandma) and how tiring our first two days were, I think we made a good call for us.
Friends of ours with older children (primary and high school aged) visited just before we did. They found a one day pass at each park (not a park hopper which gives you the option of moving between parks during the day), so two days in total, was sufficient.
Given the parks are open from 9am – 9pm most days, it is certainly achievable to see most of one park in one day. The major contingency would be the crowds and the threshold of your kids. If you are by yourself or happy to ride alone, you'd be fine as you could use the single rider line and save heaps of time.
If you do opt for a 3 – 5 day pass, you are also entitled to one "magic hour" morning which is entry to the parks on one day from 8am, an hour earlier than the public. This is a good opportunity to get an early fast pass happening and to head to one of the most popular, non fast pass, rides.
In addition to the rides, there are also shows and parades at various set times to factor in (I'll say more about them below). We went to both the Aladdin show, an elaborate, 45 minute Broadway style musical production and the parade in Disneyland, which also went for 45 minutes. We did these on different days, which broke up the rides and walking around.
For more information about ticket prices and combinations, click here.
Where to Start
We just walked in, picked an area we liked and started there. It's all a bit overwhelming to begin with so my advice would be to just start somewhere and take it from there.
Also, work out how you'll use your fast pass. A fast pass allows you to save your place in line, without lining up.
How?
Well, your admission ticket to the park can be used for the rides designated as having a fast pass option, free of charge. By inserting your admission ticket into the fast pass machine near the ride's entrance, you are given a fast pass ticket with a return time – a one hour period – say from 10.15 to 11.15am. Once you know what time you need to return, you can go and have lunch, ride on other rides or see a show and then basically walk in to the fast pass queue anytime between 10.15 and 11.15am which takes you to the top of the queue.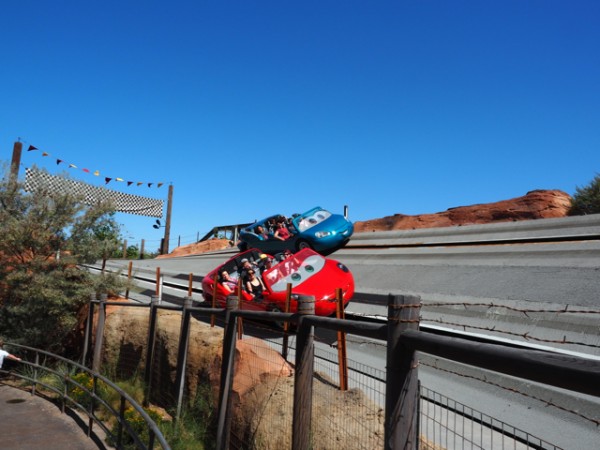 The fast pass wait time for some rides is very long. For example, one morning at 10am we tried to get a fast pass for the very popular Radiator Springs Racers ride, above. The fast pass return time was between 2 and 3pm. We didn't go for that as you can only have one fast pass on the go at a time, therefore we wouldn't have been able to use another fast pass for the next 4 hours. Instead, we arrived at 8.45am the following morning and made a bee-line for the fast pass distribution point. By arriving earlier, we secured a fast pass return time of 9.50 – 10.50am which suited us a lot better in terms of our plans for the day.
We spent most of our first day at Disney's California Adventure Park (from 9am – 4pm) and covered the entire park, going on nearly all the rides. We spent the majority of our time on Paradise Pier and finished our day with a trip down Grizzly River. At 4pm, we crossed over to Disneyland for a little reconnaissance and a map so we could plan our approach for the following day. We also went on the very popular Indiana Jones ride then too as the queue was relatively short (20 minutes).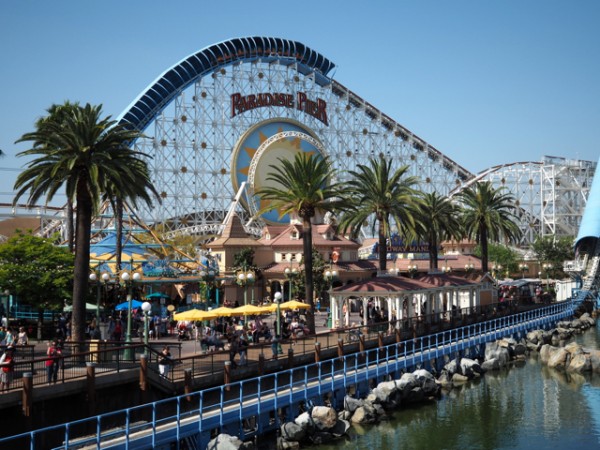 The next day we arrived a little before 8am for "magic hour" and started with the non fast pass ride Star Wars 4D ride in Tomorrowland. The nearby Space Mountain was temporarily closed, so from there we went to neighbouring Fantasyland where we went on the Mad Hatter's Tea Cups, Snow White and Pinocchio rides and then back to Space Mountain in Tomorrow Land.
After that we hightailed it to Frontierland via It's a Small World in Fantasyland and a photo opportunity with Captain Hook, where we went on the Mark Twain steamer while we waited for our fast pass time on the Big Thunder Railway.
After lunch, we took the Disneyland railroad from nearby New Orleans Square around the entire park to fill in the hour before our fast pass return for Splash Mountain.
We spent our last two days going back to the rides we enjoyed the most, making the most of the single rider line, where you can essentially go to the top of the line and fill in any empty seats if you're prepared to ride alone. Our 8 year old did this several times on his favourite ride, Screamin' California. We went in between the parks a fair bit and managed to squeeze in a couple of new rides too including Pirates of the Caribbean (fab) and the Jungle Cruise (not so much).
Best Rides 
We didn't go on every ride and while our kids loved the thrill seeker, roller coaster or water rides, they weren't so keen on anything involving skulls, the dark or loud noises. Our 6 and 8 year olds didn't like Indiana Jones (too scary) but our eldest was prepared to go on the Pirates of the Caribbean despite my (accurate) prediction that it would involve the dark and plenty of skeletons. None of them would go anywhere near the Haunted Mansion, which is totally fair enough.
Our kids were also not interested in going on any rides or seeing any shows Frozen or Little Mermaid related, so I can't comment on any of those.
So what were our favourite rides?
Mr SnS, Mr 8 and I voted the California Screamin' rollercoaster as our favourite ride. I went on it four times and loved every single second. Mr 8 went on it eleven times in total.
Grizzly River came in a close second. We loved that we could all sit facing each other and see each other's reactions as we got saturated, went down the big drop and generally swished around the river.
I also rated Pirates of the Caribbean, Toy Story Midway Mania, below, Star Wars – The Adventure Continues ride and Indiana Jones highly for their incredible movie set features.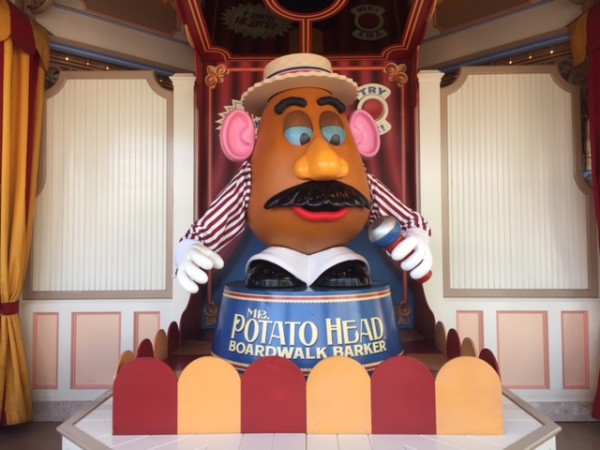 Our Mr 6 loved the Big Thunder Railway, Grizzly River, pictured below, and Space Mountain. He went on all of them twice.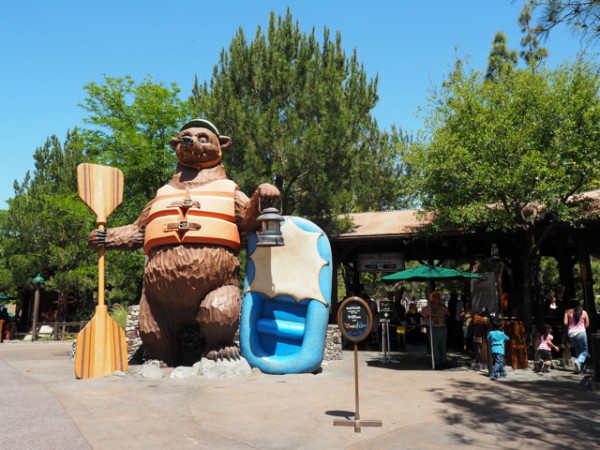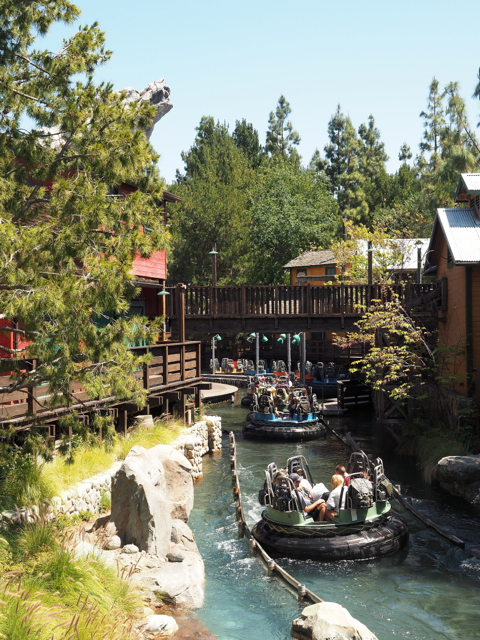 Our Mr 3 loved the Silly Swing Symphony, below, the Ferris Wheel (Mickey's Fun Wheel), Grizzly River, Splash Mountain and Goofy roller coaster.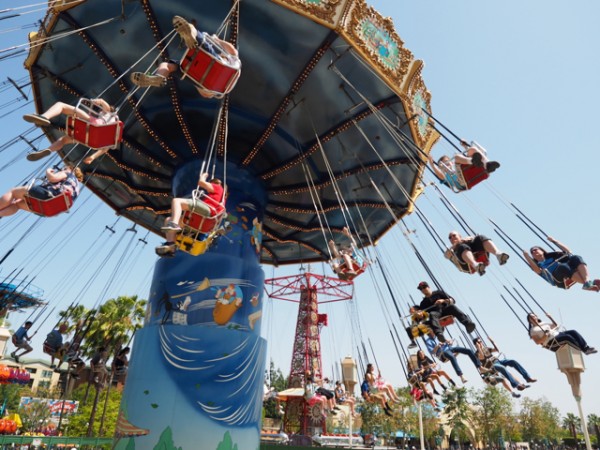 My Mum, a spritely almost 70 year old, went on the Big Thunder Railway, Star Wars 4D ride, Radiator Springs Racers ride and Mater's Junkyard Jamboree but her favourite was the more civilised ride down the river on the Mark Twain steamer.
We all enjoyed Toy Story Midway Mania and the Star Wars 4D ride. I also thought the Pirates of the Caribbean and It's a Small World rides were excellent and a good way to break up the more hard core roller coasters and thrill seeker rides.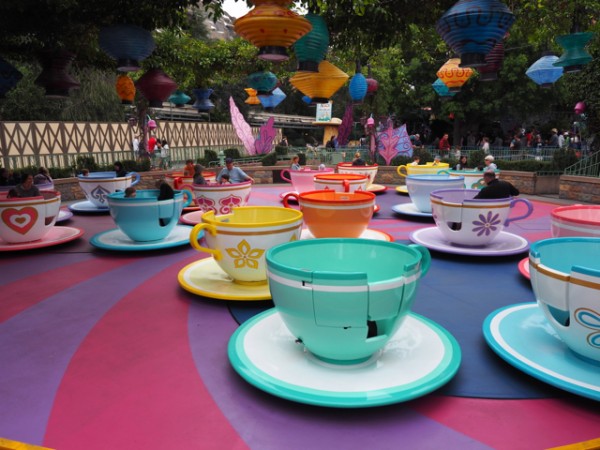 There is an area in each of the parks clearly targeted for preschoolers and toddlers – Fantasyland in Disneyland, above, and A Bug's Life, below, in California Adventure Park. The rides here are gentle, fun and not too high or fast. We saw loads of people with very young children here who no doubt spent most of their day in these areas. If our youngest was older, I'm not sure we would have spent much time in these areas, despite how lovely they were. Interestingly, our older children loved these gentler rides too, but I'm not sure they would have been as keen in another couple of years.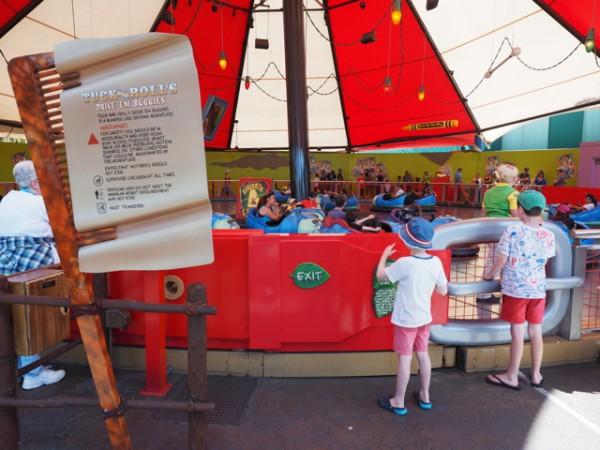 I was also surprised at Mr 3's willingness and enjoyment to go on some pretty adventurous rides. He certainly kept up with his older brothers (no pressure though) and had an absolute ball.
Other Attractions Worth Visiting
I would highly recommend making time to see the parade in Disneyland. It takes place every week day at 4pm. People start reserving their positions by sitting on the shady side of the street in the roped off areas from 3pm for a prime position.
The floats are fantastic, the costumes elaborate, the actors professional and enthusiastic. Our faves included Mary Poppins, Snow White & Co. below and The Lion King. The parade goes down Main Street USA in Disneyland and takes about 45 minutes.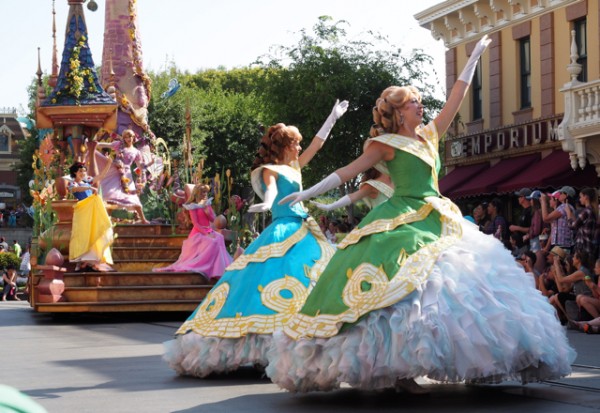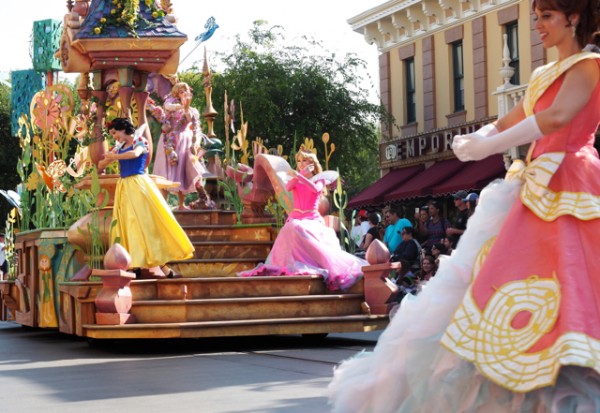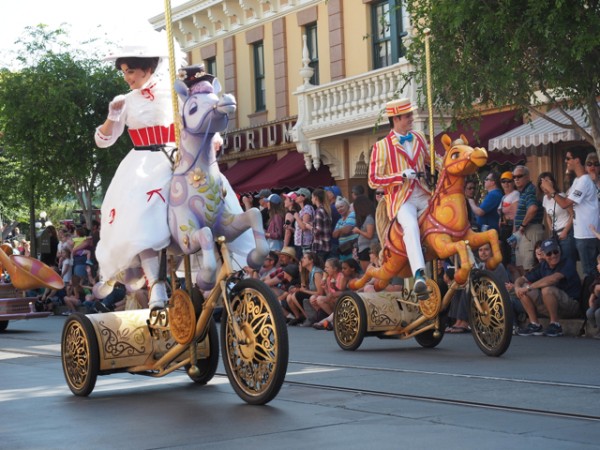 The World of Colour Show was another highlight, but a big call for small children as it starts at 9pm. We spent a full day at Disneyland, returning to our hotel for a few hours, before heading back to California Adventure World for our dinner & show package (more on this below).
During our time back at the hotel, our 3 year old had a half an hour snooze which meant he managed the evening's activities well. The next day, however, we were all pretty tired, so we started late and finished early.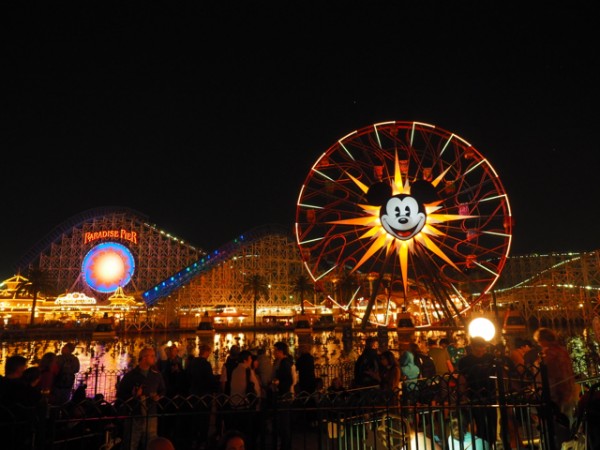 The Star Wars Jedi Training Academy show, which runs several times a day in Tomorrowland, was also excellent. Our 8 year old was selected for training, fought a Sith and came away with a certificate. It was one of the highlights of his Disneyland experience.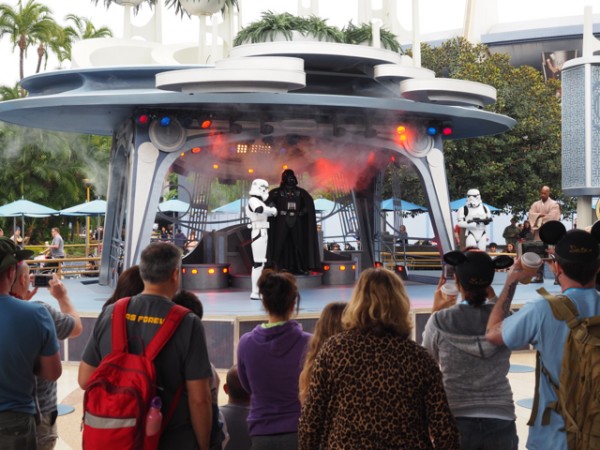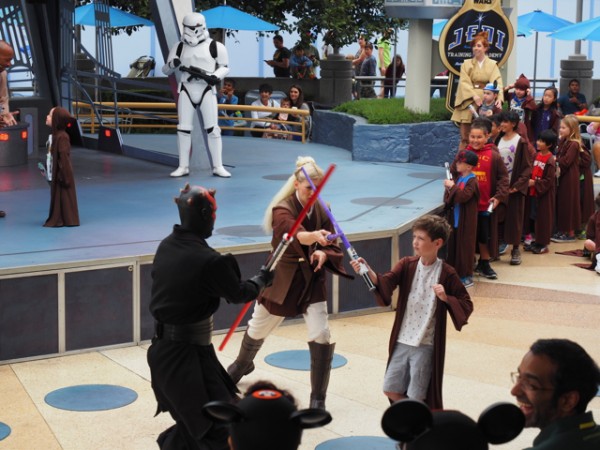 The Disney's Aladdin – Musical Spectacular show was also excellent – it's a Broadway style musical production which runs several times a day at the Hyperion Theater in Hollywood Land in the Disney California Adventure Park. And yes, that is a fake elephant below.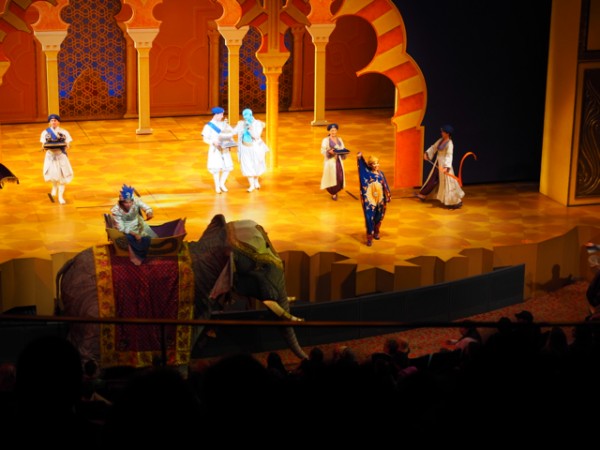 There are also characters roaming around, often first thing in the morning. There is usually a queue for a photo but no charge and the on hand Disney photographers are happy to use your camera/phone. You can also ask them to take a photo on their camera which you can access later via your photo card. We just used our own cameras.
Other bits and bobs
In terms of our accommodation, we stayed at the Fairfield Inn Anaheim Resort, a well priced family friendly hotel in the street opposite the entrance to the Disneyland Parks. It's a ten minute walk to the entrance of the parks and a fairly basic but comfortable hotel.
The staff were helpful and, hearing my tale of our long day of travel from New York and frustrating connection – our transfer from LAX to Anaheim via the Disneyland Express dropped us at the Anaheim Resort bus stop down the street, not at our hotel, necessitating two trips to lug all our luggage to our hotel, 6 hotels away – upgraded us to two themed rooms.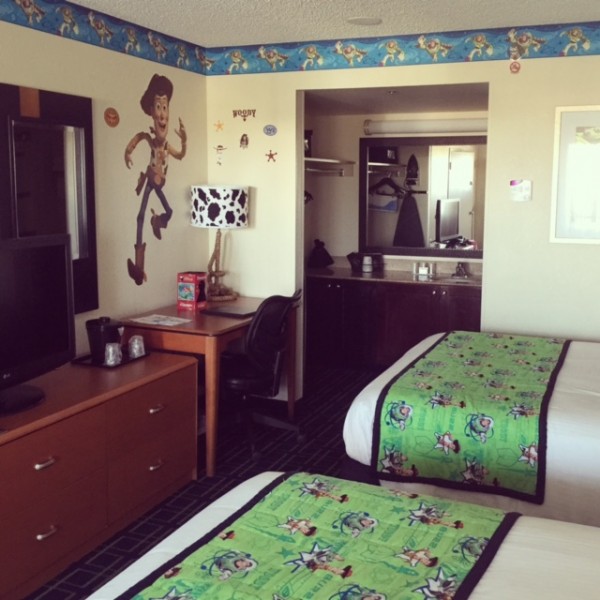 On the subject of transfers, we were subsequently told that another company, Super Shuttle, would have dropped us at our hotel. So a friendly heads up – when you book a transfer to an Anaheim hotel, it is worth clarifying exactly where that bus will take you.
The best things about the Fairfield Inn besides it's proximity to Disneyland, was the laundry on our level (level 7 but I'm not sure if they were on every level). Two industrial sized washing machines and dryers did a load for $1.50 per load per machine – excellent value and a good chance to do some laundry while on the road.
We also liked the restaurant next door, Mimi's Cafe, which offered (huge) salads and dishes with vegetables and a decent kids menu – a breath of fresh air amongst the usual fast food offerings.
Being so close to Disneyland was great too as it meant we could (and did) go home for a few hours and return later in the day. I've been told by friends who've stayed a bit further out that most hotels offer shuttle services to and from Disneyland which enable you to come and go as you like too.
Food
There were plenty of places to eat at Disneyland. There was a good variety and plenty of space to eat on Paradise Wharf in the California Adventure Park, where we ate lunch twice. We had Asian stir fries at the Lucky Fortune Cookery one day which was refreshing. On another day, we had delicious ice creams nearby at the Ghiradelli Soda Fountain and Chocolate Shop.
Most cafes at Disneyland also sell a kids' power pack for $5.99 which consists of a tub of strawberry yoghurt, a small bag of sliced apple, a small bag of baby carrots, a banana, some savoury crackers and a choice of drink. Our youngest sons were happy to have these and often, they were the best option going.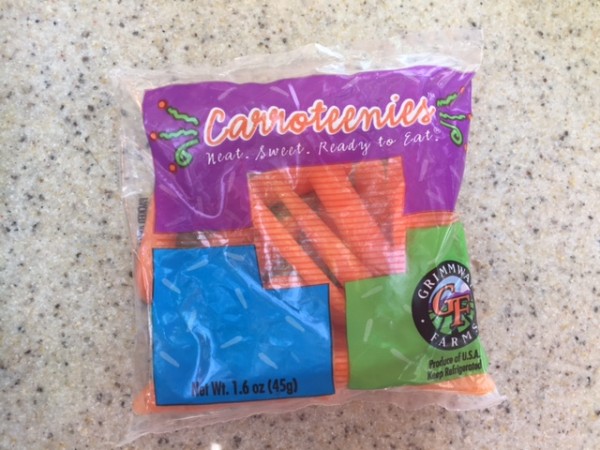 While there were plenty of carts and cafes selling the usual suspects (churros, popcorn, corn dogs, burgers etc), there were also carts selling fresh fruit and juice, although for comparable prices. I picked up a banana for $1.99 while a massive churro cost $4.
The best meal I had was a pork slider at Cafe Orleans, near the Pirates of the Caribbean ride and overlooking the Rivers of America in Disneyland. Next time, I'd love to eat at the restaurant inside the Pirates of the Caribbean ride, the Blue Bayou. It looked like a very fun, atmospheric place to visit.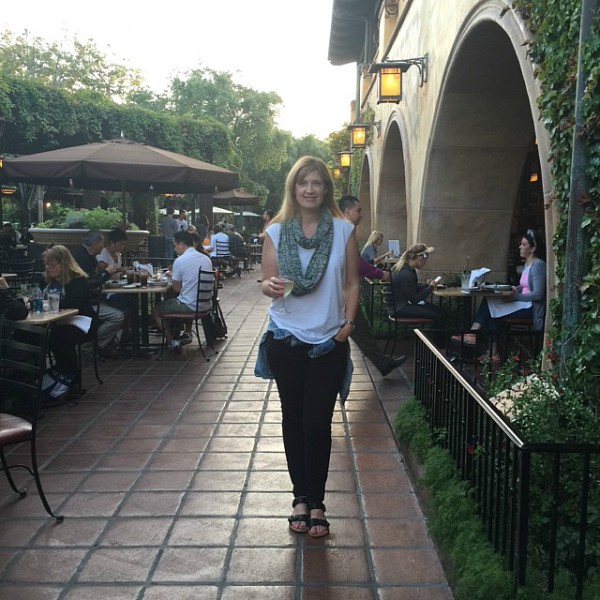 We also had a pretty decent meal at Wine Country Trattoria, above, in California Adventure Park  as part of our World of Colour dining/viewing package. Basically for a fee ($45 for adults and $24 for kids aged 3 – 9), you can have a three course dinner at one of the selected restaurants and access to reserved seating for the World of Colour Show. I had a delicious salad to start, then fillet mignon and a generous dessert platter which I shared with the kids. Our reserved area was right in front of the water and a great place to view the show.
So in summary, there is loads to see and do at Disneyland and it is well worth adding a visit to any itinerary. In terms of the best ages to take kids, I feel confident saying that there is something for children at any age and the entire complex is organised to ensure that they have a great visit.
Adults love this place too with or without kids. In fact I met a man my age in one of the queues who had recently relocated to San Diego from New York and had an annual pass. He told me that he had a day off that day, so thought he'd come by for breakfast and a few rides. In the few months since he'd moved, he reckoned he'd visited Disneyland at least 25 times. It really is a place for everyone.
Have you been to a Disneyland? Which one did you visit? Can you add any tips and traps for young players?