As much as I love the idea of holidays, packing for several people is not much fun. Particularly as this task is done in between the gazillion other daily tasks that must be done. Every day.
Over the last seven years, we have been fortunate to travel with our children overseas and interstate several times and had lots of weekends away. As a result, I have had plenty of opportunities to refine my packing technique. With the arrival of each child we have also had less space in the car and/or suitcase per person so I have had to become more practical and efficient.
I recently packed for four people (myself and Masters 2, 5 and 7) for a family holiday to Fiji. My husband packs his own things and thankfully takes over some other tasks (his portfolios are technology, toys, sunscreen and medicine). Fortunately, given the cooler weather at home, I was packing off season which enabled me to pack in the week before we left instead of the day before, as our summer clothes  were not currently being worn, with the exception of the boys' bathers which were required until the day before we left because of swimming lessons.
Having that extra few days was great – it enabled me to have greater clarity of thought and less panic packing. However, I don't usually have a lot of time or mental head space to pack before a holiday or weekend away. Given this, I thought it would be useful to put together a checklist for next time and set down the things I have learned along the way that have made travelling with children less stressful and more enjoyable. I have written with journeys by plane in mind but they can be adapted for car/train/ferry holidays.
1. Documents – Be Prepared
For plane travel, make sure you have all your documentation (passports, itinerary, print outs of tickets and travel insurance documents) in your handbag/man bag and ready to go. For overseas travel, I always put copies of these documents in our suitcases too, just in case.
We also make sure we have our airline luggage tags in advance (travel agents can provide these) and complete them and put them on our luggage before we leave home.  For overseas travel, if you can source Immigration forms in advance too (travel agents can provide these), it is much easier to complete them the night before when the kids are in bed rather than when you are in a massive queue with your children who may or may not try to abscond, queue jump or make loud inappropriate comments to strangers and security personnel.
2. Clothes – What's the magic number of outfits?
For children, if you have washing facilities at your destination, you don't have to pack a new outfit for every day but this needs to be balanced with having enough outfits to ensure you are not spending your holiday putting loads of washing on and hanging washing out. As we were going away for 10 days to a warm climate with access to a washing machine, I packed 7 outfits plus an extra top per child. This took into account that some days necessitate two outfits due to accidents and mishaps at meal times and with ice creams. Even if they have a few spills during the day, I usually let this go but if we are heading out for dinner, everyone usually puts on a fresh top. I also try to pack darker tops and steer clear of the light/white ones as much as possible as they show up fewer indiscretions.
If we were away for a weekend (2 nights), I would probably go with three outfits per child and maybe an extra top depending on the child and his or her age. Depending on the weather, I would usually also pack a coat and 1-2 pairs of shoes per child. Given we were expecting to swim every day, I packed two pairs of bathers per child. This way, I hoped to only have to put on a load of washing every second day, depending how quickly clothes dry and allowing for rinsing bathers out every other day. I also packed a couple of deflated pool toys, floaties for Master 2 and goggles.
We also packed a small toiletry case with the children's toothbrushes, toothpaste, sunscreen, shampoo, headband and putty (as one of our children has grommets).
3. The Back Pack
Whenever we go on a plane, we always pack a backpack for each child. Our children's backpacks contain the following:
– a water bottle;
– fruit and a couple of snacks for before you get on the plane or for the trip from the plane to your accommodation (make sure the fruit is eaten before you get off the plane to avoid quarantine issues);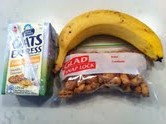 – if we are catching an early flight or leaving home early for a long car trip, we pack the children a "breakfast to go": dried Nutri Grain or other cereal, a piece of fruit and a squeezie yoghurt or small milk carton with straw;
– a new colouring book or some paper and some pencils/textas. In the week before we left, I found Spiderman colouring books for $1 each at Target for my Masters 5 and 7;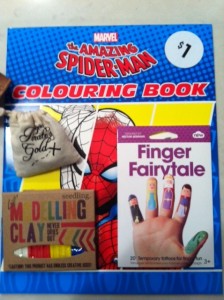 – a couple of other new but small/inexpensive toys or activities. When we went to Singapore two years ago, we packed a compact fold up Thomas the Tank Engine train track and two trains and this kept our then nearly 3 year old entertained for hours on ferries and on planes. For this trip, I bought Masters 5 and 7 a small pack of different coloured modelling clay (from Parenthood) as they love making things and would be happy to do this together. The pirates gold (above) and toy plane (below) are also from Parenthood. The 3D drawing pad (below) and the Finger Fairytale tattoos are from the NGV Shop. The Travel Activity Book is available here;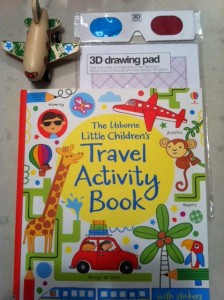 – if you have room, a thin/lightweight book that you can read in case of delays;
– a spare outfit and change of underpants in case they spill their drink, have an accident, or worst case scenario, your luggage gets lost;
– a comfort toy/teddy. For Master 5, we are not going anywhere without Woody;
– if we are going on a night flight, we would also pack their pyjamas;
– our toddler's backpack will also have a few nappies and a small container of wipes.
Other items that might be included are sticker books and small screens such as an iPad or DS.
4. Toys/DVDs/Books
It can be challenging working out what will keep children entertained while you are away. Even though you will be out and about a lot, there are still periods of down time on holidays when the kids need to entertain themselves. For us, this is when our toddler sleeps in the middle of the day or when the children wake up early as they often do on holidays in a new place, full of excitement!
What you pack needs to be small and compact but still capable of keeping children entertained for reasonable periods of time. Given our children's ages and interests, we packed:
– an extra large zip lock bag full of Lego;
– a few Thomas the Tank Engine trains and a fold up track;
– plain paper and textas. We usually take the paper and textas with us when we head out for dinner to keep the little ones occupied before meals arrive;
– 3 slim picture books which will fit in the outside pocket of their suitcase;
– three DVDs, one chosen by each child to be rotated;
– iPad. We make sure it is stocked up with short episodes from ABC Kids and a few games. A couple of episodes of Peppa Pig are perfect for in between times like delays in the airport lounge.
5. The Boring but Necessary
We also always pack:
– a small medicine pack with child and adult Panadol and/or Nurofen, Immodium and anti nausea medication, a few bandaids, insect repellant and Ventolin (if needed);
– phone, Kindle, iPad and camera re-chargers, a double adaptor and batteries if needed;
– a block of stain remover soap for those inevitable stains. If I was really organised, I would also take my own detergent but I always forget this and some places will have a sachet or two anyway.
Finally, I always take a packet of my favourite brand of tea bags. If I finally have time and space for a hot cup of tea, I want it to be a decent cup of tea!
What do you always wish you had packed? Are there any tips you could share? What are some good ideas for toys and the like for girls?