We recently spent an unexpected but fabulous week in Palm Cove with our three children aged 8, 6 and 3.
Why unexpected?
Well, it was a bit of a last minute thing. Mr SnS was heading to Cairns for business. Once the dates were locked in for him, we saw it was around the last week of school term. We had been toying with the idea of heading away for a few days over that term break (somewhere in Victoria) when he returned, and then, had a light bulb moment.
We decided to skip the last week of school, cash in some points and take advantage of the opportunity. It was understood that Mr SnS would be working for the first day and a half and also at night but I thought, as you might, that there are worse places to do the solo parenting thing than in the tropics. Much worse.
So, off we went.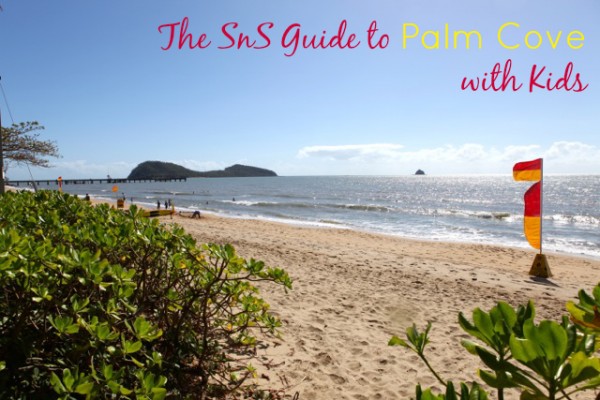 Before that, Far North Queensland was off my radar for a very long time.
We've visited twice before – in 2006 and 2007 – when I was heavily pregnant (son #1) and had morning sickness (with son #2).
Since then, we've either travelled to other parts of Queensland (Sunshine and Gold Coasts) and more recently, overseas.
I have to say, however, that we had a ripping time in Palm Cove/Far North Queensland and it is definitely a destination I would recommend to anyone, including families with young kids.
1. The Accommodation
We stayed at Peppers Beach Club and Spa, Palm Cove where we found fantastic, comfortable, family oriented accommodation on the luxe end of the spectrum.
It's white buildings with plantation shutters, palm trees and pavilion style reception create a feeling of chillaxed, tropical luxury.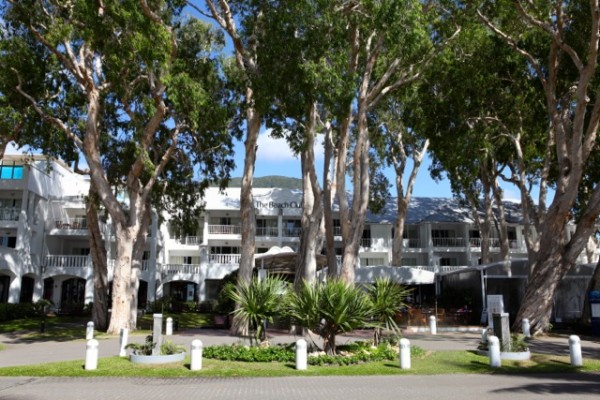 Having stayed here last 7 years ago, I actually thought it looked better this time around. It has been very well maintained and did not look tired or dated at all.
This time around, we had a two bedroom apartment which was a one bedroom spa room and a one bedroom suite (apartment) joined together on the third floor, overlooking the lagoon pool.
Our almost preschooler managed the three flights well for the most part. Unsurprisingly, we generally didn't bother bringing the stroller all that often. I was a little nervous on the balcony too (all those chairs and friends below) but we just had to make sure the kids were supervised at all times.
We were upgraded to the penthouse which was unexpected. As a result, we had a slightly larger, corner apartment and more living space both inside and outside. If you actually book the "penthouse", I think this includes access to the roof.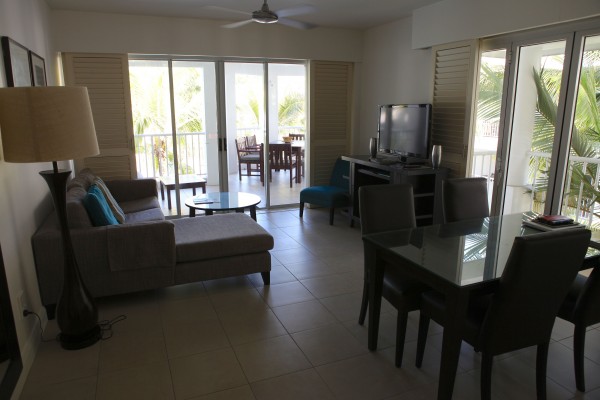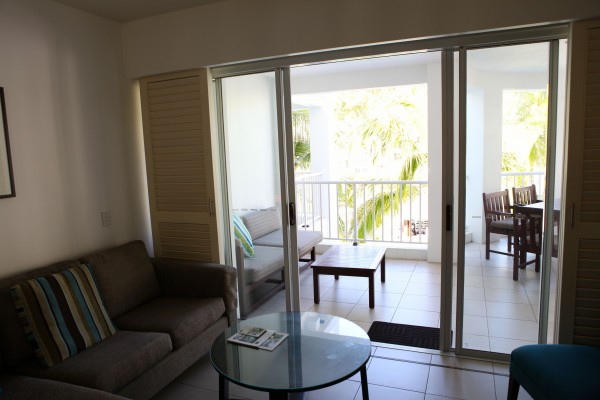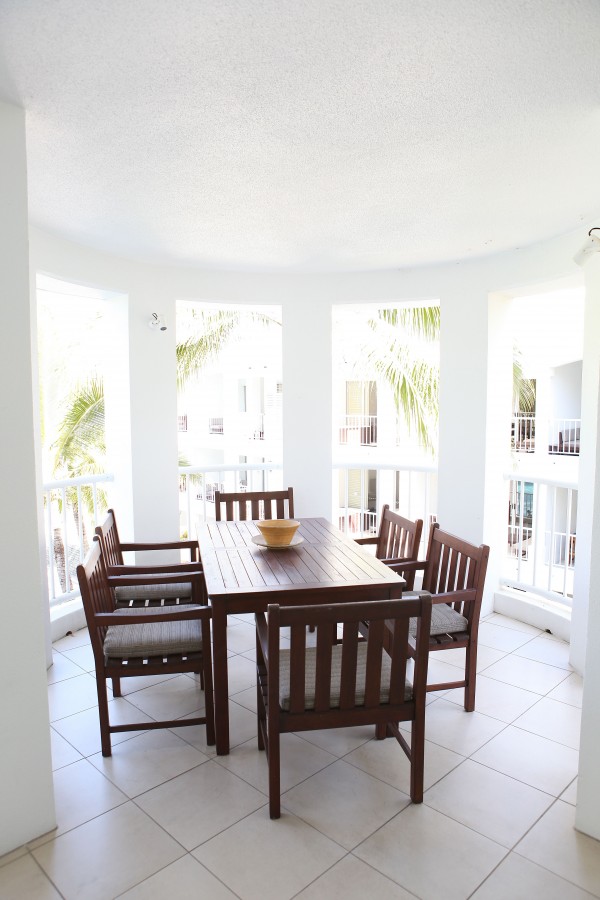 The apartment itself was terrific with a full kitchen (with oven, stove top and dishwasher), laundry and dryer and as usual, I put on load of washing every day. We also had a clothes horse, ironing board and iron.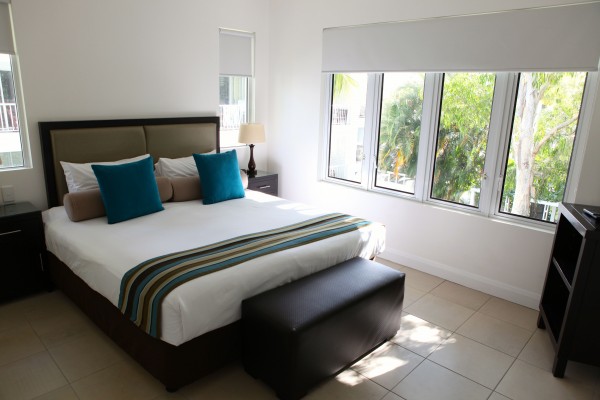 Each bedroom had a flat screen DVD as well as the main living area. Our three boys shared the room above, with an additional, rollaway bed. Needless to say there were shenanigans very early every morning, usually beginning at 5.30am, thanks to the very bright sunny Queensland mornings!
The lagoon style family pool was probably the highlight of Peppers for us, but I'll cover that in more detail below.
The breakfast buffet at Lime Pepper was fine but not the most exciting buffet going around. Our kids would disagree however, and they made the most of the seemingly endless supplies of warm pastries, nutella, sausages and bacon.
If you like to maintain your fitness while you are away or are trying to break even with the buffet, there is a small gym and tennis court on site too. There is also a Spa on site.
Peppers has a great set up for families but it's not a place I'd venture without kids. There are two other pools (the formal pool, below, and the serenity pool which is towards the back of the property) for adults but you really can't escape the noise and shenanigans at the buffet, the nearby lagoon pool and all over the resort. And of course, we contributed more than our fair share of shenanigans during our stay. Sorry peeps!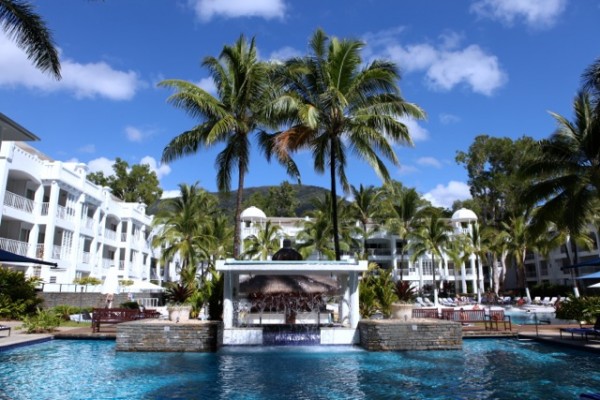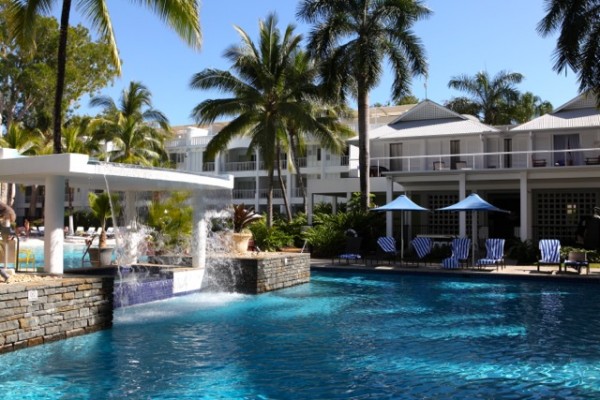 If I was to visit Palm Cove sans children, I'd head to the Pullman Sea Temple. We stayed there on our baby moon eight years ago and it was beautiful. My friend and fellow blogger Bev at Iris May Style stayed there recently. You can read her review here.
A more economical option than Peppers is the nearby Mantra. Friends of ours picked up a fantastic deal at the last minute, so keep an eye out for last minute specials. They commented that the rooms were a little tired but the resort had a great pool for families.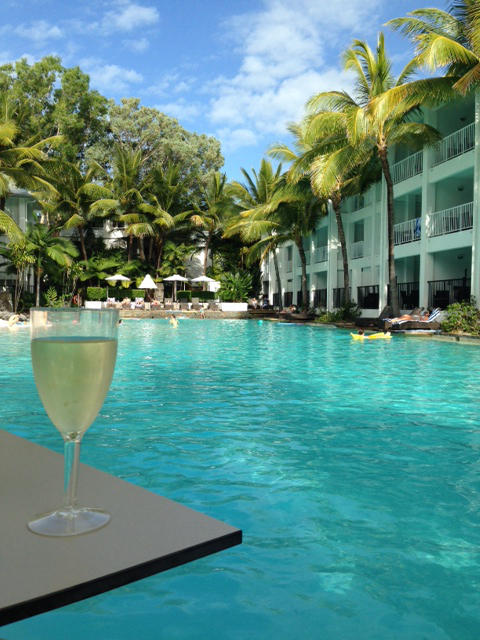 We also visited friends staying at Peppers in Port Douglas, above. The resort looked very similar and had an almost identical style lagoon pool (the only pool in the resort). It looked a tiny bit fresher and more up market though than its Palm Cove equivalent and is off the main drag, only a street or so back from the beach.
Things to Do
1. The Park
It doesn't matter where we go and what we are doing, we always hit the local park. It's free, fun and runs off some energy and allows us to have our morning takeaway coffee in relative peace.
In Palm Cove, there is a park directly across the road from Peppers, adjacent to the beach.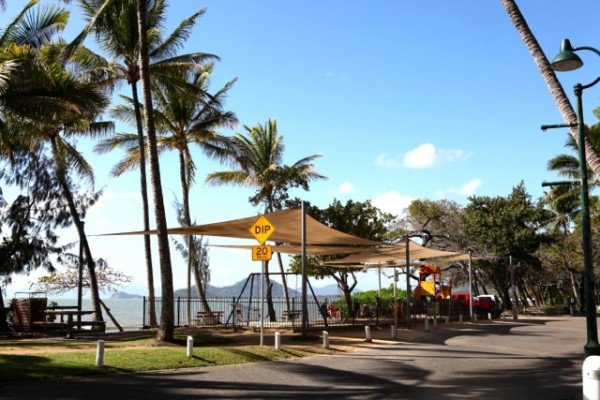 It's probably more pitched to kids under 5 but it does have two swings and a digger which kept our children occupied. There are several park benches there too so you can sit and relax while they play provided you have clocked off swing duty.
We all met plenty of great people at the park every morning too (many staying at our resort) which meant more playmates back at the pool later on and an opportunity for the adults to exchange intel on great places to eat and visit nearby.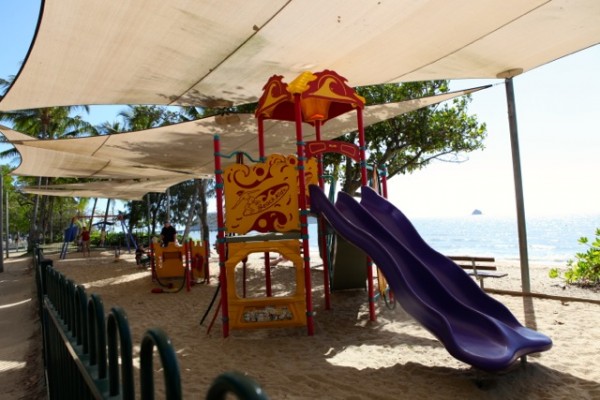 2. Beach + Pier
We went to the beach every day although we tended to play there and swam at the pool instead. I think all the warning signs about crocodiles and sting rays got to me.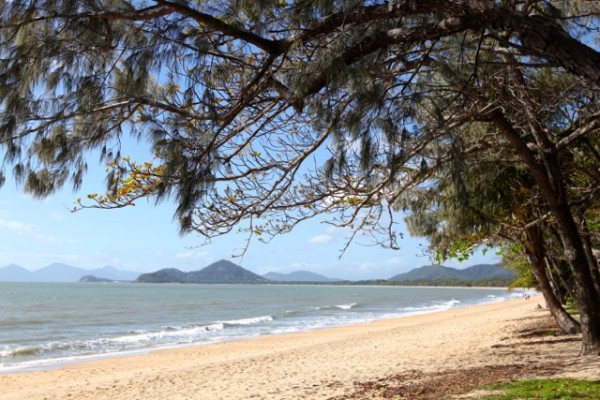 There is plenty of space, shade and dappled light and it really is a lovely place to while away an afternoon.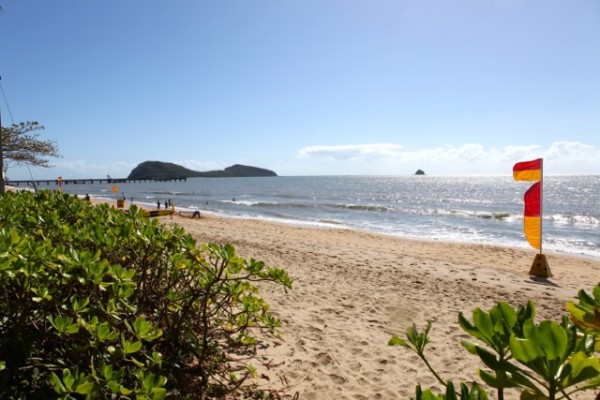 The pier is a little further up and scattered with hopeful fisherman.
One day, after our youngest's day sleep, we walked down the street for an ice cream, spent two hours playing on the beach and eventually meandered over to Nu Nu for an early dinner on the deck. It was one of those lazy, happy, easy afternoons, which a few years ago, when our kids were younger, I thought was impossible. Now our youngest is three, things are SO much easier.
3. Pool
One of the main attractions at Peppers would have to be its enormous lagoon pool, with it sandy "beach". The young ones can play in the shallows and dig and play on the beach. For toddlers in particular, this is a fantastic set up.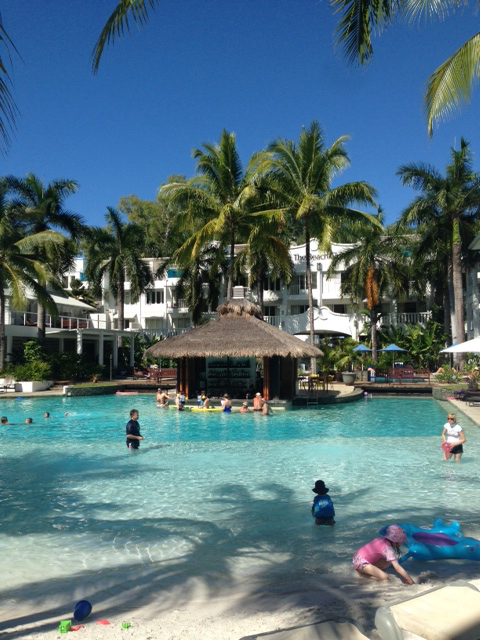 While the pool is clearly designed for families and is a great place for young kids, the "beach" part of the pool eventually ends and has a 2 metre drop. This made for some rather intense supervision as the kids (and us) worked out our limits. On the first day, our youngest dropped off the end of the ledge of the lagoon into the pool proper, which was two metres deep. Fortunately, he was happy to play amongst the shallows after that.
There are a couple of "rock pools" on either side of the pool too and plenty of rocks and boulders scattered around. At various times our boys painted the rocks, played in an around the rocks or rock pools which gave us some relief as it was in shallow water.
4. Hartley's Crocodile Adventures
If you drive up the highway twenty minutes north of Palm Cove, you'll come to Hartley's Crocodile Adventures. We were fortunate to be guests of Hartley's and spent a very eye opening morning here, seeing the various salt and fresh water crocs, going to a crocodile feeding session and then on to a boat cruise in crocodile infested waters.
A family pass (2 adults and 2 children) is $87.50.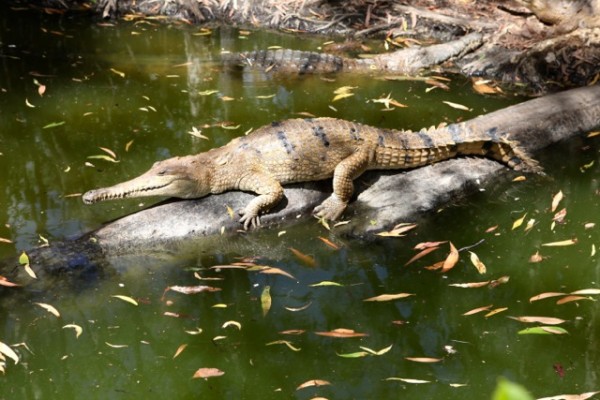 We were all fascinated by the crocs and it was great to learn more about them from the experts. There is a restaurant on site too where you can sample the local delicacies (croc spring rolls anyone?)  as Hartley's also run a commercial crocodile farm on site.
We spent half a day at Hartley's but could have stayed longer. We's planned to head on to Port Douglas to catch up with friends from there as Hartley's is half way/twenty minutes or so to Port Douglas.
5. Kuranda Day Trip
We were very fortunate to receive a family pass for a Kuranda day trip. For us, this involved a scenic train trip up the mountain from Freshwater Station to Kuranda (a very pleasant hour and a half journey), a visit to the Rainforest Station Nature Park, including lunch, and a return trip on the Sky Rail (another hour or so) from Kuranda back to the car park at Caravonica where we had begun our journey.
We left the resort at 9.30am and returned at 5pm. It would have been a longer day if we didn't drive ourselves.
The train journey up was great. We had plenty of space on our comfortable bench seats as we steadily wound our way up the mountain.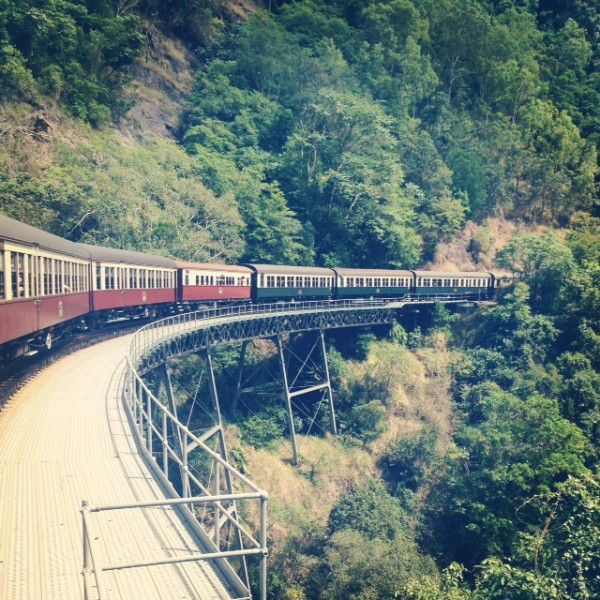 The views were absolutely spectacular and we all enjoyed the commentary about how the railway was built and by whom. It's a comfortable journey too with bathrooms and a drink dispenser at either ends of each carriage. It was also easy to stowaway our stroller under the seats. Our youngest was so chillaxed, he slept most of the way there.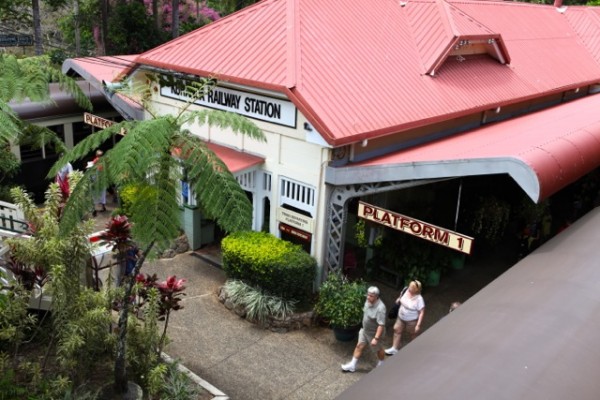 The township of Kuranda is located in the middle of a World Heritage Rainforest, 1000 feet above Cairns.
Because we spent all of our time in Kuranda at the nearby Rainforest Station Nature Park, I can't say much about the township of Kuranda, "the village in the rainforest" as we only walked through it en route to our transfer. I did see plenty of cafes, a park, plenty of touristy shops as we walked up the hill (thank goodness we packed the stroller). If you had a leisurely shop, stopped for lunch and visited one of the local attractions, you could easily spend several hours here.
There is also The Australian Butterfly Sanctuary, the largest aviary and exhibit in Australia, (which several people recommended to us and we would have loved to visit), arts and craft markets and nature walks.
We spent all our time at Kuranda, as guests at the Rainforest Station Nature Park, where had a fantastic time. (A family pass, 2 adults and 2 children, children under 4 free, covering all the attractions will set you back $112.50).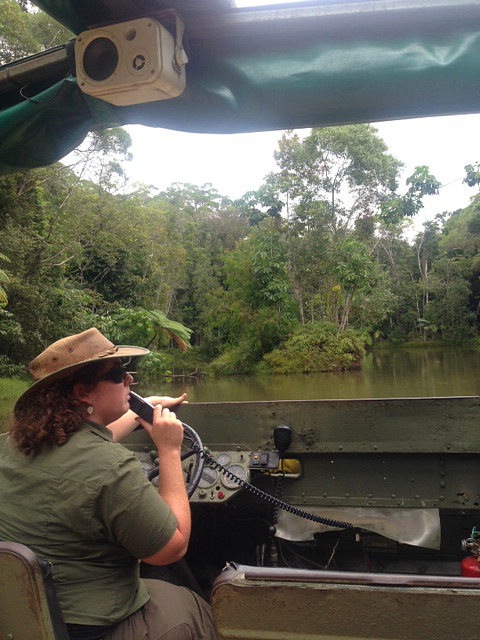 We had a very informative and fun tour on an amphibious army duck through the rainforest on land and water (above); a guided tour through the Koala and Wildlife area (a small section but you'll see Tassie devils, koalas, emus and ginormous crocs close up …. eek).
We were also treated to a performance by the Pamagirri Aboriginal Dancers which the kids loved. The highlight of the day though was the Dreamtime Walk which included boomerang and spear throwing lessons and a didgeridoo performance.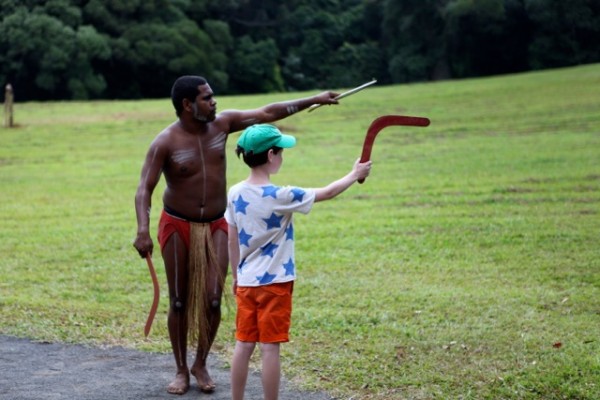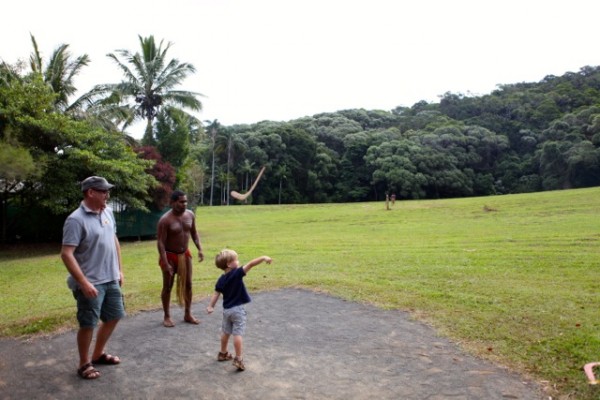 After our busy three hours at The Rainforest Station Nature Park, we returned to the Sky Rail terminal at Kuranda for our return trip.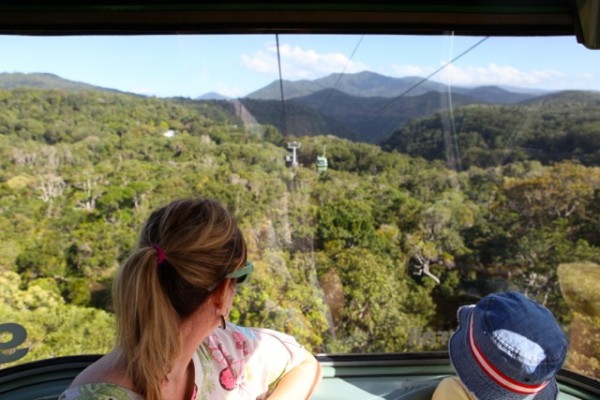 The Sky Rail is a 7.5km cableway from Kuranda station to Caravonica.  At times, we were so high, I felt like I was almost in the clouds. It was like being on top of the Ferris Wheel for an hour, but you are moving. Intense but amazing. The kids loved it and once I got over my initial vertigo, I did too.
Apparently, the towers (the tallest of which is 40.5m) were lifted in to place by helicopters to avoid disturbance of the rainforest. This goes someway to explain the spectacular views over Barron Gorge National Park – where we saw Barron Falls, steep ravines and gorges and of course, the incredible living rainforest itself.
6. Cairns Zoo
We didn't visit the Cairns Tropical Zoo this time around as we had complimentary passes for the other attractions above, but last time we visited, we really enjoyed it. It was also an easy activity with our then toddler as it was only five minutes away on the local bus and could be covered in a morning or afternoon, in between sleeps.
If I was travelling with younger children (under 4) this would be a much more manageable "wildlife" activity than Hartley's, which is much further away and a bigger day out.
7. The Reef
Last time we visited, we went on a day trip out to the Great Barrier Reef/Green Island. It's a pretty big day and lots of fun but not inexpensive. We are not quite at this stage with our youngest so we will save this adventure for another time.
Places to Eat in Palm Cove
There are plenty of options for eating out in Palm Cove. We ate in a couple of nights, having a full kitchen set up and access to a supermarket but we still managed to sample a range of the local offerings.
We had some great meals including:
– The Rising Sun Hotel & Bistro (great burgers), outside dining area opposite the beach and a kids' menu;
– Choc Dee Thai Restuarant (on site at Peppers) for great curries, chicken satay and excellent roti;
– El Greko Greek Tavern for delicious Greek food alfresco. Make sure you order the Kotopoulo Souvlaki (marinated chicken on skewers);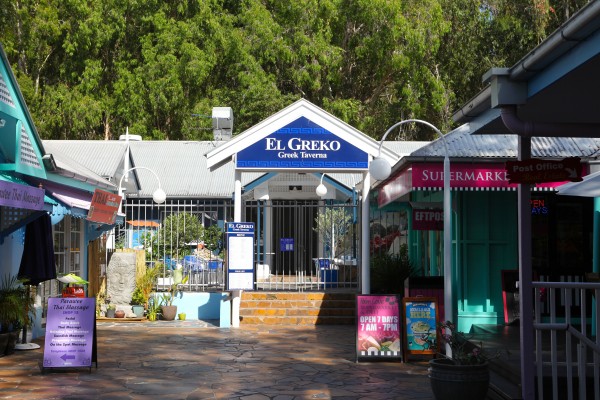 – Il Forno for quick, easy and tasty pizzas, pasta and salad;
We also had a fantastic but more fine dining/expensive experience at Nu Nu (below). This is a beautiful, modern restaurant with a huge deck leading on to the grass and beach where the kids could play as we finished our delicious meal in relative peace. There was also a great kids menu.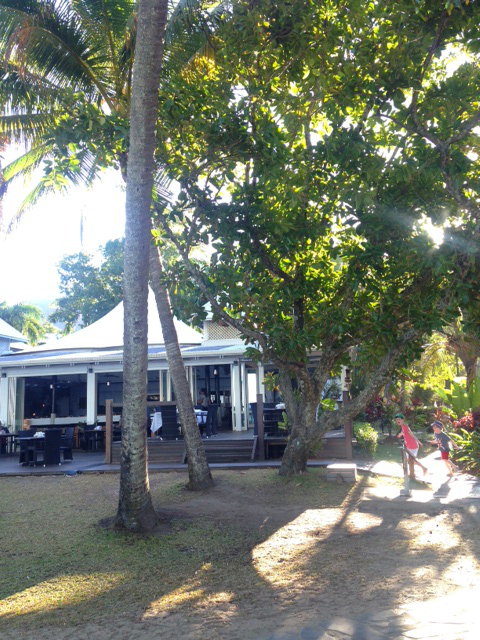 If our breakfast wasn't included at Peppers, I would definitely have hot footed it here one morning for coffee and the papers while the kids played. A great spot.
Ice Cream
Beach holidays for us always include a trip or two to the local ice creamery.
There are two great ice creameries at either end of the main drag in Palm Cove: Scoops Gelatiland at the Peppers end and Numi at the Nu Nu end. We sampled both and they were both excellent with some really cutting edge flavours as well as the old favourites. I had a delicious pear, cardamon and ginger gelati at Scoops and a coconut sorbet at Numi which was unbelievable.
Numi won out for us though as they have a kiddie cone option taking our bill for a family of five to a very reasonable $15. In comparison, a round of ice creams for our family of five set us back nearly $25 at Scoops.
Further Afield
From Palm Cove, you can take the scenic hour long drive up the coast to Port Douglas. This is a very windy drive though, so if anyone is prone to travel sickness, plan accordingly.
In Port Douglas you can visit the beach, the markets or watch the cane toads race at one of the local pubs. The shopping is OK but hasn't changed much at all in the last decade, from what I could tell when I did my brief reconnaissance.
We stopped for dinner at the Port Douglas Life Saving Club Bistro which was recommended to us by a Port Douglas local. It was a great spot with interesting options as well as the usual suspects, a great kids menu (below) a play ground on site and a relaxed, al fresco dining vibe.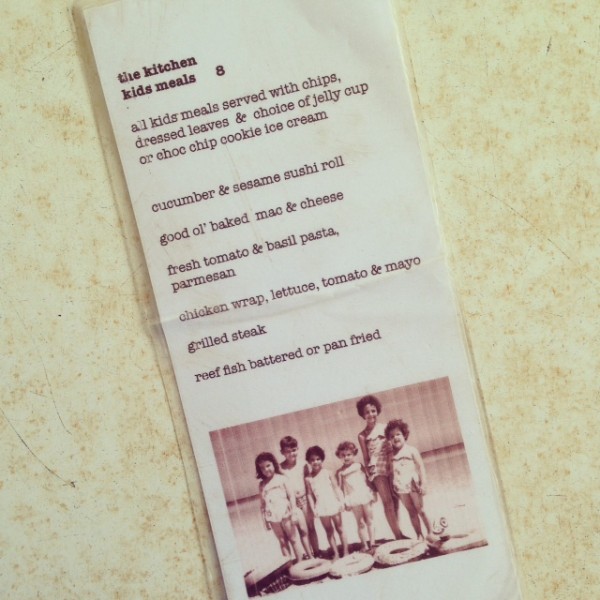 Further north of course you can visit the incredible Mosman Gorge and further again, Cape Tribulation. We have been to both before and they involved a fair amount of car time but we would definitely take the kids there when they are older next time.
If we had more time, we would definitely have gone back in to Cairns and visited Cairns's Esplanade, home to Muddy's water play ground, a lagoon pool, markets and the waterfront to explore.
Logistics & Other Bits and Bobs
The flight from Melbourne to Cairns is three hours and it's a further half an hour drive to Palm Cove.
We were on a 8.30am flight on a Thursday, which was slightly delayed but was otherwise pretty uneventful. The kids managed the flight easily with their books, movies and snacks. After dumping our luggage and looking around, we were sitting down to lunch in Palm Cove by 2pm.
Palm Cove is relatively self contained, so once you are there, you can do without a car if you are prepared to pay for transfers to attractions further afield and take the local bus occasionally.
There is a supermarket in the village but you pay a significant premium for the convenience. A short trip on the local bus will take you to the nearby Clifton Beach Shopping Village where you'll find Coles, a fresh fruit shop, Baker's Delight and Liquor Land.
We hired a car through AVIS for the first few days of our trip which gave us some flexibility. We collected it at the Cairns airport and dropped if off at their office in Palm Cove, a couple of doors up from Peppers.
The weather during our holiday (mid – late September) was very pleasant. Dry, sunny days of 28 generally and coolish, breezy nights of 18. It was not humid at all and I could have worn jeans or a cardy at night if I was outside. Previously, we visited in March/April, where the humidity was very high.
It was seriously windy and overcast on a couple of the afternoons which made a trip to the beach and outdoor eating unpleasant if not impossible. The design of Peppers however, ensures that the lagoon pool is protected from the wind at these times.
We could almost have gotten away without a stroller with our three year old. He could manage the walk up and down the main street at Palm Cove and around all the places we visited although Kuranda, with it's hills would have been a challenge.
Have you been to Far North Queensland lately or ever? Is it on your radar – why or why not? We'd love to hear any of your trips and traps for accommodation, places to eat and visit.