In the September school holidays, we joined half of Victoria – or so it seemed – on holiday on the sunny Sunshine Coast.
Our digs were in Noosaville (details below) which we loved but we also spent time in nearby Noosa, Sunshine Beach, Peregian Beach and Eumundi.
Our visit was part of my Mum's Festival of 70, and we holidayed as a group of 11: my Mum, brother, sister, bro-in-law, my two nephews aged 6 and 2, joining Mr SnS and I and our three shenanigators sons, aged 10, 8 and 5.
We had an awesome week out and about and were thoroughly spoilt with sunshine and 27 degree days. What follows in this post is all my intel about what we did, where we stayed, what we loved and where we ate. I know there are many Sunny Coast fans, residents and frequent travellers who read this blog, so don't be shy – we'd all love to hear your tips and traps in the comments below too.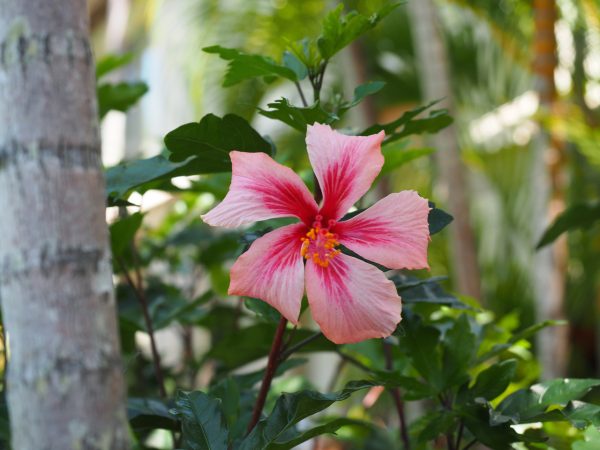 What to Do
1. Noosa River
Staying in Noosaville, a short ten minute drive from Hastings St Noosa, our accommodation was directly across the road from the river.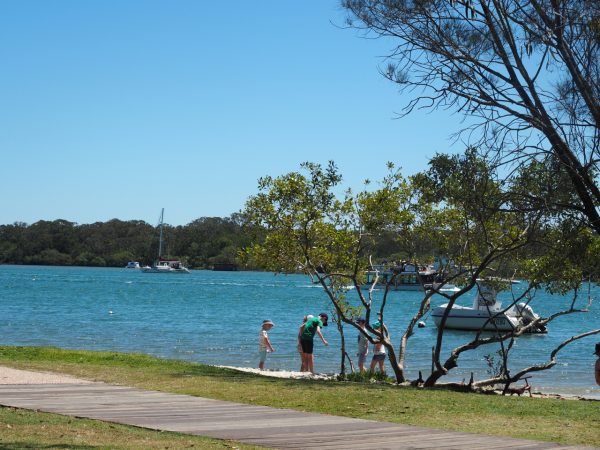 I didn't appreciate until we arrived how great this would be. Staying by the river really had everything we needed for a relaxed family holiday – beautiful views over the water; the walking track for a morning run/walk; a playground for the kids; sand and calm water for the kids to play in and beside; plenty of picnic tables and BBQs dotted along the river; a ferry stop; and plenty of places to hire a boat/SUP/kayak.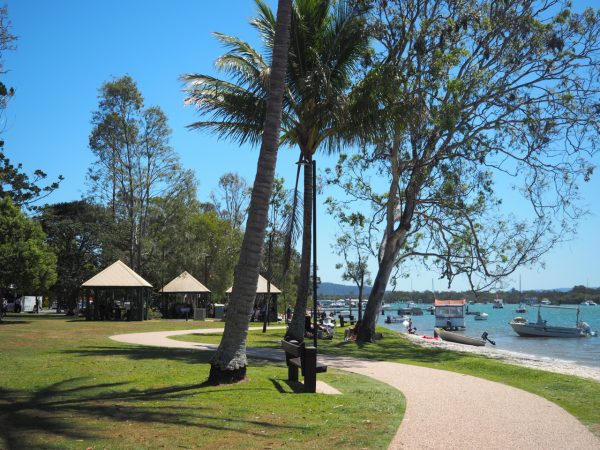 There's even a Giant Pelican plus plenty of real ones.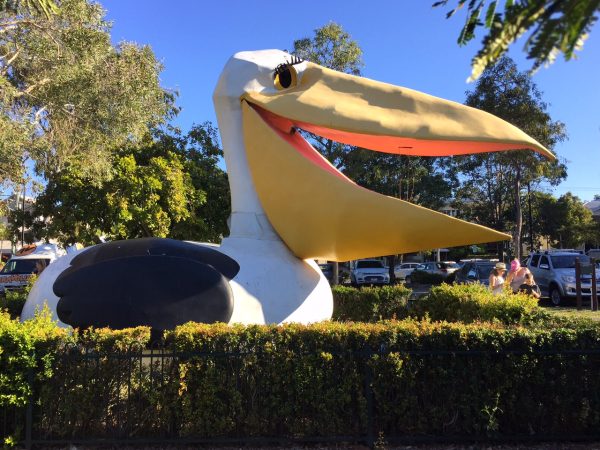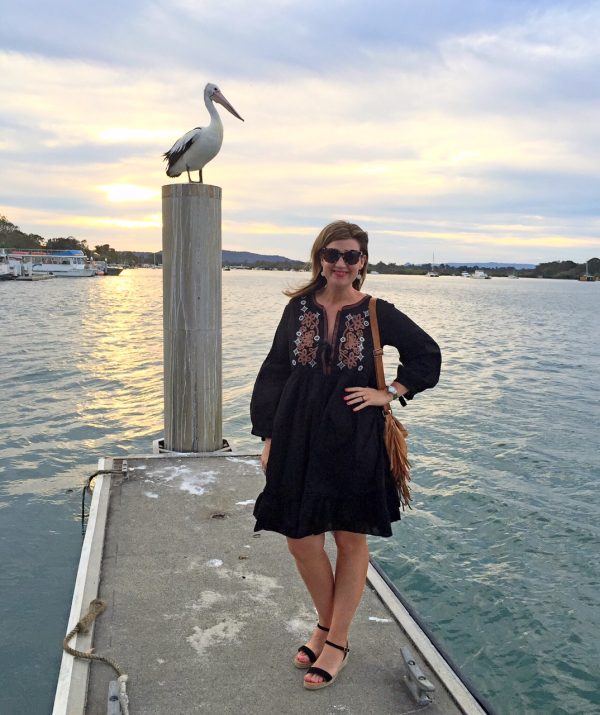 And, of course, there was also the excellent coffee. As well as the cafes on Gympie Terrace, we found many of the boat/SUP hire places had small cafes or a barrista.  My fave was Catalina, just up from the Giant Pelican.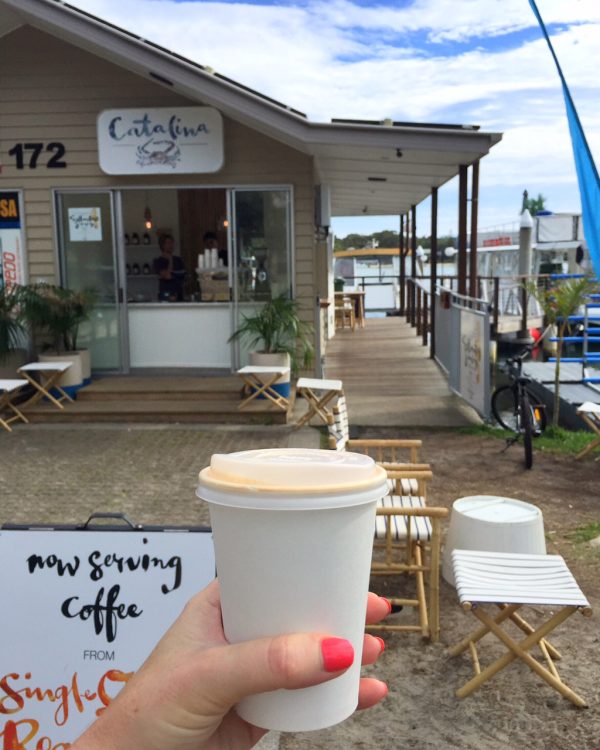 2. Main Beach
If you're staying in or around Hastings St, you'll no doubt be heading to Main Beach.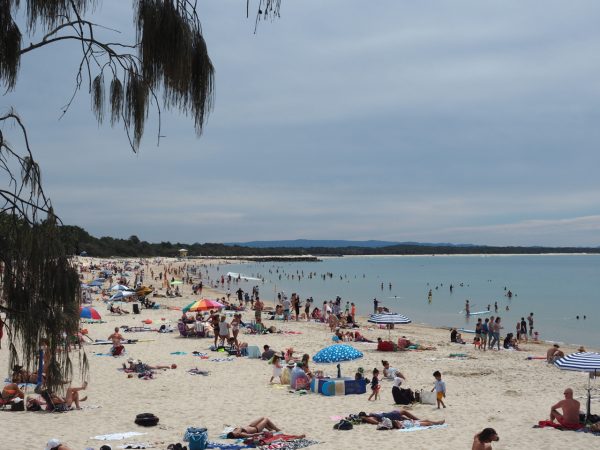 This beautiful beach is patrolled in places and has great views up and across to the National Park. There's also easy access to the beachside cafes and restaurants and the Surf Life Saving Club.
Ice creameries and gelaterias are also a short walk away in nearby Hastings St.
3. The National Park
One of the things so many of our friends love about Noosa is walking through the stunning National Park. I can totally see why having visited for the first time.
The views are breathtaking and the beaches are stunning too.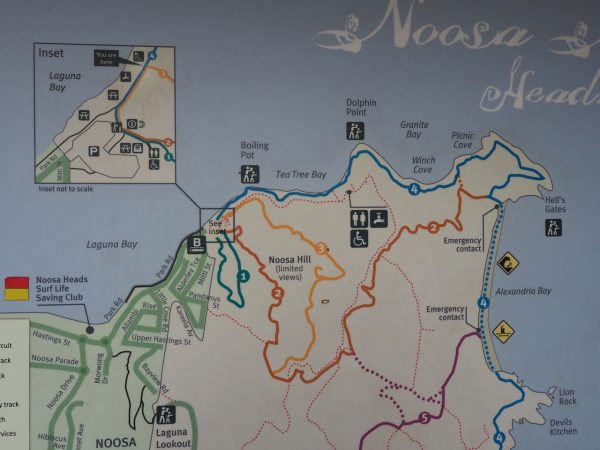 There are lots of different walking tracks to choose from (as you can see above) but with our party of 11 ranging from 2 to 70 years of age, we decided to do the coastal walk.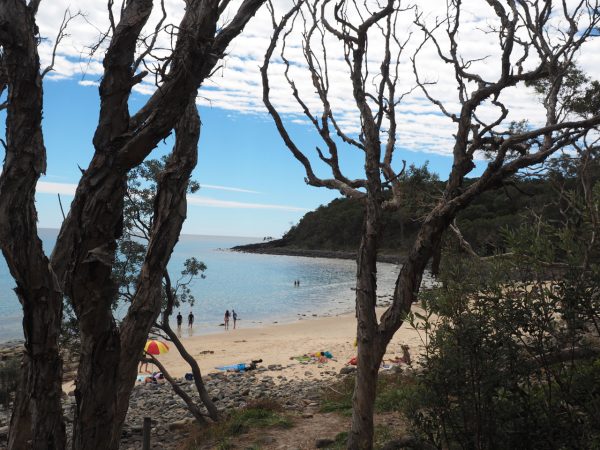 We didn't quite make it to Hells Gates but we did make it as far as Winch Cover where we spent time swimming and playing on the beach.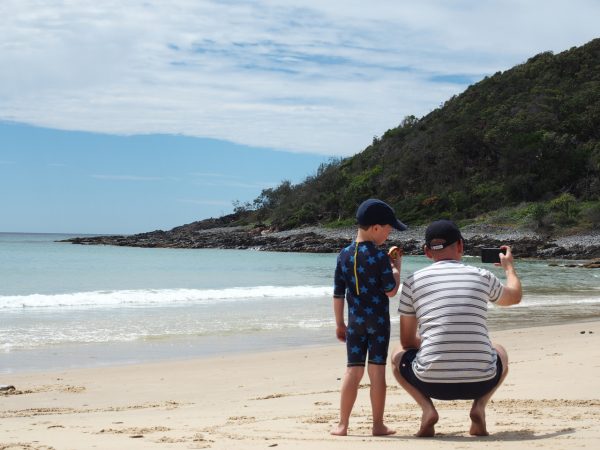 You could easily spend hours here if you pack supplies – beach towels, water, sunscreen and snacks – especially if you swim at one of the beaches along the way. There are more challenging inland walks too apparently, but we were happy to stick to the easier, more scenic route.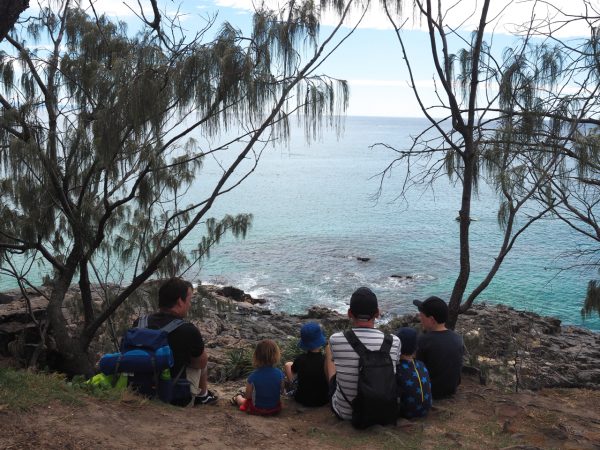 There's a cafe and public toilets at the entrance to the park too – good for an all round convenience stop straight up.
4. Take the Ferry or Go on a Sunset Cruise
Whether it's a means of transport from one area of Noosa to another or an activity in and of itself, cruising on the Noosa River is definitely a fun thing to do.
We decided to save some cash and take the ferry from Noosaville to Hastings St for dinner at sunset, so we got the sunset views without the sunset cruise.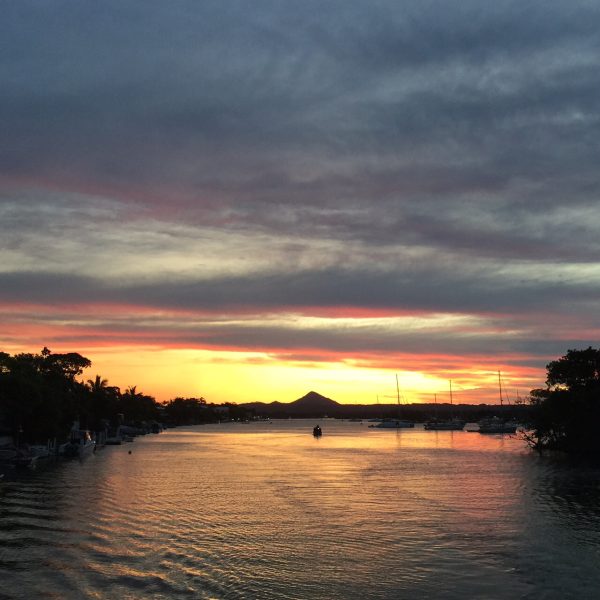 The trip from Noosaville to Hastings St takes 20 or so minutes and cost our family of 5 $22. It's a bit of a novelty factor but you do pay for it. An uber fare for the same distance home was around $13.
A sunset cruise is another option which would be fun to do in a group. They usually last a couple of hours and you can BYO drinks and snacks.
5. Check out Hastings St
Home to beautiful boutiques and restaurants, there's plenty for the kids down Hastings St too.
We counted three ice creameries (Massimo, Gelatissimo and Nitrogen) and loads of family friendly eateries including Cafe De Monde, Zachary's and Miss Moneypenny, where we took our kids for a relaxed pizza dinner one night.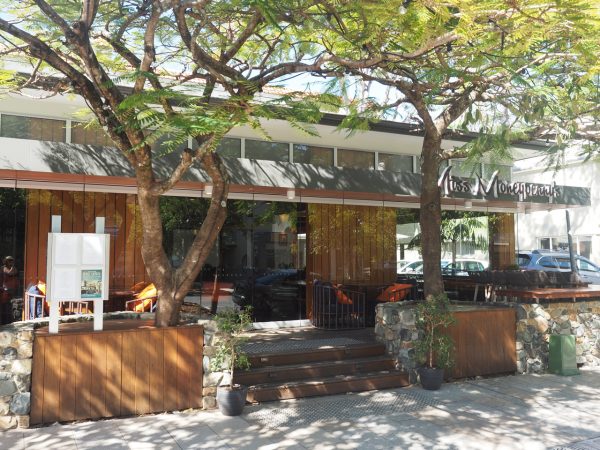 There's also the beach nearby if one of the adults wants to amuse the kids there while someone hits up the shops!
This takes place every Sunday morning from 7am to 12 noon at The Noosa Australian Football Club in Noosaville.
This was high on my list of priorities as we've heard such great things about it but unfortunately we flew in and out of Noosa on Sunday mornings so we missed it.
You can find all the details here.
7. Hire a Kayak/Stand Up Paddle Board/Boat/Bike
All along the Noosa River you'll find plenty of places to hire a vessel of choice. Most of them are serve coffee too which is a bonus.
This would be such a fun thing to do and a great thing to do with the kids too.
I didn't do it this time, but it's definitely on my Must Try List.
8. Australia Zoo
It's a good 50 minute drive from Noosa, but we've always made a point of visiting Australia Zoo on each of our visits to the Sunny Coast.
This year, we went on a rainy Wednesday which wasn't ideal for sight seeing but we did chance upon Bindy Irwin in the Crocoseum.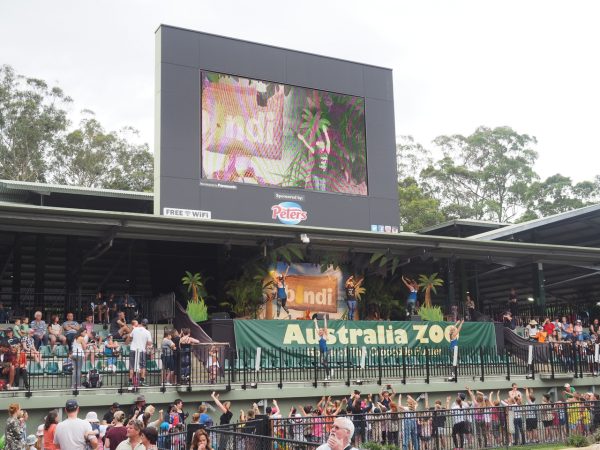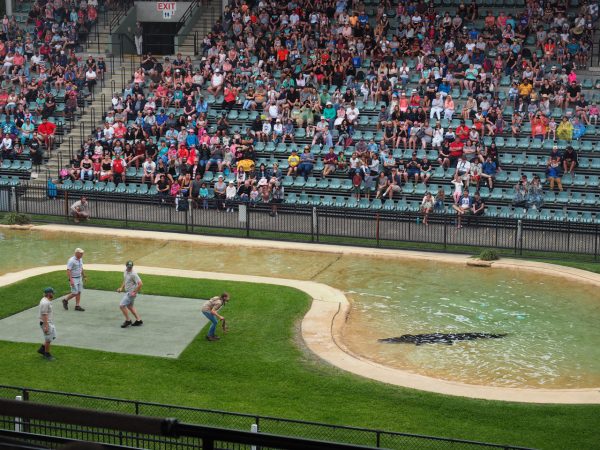 Australia Zoo is a very well oiled machine – there are plenty of staff, it's very clean and well maintained and there are a huge variety of animals to see and live shows to watch.
There are loads of crocs too if that's your thing but after a visit to Hartley's Croc Farm in Cairns a couple of years ago, I reckon I've pretty much hit my croc capacity. Otherwise, I think this area and the new, spacious Africa exhibit are probably what sets Australia Zoo apart from some of it's competitors.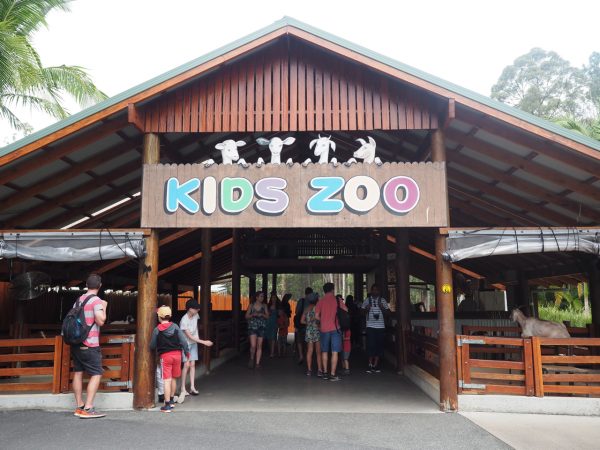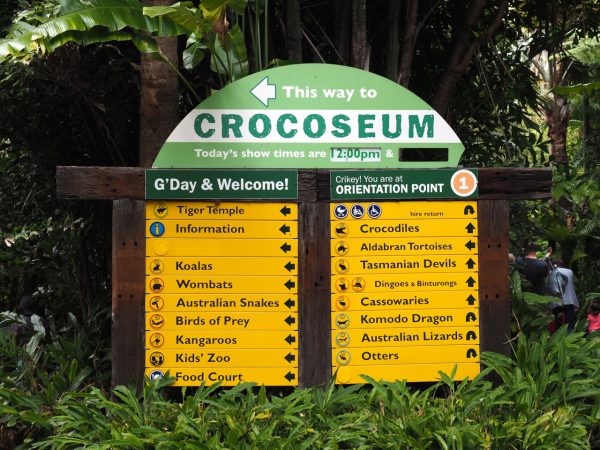 Australia Zoo is well worth a visit but it's an expensive day out – $189 for our family of 5. That being the case, we got there early, packed plenty of snacks, lunch, water and prioritised all the live shows.
9. Eumundi Market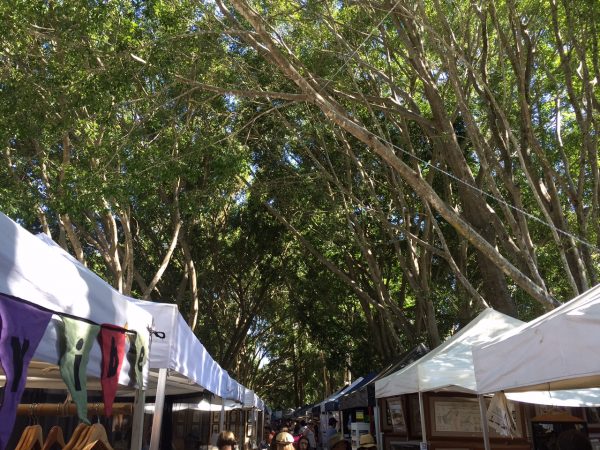 Operating on Wednesdays and Saturdays, this traditional craft market has something for everyone – hand and home made crafts, fresh produce and clothing plus plenty of entertainment for the kids. It's on a pretty spot shaded by trees and there's parking on the oval behind and in the neighbouring streets.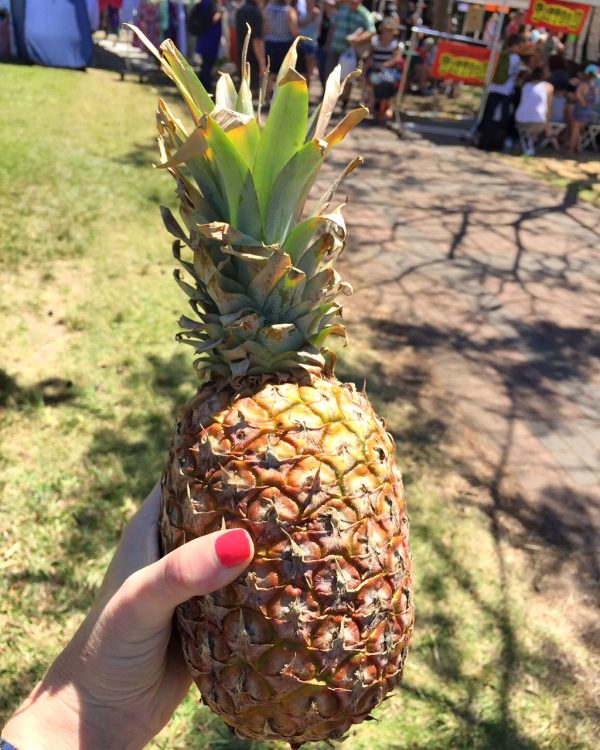 It's pretty family friendly as far as markets to – we spotted kids' craft, camel rides and a children's entertainer.
I found three clothing stores that were up my alley but other than that, the fresh produce and food stalls were the main attraction for me.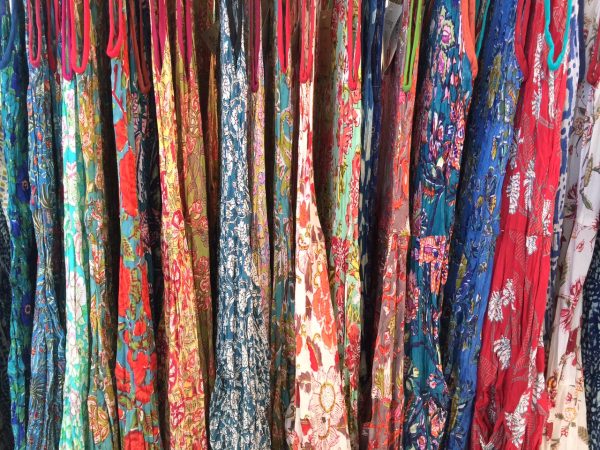 All up, with a fresh juice pit stop, we knocked over Eumundi Market in a couple of hours, without the kids. It was getting really hot by the time we left at 11am, so if you're going, go early and pack a hat and sunscreen.
If we weren't in a hurry to get back to the kids – they were back at our accommodation doing a free art and craft class – we might have stopped for lunch at the pub in town or wandered up and down the main drag, which is opposite the market.
10. Visit a Neighbouring Town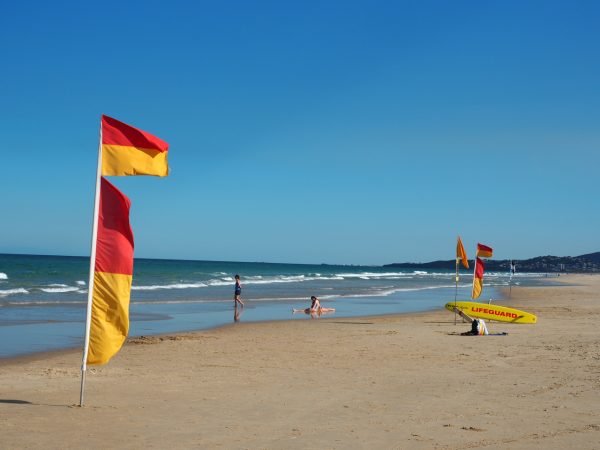 There are lots of beautiful coastal towns along the coast but we visited nearby Peregian Beach for ice cream (I'd recommended the Bent Banana, below), a swim at the beautiful patrolled beach and a play at the beach side playground.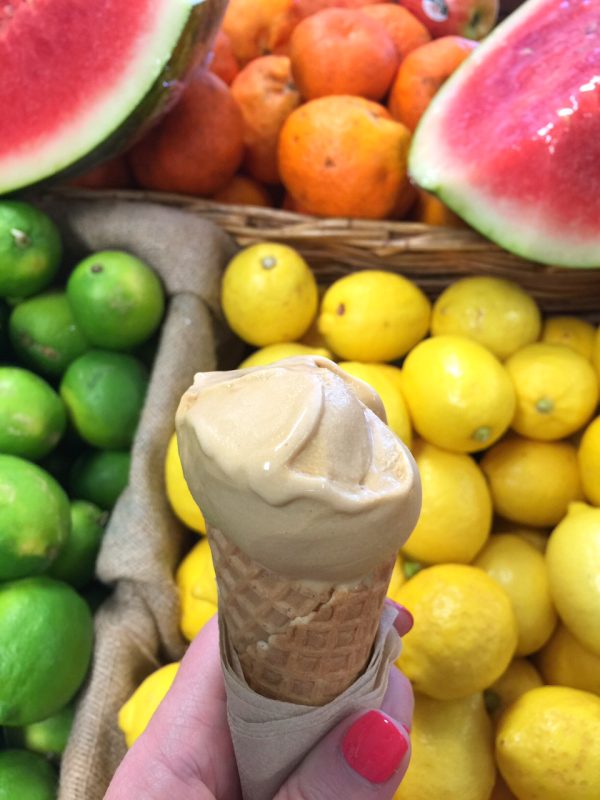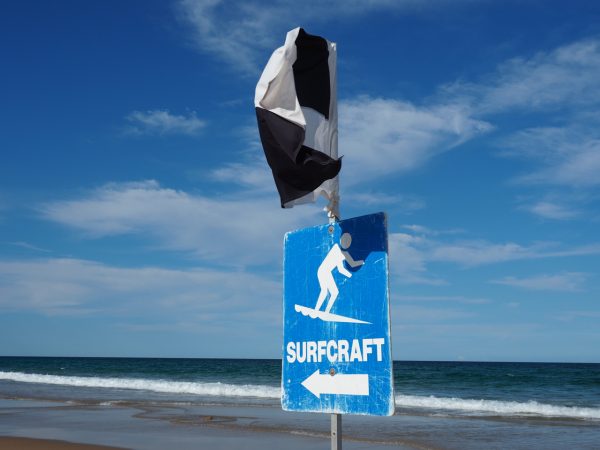 There's also great shopping to be had and a shaded village green of sorts in the middle of the retail area.
For older kids, there's also a skate park adjacent to the beach.
We also popped in to the Surf Club at Sunshine Beach for a drink and snack on the deck – beautiful views over the beach and a chance to spot whales too.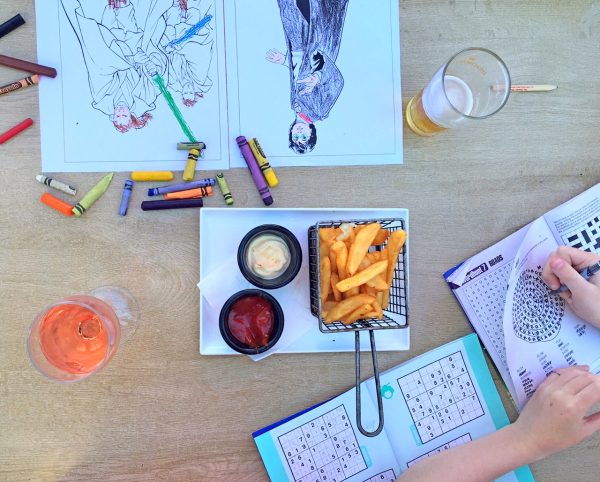 Where to Eat
We ate some great food in Noosa.
We had a memorable date night at Ricky's where we enjoyed a delicious degustation/tasting menu, with lovely views over the river.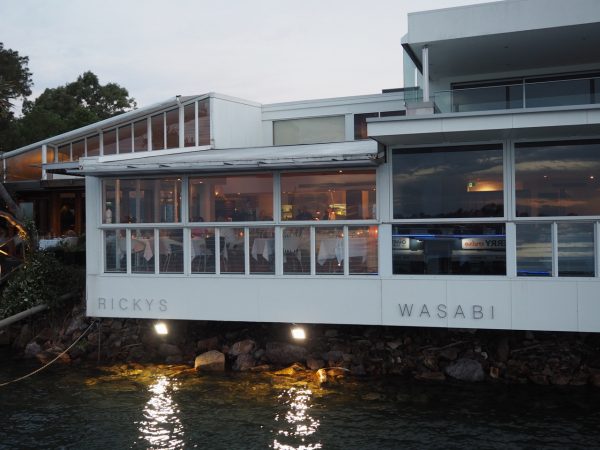 I can also highly recommend their cocktails – this elderflower and cucumber concoction was right up there.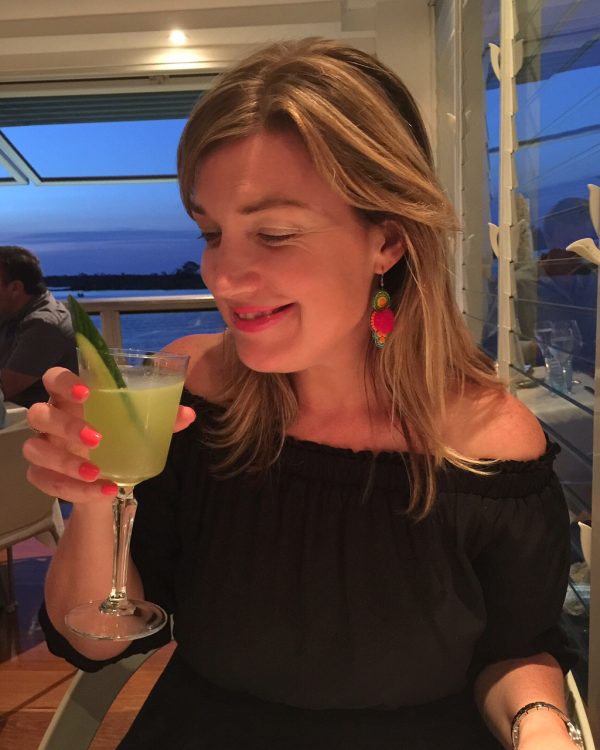 We took the kids to Miss Moneypenny's in Hastings St one night where we enjoyed great pizza and friendly service. It's an upmarket but relaxed space but they were plenty of families there the night we visited.
I would have liked to visit Betty's Burgers as I've heard excellent things but it was heaving the day we walked past.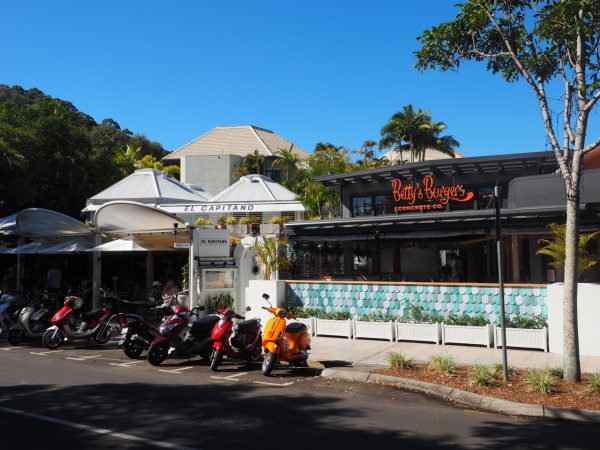 I also had a nice breakfast at 10 Hastings, which has a relaxed coastal vibe. The coffee was on the strong side.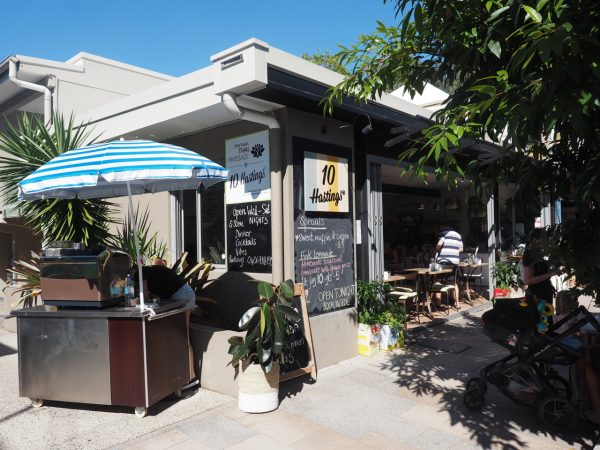 Locally, in Noosaville, we had a great extended family dinner at The Noosa Boathouse. Built over several levels, there's also a fish and chippery out the front and a small cafe serving coffee and snacks during the day. Upstairs is a bar with beautiful views over the river.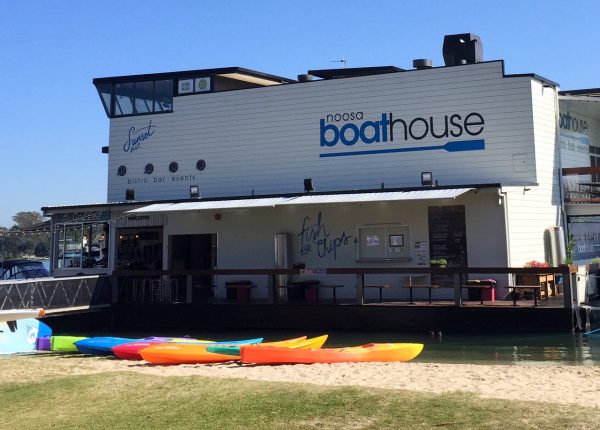 This really is a gorgeous spot on the river and all our food was fab. The Pimms weren't bad either.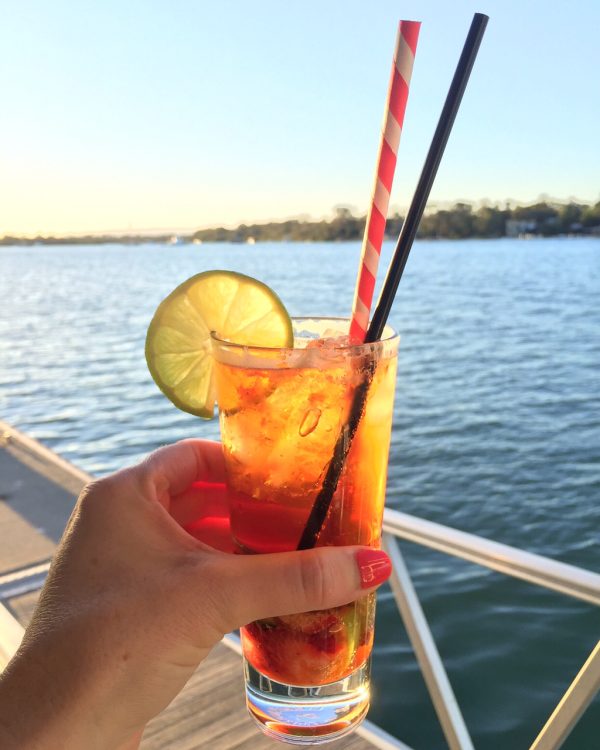 I ordered the Mooloolaba prawn dish for main course and it was superb.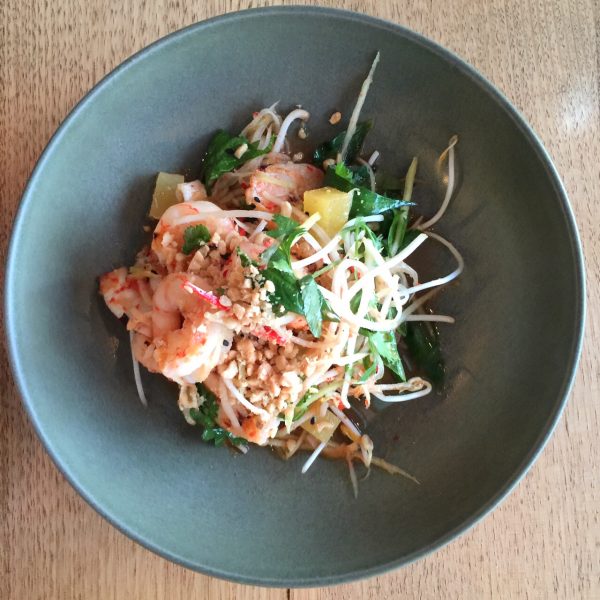 In Thomas St, Go Vegan Deli was another favourite for me for lunch and there's a bakery a couple of doors up for fresh bread and salad rolls.
If we could have squeezed in another date night/lunch, I would have loved to go to the Thomas St Eatery on the corner of Thomas St & Gympie Parade, which was literally a few doors up from our digs.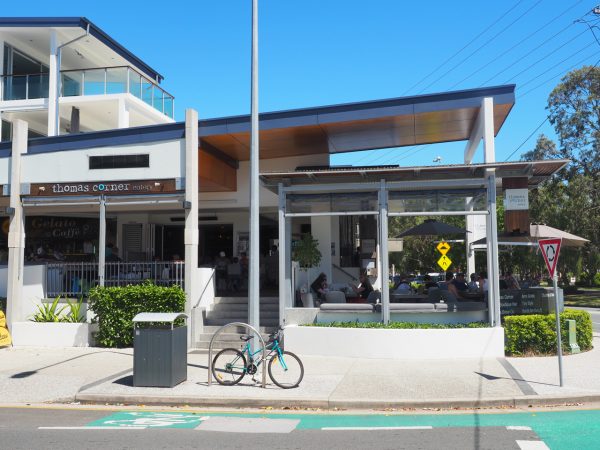 Where to Stay
There is so much accommodation to choose from in and around Noosa, it's hard to know where to start.
We were after budget and extended family friendly accommodation, so we opted for The Islander in Noosaville.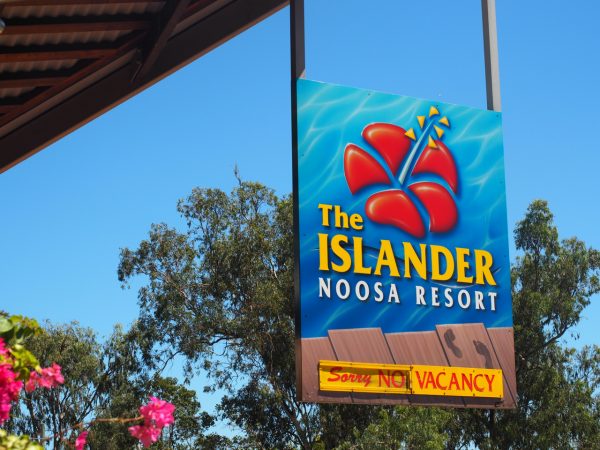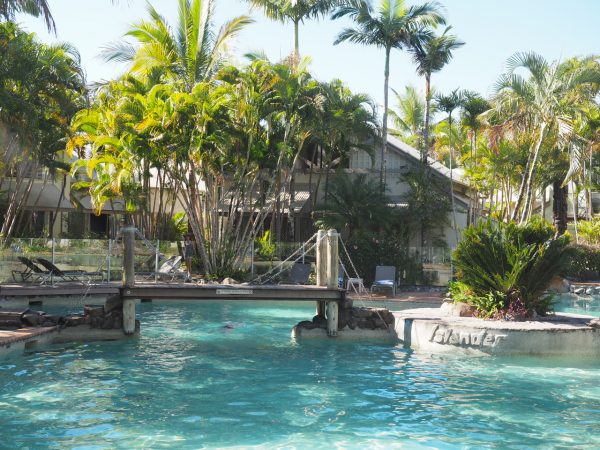 The main pool above and below.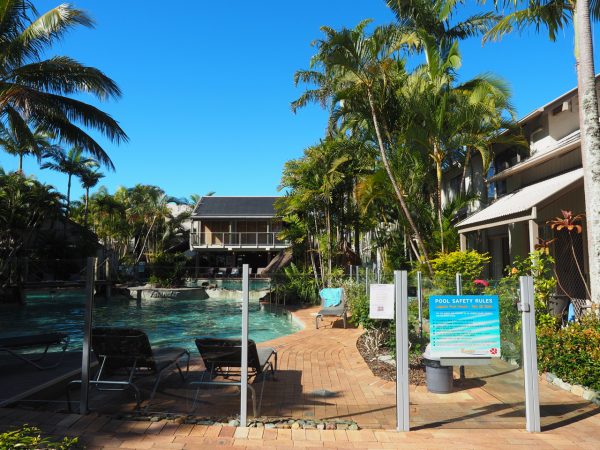 Our extended family of 11 stayed across 3 two bedroom self contained villa/units. We each had our own kitchens (with dishwashers) and laundry.
Our villa isn't going to win any interior styling awards but it was clean, comfortable and perfectly functional.
The on site facilities include several pools, a covered BBQ area, games room and free school holiday activities for kids. Our kids went to 3 art and craft sessions from 9-11am and happily spent the rest of the day in the pool.
Location wise, it's fantastic as it's on Gympie Terrace, directly across the road from the river (just up from the Giant Pelican) with cafes, restaurants, a bakery, shops and a newsagent in very close proximity. The supermarket and Dan Murphy were a short ten minute walk away too.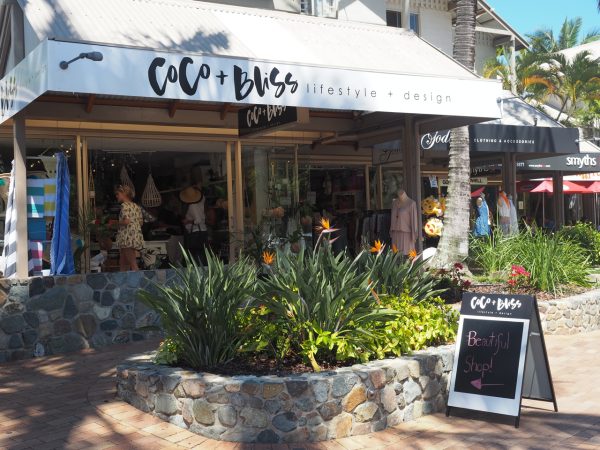 Overall, I thought it was a terrific place to stay but it wasn't luxurious – just great value family friendly accommodation.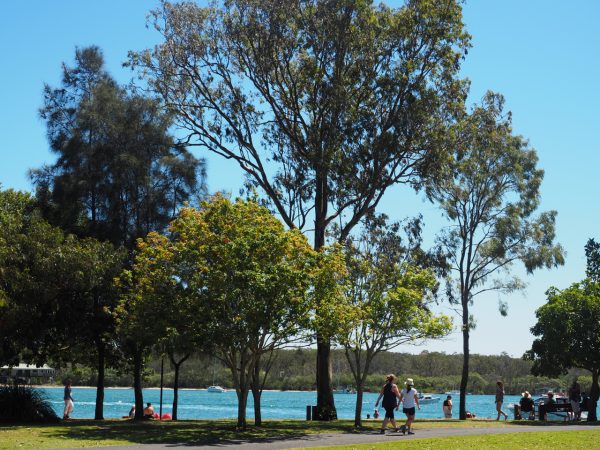 Noosaville was a great location too. We loved the aspect of the river, the relaxed vibes and the proximity to walking paths and all amenities. It was an $8 Uber ride in to Hastings St during the day too, making it cheaper than a bus ride for our family of 5. You'll find more on where to stay below.
Other Bits and Bobs
Car hire & getting around – we opted to pay for a transfer to and from the airport and hired a car for 2 days in the middle of our 7 night stay for two day trips – Eumundi Market/Peregian/Sunshine Beaches one day and Australia Zoo the next.
Friends of ours hire a car at the start and/or end of their trips so they cover their transfers from the airport (it's a half hour drive to Noosaville from the airport) and a big grocery shop upon arrival.
Getting around on days we didn't have a car was easy. We either stayed local (pool side or by the river) or caught the ferry or an uber in to Hastings St. There was a local bus stop across the road too but it would have cost more to get the bus than an uber for our family of 5.
Noosaville vs Hastings St vs Noosa Sound
This will generally come down to budget and preferences.
We saw some ah-mazing boutique accommodation in Hastings St and there's no doubt that the proximity to the beach, cafes and shops in Hastings St and the National Park is a huge bonus. But it does come at a premium, especially during peak periods.
Other friends of ours love to stay in Noosa Sound – smack bang in the middle – so they have access to the river as well as Hastings St.
As for us, we didn't want to splash too much cash as we'd already had a family holiday to Thailand this year and this trip was a bonus.
We loved that our accommodation was such great value and loved Noosaville for it's relaxed vibes and stunning river aspect.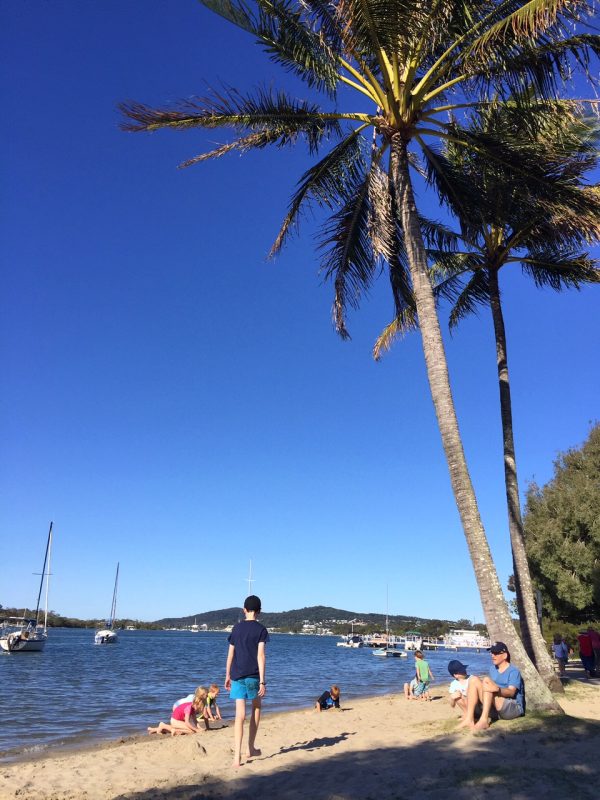 As we were saving on accommodation too, we were more prepared to pay for the odd uber bus and ferry fares as we were definitely ahead.
There were also some fantastic shops and places to eat nearby too, so we didn't feel like we were missing out on that front. I probably prefer the river to the beach too – the water is calm, there's plenty of grass and shade, it's not crowded and there was a playground nearby –  it was a no brainer with young kids.
Other
We had an amazing weather during our week, but if it's raining or boiling hot, there's a cinema complex in Noosa Junction.
So over to you – are you a regular visitor to Noosa or a Noosa newbie? What would you add to my list above?