This post is sponsored by Spirit of Tasmania
If you've been following along with me on Facebook or Instagram lately, you'll know that Team Shenanigans and I recently returned from a fantastic week in Tasmania.
During our trip and since, I've been inundated with questions about what to do, where to stay and what it's like travelling around Tasmania with kids.
So in this post, I'm sharing all my intel and tips about travelling in Tassie with kids. I've also included our seven-night itinerary at the end of this post to help you plan your holiday.
1. Take Spirit of Tasmania to Tassie
I've been to Tasmania three times and have absolutely loved it every single time.
For two (including just recently) of those three visits, I've taken my trip across Bass Strait on Spirit of Tasmania and it's definitely the way to go.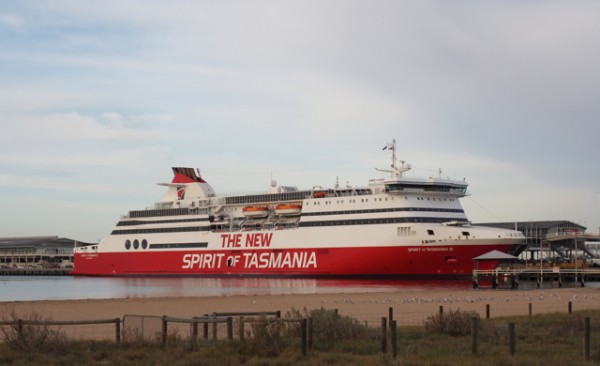 The first time, thirteen or so years ago, Mr SnS and I were newlyweds and spent a fabulous ten days on the Apple Isle spending time in Sheffield, Hobart, Port Arthur and St Helens. We loved having our own car, with the flexibility to stop and stay where we wanted to and, of course, saving cash by not having to rent a car.
Fast forward to January 2016, and we were thrilled to return to Tasmania with our three boys (aged 9, 7 and 4) on the newly refurbished Spirit of Tasmania. It's been updated, so if you haven't been on it for a while, you'll be very pleasantly surprised.
Before I fill you in on our day sail, let me take a moment to highlight why I think travelling on The New Spirit of Tas is such a winner from a practical and financial perspective.
Especially for families.
The biggest advantage is being able to take your own car which means you can take all the kids' gear (bikes, scooters, helmets etc) and as much luggage as you need. When we travelled to the US last year, we had to navigate significantly different baggage limits for international and internal flights, which was a logistical nightmare, so it was refreshing to have no baggage limits or excess baggage fees to even think about this time around.
We also loved that we had room for everything from our beach towels to our buckets and spades for the beach on the way over not to mention the (several) boxes of wine and pot plants we brought home.
Travelling to Tassie on The New Spirit of Tasmania also cuts out all the expensive car hire, car seat hire, hire car insurance, taxis and private transfers needed when holidaying in other parts of Australia. Hiring a people mover for our family of five (which is also big enough to fit our luggage) is always a substantial cost on top of our airfares and accommodation.
And of course, once we were in Tassie, because we had our car, we could be totally flexible. There was no need to navigate public transport or other people's timetables. We could stay for as long as we liked anywhere we liked (this usually involved a park for the kids and the shops for me), taking things as quickly or slowly as we liked, which is important when you're travelling with kids.
This is even more so when you're factoring in sleeps, limited attention, toilet and park stops.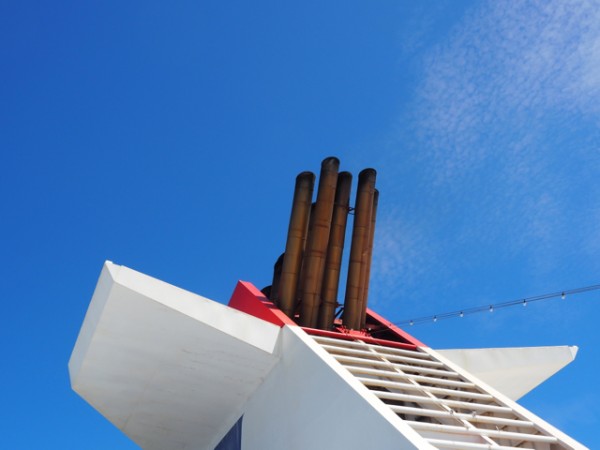 While our kids are pretty experienced travellers, it was also such a relief to not have to navigate an airport terminal (with the accompanying parking fees, queuing shenanigans at check in and security not to mention the expensive snacks). For us, travelling on The New Spirit of Tasmania, the holiday started as soon as we arrived at check in.
Once we arrived at Station Pier in Port Melbourne, the kids were happy to sit in the car, have a snack from home and watch a DVD while we drove on board. We were happy we could keep them all in the one place. Anytime we don't have to supervise means a holiday for us too!
Unlike plane travel, I also loved that on The New Spirit of Tasmania, the kids are not restricted to a seat and they can wander around the ship and be entertained by all the fab kids' activities on board (more on that below).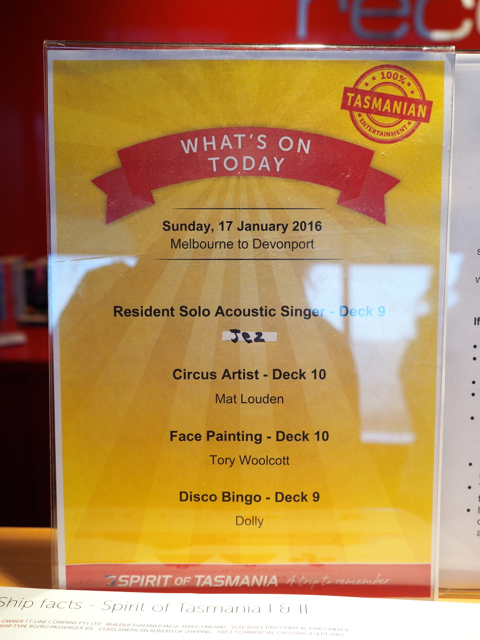 We also knew that travelling on Spirit of Tasmania would be part of the adventure for the kids. At home, our kids love the train ride to the city more than the city itself so we knew our sail over would be part of the adventure and a fab beginning and end to our holiday.
And of course the trip to and from Tassie on the ship was.
We had a great day on our day sailing enjoying all the fab food, activities and spaces on the new Spirit of Tasmania.
Our day sail began with breakfast in the Tasmanian Market Kitchen, below, which had plenty of continental breakfast options.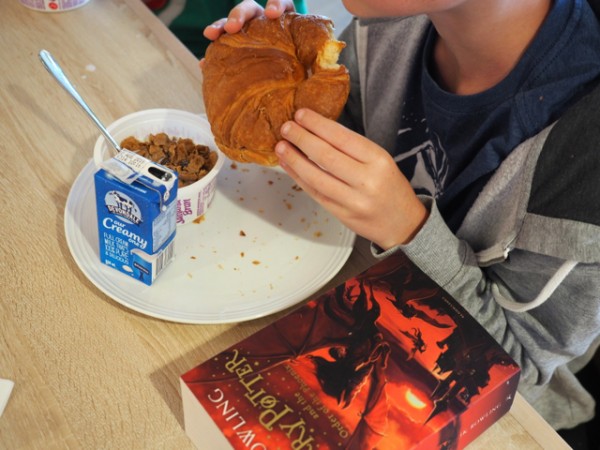 Once we'd had brekkie, we had a wander around the ship, checked out the day's entertainment and planned our day.
We decided to start with a movie at one of the two cinemas on board (The Good Dinosaur and yes, there were tears).
There are six sessions of new release movies to choose from, on both day and night sailings. This was a great way to kill a couple of hours and got us into the holiday zone immediately.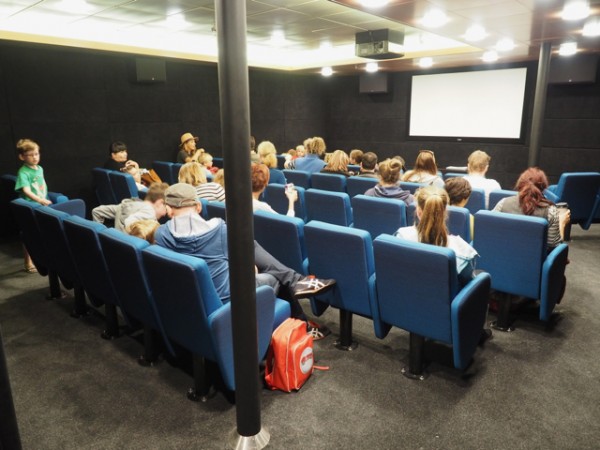 After our movie, we explored the ship and found that all the action – the entertainment, restaurant, bars and cafes and loads of different seating areas – is located over levels 7, 9 and 10.
I thought it was clever how some smart interior design created lots of distinct "spaces" too, so you can really mix things up over the course of the day (or night's) sailing.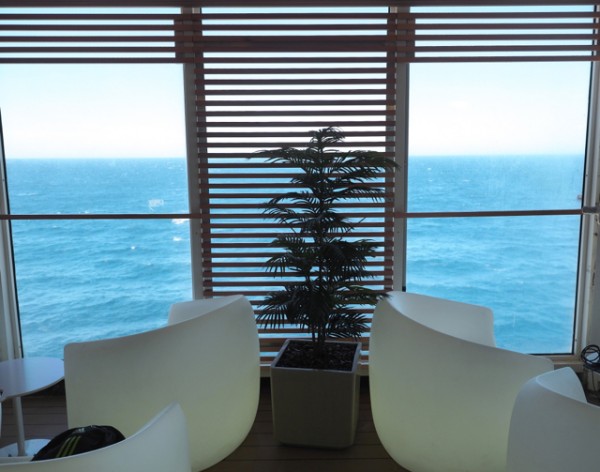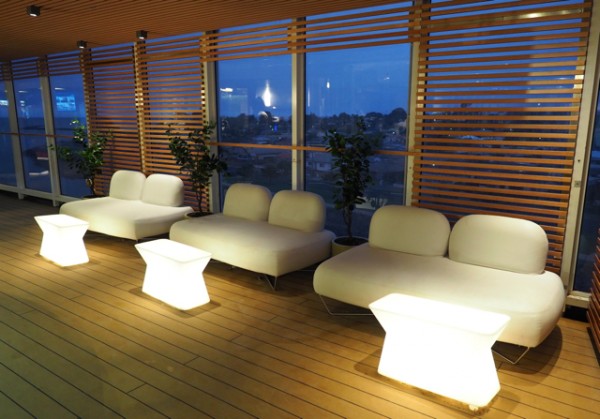 The kids loved checking out the views from the decks too, particularly as we passed The Heads and upon departure and arrival.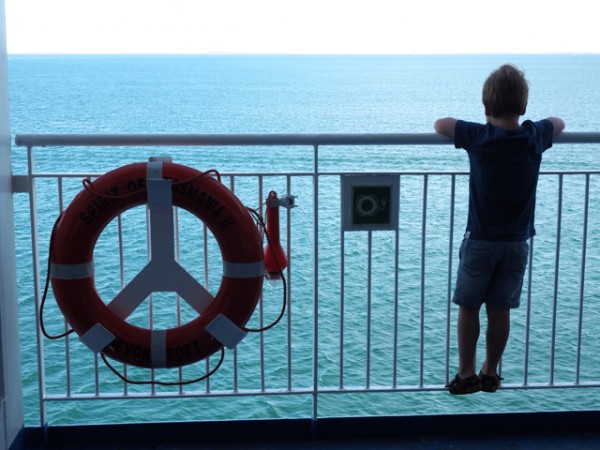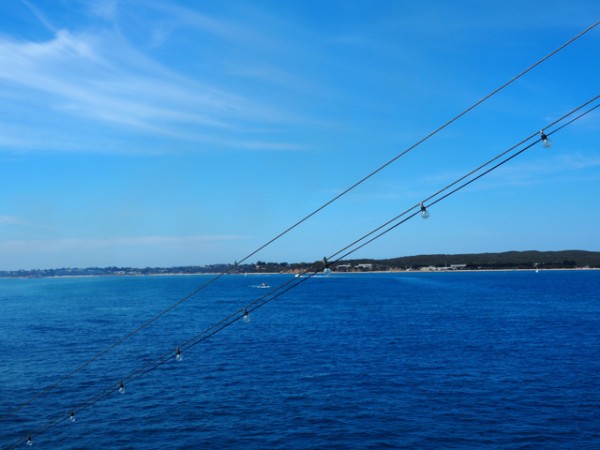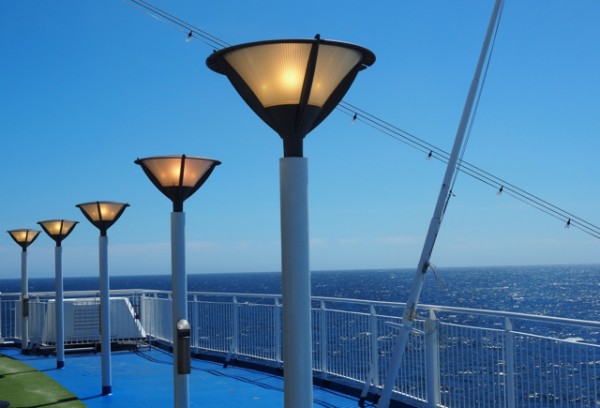 There was loads of entertainment for the kids on board too – there were children's entertainers including a circus artist and face painter at various times, as well as a play ground and a TV area for the younger ones.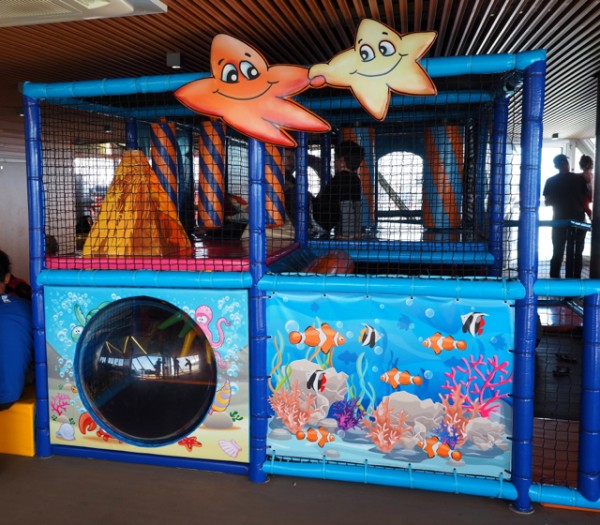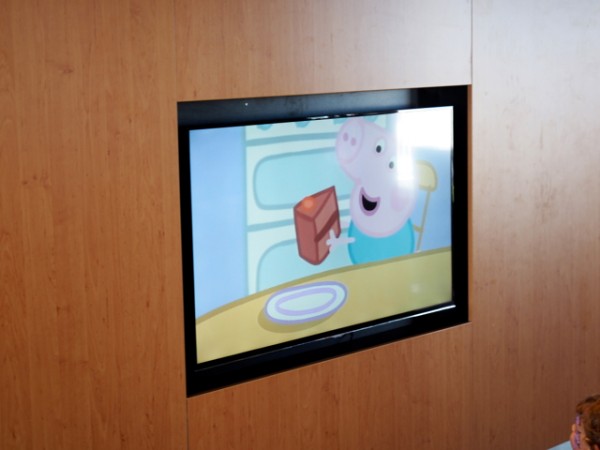 For older kids, there's the Game Zone, an arcade-style game area with a lounge and the Gaming Station, an interactive game area with multiple Xbox consoles and comfy seats.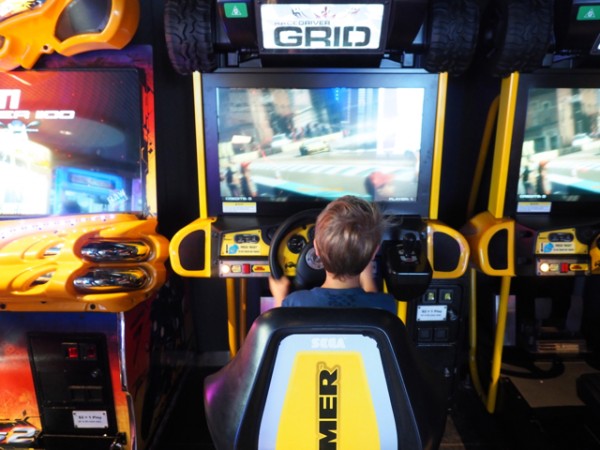 Our boys were happy to watch cricket on one of the flat screen TVs in one of the lounge areas too.
And of course, then there's the food. We had breakfast and lunch at TMK below, a self-service eatery offering a selection of salads, pasta, meats, seafood and desserts, which showcases some of Tassie's amazing produce.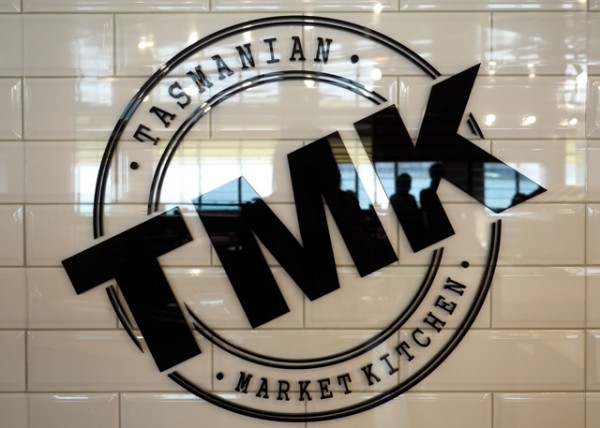 This smoked salmon starter below, was all sorts of awesome. In fact, every salmon dish I had in Tassie confirmed for me that I won't be buying my salmon from anywhere else in future. Fresh and absolutely delicious.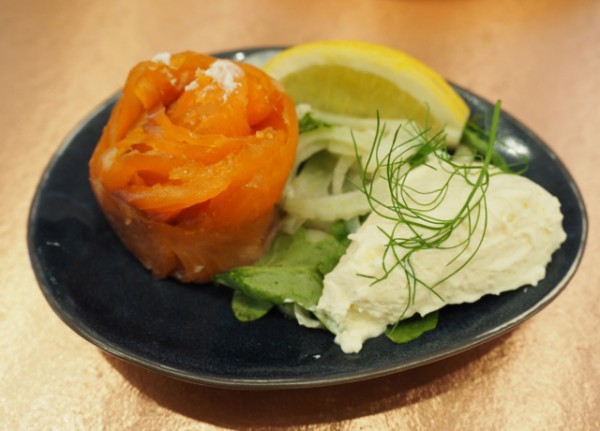 On our night sailing, I had one of the chef plated signature dishes: chicken breast wrapped in prosciutto served with rosemary potatoes and a sage and creamy white wine sauce. And yes, it was as delicious as it looks.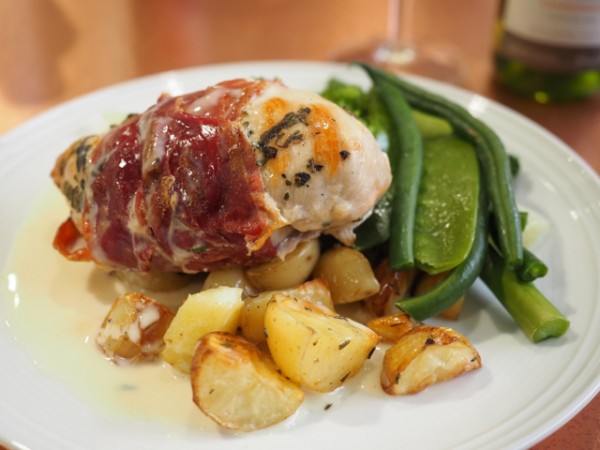 If you have a sweet tooth, you are more than catered for here as well with four delicious desserts to choose from. The boys and I gave this celestial chocolate cake a big thumbs up!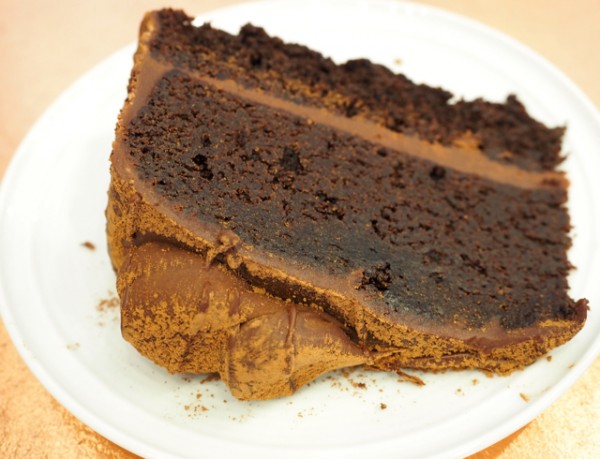 TMK is a great option for the family too – kids under five eat for free while children under 10's meals are $10 when accompanied by a full paying adult.
Other foodie options include The Pantry, a grab and go convenience store, which stocks drinks, sandwiches and snacks and the Terrace Lounge Bar on Level 10 serving pizza and paninis.
While there was plenty to do and places to hang during our day sailing, we also spent a bit of time in our cabins. I previously thought people book cabins for night sailings only, but it was great to be able to have access to a cabin during our day sailing.
The kids were beside themselves in there and took no time finding a nook to play in. Needless to say they couldn't wait for our night sail on the way home.
Below is the Four Bed Porthole private cabin.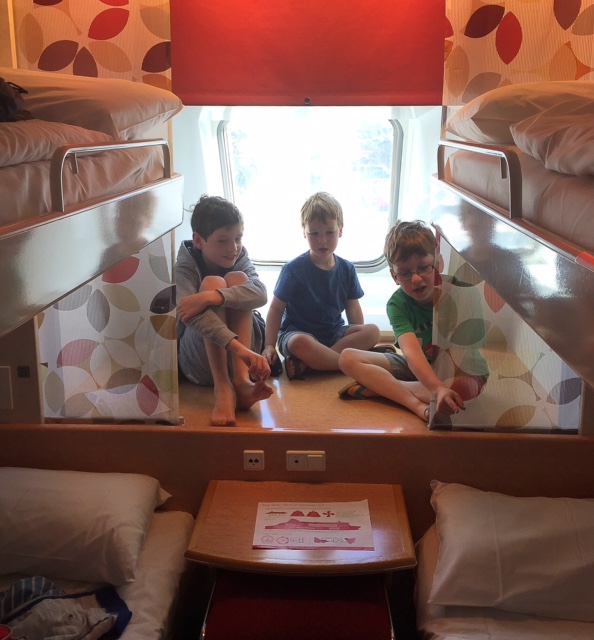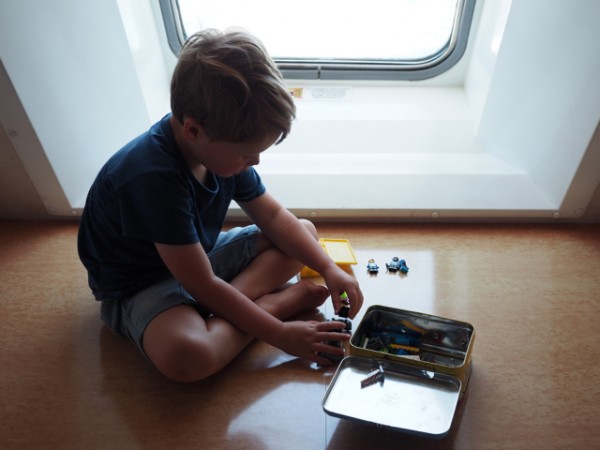 Meanwhile, I was happy to finally have my Love Boat moment.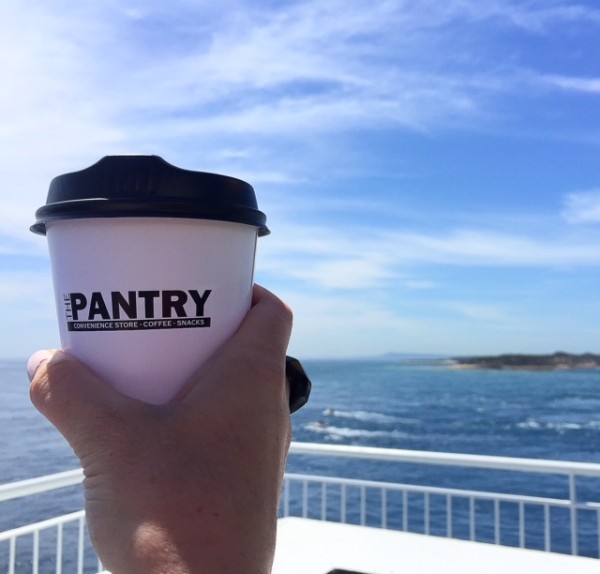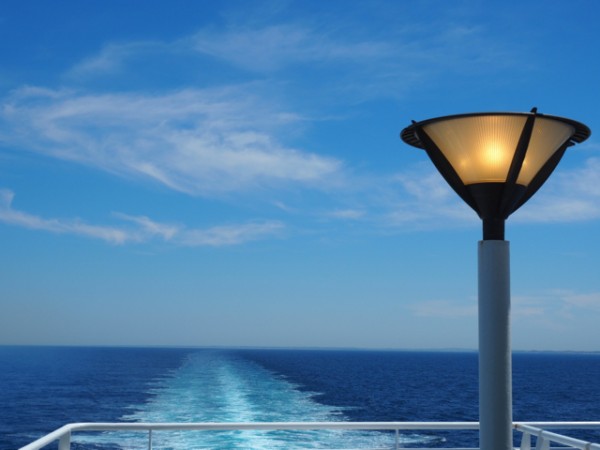 Finally, if you do a day sailing (as we did), you might want to spend the night in or around Devonport. Day sailings leave Melbourne at 9am and arrive in Devonport at 6pm, so we were happy to have somewhere near to stay for our first night.
While we didn't spend a lot of time in Devonport, we did find a fantastic playground with shaded picnic tables and BBQs, next to the beach at Mersey Bluff. You'll also be able to spot The New Spirit of Tasmania coming in to port like we did.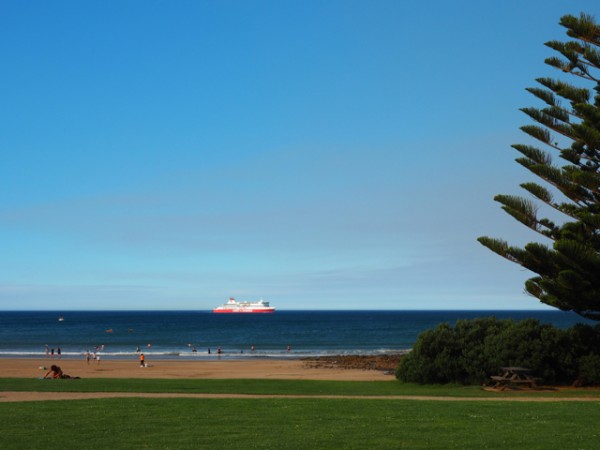 Drift Cafe is next door too if you want to pick up a coffee.
Likewise, our night sail on the way home was easy and relaxed. We boarded at 7pm and spent some time on deck watching a beautiful sunset over Devonport as we pulled out of port.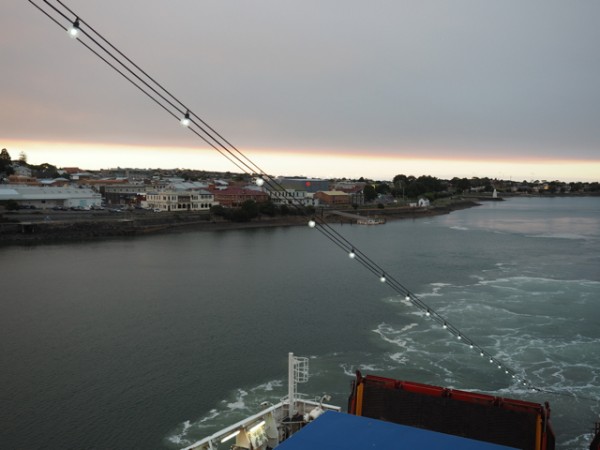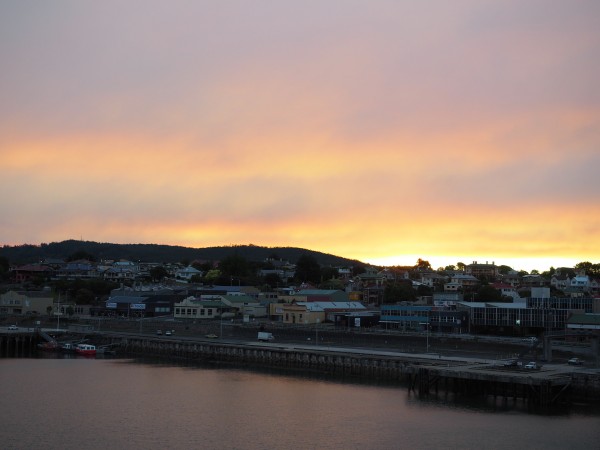 We then had a lovely dinner and a glass of wine on board at TMK, watched a bit of the 20/20 cricket final in one of the TV lounges before the kids all went to bed.
I wandered around the deck some more and saw people having a drink on deck and checking out the beautiful views, making the most of the comfortable lounge areas and reading room or catching a session at the cinema.
All the kids slept without any issues despite some choppy seas and woke up refreshed in the morning in Melbourne.
2. Go Somewhere Different
I confess that when I used to think of Tassie, I immediately thought of Hobart.
In fact, the last two times I've visited, that's where I've spent the bulk of my time.
And I love Hobart, I really do.
But there is so much more to Tassie than Hobart.
So. Much. More.
This time around, we spent most of our time across the north of Tassie, from Stanley in the north west through to Bicheno on the east coast. I hadn't heard much about any of the places we visited but I was completely taken aback (in a good way) by all the places we visited, all for different reasons.
We had a fantastic couple of days in Stanley, on the far north west coast (1.5 hrs drive from Devonport), best known for it's unusual land formation otherwise known as "The Nut".
Below is a view of The Nut from our accommodation, the Stanley Seaview Inn.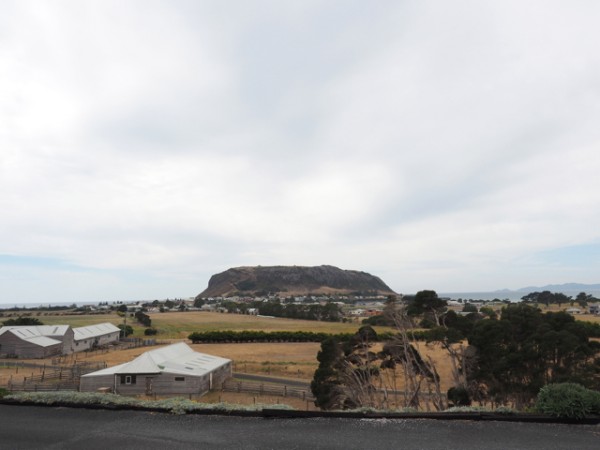 Stanley is such a pretty town and a great destination with it's combination of stunning scenery, beach and history. It's worth spending a couple of days here.
The well maintained heritage buildings down the main street are impressive as are the views of The Nut behind it and the beach at the end of the street.
Scenes from the upcoming film (adapted from the book) The Light Between Oceans were filmed in Stanley too. Doesn't it look like a movie set?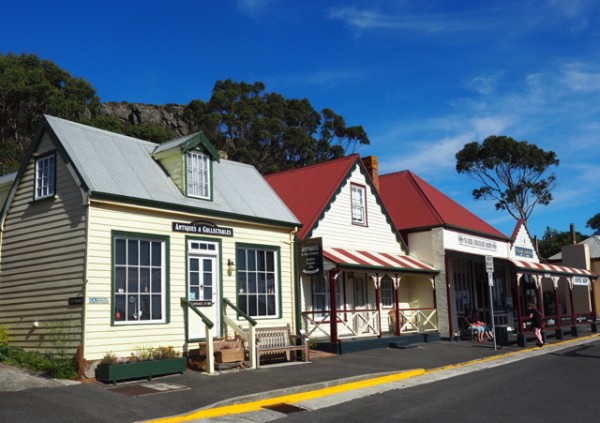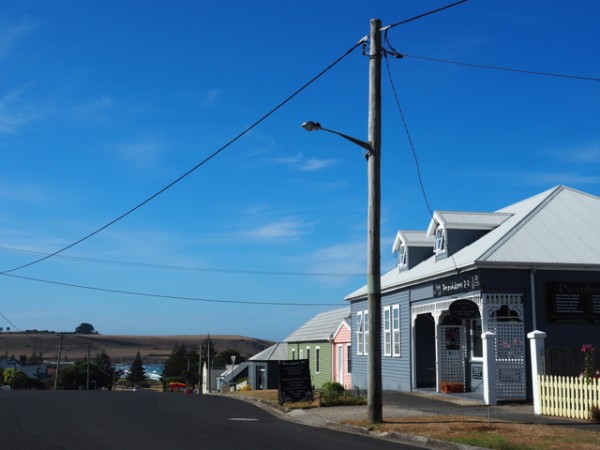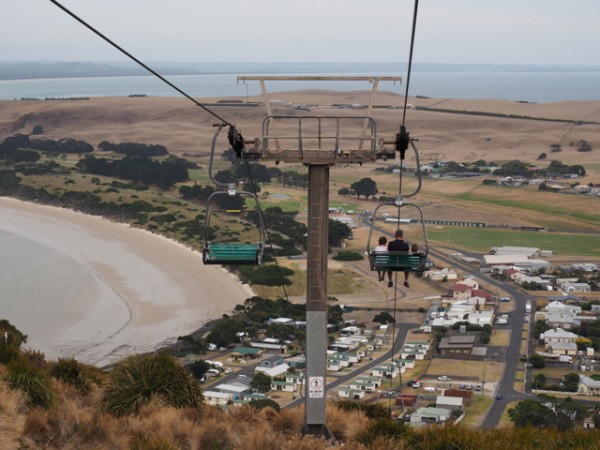 The kids managed the 2km walk of the perimeter of The Nut without too much complaint. OK, there were a few complaints but it was definitely well worth doing as the views were out of this world.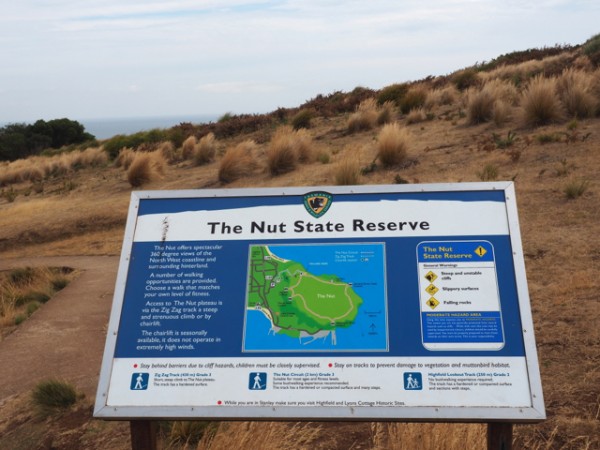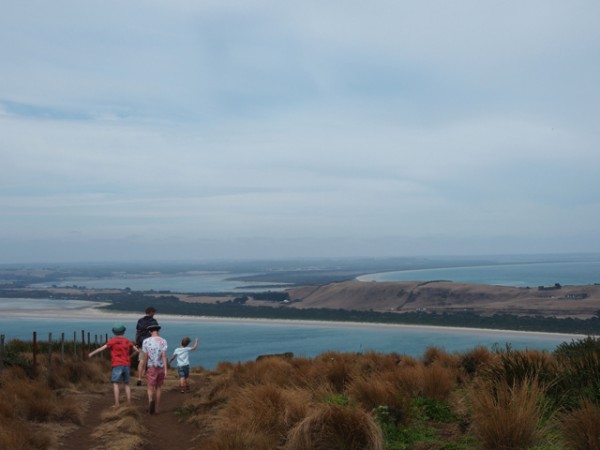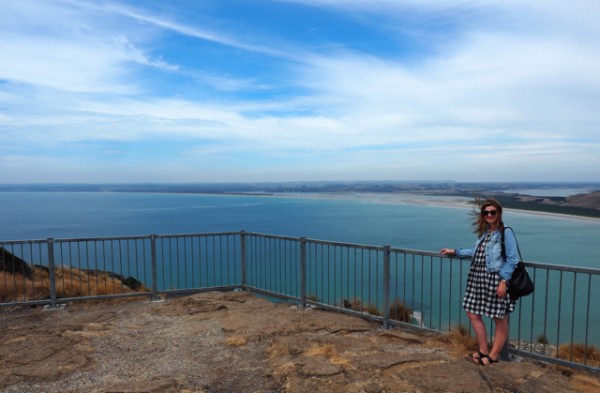 You can walk up to the Nut Reserve but we took the (very steep friends!) chairlift up to The Nut, which is actually a solidified lava lake of a long extinct volcano. A return family ticket will set you back $45. The views of Stanley and the coast on the way down are amazing.
We had a lovely meal at The Stanley Hotel one night and quality FnC from Hursey's Fresh Seafood down at the Wharf another night.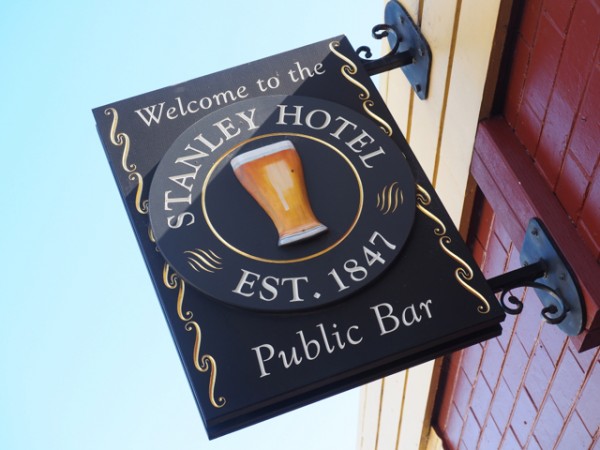 I'd also highly recommend the great coffee at the Brown Dog cafe. Very excellent coffee indeed.
While we were in town we also visited the Highfield Historic site which we all enjoyed. There were great views of The Nut and over the coast from this vantage point too.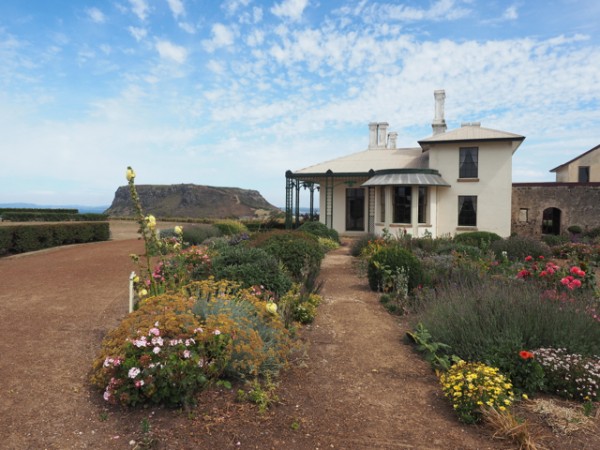 In terms of accommodation, we stayed at Stanley Seaview Inn, where we found comfortable, motel style rooms with ah-mazing views over Stanley.
Our "room" actually comprised three rooms – a large room with 2 beds (a queen bed and single), a kitchenette and a dining table/area; a small bunk room; and a bathroom adjacent to the bunk room.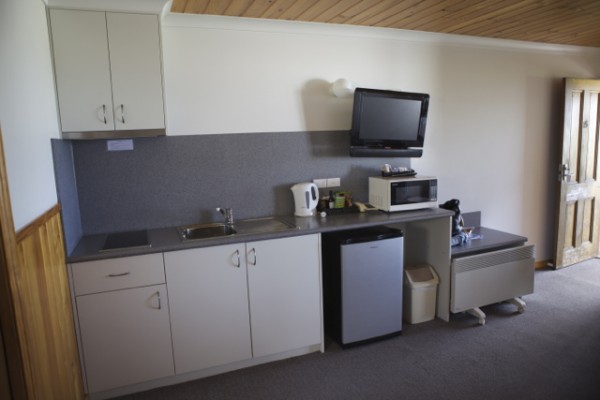 As you can see above, the main room also had a microwave, bar fridge and tea and coffee supplies were provided.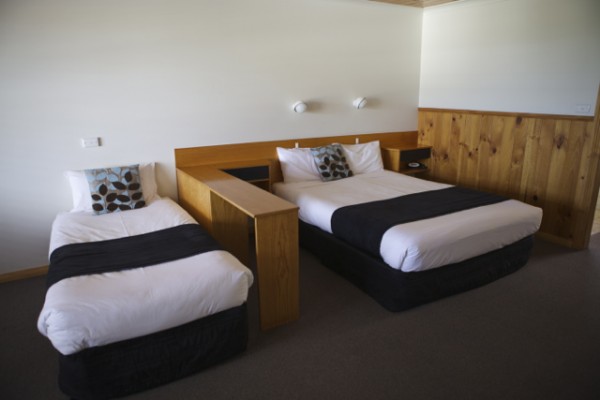 I know it's a small thing but I always love it when face washers are provided. It's the little things sometimes when you're travelling with kids.
There's also a laundry and dryer on site and we found the staff to be super helpful, friendly and knowledgeable.
The kids will love the two play grounds on site, one of which has spectacular views over the town and The Nut below. It's really not a hassle pushing the kids on the swing with this outlook.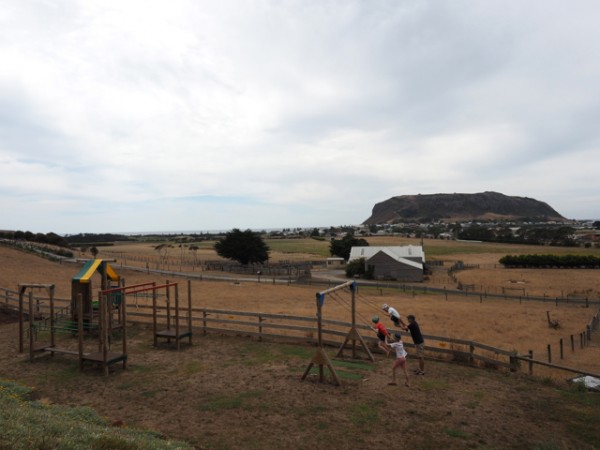 Using Stanley as a base, you can also visit the Tarkine region, Dismal Swamp or check out a seal cruise, the Stanley Seaquarium and neighbouring towns.
Also, when you visit Stanley, on your drive back towards Devonport, you'll pass an exit to Boat Harbour. You must stop! This is a gorgeous little cove only a couple of kilometres from the highway. Again there's a park and it's a great place to break up a journey or stay. It's definitely on our must visit again list.
3. Spend Some Time on the Coast
Tassie has some spectacular coast lines and I would highly recommend you include a stop somewhere along the coast as part of any trip to Tassie.
As well as our time in Stanley on the north west coast, we were fortunate to be able to spend a couple of nights in Bicheno on the east coast.
Bicheno is a popular coastal town with some great beaches, a fabulous blowhole and is a short twenty or so minute drive to Coles Bay and Freycinet National Park.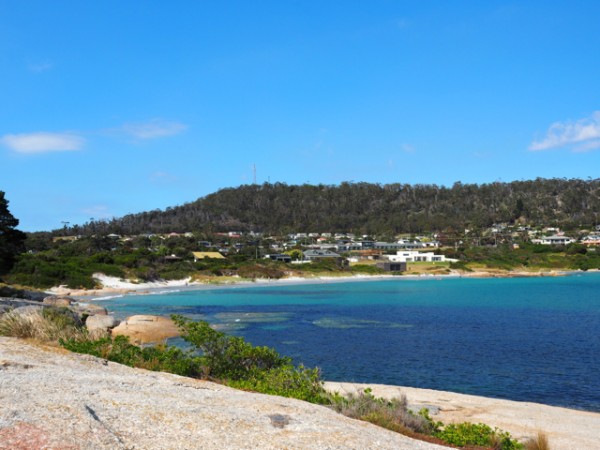 We visited it's lovely protected town beach, Waubs Bay, above, and locals told us there were waves further along at Redbill Beach.
The kids loved the blowhole, which was a short 5 minute walk from our accommodation at Bicheno by the Bay.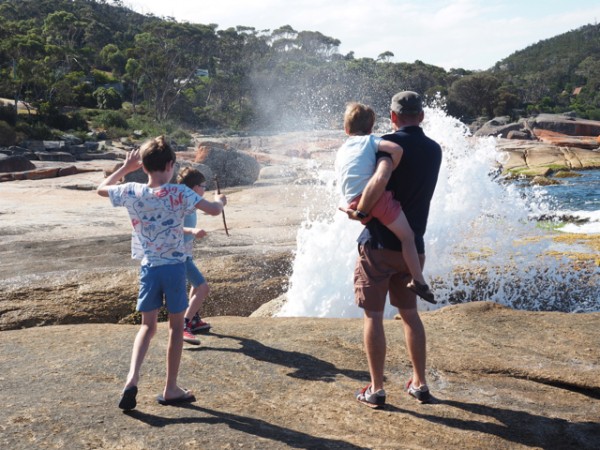 We also spent a day exploring nearby Coles Bay and Freycinet National Park, both of which left me speechless. I cannot even begin to describe how beautiful they are.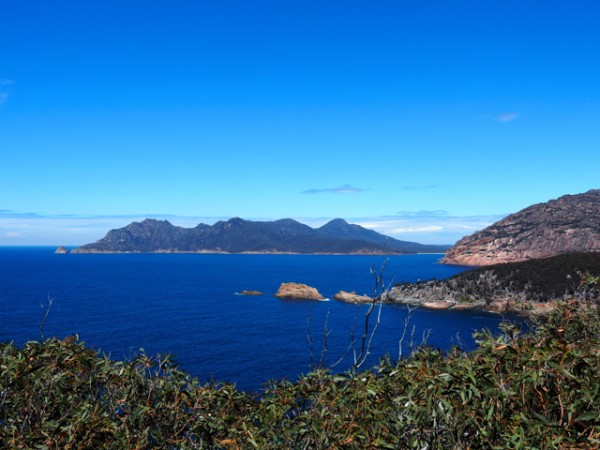 After playing on the rocks and checking out the stunning views from Coles Bay, we bought a day pass for the Freycinet National Park ($24).
We did the short ten minute walk to the Cape Tourville Lighthouse and were treated to spectacular views and scenery, pictured above, including a glimpse into the entrance of Wineglass Bay.
Speaking of which, we also discovered that Wineglass Bay is only accessible by walking or via boat. The walk to Wineglass Bay is 3 or so hours return (1.5 hour return to the lookout) but we didn't think the kids could manage that on a hot day, so we headed down to Richardsons Beach, below, instead for a play and a paddle. The next beach along, Honeymoon Beach was popular too and had public toilets.
Again, we were treated to amazing views, still blue water and an all round picture perfect scene. We were surprised to find only twenty or so other people on the beach on a perfect 28 degree day.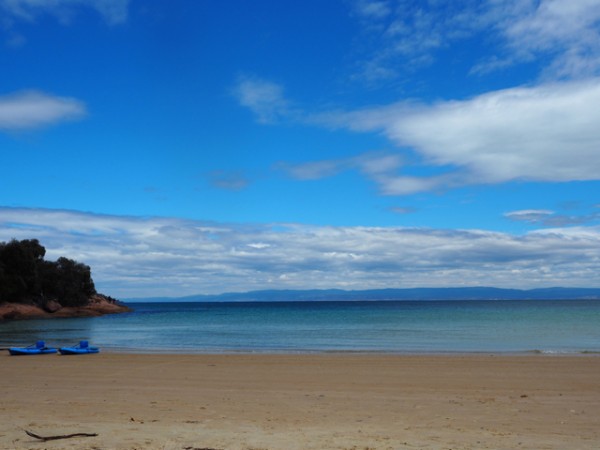 We expected this area to be beautiful but honestly, nothing could prepare us for how stunning it was. We can't wait to return and spend more time here and will be factoring in the time for a walk or cruise to Wineglass Bay next time.
In nearby Coles Bay, locals told us Muirs Beach is another family friendly beach option. There's a bakery, general store and bistro across the road too.
In terms of accommodation, we stayed at Bicheno by the Bay, which was a great base from which to explore the surrounding area and a destination in and of itself.
At Bicheno by the Bay, you'll find comfortable bungalow style accommodation – there are twenty on site – directly opposite the beach and a short five minute walk to the main drag where we found an IGA supermarket, several eateries, tourist services and Waubs beach.
Below is the view of the beach from our bungalow's verandah.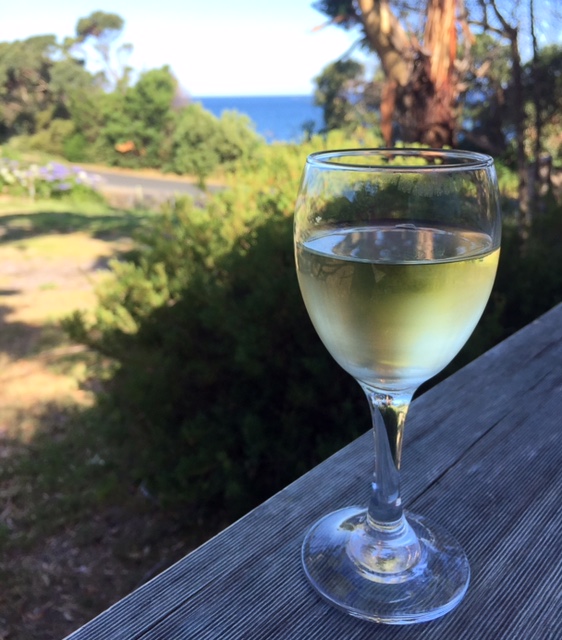 We stayed in Pioneer Cottage which comprised two bedrooms (one with a queen bed, the other with three single beds below) and an open plan living area, a laundry and bathroom with a shower over the bath.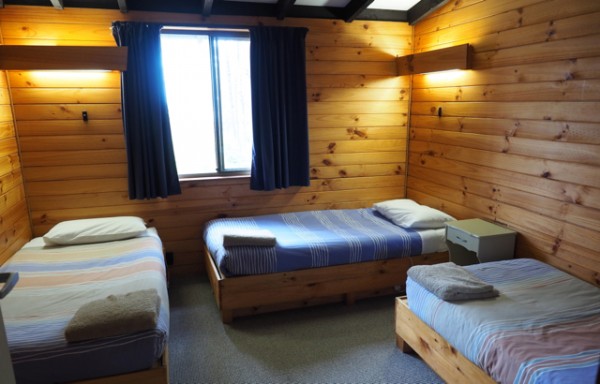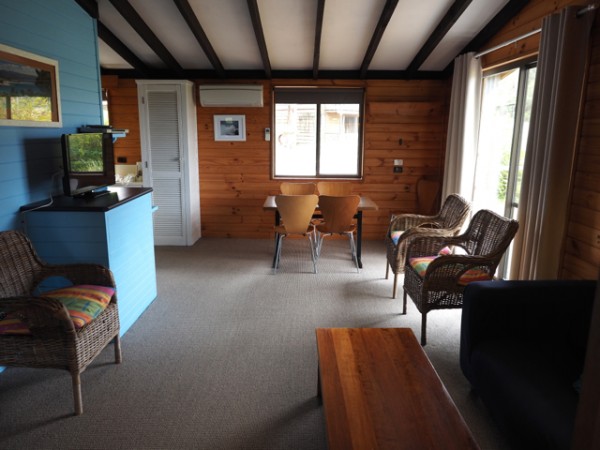 This is a super family friendly place with loads to do on site for the kids – a playground with a Jolly Roger ship (below), swings and a cubby house; a heated outdoor pool; tennis court; and kayaking in the small dam.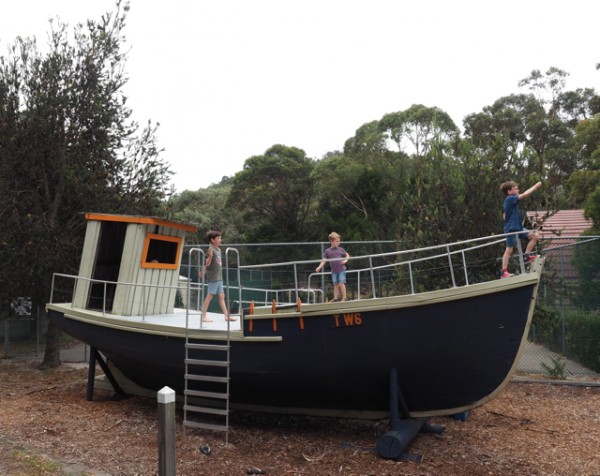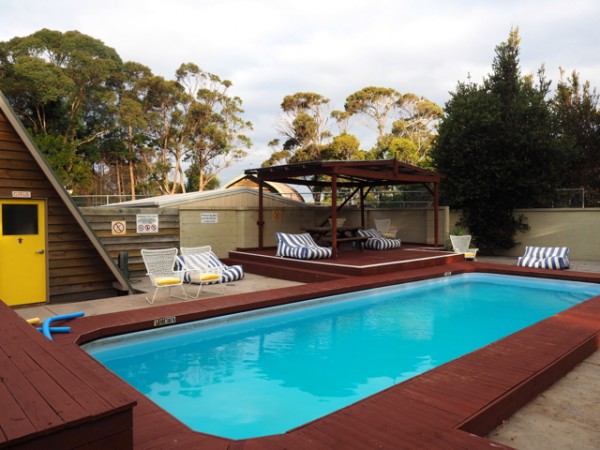 Having all this entertainment on site is such a winner (not to mention cost effective) for families.
4. Visit Some Historical Sites
We loved learning about Tasmania's rich convict history and about the early settlements during our stay in Tasmania.
The kids absolutely loved it too and found learning about how people lived in the "olden days" fascinating, particularly as they could explore and look at the places we visited.
As well as visiting Highfield Historic Site in Stanley, we spent two nights at Brickendon, a World Heritage Listed site in Longford, which is located twenty minutes south of Launceston.
Brickendon is described as "a living record of the lives of Tasmanian colonial settlers, their families and assigned convicts from the 1820s".
There's a range of accommodation on site in amongst the old buildings and farm yards.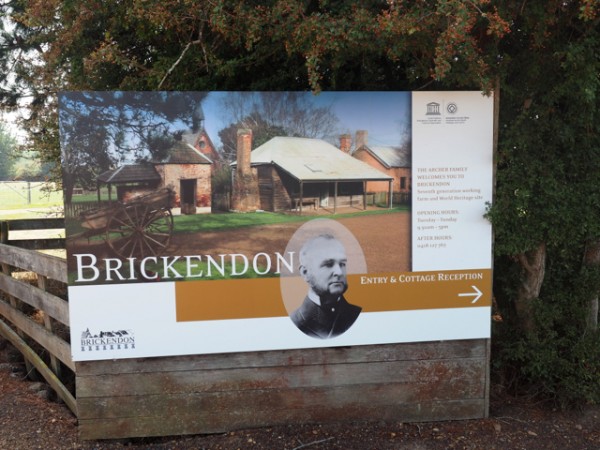 We had a great time at Brickendon.
The kids loved feeding the animals (every morning at 10am which includes calves, rabbits, pigs and geese) and exploring the historic buildings on site and the homestead across the road where the 5th, 6th and 7th generations of the Archers still live.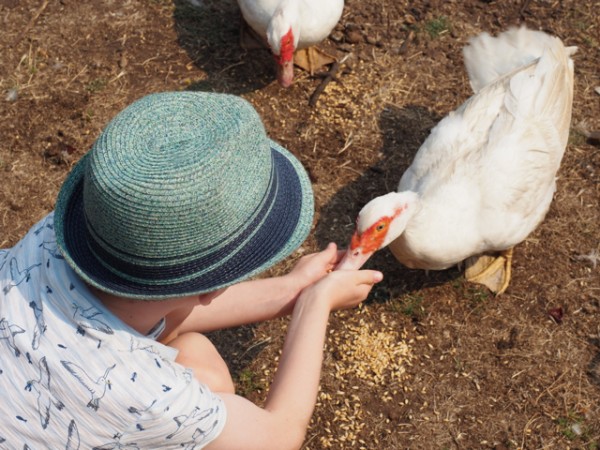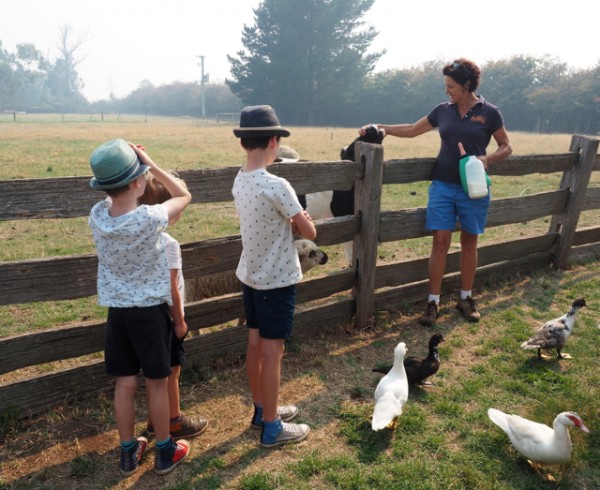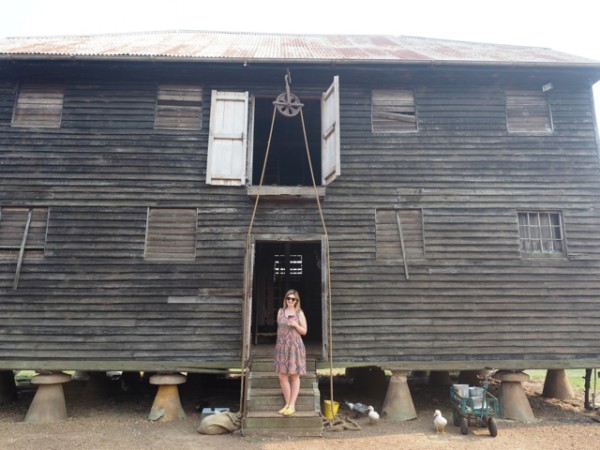 This grainary, above, one of the many buildings built in the early 18th century on site, was amazing.
Our accommodation on site at Brickendon was very comfortable too.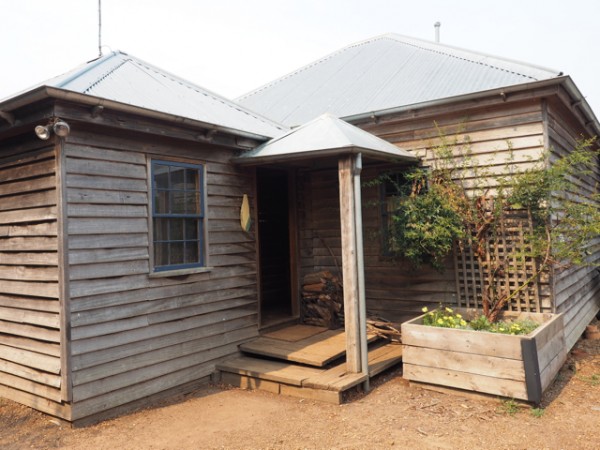 We stayed in Sweetcorn Cottage, above, which comprised two bedrooms (one with a queen bed and a set of bunks,  pictured below, the second with a queen size bed and single bed), an open plan kitchen and lounge area and a family bathroom (shower over bath).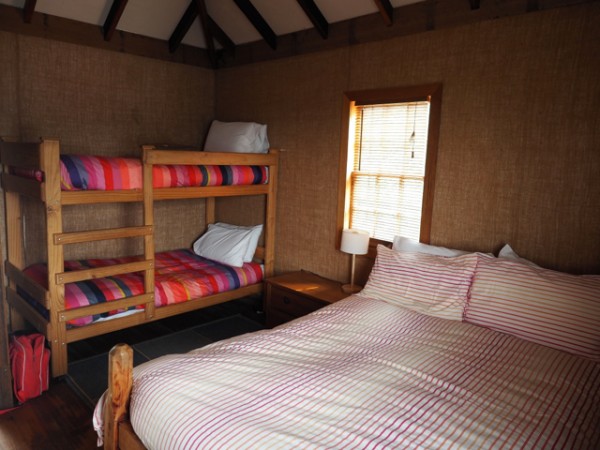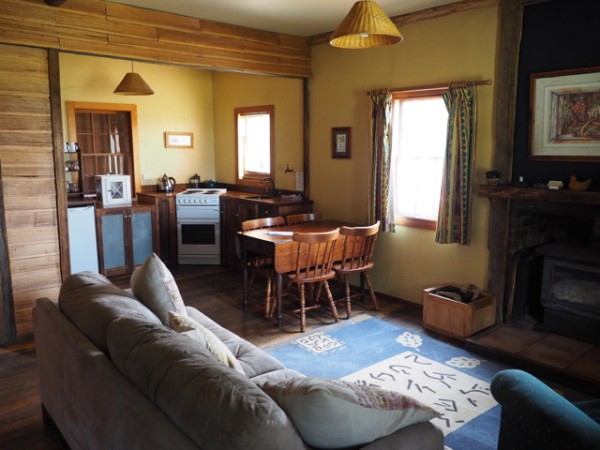 On the back verandah there was an outdoor setting and extra seating with sweeping views over the paddocks and plenty of space for the boys to play cricket and run around.
The classic country style kitchen was well stocked with continental breakfast provisions (a variety of cereals, fresh bread, juice, milk and preserves) and home made Anzac biscuits which went down a treat the afternoon we arrived.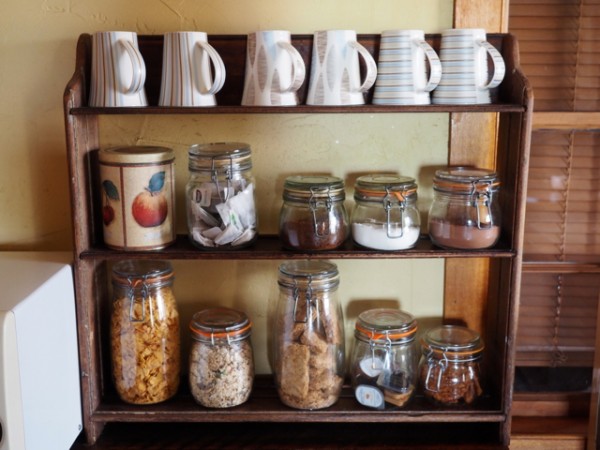 We were also happy to find a laundry next door with a dryer. Laundry powder and clothes line were also provided which is always a happy discovery.
Nearby is Woolmers Estate, another World Heritage Listed site once owned by another of the Archer brothers. We spent a lovely morning visiting here, taking in this incredibly well preserved property with it's newer rose garden.
There's also a berry farm nearby but check ahead as it is only open selected days.
5.  Don't Plan Everything but Plan to Take Time to Stop Along the Way
We happened upon some really great places on the side of the road as we drove around Tassie. This was a good thing too as often we had four hours between check out and check in and a relatively short drive (2 hours max).
My advice would be to factor in plenty of stops and word the kids up accordingly.
Our standard speech went along these lines: "Today we will be stopping a minimum of four times in the next four hours before we get to our accommodation. We will have lunch along the way and try to find a park. Don't expect to sit in the car for any long stretches of time. There might be a winery. If you behave, we might even find ice cream!"
Our first great find was the Christmas Hills Raspberry Farm Cafe in Elizabeth Town (south of Devonport on the way to Launceston). People, this is a place worthy of a detour and you must visit. We visited twice in our week in Tassie and I was tempted to return a third time.
As well as a cafe serving a great range of breakfast and lunch options (most with a berry element), this place is super family friendly with it's lovely outdoor picnic tables surrounded by a grassed area, overlooking a dam.
My boys found a big tree to climb while younger children will love the fenced play area and cubby house. There's also a little walk you can do around the property, taking in the old school building and where the berries are grown.
Did I mention the food? The boys inhaled their berry pancakes while I polished off the house made crumpets in no time.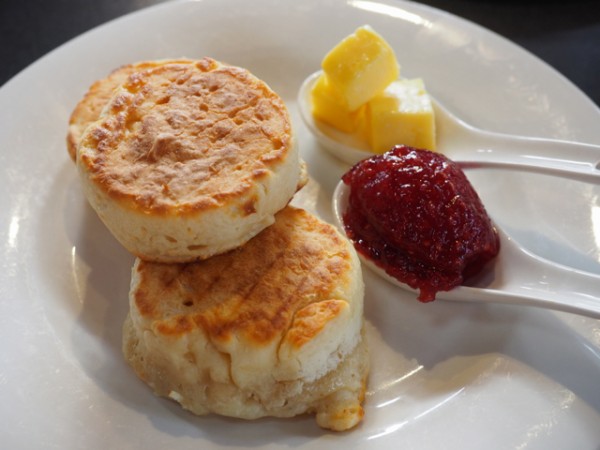 Mr SnS's big breakfast with raspberry hollandaise hit the spot too.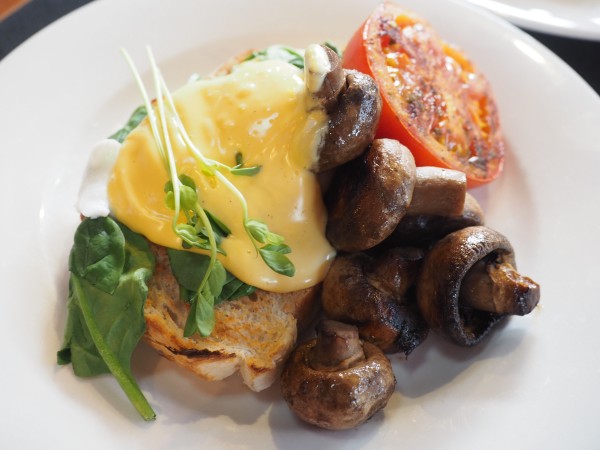 There's amazing produce here as well – we picked up a kilo of raspberries for $9, punnets of strawberries and blackberries, jam and and local Meander Valley butter.
Everything was fresh and flavoursome but the raspberries were, without question, the most amazing raspberries I have EVER eaten. When we dropped in again on our way to Longford, we stocked up again.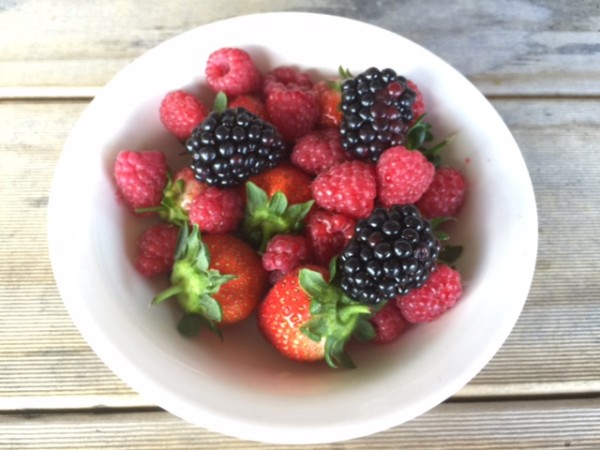 Nearby, you'll also find Ashgrove Cheese and Anvers Chocolate.
On our drive along the same stretch of highway on another day (as we drove from Stanley to Longford), we chanced upon the unbelievable Tasmanian Food and Wine Conservatory in Sassafras. This beautifully fitted out conservatory, with it's palms and pressed tin, is the bomb dot com and we had an exceptionally delicious lunch there.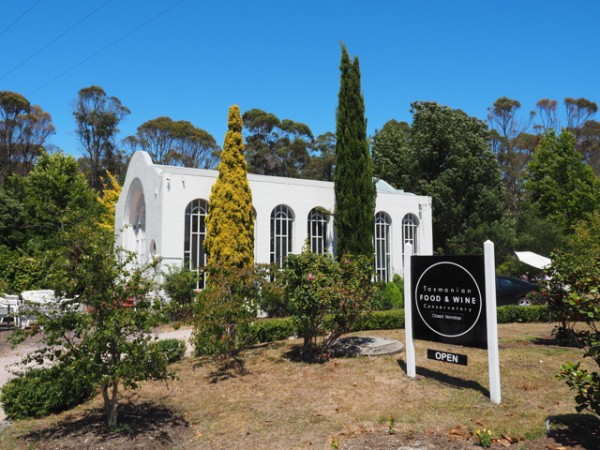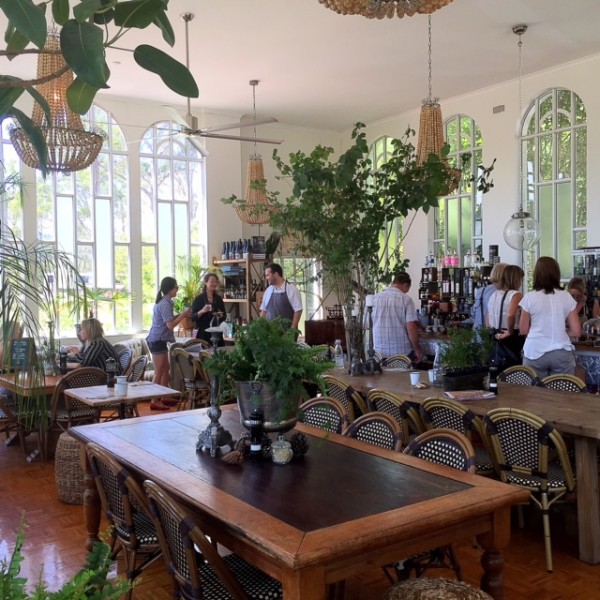 I had the 41 degrees smoked salmon bruschetta with Hill Farm Wasabi creme, caper berries, rocket and lemon. No words people. No words.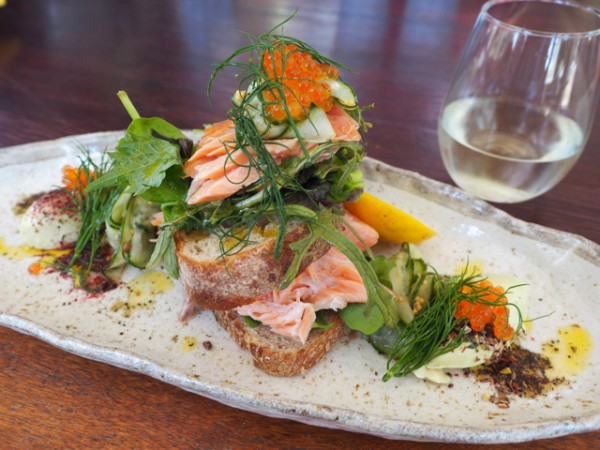 There are also kids packs available ($12 for a toastie, apple and juice/flavoured milk), plenty of space outside for the kids to play and even two teepees.
On our way to Stanley from Devonport, which included some beautiful scenery, we also stopped in Ulverstone and Penguin, two towns definitely worth circling on your map.
Ulverstone is a decent sized town with a fantastic park by the water complete with a rocket and a very long slide. The main drag had several lunch options too including a large bakery.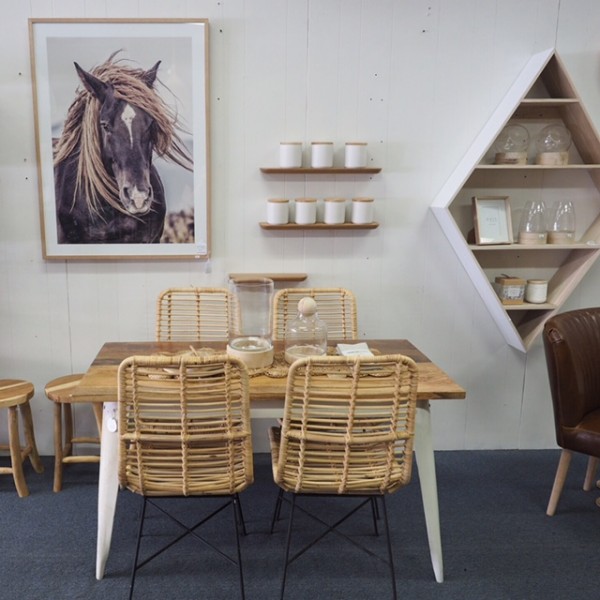 I managed a quick wander down the street too and found the excellent District of Columbia, above. In fact they had two stores a few doors apart from one another. One was mostly selling home wares, the other, above, featuring furniture.
We stopped in Penguin twice as well, en route to and from Stanley. This is such a pretty little town and a great place to stretch the legs if you're driving through or even to stay.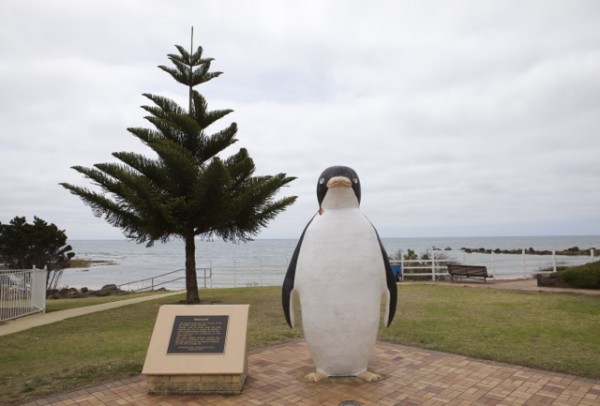 There's a fenced playground adjacent to the beach and the Penguin monument as well as easy access to the beach.
While the kids looked for crabs on the rocks with Mr SnS, I popped into the very fabulous Cocoon, a beautiful interiors, furniture and home wares store stocking Pony Rider, Wood House candles, ceramics, soft furnishings and more.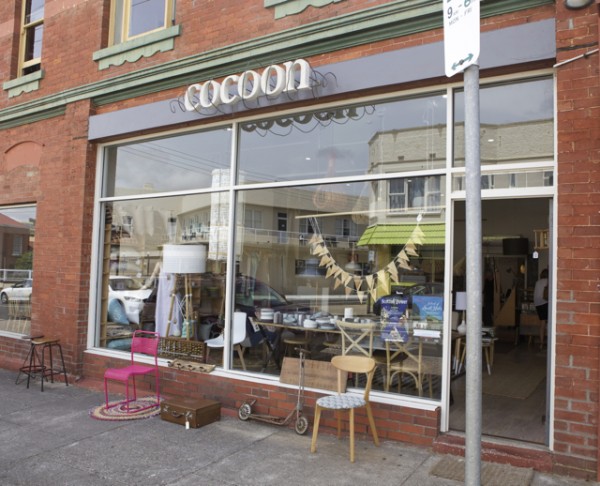 It was also a great place to stop at for lunch – we picked up sausage rolls for $2.10 a pop at the bakery – they weren't quite full size – and bought a 2 kg bag of apples for $2.99 at the fruit shop.
On our drive from Longford to Bicheno, we dropped in to Devil's Corner and Freycinet Vineyard wineries which were both either on or just off the highway.
Devil's Corner, with it's landmark look out, was particularly family friendly with it's outside plaza of sorts with a modern pizzeria and fish and chip shop, picnic tables and giant hay bales for the kids to play on.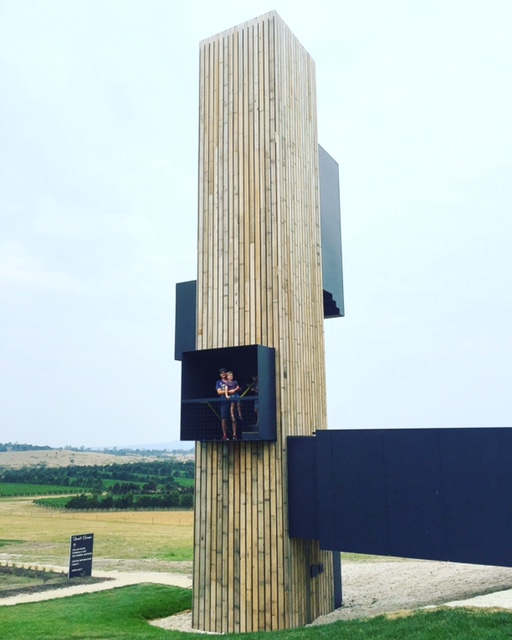 On our drive from Bicheno to Devonport, we spontaneously popped in to Spring Vale and Milton Vineyard wineries. We had some delicious tapas at Milton for lunch at Mahasti for us (be still my crayfish croquette loving heart) and stopped at the bakery in nearby Campbell Town for some rolls for the kids ($4 for a pack of 6 cheese and bacon rolls = winning).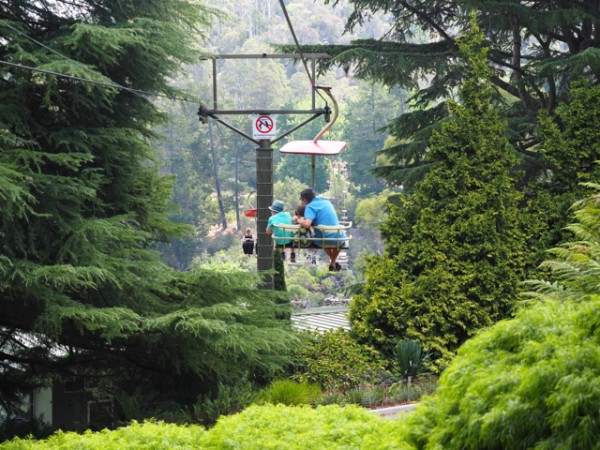 Later in the afternoon we made a detour to Launceston to visit Cataract Gorge, above.
Again, the views were spectacular and I was surprised to learn that the amazing public pool, below, has FREE entry. We will definitely pack our togs next time.
6. Mix it Up
In Tassie, there really is something for everyone, which I've touched on above.
In just a week we covered so much – beaches, historical sites, spectacular coast line and two chairlifts through to amazing produce, world class wineries, walks and nature. This made for an enjoyable and interesting holiday for both us and our children.
I was honestly so surprised that we managed to cover such a variety of things in a relatively short time, while maintaining a pretty relaxed pace – we took our time and spent several hours at beaches and playing at our accommodation most days. It certainly helped that our three stops were only a couple of hours drive to each other (max), allowing plenty of time for exploring during the day.
The trip to and from Tassie on The New Spirit of Tasmania set us up for a great holiday too, for all the reasons I've outlined above.
The beauty of Tassie is that it is so close, easy to navigate and super family friendly. If you haven't been already, I don't know what you're waiting for!
Finally if you're interested in our seven night itinerary, here it is:
We did a day sailing on The New Spirit of Tasmania and spent our first night in Devonport. We then drove to Stanley for two nights, stopping at Christmas Hills Raspberry Farm Cafe, Ulverstone and Penguin en route.
From Stanley we drove to Longford stopping at The Tasmanian Food and Wine Conservatory for lunch before arriving at Longford.
We spent two nights at Longford before driving to Bicheno, stopping at Campbell Town for lunch and Devil's Corner and Freycinet wineries en route. Next time I'd stop for lunch at Devil's Corner instead.
In Bicheno we spent two nights, and spent our days exploring the coast before driving back to Devonport via Spring Vale and Milton vineyards and Launceston (to visit Cataract Gorge) before arriving in Devonport late afternoon for our night sail on The New Spirit of Tasmania home.
We were guests of The New Spirit of Tasmania, Stanley Seaview Inn, Bicheno by the Bay and Brickendon and special thanks to Christmas Hills Raspberry Farm Cafe for our delicious breakfast. One night at each of our accommodation was provided by the properties and hotels listed above and discounted rates were provided for the additional night we spent at each property. We paid for all our other meals and all our sight seeing during our stay.
Spirit of Tasmania currently have a deal – Sail together and save. Packages from $297*
Sail together and save on the newly refurbished Spirit of Tasmania with cabin and car package deals for sailings between 3 April and 31 May 2016.
Packages start from $297, see below for all options.
Book today, offer ends 11:59pm 27 February 2016.
Visit here to book now.
Have you been to Tassie before? What do you love about it? Where would you like to visit?